Infinity Plans and Payment Methods
After careful consideration, you've decided to join Infinity, and now have to choose the right plan for yourself. At the moment, we're running a lifetime deal, so these are the plans you have at your disposal.
But what does a lifetime deal mean anyway? It means that you only get to pay once and enjoy Infinity for as long as you like. There are no hidden fees, all the future updates are included in the price, and you won't ever have to switch to a monthly/yearly subscription once we introduce it.
On our pricing page, you can see all of our plans in one place, their prices, and what they include: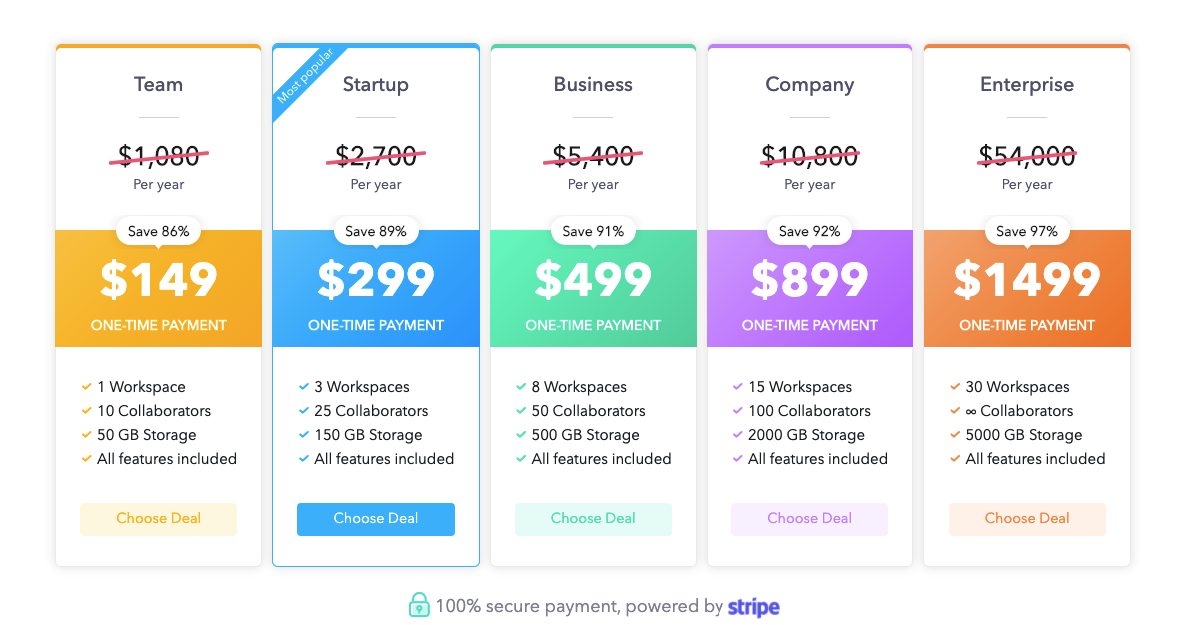 Team—Meant for solo users or smaller teams (up to 10 people). You get 1 workspace, within which you can create as many boards as you like, and 50GB of storage.
Startup—As the name suggests, usually used by startups and small businesses, with up to 25 team members. You have 3 workspaces at your disposal, and 150GB of storage.
Business—Medium to large businesses will find this plan ideal, as it offers 8 workspaces, and you get to invite up to 50 people to your boards. 500GB of storage included.
Company—For large businesses who need more space and collaborators added to Infinity. Comes with 15 workspaces, 100 collaborators, and 2TB of storage.
Enterprise—If you've got a company that counts over 100+ team members, and need more space than you can imagine, then this is the plan for you. Invite as many people as you want, get 30 workspaces, and 5TB of storage space.
All of our plans offer a 30-day money back guarantee, which means that if you're not satisfied with Infinity in any way, you can ask for a refund within 30 days from the day of your purchase.
Upgrading to a Higher LTD Plan
If you decide that you need more storage space, collaborators, or workspaces down the road, you will be able to easily update to one of our higher plans.
When upgrading, you won't have to pay the full price once again—you'll just pay the difference between your current plan and the one you'd like to upgrade to.
Upgrading to a different plan is easy: you just need to click on the Usage button button in the upper right corner of your screen, then Upgrade Plan, and select your new plan.
In case you decide to upgrade after the lifetime offer runs out, you'll still be able to do it. You will just need to get in touch with us via chat or email team@startinfinity.com and we'll help you do so.
Payment Methods
Infinity offers two payment options to its users when they decide to purchase a plan of their own: payment by credit card or via PayPal.
In general, paying by credit card is faster and easier for both sides, but in case you run into some issues during your purchase, you can always contact us and opt for PayPal instead.
Credit Card Payments
If you opt to pay by credit card, you'll be asked for the necessary details once you have picked out your plan and gone to the checkout page. Once you purchase a plan, you will receive a receipt to the email you used during the checkout process.
In case you need an invoice, as well, all you need to do is get in touch with us via email or chat, and one of our team members will send it to you.
PayPal Payments
If you decide to pay via PayPal, you will first need to contact our support team via chat or email, and make this request. Once you do, we will ask you for your PayPal email and the plan that you wish to purchase.
Afterwards, you will receive a request for payment from one of our team members, and once you have officially purchased your plan, we will send you your activation email.