15 Productivity Tools and Apps to Help You Fight Procrastination
How do you become a productivity wizard? Is there a secret formula? Sadly, no, but there are productivity tools that can help you out.
We live in an age where everything is designed to distract us from tasks at hand. Whether it's a quick look at your phone or a new YouTube video, you will get distracted multiple times per day and lose precious hours during which you could've got a lot of things done.
And we mean—a lot.
In fact, the average employee is interrupted from their work 56 times a day.
Add to the mix different things happening in your personal life or stress (which is… always), and what you end up with are productivity levels that no one in their right mind would envy.
And yet, there are people out there who get 10 tasks done in under an hour. People who don't let anything distract them while they're working. People who are so perfectly organized that their work (or private life) never suffers.
How do they do it?
It's simple: consistent effort and planning.
There's no magic trick that will make you more productive. A fairy godmother won't come down and bless you with the ability to stop procrastinating once and for all.
No, sadly, it's all up to you.
… But that doesn't mean that you can't get a helping hand from your friendly neighbourhood productivity tools and apps.
The right productivity software will ensure that you dedicate enough time to the projects and tasks you're working on, keep distractions to a minimum, and simply: get more done.
And—luckily for everyone—in today's post, we'll be going over some of the best productivity tools to keep an eye out on in 2021, their main features, as well as prices so that you can get a better idea of what's best for you and your team.
Now, let's get crackin'.
Top 15 Productivity Apps and Tools to Start Using ASAP
1. Infinity — A Productivity Tool for Teams of All Sizes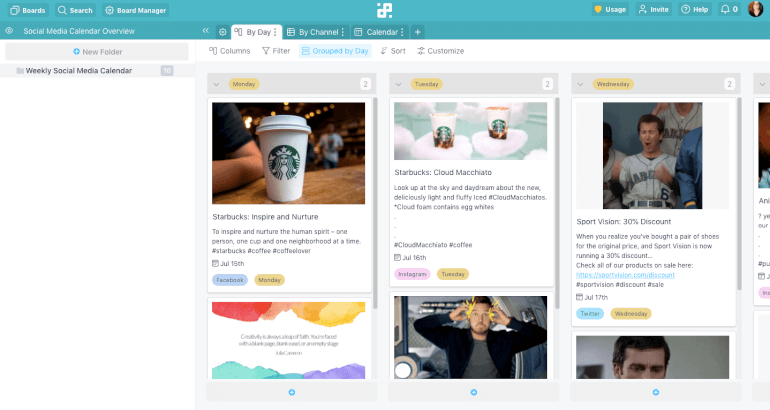 Infinity is an all-in-one, fully customizable project management tool that doubles as a productivity software. How so? As the team likes to put it, "You can achieve anything when you're organized", meaning that you'll definitely get more done and become more productive.
The great thing about Infinity is that you can start with something as simple as a checklist, then customize your workspace to handle bigger, more complex operations when needed.
From content calendars and sales CRMs, to product development and even personal habit trackers, you can create any type of process you need within Infinity, and then use different filters to arrange and display the data you need. You can also view your items in multiple ways: as calendars, columns, lists, Kanban boards, and Gantt charts.
This project management turned productivity tool doesn't allow you to feel overwhelmed by the number of tasks you end up with, and it's easy to keep track of everything via notifications, the comments section, and the activity log. In addition to that, you get to integrate Infinity with Zapier and gain access to over 2,000 other apps, as well as Clockify which allows you to track time for all of your tasks.
Key Features
Task Tracking—By having all your tasks in one place and always knowing your progress, you'll find that being productive will come much easier to you.
Priority Management—Finish off high-priority tasks first, then focus on the rest of them. Add labels for easier prioritization and management.
Time Management—Track your time with Clockify and forget all about procrastination. Keep an eye out on what's "eating up" your precious work hours.
Multiple Views—For more inspiration and ways to increase your productivity, switch up the view you're using for your tasks.
Complete Flexibility—Create a structure that works the best for you (and your team), and simply get more done, in your own way.
Customization Features—Filter, group, and sort all of your projects, and make it easier for yourself to manage your daily workloads.
Activity Tracking—Keep up with your team's activity inside your boards and always be aware of what everyone's working on.
Team Collaboration—Easily communicate and work together with the rest of your team members or guest collaborators.
Document Management—Store all the important documents and assets in Infinity, and stop going back and forth between different apps.
Zapier Integration—Connect Infinity to a number of different apps you use on a daily basis thanks to our Zapier integration.
Notifications—Stay on top of things with the help of notifications and never miss another update from your team.
Ready-Made Templates—Start working more quickly and in an easier way with the assistance of our numerous customizable templates.
iOS and Android Mobile Apps—Don't let procrastination catch you when you're not at your computer! Use our mobile apps instead.
To get a better idea of how Infinity works, be sure to check out the basic video tutorial below:
INFINITY TIP: Organize all of your work in Infinity and then use Clockify to track the time spent on completing your work. Review your tasks and the hours put into them at the end of each week to get a better insight into your productivity habits.
To help kick things off, Infinity comes with over 50 fully customizable templates for different areas of work and niches, which means that you won't have to do the setting up all by yourself. Plus, you'll definitely be able to save some time with one of the templates in our database.
Here's an idea or two to get you started:
Pricing
Infinity's lowest plan starts at $149, and includes one workspace, up to 10 collaborators, and 50 GB of storage. If you decide to upgrade to a higher plan, you'll be able to do it anytime you like, straight from the app. Plus, it's a lifetime deal, meaning that you only pay once and get to enjoy Infinity for as long as you like.

2. Zapier — An Online Productivity Tool for Automated Workflows
Image Source: zapier.com
Zapier is a productivity app that allows you to automate repetitive tasks. For example, you can set up a "Zap" to automatically send you SMS notifications when you receive emails only from senders that you've tagged as important. This frees you from having to manually check your email each time, and possibly get distracted by non-work related messages.
If you want to create a Zap for sending automated birthday and holiday greetings, you can definitely do that, too!
These are just a few examples of what you can do with Zapier, but don't think that there's not more to this cool app. In fact, Zapier lets you connect over 2,000 applications, so you can make a Zap for almost anything—from customer feedback, time tracking, e-commerce apps, to invoicing, and beyond. Once you've created a Zap, this program will continue to run automatically unless you turn it off.
Even now, this productivity software continues to add apps and Zaps to its library, which means there is almost no limit to the amount of workflows and processes you can automate.
Key Features
Process Mapping & Automation
Routine Task Automation
Workflow Automation
Customizable Workflows
Triggered Actions
Trigger Dependencies
Action Dependencies
Create Custom Apps
Third-Party App Integrations
Multiple Accounts Management
Pricing
Zapier offers a free plan which allows you to create up to 100 tasks (Zaps) per month. Zapier's first paid plan (Starter) costs 17.49 per month when billed annually. There are five plans in total you can choose from.
3. Forest — A Unique Productivity App That Helps You Stay Focused
Image Source: App Store
Among countless apps for productivity out there, Forest is definitely one with a unique twist. Namely, it lets you save trees while keeping you focused on your tasks.
At first glance, the app functions like a Pomodoro timer, enabling the user to go on concentrated sprints. From here, the app uses a unique mechanism to keep its users focused instead of eventually succumbing to distractions.
First, for every focused sprint you complete, you can grow plants in the app's virtual forest. Hence, the more productive you are, the more plants your virtual forest will have. If you open a banned app during a focused sprint, your plant will die. To up the ante, you'll actually see images of your plants flourish as you keep your focus timer going. And if you fail, you'll also see your plants wilt.
This productivity software offers in-app purchases, such as different plant species (mostly fictional and artistic) that you can either buy with real cash or save up for using the app's virtual coins (the reward you get for completing focused sprints).
As an additional incentive—and perhaps its most noteworthy feature—you can convert your virtual coins into credits that you can use to plant real trees. The developers of the app are partnered with various environmental groups in Africa, and they release updates of their tree planting work, so you'll get to see where your contribution goes.
Key Features
Screen Time Tracker
Focused Time Distribution Tracker
Multi-device Syncing
Automatic Data Syncing
Customizable Whitelist
Customizable Tags
Categorizable Tags
Various Background Noise
Notification & Alerts
Forest Timeline (Daily, Weekly, Monthly, Yearly)
Detailed Time Distribution Statistics
Plant Real Trees in The PRO Version
Available for iOS and Android Devices
Pricing
Forest is free to use, but has an optional Pro version which starts at $1.99.
4. Ora — An All-in-One Project Management and Productivity Software
Image Source: ora.pm
If you've ever explored the best productivity tools for your business, then you must have at least stumbled upon Ora.
Ora is an app that comes with cute cartoon icons, gradient backgrounds, and candy-colored UI palettes that you can customize to make your workstation fun and engaging. In short: it's definitely not your standard-looking productivity app.
Ora comes with Kanban, Checklist, Table, Calendar, and Timeline view, and it also has built-in reporting and a time tracker, so you can review your resources and time it took to complete your tasks.
If you are overwhelmed with too many functions and want to tone your workspace down, you can simply toggle specific features on and off depending on what you need.
Key Features
Organizable Folders, Projects, and Workspaces
Filter Projects by Due Date or Other Tags
Automatic Sync of Calendar Reminders
Multiple Project Views
File Attachment
Hierarchical Tasks
Recurring Tasks
Blocking Tasks
Actionable Checklists
Tasks Time Tracker
Overtime Detection
Edit Descriptions for Timers
Time Spent Tracker
Built-in Messaging Platform
Mention Team Members
Adding Folders
Turn Emails into Tasks
Team Email Notifications
Link Ora Projects to Slack/Zendesk
Built-in Epics, Sprints, Story Points, and Reports
Customizable Theme (Dark Mode)
Pricing
Ora offers a free plan for up to three users and with a maximum file size of 10MB. There are three paid plans you can choose from: Startup ($4.33 for up to 8 users), Professional ($5.99 for an unlimited number of users), and Enterprise ($15.99 for no limit on users).
5. Plutio — A Productivity Tool to Help You Run Your Business
Image Source: plutio.com
If you're a freelancer or a small business, then Plutio is definitely one of the business productivity tools you should check out in 2021.
The idea behind Plutio is to provide you with a single workspace that can handle most—if not all—of the processes related to a small business. You can create a checklist, add team members, and assign tasks, and thanks to a built-in timer, you can monitor each team members' productivity. Plutio's also offers an integrated calendar that lets you set deadlines and reminders.
However, what separates Plutio from similar productivity apps is its capacity to handle client CRM and payments. From within the platform, you can create proposals, send invoices, and accept payments. You also get a CRM for saving client details and a communication system that you can make accessible only to them.
Given all of this together, you have a centralized, single workspace for handling almost all aspects of your business—your employees, their work productivity, and your clients.
Key Features
Project Management
Task Tracking
Scheduling
Add Team Members
Assign Tasks
Timesheet Tracker
Built-in Invoicing
Paypal & Stripe Integration
Create Proposals/Contracts
Drag-and-Drop Editor
Built-in Inbox and Live Chat
Email Integration
Available for Windows & Mac
iOS & Android Mobile Apps
Pricing
Although Plutio doesn't have a free version, it does offer a 14-day trial. The company's Solo plan costs $15 per month, while you can get the Studio plan at $20, and the Team plan at $30. In case you opt for their white label option, you'll need to pay an additional $9 per month.
6. Basecamp — A Perfect Productivity App for Remote Teams
Image Source: basecamp.com
Basecamp is an all-in-one project management and productivity tool whose goal is to help remote teams manage their work and collaborate together.
Thanks to Basecamp's "Automatic Check-In" feature, you can automate your daily progress reviews and help the team stay informed at all times about what everyone else has been doing. Another feature, called Campfires, lets you communicate with your teammates in real-time through chat.
With Basecamp, you also get access to features such as message boards, to-do lists, calendar scheduling, and file sharing. And although the app's interface looks a little cluttered at first glance, once you're used to it, you'll realize just how comprehensive this productivity app is.
Overall, whether you're a small startup or a medium enterprise, this is one of the top productivity apps that will have everything you'll need to run a remote business.
Key Features
Project Management
Team Management
Team Collaboration
Team Communication
To-Do Checklists
Custom Project Templates
Project Scheduling
Organize Discussions/Events/Meetings
Automatic Check-Ins for Team Members
Built-in Message Board for Announcements
Realtime Chat
File and Documents Attachments
Unlimited Projects
Unlimited Users
Unlimited Clients
Built-in Company HQ
Optional Team/Client Permission
Pricing
Basecamp comes with a very generous 30-day free trial, as well as a flat plan that costs $99. It includes every feature they have, unlimited projects, unlimited users, and no per user fees.
7. Todoist — The Best Productivity Tool for To-Do List Lovers
Image Source: todoist.com
Todoist is a productivity tool with a clean, straightforward interface. It's actually like Google Tasks, Google Calendar, and Notion in one.
At first glance, Todoist's checklist and task hierarchy structure is reminiscent of Google Tasks, while its colors and calendar look like a page out of Google Calendar's own interface. Meanwhile, the capability to organize nested notes and add icons will remind you of Notion.
However, this is where similarities end, as Todoist has some unique features of its own. Aside from the essential scheduling, tags, labeling, and color coding features, Todoist uses something called "Todoist Karma". For every task you complete and productivity streaks that you maintain, this productivity software awards you with points that you can use to level up your karma.
You can set these Karma goals yourself and review your daily and monthly progress via Todoist's visual productivity tracker.
Key Features
Task Management
Project Management
Tags and Label Categorization
Tasks & Sub-Tasks
Nested Notes
Tasks Notifications & Reminders
Offline Mode
Multi-Device Syncing
Google Calendar Syncing
Third-Party App Integrations
File Management
Shared Team Inbox
Activity Log
Priorities/Completed Tasks
Recurring Tasks
Karma Reward Point System
Milestone Tracker
Daily, Weekly & Monthly Progress Reports
Productivity Trend Chart
Automatic Backups
Custom Project Templates
Available on Windows & Mac
iOS and Android Mobile Apps
Pricing
Todoist has a free plan for up to 80 projects and 5 people per project. The first paid plan costs $3 per month, when billed annually, while their Business plan costs $5 per month, when billed annually.
8. Zoho Sprints — A Productivity Software for Agile Teams
Image Source: zoho.com/sprints
Zoho Sprints is an agile project management tool under Zoho's larger business suite that's probably one of the top productivity apps for product development or launch teams.
Though it looks simple, it is equipped with Zoho's signature breadth of business-ready features, and is specifically designed for planning and delivering product launches as fast and possible. You can create custom workflows using Zoho Sprint's drag-and-drop planning tools, and customize anything from fields, layouts, and even item type.
Zoho Sprints gives you Backlog, Board, Epic, and Bug Tracking views. Its reporting features lets you zoom in on tasks you need to focus on, or zoom out to get a bird's eye view of your overall progress as it relates to your roadmap.
It should be noted that this is one of the online productivity tools you can use to schedule meetings and get real-time activity feeds, so you can stay aware about what everyone else in the team is working on. Integrate it with any third-party app you use so you can maintain data across all the applications that you need.
Key Features
Stories/Tasks/Bug Management
Task Categorization
Milestone Tracker
Third-Party App Integration
User Stories
Estimation Points
Schedule Discussions/Meetings
Built-In Timesheets
Built-In Scrum Board
Customizable Sidebar
Sprint Activities Summary
Backlog Metrics
Planned vs Actual Graphs
Velocity Charts
Cumulative Flow Diagrams
Burn-up and Burn-down Reports
Custom Project Templates
Custom Layout Fields
API Available
iOS and Android Mobile Apps
Pricing
Zoho Sprints paid plans start at €10 per month, when billed annually. The price increases depending on the number of users you require. You can also give it a try free of charge!
9. Wrike — A Versatile Productivity App for Beating Procrastination
Image Source: wrike.com
Wrike is probably one of the most popular apps for productivity in this day and age, mostly because it comes with a simple, clean interface that allows you to use it for whatever comes to your mind.
First off, Wrike offers all the essential views that can help you address any type of workflow or project, including Calendar, Board, Nested List/Checklist/To-do List, Timeline, and even Gantt chart view.
Aside from editing Wrike's dashboard, adding, or removing any widgets as you need them, you can also organize your projects into different categories and subdivide them further into tasks. On top of this, you get access to a built-in inbox, so you don't have to open a separate emailing app anymore.
Additionally, this productivity tool allows you to customize the names of your to-do items and arrange them into nested hierarchies to help you prioritize the right goals.
Finally, if you're on the Wrike for Marketers and Wrike for Marketers Enterprise plans, you can get access to Wrike Proof, which is Wrike's built-in image review tool.
Key Features
Project Management
Task Tracking
Assigning Tasks
Rescheduling Tasks
Customizable Descriptions for Tasks
Tasks & Project Commenting
Time Tracker
Notifications & Alerts
File Attachment
Third-Party App Integrations
Customizable Dashboards
Customizable Forms
Different Views (Board, Gantt Chart, Workload)
Built-in Messaging Platform
Mention Team Members
Dynamic Request Forms
Custom Workflows
Built-in Proof Tool
Real-time Project Status/Report
Shareable Reports
Available on Windows & Mac
iOS and Android Mobile Apps
Pricing
Not only does Wrike offer a two-week free trial, but it also comes with a free option for smaller teams—albeit with limited features. The lowest paying plan will cost you $9.80 per user per month, for up to 15 users, while for the highest (Enterprise) plan you'll need to contact Write's representatives.
10. Backlog — A Productivity Tool Designed for Coding Teams
Image Source: backlog.com
In the world of online productivity tools, Backlog stands out because it's been specifically designed for coding teams in mind, and as such, it is fully equipped to handle things such as:
Project management
Bug tracking
Backlog issues
Wikis
Git
It also comes with Kanban, Checklists, and Gantt chart view, but one of Backlog's most important features for developers is its capacity to track and store code version changes.
Backlog records commits and pull requests, so you can review and leave comments, plus you can even compare code changes over each other, so it's easier to decide whether to push a new version live or to restore an old one.
And although this productivity software might be aimed at developers, it doesn't mean that you can't use it even if you're in marketing or another niche.
Key Features
Project Management
Task Tracking
Assigning Tasks
Scheduling Tasks/Projects
Tasks & Projects Comments
Built-in Messaging Platform
Personalized Watchlists
Checklists
Real-time Project Status
Project Updates History
Push Notifications & alerts
File Sharing
Drag-and-Drop File Attachment
Cloud Integration
SVN and Git Repositories
Pull & Merge Requests
Gantt Charts
Personalized Wikis
Built-in Bug Tracker
Burn-down Charts
Customizable Categories
Jira/Redmine Integration
Available on Windows, Mac, & Linux
iOS and Android Mobile Apps
Pricing
Backlog has a free plan which includes 10 users, 1 project, and 10MB of storage. Its first paid plan costs $35 per month, while you can also get the Standard plan for $100 and the Premium for $175 per month.
11. Habitica — A Productivity Software That Makes Work Fun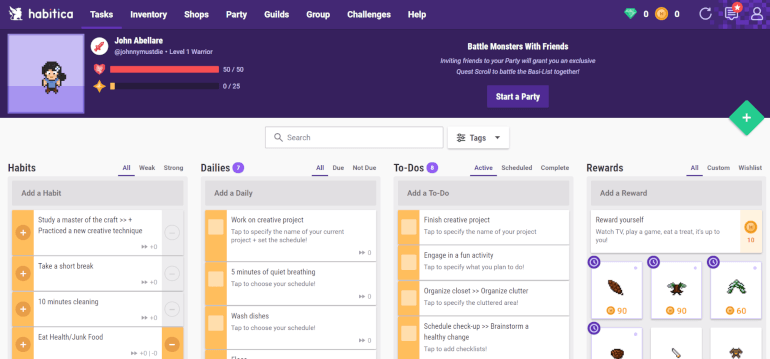 Image Source: habitica.com
Similar to Forest, Habitica is without a doubt one of the more creative productivity apps on this list, and you'll see why in a moment.
For starters, this app comes with the essentials: lists, boards, kanban views, recurring tasks, and more. But apart from these, Habitica has something that most of the other apps on this list don't have: overt gamification.
Set in a video game environment, each user has a character that completes tasks as "quests," which then yields rewards that allow them to "level up" their character and buy items.
They can also compete or band together with their friends to explore the variety of character changes they can make when leveling up, and items they can collect. This makes Habitica a colorful, creative productivity tool that could make accomplishing tasks more fun and even a little addictive.
Although meant for mobile phones, you can use Habitica in its web version, as well.
Key Features
Task Management
Label Management
Web & Mobile Ready
Task Sorting
Tags Management
Tags Filtering
Filtering Tasks by Due/Dated/Weak/Strong
Viewing Completed To-Dos
Task Reminders
Once-a-Day Reminders
Custom Rewards Management
Team Task Board
Task Assignment
Social Integration
Pricing
Habitica's first plan costs $4.99 per month, but you can also get it by paying $14.99 every three months, $29.99 every six months, or $47.99 every year. Keep in mind that prices may vary by location. There's also a free plan available if you want to try it out first.
12. Microsoft To Do — A Simple Productivity App by Microsoft
Image Source: todo.microsoft.com/tasks
Microsoft To Do is a free app that you can use to manage tasks and monitor productivity.
This is one of the business productivity tools that's pretty straightforward, and acts as a great alternative for users that crave a clean, simple interface that does a few things well versus other apps with plenty of clutter and a steep learning curve.
What you get is a simple task list, icons, tags, and labels to help you organize, and seamless integration with other apps that you use. If your team uses Microsoft Office for your work, then this productivity software should work even better with your suite.
You can easily connect it with your calendar so you'll get recurring reminders, as well as with your Outlook email or even Gmail so you can flag your relevant emails and turn them into actionable to-dos.
Key Features
Microsoft Outlook Integration
Multiple Device Syncing
Microsoft Office 365 Integration
Intelligent Suggestions for Daily Tasks
Team Collaboration
Recurring Tasks
Due Dates
Pending Task Reminders
Note Taking
File Attachment
Checklists
Sharing Permission
Access Permission
Available for Windows 10 and Web
iOS and Android Mobile Apps
Pricing
Using Microsoft To Do is completely free of charge, which means you can go ahead and try it out right now.
13. Google Tasks — The Ideal Productivity Tool for Completing Tasks
Image Source: google.com
Google Tasks also falls into the category of simple productivity apps, and it's a must-have for anyone who wishes to stay productive by tracking and completing tasks one at a time.
Like Microsoft To Do's relationship with its own suite, Google Tasks gives you easy integration with its own Google Suite of apps. The app comes with Gmail, so it's quick and easy for you to flag emails and turn them into tasks. You can also set deadlines and reminders, then integrate them with your Google Calendar.
Google Tasks is also accessible in the Google Docs interface, so if you're writing an article or researching a project, you can track any other ideas that you get along the way, and set a reminder to follow through. All of these can sync seamlessly across multiple devices.
This productivity tool is incredibly simple to use, and you can create main lists, add tasks, and subtasks. However, it is worth mentioning that it's not color-coded, does not have tags or labeling, and you can't collaborate live with your team.
Key Features
Checklists
Subtasks
Recurring Tasks
Deadline Setting
Google Suite Integration
Capture Tasks from Gmail
Automatic Sync of Calendar Reminders
Edit Descriptions for Tasks & Subtasks
Turn Emails Into Tasks
Track Due Dates
Task Notifications
Multiple Device Syncing
Available on Web
iOS and Android Mobile Apps
Pricing
Just like Microsoft To Do, Google Tasks is free for all, as well.
14. Omnifocus — A Powerful and Customizable Productivity Software
Image Source: omnigroup.com/omnifocus
Omnifocus is one of those business productivity tools whose goal is to help users stay productive by removing overwhelming information. With that in mind, plenty of its features are designed to help manage mental clutter, including task forecasting, where the app shows your daily tasks only by priority, and automatically reminds you when you need to switch.
Omnifocus also comes with a built-on sharing menu that makes it easy to capture data from any source and share it with the Omnifocus interface. This way, you can just take something important from anywhere, be it a Google search or an email, and automatically turn it into a task without having to remember all the details yourself. Omnifocus will do that for you when it's time to.
This productivity app also has something called "Flexible Inspectors" which is basically their version of Airtable blocks. These are the drag-and-drop code blocks that contain functions you can mix and match to create your own custom workflow.
You also get what's called a "Focus Mode," where the app helps you to focus only on your priority tasks first.
Key Features
Customizable Functions
Focus Mode
Task Forecasting
Data Visualization
To-Do List View
Inbox & Projects
Tags, Flags & Labeling
Calendar Integration
Encrypted Sync
Notifications & Alerts
Data Export
Spotlight Search
Hardware Keyboard Shortcuts
Location-Based Alerts
Custom Columns
Custom Perspectives
AppleScript Support
Mac and iOS-Exclusive App
Pricing
To get Omnifocus for your Mac, you'll need to set aside $99.99 for the Pro version or $49.99 for the Standard version. If you want it on your iOS device, it'll cost you $74.99 for the Pro plan, and $49.99 for the Standard one.
15. ClickUp — A Productivity App That Has Everything You Need
Image Source: clickup.com
ClickUp is, without a doubt, one of the best productivity tools available that provides almost everything any workplace would need—from team communication and productivity, to project management and progress reports.
You can create tasks and subtasks on a card, set a deadline, and get in touch with your team using ClickUp's built-in Inbox and Live Team Chat. And to ensure that procrastination becomes a thing of the past, ClickUp has ensured that you can track time and goals, as well as set reminders, and a lot more.
While you can, of course, create custom workflows from scratch, ClickUp is also equipped with various, most commonly used project templates that you can reuse for other projects, such as the usual content management, sales process, customer support tracking, and the like.
Keep in mind that, since it has plenty of functionalities, this productivity software can have a bit of a learning curve. But once you get used to it, it becomes worth it.
Key Features
Task Management
Assigning Tasks
Recurring Tasks
Hierarchical Tasks
Tasks Time Tracker
Time Estimates
Filter, Sort & Search Tasks
Real-time Project Status/Report
Tasks & Projects Comments
Built-in Inbox & Live Chat
Checklists & Subtasks
Custom Themes
Dark Mode Available
Third-Party App Integrations
Notifications & Alerts
Built-in Messaging Platform
Shareable Files/Documents
Chrome Extension Available
Different Views Available
Gantt Charts
Workload Charts
Rescheduling Reminders
Built-in Screen Recorder
Offline Mode Integration
Available on Windows, Mac & Linux
iOS and Android Mobile Apps
Pricing
ClickUp offers a free plan which gives you 100MB of storage and unlimited members. However, if you need more than that, then it's good to know that the paid plan costs $5 per month, when billed annually.
Conclusion
And there you have it: a list of some of the top productivity apps you won't want to miss out trying in 2021. Since a lot of them do offer a trial or a free plan, you could give them a go and see which one would work the best for you.
Before you take your pick, remember that you want a tool that will help you fight procrastination on a daily basis and ensure you're productive even when you're not feeling like completing your tasks and projects.
Thanks to its many versatile features, we believe Infinity would definitely give you the push you need to become a productivity wizard. After all, it allows you to track time, tasks, keep everything in one place, and a whole lot more—all for a pay-once price. If it sounds too good to be true, you can always get in touch with us via email team@startinfinity.com or schedule a demo with our team members.
Don't forget—if you have a productivity tool of your own to add to the list, give us a shout in the comments below.
FAQ
What is a productivity tool or software? A productivity software is an online tool that's meant to increase your productivity levels on a daily basis, and make both your work and personal tasks more efficient to complete. Their goal is to ensure you can dedicate the right amount of time to your projects and tasks, keep distractions to a minimum, and get more done. What are examples of online productivity tools? Some of the well-known productivity tools and apps include Trello, Todoist, Infinity, Microsoft To Do, Basecamp, and a lot more. How can you improve your productivity? There are many ways to improve your productivity levels (along with investing in a productivity software), including setting your daily goals, tracking time when working, separating your projects into smaller, more manageable tasks, setting deadlines (and sticking to them), and using an app that will stop you from using your phone or browser when working. Why should you choose Infinity as your productivity tool? Because Infinity allows you to organize your work and tasks in the way you want, and always stay on top of everything that you're doing. In addition to that, you get to choose the way you want to view your tasks, plus you can use the Clockify integration to track just how much time you spend working every day. Is Infinity available as a lifetime deal? Yes, it is. The lowest lifetime plan starts at $149 for 10 users and 1 workspace, but you can easily opt for another one, depending on your work and team needs.