16 Workflow Software to Help You Maximize Business Productivity
By
Hazel Pan
Apr 21, 2020
How valuable is workflow automation for your business? If you're not sure, here's a simple formula to help you calculate just how much more accurately.
Repetitive tasks X Average time each task takes X how many times the task is performed every month X Average hourly rate of VA = Value of workflow automation.
Imagine this scenario. Let's assume your VA spends about 30 minutes on average on five repetitive tasks. This can include anything from copy-pasting info, manually sending deadline notifications to the rest of your team, updating clients about project statuses, organizing files, and updating file naming conventions for each one—you get the drift.
Now, let's say your VA performs these tasks daily, which amounts to 20 days a month, while you pay your VA a wage of $15 per hour.
Using the basic formula shared above, you will come to the conclusion that if you automate these tasks, you could free up to 50 hours of time for your employee. And this will, in turn, help you save up to $750 each month.
That's annual revenue savings of up to $9,000, for just one employee!
Now, imagine if you could significantly scale up your business and save more time for 15 more employees. That's savings of around $135,000 per year. Theoretically, that's how much value a workflow automation software can give to your business.
If this is something that sounds interesting to you and you want to maximize productivity for your team, then today's list is just for you. We've compiled top 15 workflow software for you to choose from, along with their pricing, functionality, and capability for flexibility.
16 Great Workflow Software to Help You Maximize Business Productivity
Infinity is a workflow software that's perfect for anyone who wants to organize their business better and increase their team's productivity.
Its open-ended structure enables you to customize your workspace any way you see fit, and lets you handle multiple projects or clients with different workflow requirements. It's because of this flexibility that users can create their own workflows based on their unique project needs instead of constraining their systems to fit the limitations of other, inflexible tools.
Infinity comes with multiple views (from Table to Gantt), 15 custom attributes, Public Board feature, and a number of other additions that will make running your business a breeze.
It's basically like building your own project management software to look and function just the way you need it to, without needing to code everything from scratch. And if something generic isn't going to cut it, it's good to know that Infinity also has templates for common projects such as sales processes, marketing calendars, product development timelines, and more.
And although its browser version is far more powerful and feature-rich, Infinity is also available on Android and iOS, which means that you can collaborate, take notes, and edit your tasks even when away from your desk.
Infinity Features:
Table View
List View
Calendar View
Kanban Board View
Gantt Chart View
Column View
Progress Tracking
Workspaces
File Hierarchies
Team Permissions
Assign Tasks, Mentions, & Comments
Activity Log
Third-Party App Integrations (Zapier, Trello, etc.)
Mobile App Available
Notifications
Ready-To-Use Project Workflow Templates
Pricing
Infinity is currently running a lifetime deal, which starts at $149. All of the plans have access to all the features Infinity offers from the start, as well as future updates.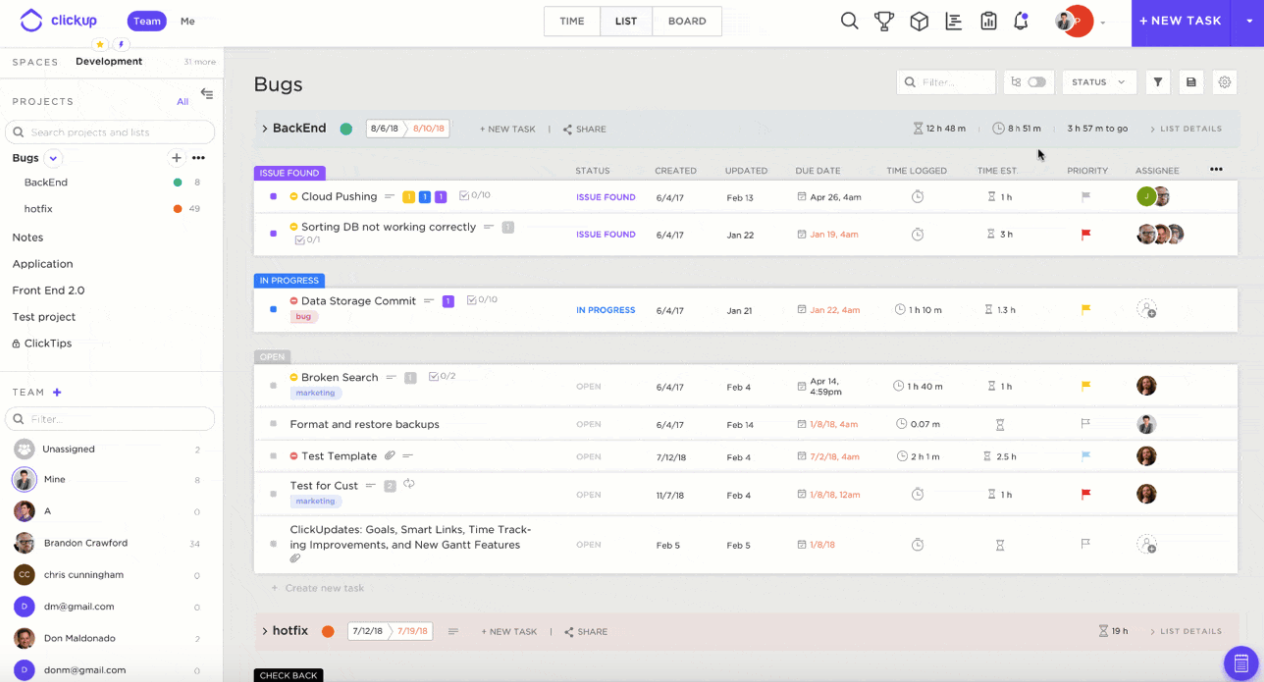 ClickUp is another workflow software that offers multiple solutions for managing your team's systems, tasks, and time (yes, it comes with a built-in time tracker). Its drag-and-drop functionality helps you customize your workflow the way you want, and just like Infinity, it also comes with templates to get you going the moment you sign up.
While ClickUp does have a mobile app version, too, it can be buggy and lacks some crucial functions that its cloud-based software sibling offers, such as calendar view, autosave, and time tracking. You can still edit, comment, and tick off your tasks though.
However, despite a few user experience issues, the mobile version is fully equipped to let you collaborate and work on your project during times that you're not in front of your computer.
ClickUp Features:
Box View
Calendar View
List View
Board View
List View
File View
Form View
Workspaces Hierarchy
Task Hierarchy
Customizable Workspace
Customizable Colors
Chrome Extension
Notifications
Email Reminders
Mobile App Available
Third-Party App Integrations
Image Mockup
Project Workflow Templates
Recurring Tasks
Google Calendar Integration
Progress Tracking
Filter & Search
Pricing
Starts at $5 per user per month. ClickUp's forever free membership allows for unlimited users and tasks with 100MB of storage. Upgrading gives you access to other features such as goal setting and tracking, Gantt charts, recurring tasks, reminders, delegations, and integrations, to name a few.
Nifty centralizes project communication, planning, and tracking with a bird's-eye view across all of your projects and teammate workloads. It consolidates all stages of a product's development into a single tool. By combining project management and team communication it makes team workflows simpler and faster.
Agencies dealing with several clients can make use of Nifty, as it allows their clients to collaborate with the team. This way, teams free up a lot of their time which is otherwise spent on looking for feedback across several communication channels.
Another nifty feature added recently is the integration with the Zoom app, so apart from team chats and discussions, you can discuss projects via video call, which is especially useful for remote teams.
Nifty Features:
Integration with other software such as Zoom
Automated project status reporting based on task completion
A built-in time tracker to track billable work across members, tasks, and projects
Client collaboration, allowing them to get involved in the workflow
Kanban Board and Task List views
Team chat within the tool
Project discussions within tasks
Project templates
Pricing
The Starter plan is free, with 1GB of storage, best suited for individuals and small teams up to 10 people. The Pro plan costs $99 per month, and offers unlimited team members and 500GB of storage space. The Business plan costs $149 per month, and comes with unlimited team members and 1TB of storage.
The Enterprise plan is a fully customizable solution.

If a spreadsheet and a database had a baby, it would be Airtable. If you haven't heard of it already, Airtable is a web-based workflow software that's also available on Android and iOS.
Its web version comes with a powerful no-code engine that lets you create any kind of workflow from scratch, and if you upgrade to the paid version, you can use Airtable's signature "Airtable blocks". These are mini-apps with functions that you can add to your default base, such as time tracking.
Other blocks include 3D model explorer and designs, geocodes, and other forms of communication like video chat and SMS.
When it comes to the mobile version, the good thing is that you can still view your tables and collaborate with your team, but the bad thing is that you won't be able to access some features on desktop. These include importing and exporting, creating forms, formulas, filters, and using blocks. You'll also need a stable internet connection for the mobile version, since it doesn't have an offline mode.
Airtable Features:
Customizable Workflows
Customizable Project Templates
Project Tracker
Progress Planning
Resource Allocation
Customizable Functionality via Drag-and-Drop Blocks
Grid View
Calendar View
Kanban View
Form View
Gallery View
Custom Field Types
Third-Party App Integrations
Native Mobile and Desktop Apps Available
Pricing
Starts at $10 per user, per month when billed annually.
Wrike is another cloud-based workflow management software that's also available as a mobile app for both Android and iOS users.
Wrike comes with flexible workflow and project management tools, real-time collaboration, and templates, and it also provides its users with tailored plans that aim to streamline tasks and processes among large teams in marketing, IT, and other industries.
It's worth mentioning that all the documents, projects, and folders that you save in Wrike's browser version can also be viewed in mobile. Additionally, you can manage your team's workload by creating request forms and assigning tasks.
Wrike is available in 9 languages, making it a good fit for global remote teams:
English
German
Spanish
French
Italian
Japanese
Brazilian Portuguese
Russian
Wrike's free plan comes with 2GB of storage space, as well as a board and spreadsheet view that allows you to manage tasks, share files, and keep track of all activity with 4 other users.
As you move up plans, you're given access to advanced features that enable you to access templates, create workflows, harness Gantt charts to manage schedules, tasks, and projects better, collaborate with people outside your team, and so much more.
Wrike Features:
Project Planning
Progress
Tracking
Real-Time Reporting
Dynamic Request Form
Check Lists
Gantt Chart
Custom Workflows
Real-Time Collaboration
Image Proofing
Timeline View
Project Dashboards
Resource Allocation
Customizable Project Templates
Notifications
Custom Widgets
Third-Party App Integrations
Mobile App Available
Pricing
Starts at $9.80 per user, per month.
Bitrix24 is a complete business process software with built-in workflow automation features. Its mobile app is just as powerful as the web version, making it a great companion for remote teams that need to spend a lot of time outside their offices.
Another thing worth mentioning is that you can retain access to Bitrix24's CRM, social intranet, and real-time collaboration through chat or video. As for workflow management, you can still comment, approve or deny requests on the workflows you've created.
Though its interface can look a little outdated, Bitrix24 is still one of the most powerful, fully featured workflow software on this list.
Bitrix24 Features:
Mobile Workflow
Workflow Automation
Real-Time Collaboration
HD Video Calls
Mobile Calendar
Push Notifications
File Management
Automatic File Syncing
Task Dependencies
Manage Tasks On Mobile
Mobile Invoicing
Mobile CRM
Mobile Intranet
Available On Android and iOS
Pricing
Starts at $24 per month for 2 users. Free plan is available.
Otherwise known as Microsoft Flow, this workflow software is, in a nutshell, like Zapier except it's produced by Microsoft. So, much like Zapier, what it does is connect different apps and automate repetitive tasks to help you save time.
Some examples of workflow automation you can do with this tool include:
Create a push notification when an important contact emails/contacts you
Tap a button to record your work hours on a spreadsheet
Download email attachments and automatically transfer to cloud storage
Create automated follow-ups for your sale leads
Capture leads and automatically transfer their data to your CRM
You can create project workflow templates by connecting multiple automations. Additionally, you can also ensure that people follow your business processes to the letter by creating a workflow that will only allow a team member to move their task forward if they complete your pre-set requirements.
You can set these all up to be accessible on your phone through what are called "button flows". That way, even when you're away from your desktop, you can still trigger your automations with the click of a button on your phone.
Microsoft Power Automate Features:
Pre-Built Connectors
No-Code Workflow Automation
Large-Scale Automated Workflow Templates
Business Process Flows Overview
Scheduled Workflows
AI Workflow Builder
Button Flows
Third-Party App Integrations
Analytics
Available On Microsoft, Android, and iOS
Pricing
Starts at $15 per user, per month
Cflow is a no-code workflow software that allows you to manage your repetitive tasks even when you're away from your desk.
Cflow comes with pre-built templates for common workflows such as leave requests, support ticketing, task assignment, and reimbursement processing, all accessible via mobile. It also offers seamless third-party integration with apps such as Zapier, Google Apps, and hundreds of others, so you can continue to expand your workflow automation with other apps that you need.
Cflow Features:
No-Code Workflow Automation
Ready-To-Use Workflow Templates
Third-Party App Integration
Scheduled Automations
Reporting
Push Notifications
Auto Login
File Attachments
Data Encryption
Create, Track, And Manage Requests
QR Code
Available In Web, Android, And iOS
Pricing
Starts at $5 per month, when billed annually (minimum of 10 users).
Not all business workflows come in plug-and-play templates. So, when the time comes that you need to create a workflow from scratch, or when an idea for workflow hits you while you're away from your desk, Workflowy can be a worthwhile option to look into.
Workflowy is a simple software available in both desktop and mobile versions that can make business workflows easier to ideate and organize through text-based lists and bullet journaling. However, it's worth mentioning that the more tasks, subtasks, and task branches you add, the more complex your workflows become.
With Workflowy, you can organize your lists into nested hierarchies then hide/unhide collapsible sections that you don't need. That way, you can continue to plan and expand your workflows without getting overwhelmed. You can also share your lists for collaboration and add hashtags to help you categorize your items.
Keep in mind that with this software, you won't get deadlines or reminders, so in that sense, Workflowy is best used for mapping workflows on the go, not managing with your team in real time.
Workflowy Features:
Distraction-Free Workspace
Nested Lists
Collapsible Lists
List Hierarchies
Bullet Journaling
Workflow Mapping Through List Hierarchies
List Sharing
Archiving
Mobile App Available On Web, Android, And iOS
Customizable Font Sizes
Export Or Duplicate Lists
Pricing
Starts at $5 per month.
MeisterTask is a workflow management software that you can use to help you manage most processes in your business, from real-time collaboration to automated workflows.
It's available for both desktop and mobile, and similar to Trello, MeisterTask has a checklist and Kanban view that syncs across the different platforms that you use. A feature that could be particularly useful for monitoring your team's productivity is creating and generating reports.
Upgrading to the paid plans gives you access to unlimited automations, and from there, you can integrate MeisterTask with other apps and set up your automations. For example, you can set up a trigger to alert a team member on Slack once a certain task is submitted, like a request to book a sales call, or for a support person to handle a certain ticket.
MeisterTask Features:
Workflow Automations
Third-Party App Integrations
Custom Background Images
Statistics And Reports
Multiple Checklists In One Task
Group Projects
Productivity Tracking
Predefined Workflows
Customizable Workflows
Team Collaboration
Available On Web, Android, And iOS
Pricing
Starts at $8.25 per user, per month
Hubspot is a full-suite workflow software for sales, CRM, customer service, and marketing. It started out as a desktop app, but now comes with a mobile app accessible via Android or iOS.
You can manage and automate a plethora of business workflows with Hubspot, and while doing this is easier via desktop, you can still continue working with ease via mobile, too. Setting up desktop-to-mobile triggers is easy in Hubspot, if e.g. you need to be notified when a lead enters your CRM and books a call. Once a call is scheduled by a client, your trigger will then fire a push notification to the assigned salesperson even when they're on mobile.
Hubpsot also allows you to conduct calls, review contracts, and send email templates via mobile, which makes it great for an on-the-go team that's always out on the field.
Hubspot Features:
Task Management
Task Reminders
To Do Lists
CRM
Sales Process
Workflow Automation
Helpdesk Functionality
Marketing Automation
Analytics
Email Marketing
Social Media Marketing
Team Collaboration
Business Card Scanning
Offline Mode
Pricing
Starter Growth Suite starts at $112.50 per month.
WorkflowMax is a great tool that can merge your workflow with accounting. On desktop, it's fully equipped with all the essential features for managing projects, teams, and clients, but it's worth mentioning that on mobile, it is just as powerful.
Even when you're not in front of your computer, you can still track your time, send quotes, and invoices. And since WorkflowMax comes with a native Xero integration, you can automatically track your revenue from the moment your invoice gets paid.
WorkflowMax Features:
Multiplatform Data Syncing
Native Integration With Xero
Lead Manager
Client Manager
Project Quoting
Invoicing
Document Management
Team Collaboration
Task Management
Project Management
Time Tracking
File Attachments
Available On Desktop, Android, And iOS
Pricing
Starts at $45 per month.
Taskade is a workflow management software that also includes a mind mapping tool. Since it's fairly simple and easy to understand from the get-go, you might think Taskade is just a simple to-do app. However, once you start exploring it, you'll realize that there's more than meets the eye.
If you dig deeper, you'll see that Taskade doesn't lack the essential functions that you need to manage bigger projects. Its interface is clean and colorful, which makes it a treat for visual type learners. You'll get a kanban, checklist, timeline, and team calendar view, but its most unique feature is its mind map.
Taskade also comes with workflow templates that you can start using right away. There's a bullet journal template, weekly tasks, scrum board, product roadmap, and more.
Taskade Features:
Real-Time Collaboration
Checklists, Notes, And Outlines
Access Permission
Checklist Sharing
Nested Outlines
Live Chat
Video Conferencing
List, Board
Team Calendar
List, Board, And Checklist View
Mind Mapping Tool
Workflow Templates
Real-Time Syncing Across Multiple Platforms
Available On Web, Android, And iOS
Pricing
Starts at $7 per month.
Design workflows, assign tasks to your team, and automate the rest on with Kissflow's workflow software. The tool is available for both desktop and mobile, and it allows you to seamlessly continue working on your mobile even after you've started tasks on your computer.
With Kissflow, you have the ability to integrate the tool with other important apps that you use in your business, so that you don't lose track, as well as easily share data via apps such as Google Suite, Dropbox, Oracle, Salesforce, etc. You can also set up assignments and automate escalations to avoid any human error, and use its drag and drop workflow designer without worrying about code.
Overall, if the price is not an issue for you, and if you're looking for a plan that's built for teams that are bigger than 20 people, then Kissflow is a good option.
Kissflow Features:
Custom Workflow Process
Process Management
Workflow For Google Apps
Team Collaboration
Analytics And Reporting
Third Party App Integrations
API Integration
Workflow Automation
Real-Time Analytics
Third-Party App Integrations
Automate Tasks, Escalations, And Notifications
Available On Web, Android, And iOS
Pricing
Starts at $480 per month for a 30-user team.
Redbooth is a workflow software that favors a kanban board view for managing tasks. However, it also comes with other views such as checklist, timeline, and calendar.
One interesting feature in Redbooth is its productivity board, which shows you those tasks that each team member has completed or that are still pending. You can also stay in touch with your team through real-time chat, video conferencing, and synced notes, even when you're on the go. Redbooth automatically sends notifications to your email, too, so you're sure not to miss anything even when you are not using it.
Redbooth Features:
Project Management
Task Management
Gantt Charts
Kanban Boards
HD Video Meetings
Project Templates
Integrations
Redbooth API
Visual Project Timelines
Productivity Boards
Team Collaboration
HD Video Meetings
Pricing
Starts at $9 per user per month
Monday is a no-code workflow management software that allows you to design and automate workflows through a drag-and-drop board. It's powerful enough to handle anything from simple to-dos to more complex task dependencies, and like with other software on this list, it allows you to use any pre-made workflow templates/automations and customize them as you please.
Monday has a visual dashboard that gives you an instant idea of how busy each team member is through color coded circles that grow in size to represent their workload. Just like Airtable, you can also use building blocks to build the app that fits your needs.
Monday Features:
Customizable Workflows
Workflow Automation
Task Management
Time Tracking
Team Collaboration
Quick View Dashboard
Project Planning
Integrations
Forms
Calendar, Timeline, Map, And Kanban
Notifications
Guests Permissions
File Sharing
Workspaces
Available On Web, Android, And iOS
Pricing
Starts at $49 per month for up to 5 users.
Wrapping Up
Believe it or not, a workflow software plays a big role in helping businesses maximize their team's productivity, while at the same time lessening the time spent managing them. If you're not using one already, you'll agree that investing into one for your own company might not be such a bad idea.
Thanks to our list of tools, you will hopefully be able to find the one that's just right for you and your team, and take your business productivity to the next level. And ultimately it doesn't matter if it's something as simple and straightforward as a shareable checklist, or something far more powerful to let you customize workflows to fit your processes each step of the way. What matters is that it makes things easier for you.
Infinity is currently running a lifetime deal offer, meaning that you pay once for the plan of your choice, and get to enjoy the tool for as long as you like, so that might be worth checking out. If you need to see it in action, you can easily preview and play around with our templates, or take a look at the video below:
In the meantime, stay tuned for our next list, and let us know what you think by tweeting @startinfinity and @MissPanWriter.