21 Workflow Software to Help You Maximize Your Productivity
Did you ever consider how much money you're losing on manually doing tasks that can be automated? Here's how workflow software can help.
Imagine having an employee spend 30 minutes per day on repetitive tasks that could be automated. Every day, that's half an hour lost on doing the same things over and over from scratch.
Multiply that number with the average of 260 working days in a year, and that's 130 hours lost every year. Now, let's say that your employee's wage is $15 per hour: that adds up to $1950 a year being lost on doing things that could be managed with a few clicks. And this is just one employee; a ten-person team will accumulate nearly $20,000 in losses every year.
As you may imagine, these numbers skyrocket with the size of your team, and enterprises are the ones getting hurt by inefficiency the most. When you compare these losses to the average price of a workflow software, it doesn't take a maths degree to conclude if it pays off to get one such tool.
Since picking the right software isn't easy and we value your time, we have compiled a list of 21 best workflow software to consider buying in 2023. We did our best to cover tools for different team sizes: solo entrepreneurs, SMBs, and enterprises, and all pricing categories.
Before we start dissecting each workflow tool and its features, let's do a quick recap of the most important things workflow software can help you with. Here are the main reasons to consider allocating some of 2023's budget to a quality workflow management tool.
Why Should You Use a Workflow Software?
Time Management—Never miss an important task again. Workflow management tools have reminders and alerts to keep you from missing a deadline or forgetting about a task you created.
Productivity—Perform a weekly review of your tasks, use task visualization, and track your progress to understand how productive you really are.
Ease of Use—What is the interface like? Is it easy to create and manage tasks, or does it take a while for you to get used to the workflow app?
Collaboration—If you are looking for a workflow tool for a team, make sure that you pick an app that has collaboration tools such as task assigning, live chat, messaging, etc.
Additional Features—What devices does the app support? Are there integrations with other software? How can you organize tasks, and can you break them into smaller items?
Tech Support—If you get stuck or experience any issues, it's essential to have great support. Some workflow management software on this list doesn't have live support, so consider that you may have to rely on email support that can take days.
Pricing—Most of these workflow tools have very basic features unless you choose a paid plan. We have included the pricing for each app so you can get the best for your money's worth.
Best 21 Worfklow Software to Use This Year
1. Infinity — An Automated Workflow Software for Solopreneurs and Teams

When it comes to workflow management, Infinity takes care of your tasks so you can become more productive. The idea behind this tool is to provide maximum freedom in customizing and organizing tasks so you can keep everything in one place, organized neatly to avoid clutter.Thanks to this flexible structure, you can easily scale projects as they grow.
You can organize items within your workspace into folders, subfolders, and tabs. There are 22 attributes to add to your items, such as date, labels, text, checkboxes, formulas, and attachments. Infinity lets you build customizable frameworks and processes using an unlimited number of boards within your workspace and structuring each board to follow your data flow.
Infinity workflow software offers multiple views—including Table, Columns, List, Calendar, Gantt, Chart and Form—that allow you to see your data from a different angle, as well as filter, group, and customize options to display it in a way that makes the most sense.
"The "new" Infinity is simply awesome. It is an incredibly flexible and unique productivity tool with impressive capabilities and a beautiful UI. Everything they added: dashboards, tabs, views, charts, graphs, Gantts, galleries, and more is designed to help you build your personal workflow. I absolutely love it!" - Product Hunt Review
Infinity has custom integrations with Clockify and Trello that let you track time spent on tasks within Infinity and import tasks from Trello within seconds. You can use Infinity as a one-stop shop for all your projects by connecting your workspace with over 3,000 other apps via the Zapier integration.
Key Features
Infinity offers an extensive combination of features that will have you all set for project management, organization, and effective collaboration.
Infinite Structure—Infinity's customizable structure makes it a breeze to map out your workflows. You can create as many boards, folders, subfolders, and items as you want and organize these workflows in the best way possible.
7 Views—Staying on top of your workflows requires taking different approaches to different types of projects and tasks. With Infinity, you can view data from 7 perspectives (visually track tasks and projects, planned and scheduled actions), which can give you a complete image of where your work stands at any moment.
Customizable Attributes—There are 22 attribute types you can choose from, including date, labels, checkbox, text, etc.
Drag & Drop Interface—It takes a few clicks to add elements to your workspace and reorder them.
Filters, Group & Sort—See only the data you want to see.
50+ Templates—We don't believe in a one-size-fits-all type of thing. That's why we created dozens of customizable project templates (personal, freelance, marketing, sales) you can easily adjust to your usual way of doing things. From simple to complex, cross-functional workflows, Infinity has got your back!
Team Collaboration—Infinity lets you clearly communicate requests, edits, and suggestions on tasks in real-time so members of your team can take the necessary steps on completing tasks right away, which eliminates second-guessing and ensures a smooth workflow.
Document Management—Easily share documents with team members or organize them within your personal workspace.
CSV Import/Export—Quickly add CSV files from Excel and other programs.
Task Management—Assign tasks to team members and keep track of progress by project phases.
Activity Tracking—Get updated on recent changes, pending tasks, and team member activities.
Progress Tracking—Track completed tasks and overall progress via progress bar to ensure your team delivers on time, or identify potential bottlenecks, then take action to re-establish an optimal workflow.
Access/Permission Control—Limit access to sensitive data and customize who can edit your projects.
Automatic Backups & Data Recovery—All your valuable information gets backed up and stored safely in the cloud.
Clockify, Trello, and Zapier Integrations—Connect to thousands of third-party apps, import tasks from Trello, and track time spent on tasks.
INFINITY TIP: If you add different labels to your items, in Gantt and Calendar views you'll be able to color-code your tasks and projects by grouping or filtering them by these labels.
Infinity offers dozens of various templates divided into categories like education, HR, marketing, product development, and many more. You don't have to build workflows from scratch; simply use an existing template and customize it with your data. You can check out some template examples here:
Pricing
Infinity offers both Basic and Pro plans. Basic plans start from $3.75 per user per month, whereas Pro plans start from $6 per user per month. There's also a 14-day free trial which gives you the opportunity to try out Infinity and see if it fits your needs.
2. ClickUp — A Powerful Workflow Management Software
Image Source: clickup.com
ClickUp is a multi-purpose project workflow software that facilitates teamwork and increases productivity. It comes with several project views such as boards, lists, Gantt charts, and calendars, which is great for task overview. You can add task dependencies to organize the natural project flow and identify which tasks are blocking or depending on others.
If you've adopted agile methodologies in your project management, you'll love features like Scrum Points that let you award point values to each task and count points during each sprint.
You can automate your entire workflow by using hundreds of pre-made templates or by making your own using the custom automation builder.
ClickUp can be a good choice if you're looking for a way for the whole team to work remotely, since it also enables team collaboration, document management, task management, and goal tracking. Team members can create Wikis and Docs as a part of a knowledge base for each project.
The downside of having so many customization options is that ClickUp has a steep learning curve, which may discourage your team to give it a chance and get the most out of it.
Key Features
Agile Methodologies
Budget Management
Client Portal
Collaboration Tools
Cost-to-Completion Tracking
Customizable Templates
Gantt Charts
Idea Management
Kanban Board
Milestone Tracking
Portfolio Management
Resource Management
Time & Expense Tracking
Traditional Methodologies
Pricing
ClickUp offers a free workflow software plan with 100MB storage, and paid plans that start at $5 monthly per user when billed annually.
3. Nifty — A Project Workflow Software for Online Collaboration
Image Source: niftypm.com
Nifty is a resourceful tool that can be used for many aspects of project management and online collaboration, including time tracking, client management, task management, and real-time communication. Team members can use the Discussions feature to establish a knowledge hub, share files, organize communication into threads, and create tasks directly from project discussions.
The Milestones feature enables different milestones views: Timeline (Gantt chart), Swimlane, and Master Overview. You can organize the workflow by creating milestone dependencies or recurring milestones for repeating events such as sprints. For more task clarity, you can choose to switch to a Kanban or list view.
One thing that sets Nifty apart from similar software is that it offers project management tailored to the needs of several different industries. For instance, there are use cases for agile development, client management, digital agencies, legal case management, marketing teams, and product teams, with custom templates and suggestions on how to organize and improve your workflow.
In case you decide to switch to Nifty, you can simply import your projects from Asana, Basecamp, ClickUp, Jira, Trello, or Wrike, and continue where your team left off.
Key Features
Discussions
Team Chat
Milestones (Gantt Chart)
Tasks
Docs & Files
Time Tracking
Reporting
Project Home
Project Portfolios
Third-Party Integrations
Automated Project Status Reporting
Client Collaboration
Kanban Board and Task List Views
Team Chat
Project Templates
Pricing
Nifty plans start at $39 per month when billed annually, for a team of up to 10 people.
4. Airtable — A Web-Based Workflow Software
Image Source: airtable.com
Airtable combines the online database features with a spreadsheet view, providing workflow management and team collaboration in one tool. Its interface offers a flexible relational data model for various business projects that can be organized through Grid, Calendar, Kanban, and Gallery view.
If you're looking to speed up your workflow creation process, check out templates from 20+ categories including content production, real estate, software development, nonprofit, etc. Once you've built your flow, you can filter, sort, and group data to hide any information that isn't relevant.
Airtable automations enable you to send notifications, automate tasks, and integrate with other tools. It has Zapier, Workato, Integromat, and Automate.io integrations that let you connect with a large number of third-party apps.
Unlike Infinity, Airtable doesn't have 24/7 live support, so you'll have to rely on email support or a self-serve knowledge base. Otherwise, it is a versatile and agile project management software that is great for real-time collaboration within teams.
Key Features
API
Third-Party Integrations
Access/Permission Control
Data Import/Export
Search Functionality
Template Management
Categorization/Structuring
Team Collaboration
Chat & Messaging
Timeline & Gantt Chart
Calendar Management
Kanban
Spreadsheets/Tables
File/Docs Management
Customizable Fields
Task Management
Drag & Drop Interface
Data Filtering
Reporting & Statistics
Activity Tracking
Progress Tracking
Public/Shared Workspace
Pricing
Airtable has a free plan with basic features like 1,200 records per base and 1 synced table per base through April 2021. For paid plans, the pricing starts at $10 monthly per user when billed annually.
5. Wrike — An AI-Powered Automated Workflow Software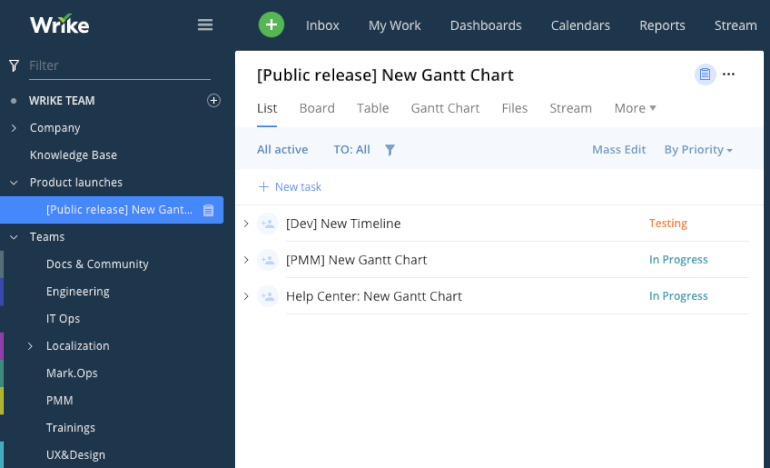 Image Source: wrike.com
Wrike is an agile solution for workflow management with numerous use cases, from client management to enterprise project management. This software is flexible enough to be used by different teams within your company, including product development, marketing, creative, and project management departments.
If you're looking for a custom solution for your marketing team, don't forget to check out Wrike for Marketers, a version of Wrike created with powerful features that facilitate digital asset management and publishing.
You can customize your workflow through interactive Gantt charts or Kanban boards, or use pre-made templates to organize projects and tasks. The latest addition to the list of Wrike's features is Work Intelligence—an AI-powered tool for automation and project risk prediction.
When it comes to third-party integrations, Wrike offers a variety of ways to connect your projects with other apps. You can easily connect Gmail, GitHub, Jira, Slack, Dropbox, and dozens of other tools with Wrike, and there are Wrike APIs for building enterprise apps and developing custom integrations. If you're looking for a free workflow software - Wrike has a basic plan that is free of charge.
Key Features
API
Third-Party Integrations
Access/Permissions Control
Data Import/Export
Search Functionality
Template Management
Categorization/Structuring
Team Collaboration
Timeline & Gantt Chart
Calendar Management
Kanban
Spreadsheets/Tables
File/Docs Management
Customizable Fields
Task Management
Drag & Drop Interface
Data Filtering
Reporting & Statistics
Activity Tracking
Progress Tracking
Public/Shared Workspace
Pricing
A free simple plan for small teams, with paid plans starting at $9.80 monthly per user.
6. Bitrix24 — An Online Workflow Management Software
Image Source: bitrix24.com
Bitrix24 combines a variety of software such as collaborative tools for communication, task and project management, CRM, and e-commerce, into one business ecosystem. When it comes to workflow management, Bitrix24 offers a project planner and different project views like the Gantt chart, Kanban board, and calendar. You can create custom project stages to group your tasks by.
This project workflow software comes with project resource management features including workload planning, time tracker, project reports, and CMS resource booking. A new feature called Robotic Processing Automation (currently in beta) helps save up to 80% time on routine tasks by automating standard business processes like document approval, purchase requests, or expense reports.
Bitrix24 can be used by individuals, small businesses, and enterprises. According to its website, the industries that can benefit the most from getting this tool are legal, retail, travel, transportation and storage, and HoReCa.
Key Features
Team Communication
Task & Project Management
Kanban Planner
Gantt Charts
Notifications
Quotes & Invoices
Reminders
Task Time Tracking
Task Templates
Rate Task
HR System
Report Builder
CRM, Workflow, Calendar & Drive Integration
Task Dependencies
Project Workgroups
Template Sharing
Sites & Landing Pages
Data Import/Export (CSV)
Pricing
Bitrix24 currently has a free plan for an unlimited number of users, while the first paying plan starts at $14.40 per month for 2 users if you opt for a two-year period plan.
Image Source: flow.microsoft.com
According to Microsoft, this tool lets you streamline repetitive tasks and paperless processes to boost productivity. Microsoft Power Automate offers hundreds of pre-built connectors that enable creating workflows that range from simple personal tasks to large-scale systems.
This project workflow software is aimed at people with little to no experience with programming, as it offers no-code and low-code options to build custom workflows. Much like Bitrix24, Microsoft Power Automate uses robotic process automation (RPA) to automate repetitive everyday tasks and help increase productivity and save time.
Thanks to having Microsoft security technology built in this product, Microsoft Power Automate guarantees rapid implementation and scaling that complies with IT security standards. Another great feature that was recently added is the process advisor—a process mining capability that makes it easier to pinpoint bottlenecks, analyze processes, and create automations based on the gained insights.
Key Features
Pre-Built Connectors
No-Code Workflow Automation
Large-Scale Automated Workflow Templates
Business Process Flows Overview
Scheduled Workflows
AI Workflow Builder
Button Flows
Third-Party App Integrations
Analytics
Push Notifications
Connectors Library via Microsoft Dataverse
Azure DevOps Integration
Robotic Process Automation
Available On Microsoft, Android, and iOS
Pricing
Microsoft Power Automate plans start at $15 per user per month.
8. Cflow (Cavintek) — A Cloud-Based Workflow Application
Image Source: cflow.cavintek.com
Cflow is one of Cavintek's three flagship products for automation and HR processes, offering a combination of cloud BPM and workflow automation software. Cflow is aimed at teams of all sizes, from small businesses to enterprises.
All workflows can be created easily via drag and drop, and you can make custom workflow templates by using the forms designer. Cflow comes with a Zapier integration that lets you connect your workflows with other applications like Google Workspace, Office 365, or any other tools your team is using.
If you're working with sensitive data, you'll be happy to know that Cflow stores your information in AWS data centers and offers advanced data encryption features. You can configure backup policies and Cflow will provide automated backups of your data in the cloud.
Key Features
No-Code Workflow Automation
Ready-To-Use Workflow Templates
Third-Party App Integration
Scheduled Automations
Reporting
Push Notifications
Auto Login
File Attachments
Data Encryption
Create, Track, And Manage Requests
QR Code
Pricing
Cflow plans start at $7 monthly per user when billed annually.
9. WorkFlowy — A Simple Automated Workflow Software
Image Source: workflowy.com
Workflowy is a simple workflow software available as a desktop, iOS, or Android app so you can take care of your tasks anywhere on the go. When creating workflows, you can create tasks and subtasks and branch out different dependencies.
By creating nested lists, you can easily hide parts of the project that aren't a priority and avoid having a cluttered workspace. Items can be customized with hashtags so you can organize them into categories.
Workflowy offers list sharing so you can work on a project with other coworkers, but there aren't any features for real-time collaboration. Having that in mind, if you have a large team, this limited way of communication may be an obstacle to productive workflow management.
Key Features
Distraction-Free Workspace
Nested Lists
Collapsible Lists
List Hierarchies
Bullet Journaling
Workflow Mapping Through List Hierarchies
List Sharing
Archiving
Mobile App Available On Web, Android, And iOS
Customizable Font Sizes
Export Or Duplicate Lists
Pricing
WorkFlowy plans start at $5 per month.
10. MeisterTask — A Project Workflow Software for Real-Time Collaboration
Image Source: meistertask.com
MeisterTask is a workflow management software with a wide choice of organizational features that allows its users to collaborate in real-time. The tool is known for its Kanban dashboards which provide an overview of all projects and a set of task management, automation, monitoring, and reporting attributes. MeisterTask is integrated with all task management applications that should complement an agile unit.
Unlike some workflow management tools on the list, MeisterTask doesn't aim at providing a multipurpose, all-in one workflow software for every team within your company. In contrast, it focuses on having the most essential features tailored to its users.
With that in mind, don't expect to manage complex workflows or handle enterprise projects with ease. MeisterTask's greatest value is in online collaboration features, so if you need a tool to manage simple projects, it can be a good choice.
Key Features
API
Third-Party Integrations
Access/Permissions Control
Data Import/Export
Search Functionality
Template Management
Categorization/Structuring
Team Collaboration
To-do Lists
Calendar Management
Kanban
File/Docs Management
Customizable Fields
Task Management
Drag & Drop Interface
Data Filtering
Reporting & Statistics
Activity Tracking
Time tracking
Public/Shared Workspace
Pricing
MeisterTask has a free workflow software plan with basic features, and paid plans starting at $5 per month when billed annually.
11. HubSpot — An Automated Workflow Software for Marketers
Image Source: hubspot.com
HubSpot is one of the most popular workflow management tools when it comes to marketing and sales, being also a large knowledge base for inbound marketing methodologies. HubSpot offers a full CRM platform consisting of tools for marketing, sales, customer service, and CMS.
This powerful "smarketing" tool can help you with lead generation, closing more deals, and even building a website with great conversion rates. You can automate many recurring tasks and customize your sales funnel so you have a clear strategy for every lead.
If your work falls into one of the above mentioned categories, HubSpot should be at the top of your list. However, those seeking a workflow management software for technology departments or industry-specific use cases like legal or hospitality should look for a tool that is a better fit for their needs.
Key Features
Task Management
Task Reminders
To Do Lists
CRM
Sales Process
Workflow Automation
Helpdesk Functionality
Marketing Automation
Analytics
Email Marketing
Social Media Marketing
Team Collaboration
Business Card Scanning
Offline Mode
Pricing
HubSpot plans start at $45 per month when billed annually.
12. WorkflowMax — A Resourceful Workflow Management Software
Image Source: workflowmax.com
WorkflowMax workflow software tackles many aspects of project management, including lead management, client management, quoting, document management, task management, time tracking, and more. This is one of the most wholesome workflow tools as it enables you to keep track of your budget and resources and quickly generate reports on your progress.
The strong suit of WorkflowMax is how it integrates accounting features with workflow management. For instance, the Xero integration lets you sync job management and accounting in real-time. The work in progress manager handles all un-invoiced tasks so you don't lose track of work that hasn't been completed and paid yet. WorkflowMax makes it easy to create invoices and send them to clients.
Another great thing about this tool is that it uses business intelligence to provide project profitability reports. This way you can understand profitability across different client categories, focus on most profitable clients, and adjust your pricing for maximized profit.
Key Features
Multiplatform Data Syncing
Native Integration With Xero
Lead Manager
Client Manager
Project Quoting
Invoicing
Document Management
Team Collaboration
Task Management
Project Management
Time Tracking
File Attachments
Pricing
WorkflowMax plans start at $45 per month.
13. Taskade — A Tree-Structured Database Online Workflow Tool
Image Source: taskade.com
Taskade is a resourceful tool that lets you manage your workflows from the very ideas to project management. It takes a few clicks to create a project roadmap and set task dependencies within your workflow.
Taskade is organized as a tree-structured database, which means it can transform into several different views: list, board, action, and mindmap. But the real power of this workflow software lies in online collaboration: your teammates can chat in real-time and track real-time project changes across all devices. Thanks to the progress tracking features, it is simple to know what each team member is currently working on and to track each task.
If you need a tool that's easy to use and doesn't have a steep learning curve, consider Taskade as one of your top choices.
Key Features
Real-Time Collaboration
Checklists, Notes, And Outlines
Access Permission
Checklist Sharing
Nested Outlines
Live Chat
Video Conferencing
Team Calendar
List, Board, And Checklist View
Mind Mapping Tool
Workflow Templates
Real-Time Syncing Across Multiple Platforms
Pricing
Taskade offers a free workflow software plan with basic features, and paid plans that start at $5 monthly per user.
14. Kissflow — A Workflow Application for Better Productivity
Image Source: kissflow.com
Kissflow is a workflow automation software designed to boost productivity and reduce clutter within your workflows. It provides great flexibility when it comes to customization: you can tweak form layouts, elements, and data sources to create fully custom forms.
You can easily connect tools like Google Workspace, Dropbox, Oracle, Salesforce, etc. with your Kissflow workspace. Real-time analytics enable you to keep track of custom metrics regarding each process within your workflow. Thanks to a simple workflow manager, users don't need any coding experience to be able to manage their workflows.
One thing that may talk you out of getting Kissflow is its steep pricing—the cheapest plan starts at $390 per month for up to 20 users. Individuals and small teams should look into alternatives that offer more affordable plans.
Key Features
Custom Workflow Process
Process Management
Workflow For Google Apps
Team Collaboration
Analytics And Reporting
Third Party App Integrations
API Integration
Workflow Automation
Real-Time Analytics
Third-Party App Integrations
Automate Tasks, Escalations, And Notifications
Pricing
Kissflow plans start at $390 per month when billed annually.
15. Redbooth — An AI-Based Workflow Management Software
Image Source: redbooth.com
Redbooth is a multi-purpose workflow software centered around a Kanban board outlook. Its Timeline View lets you easily add tasks and use drag and drop to change start and end dates, as well as create task dependencies. The filtering feature enables you to choose which project parts to view, so you can avoid cluttering.
With Redbooth, you can manage multiple projects in the same timeline, which is great for resource management. There is an AI-based feature called Redbooth Predict that gives recommendations for users and due dates and provides automatic project status updates and reports.
Thanks to the detailed productivity reports, you can pinpoint which tasks take too much time and discover the root cause of bottlenecks and roadblocks. Redbooth lets you track productivity across projects and team members by providing an overview of all tasks and single task reports.
Besides having standard Gantt chart features, Redbooth is great for team management since it lets you organize HD video meetings via Zoom.
Key Features
Kanban Boards
Task Customization
Dashboards
Collaboration Tools
Timeline View
Productivity Reports
HD Zoom Meetings
Project Management
Task Management
Gantt Charts
Kanban Boards
HD Video Meetings
Project Templates
Integrations
Redbooth API
Visual Project Timelines
Pricing
Redbooth plans start at $9 per user per month, when billed annually.
16. Monday.com — A Versatile Online Workflow Application
Image Source: monday.com
Monday.com is a workflow software with a colorful UI that lets you manage everything from CRM to construction projects. There are color-coded tasks you can import in one of many customized templates, which helps speed up the project management process. Monday.com offers different views such as map, calendar, timeline, or Kanban, depending on the kind of project you are tracking.
One of Monday.com's greatest features are automations—you can automate repetitive tasks to save time and reduce the chances of a human error. For instance, you can create a new lead in the sales pipeline every time you receive an email from a form.
When it comes to integrations, Monday.com lets you centralize your task pipeline by connecting the platform to other applications like Slack, GitHub, Google Workspace, Salesforce, or any of the dozens of other tools. The no-code integrations make it easy to seamlessly integrate whatever apps you need via Zapier or Monday.com APIs.
Monday.com has its own apps marketplace where you'll find custom views, widgets, integrations, automations, and other tools that expand the capabilities of your workspace. You can add various apps for CRM, team management, productivity & efficiency, collaboration, as well as reporting & analytics.
Key Features
API
Third-Party Integrations
Access/Permissions Control
Data Import/Export
Search Functionality
Template Management
Categorization/Structuring
Team Collaboration
Timeline & Gantt Chart
To-do Lists
Calendar Management
Kanban
Spreadsheets/Tables
File/Docs Management
Customizable Fields
Task Management
Drag & Drop Interface
Data Filtering
Reporting & Statistics
Activity Tracking
Progress Tracking
Time tracking
Public/Shared Workspace
Pricing
Starts at $24 per month when billed annually.
17. Process Street — A Simple Yet Powerful Process and Workflow Management Software
Image Source: process.st/products
Process Street is a no-code workflow software built to help you tame the chaos in your team and strengthen the core of your business. With it, you can automate workflows and boost productivity. Start with one of their ready-made templates, then add tasks, set deadlines, and get through workflows quicker.
This software comes with a user-friendly interface that enhances flexibility as it lets you automate the most common tasks, update workflows and change their direction, set task priorities, add assignees at a click, and continuously improve the way you do business.
To ensure your team is moving forward, Process Street makes it convenient to approve or reject tasks and task updates within and outside the app. This can help you identify and remove bottlenecks and ensure the best quality of work your organization has to offer.
You can monitor individual and team performance via dashboards, create reports based on this data, identify and resolve slowdowns, re-establish a smooth workflow and boost the overall performance. On the other hand, members of your team can track their own performance via personalized dashboards and figure out in which ways they can improve.
Process Street is among the best workflow tools that can help you standardize all operations, reduce errors to a minimum, and ensure consistent working, which all results in increased consistency and cut costs.
Key Features
Custom Process Templates
Collaborative Workflows
In-Progress Workflows
Conditional Logic
Checklists
Activity Feed
Real-Time Notifications
Several Automation Modules
Monthly Reporting
1,000+ Integrations
Pricing
Process Street has 3 paid plans—basic, standard, and custom. Plans start at $12.5/user/month.
18. Hive — A Workflow Software with Multiple Productivity Features
Image Source: hive.com
If you are trying to get things done and increase productivity, you should be looking for a tool that can give consistent results and make sure you have a close eye on people and tasks. Hive is a workflow application that can supercharge your projects and optimize growth. Here's how.
With Hive, you can supervise people from the team, tasks they are involved in, and their progress, optimize processes, collaborate effectively, and reduce wasting time and resources. Start off with one of their pre-designed project templates and tailor it to your needs—create tasks, specify assignees, add important info and descriptions, set due dates, and take other actions crucial for projects you are working on.
Hive features task dependencies that make actions within your projects but also your team members dependable on another and encourage teamwork. And, in case of task priorities change, this automated workflow software instantly changes the order of items on the timeline so your team can continue working seamlessly.
Other than that, you can automate other common workflow processes and create custom forms. Once someone from the team fills out the form, the app automatically creates an action card based on the details submitted. This way, you can quickly collect contact info, orders, and requests, find out about bugs and issues, and take actions to streamline workflows.
Key Features
Kanban, Gantt, Calendar, and Table View
Project Templates
Dashboards
To-Do Lists
Task Dependencies
Resource Management
Automation Buttons
Time Tracking
In-App Messaging
Integrated with Slack, ProofHub, Github, and 1,000 More Apps
Pricing
Hive's base package comes at a price of $12/user/month when billed annually. They also have an enterprise plan, tailor-made to your business's needs. Contact Hive for more info about pricing options.
19. ProWorkflow — A Professional Online Workflow Management Software
Image Source: softwareadvice.com
ProWorkflow is a flexible project workflow software packed with a range of features meant to help you and your team operate more efficiently. Working on projects is made easy with ProWorkflow as it keeps all project info neatly organized on a single page.
You can handle various types of activities with this workflow management tool—manage time, resources, costs, edit projects, set up tasks, collaborate with other members of the team, attach files, make quotes, send invoices, and more.
You decide who can see your Project dashboard besides assigned staff—contractors, stakeholders, or clients. Depending on the permissions you set, client can directly submit requests within projects or bring in suggestions while you still stay in control over your workflows.
Next, you can quickly create, delegate, and edit tasks in bulk, set start and due dates for each, check task statuses, set up recurring tasks, and collaborate on tasks with the team using the messaging tool.
ProWorkflow allows you to review your staff workloads via workload breakdown reports based on the allocated hours every team member has for their tasks. This way, you can check their free time and identify and resolve load issues.
Key Features
Drag-and-Drop Interface
Customizable Workflow Templates
Tasks and Subtasks
Task Dependencies
Active, Upcoming, and Overdue Projects and Tasks Summary
Active Staff View
Staff Workload and Performance Reports
Bulk Actions
Timeline
Live Alerts
Pricing
ProWorkflow has two packages—professional ($20/user/month) and advanced ($30/user/month).
20. Screendragon — A Workflow Management Solution for Marketing, Agency, and Professional Service Teams
Image Source: screendragon.com/solutions/workflow-software/
Screendragon's workflow management solution can help you manage people, content, and projects, and simplify processes to set up your organization for success. It boasts a clean, user-friendly interface so you can have a bird's-eye view of all of the activities in your workspace. When you have a crystal clear understanding of where your team members, tasks, and projects stand, you can track progress and plan ahead for even better performance.
Packed with loads of customizable workflow templates, Screendragon makes it super convenient to build workflows that suit any type of project, apply your own, tried-and-tested methodologies, but also make edits on the go via the tool's visual workflow editor.
Speaking about visualizations, Screendragons is one of the most easy-on-the-eye software out there. It supports several workstyles and views (Kanban, Gantt, list, and more) and lets you easily set priorities, adjust timelines, adds assignees, and color-code everything to make your workdays more fun.
Screendragon powers workflows with its dynamic, multimedia forms you can customize in multiple ways (layout, language, form fields, etc.). You can also hide and show fields and change access permissions at a click.
This workflow software features personalized dashboards you can use to track milestones and status updates and create custom reports so you can leverage your team's performance. Screendragon integrates with 1,000+ apps that can help with complex workflow requirements and facilitate your way of working.
Key Features
Workflow Templates
Custom Workflows
Automated Workflows
Resource Management
Digital Approvals
Advanced Permissions
Team Collaboration
Email Notification Templates
Full Reporting and Analytics
Zapier, Trello, Jira, and Other Integrations
Pricing
Contact Screendragon via email for more info about their pricing.
21. Unito — An Outstanding Workflow Management Platform
Image Source: unito.io
Unito is among the leading workflow management tools that can give you detailed insights into what's happening in your organization and ensure all teamwork is running seamlessly. It boasts thousands of integrations with other work management solutions you may be using so your work data (tasks, messages, meetings, emails) is flowing between these tools.
With Unito, you get a chance to create deep, two-way relationships, then choose the most suitable way you want your work to flow. What's more, data updated on other platforms gets automatically updated on Unito, and, you'll admit it, this is a massive time saver.
Three of the core Unito principles include alignment, visibility, and collaboration. Instead of switching between apps, you can bring together tasks and subtasks, assignees, connections, due dates, and attachments, apply filters, group items, and ensure your team collaborates on these items with ease.
No matter how complex your workflows are, this workflow application makes it easy to track and share progress and scale your team's performance. Unito's analytics give you the visibility you need to keep your team together while you can use this data to empower them even more.
Key Features
Visual Workflow Designer
Unlimited Workflows
Project Management
Tasks and Subtasks
Data Fields
Status and Progress
Real-Time Updates
Dates and Timelines
Advanced Analytics
Custom Integrations ()
Pricing
Unito's Personal plan comes at a price of $10/month (for 3 active users). Their Team plan (for a group of 10) is priced at $46/month, Company plan ($249), while their Enterprise plan's pricing is available upon request.
Conclusion
Workflow management is no walk in the park, which is why investing in a good tool can make life easier for you and/or your team. Make sure to compare the features and pricing plans of these 21 workflow management software to get the right one for your industry and team size.
Just a quick reminder—Infinity is currently offering a lifetime deal: pay $249 once and use our software forever. If you're into things like saving money and increasing productivity, don't be shy and schedule a demo call with us or drop us an email at team@startinfinity.com.
Let Infinity do the hard work, so you have more time to focus on what's really important: squeezing in another episode of your favorite show into today's schedule. Or improving KPIs, whatever works best for you.
FAQ
What are the 3 basic components of workflow? Each workflow can be divided into three basic components: input, transformation, and output. Input represents all resources needed to complete a task, transformation represents the rules that describe what is done to the input, and the output are resources produced by the task that can serve as an input for other tasks. How do you create an effective workflow? To create an effective workflow, it is important to start with a good plan and implement changes as the project progresses. For instance, you can identify roadblocks and bottlenecks that can be improved by changing the workflow for future projects. Good workflow software will help you not only create an effective workflow but to optimize your work processes. What is the difference between flowchart and workflow? Historically, workflow has been used as a term to describe the process of doing a task and a flowchart was a type of diagram used to visually represent a workflow. Nowadays, the terms workflow and workflow chart are also used for the visual representation of a workflow. What is the best workflow software? Infinity is among the best workflow software because it offers a great deal of flexibility and freedom to manage projects with 22 custom attributes, 7 project views, an infinite number of folders and subfolders you can create, and advanced customization options.