15 Must-Have Organizational Tools for Better Work Coordination
Running a business tends to get pretty chaotic, even if you're just a startup. Lucky for us, organizational tools can help make things less chaotic.
How many times have you started working at a new project and got completely lost in a myriad of tasks, documents, and various other data related to it?
We'll admit it: it's happened to us more than once in the past.
And once chaos takes place, you usually start to lose control of what you're doing and, well, panic. Then your productivity starts to suffer, as well, and what you end up with are missed deadlines and an uncoordinated team.
… Obviously, this is something we'd rather avoid. Right?
Well, if you're not at good terms with organization (like we used to be), then you're going to be happy to hear there are plenty of fantastic organizational tools out there that can help you become better at it.
So, in this post we're going to focus on the 15 tools for organization we believe you should give a try if you want to maximize your productivity and simply stop having trouble with organizing your workloads.
But first, let's go into a bit more details about the benefits of organizational software.
Why You Should Start Using Organizational Tools for Your Business
Here are just some of the benefits you'll get to enjoy with one of the many work organization tools by your side:
Increased Productivity—By staying organized, you'll be able to save time when looking for different tasks, documents, or projects, and be able to focus more on what you have to do. Additionally, you'll become more efficient when allocating different resources, as it will all be neatly organized in your organizational tool of choice. It also goes without saying that this will have a positive impact on your and your team's productivity, and generally help you get more done.
Everything in One Place—Having a tool for organizing your workloads means that you'll get to keep everything related to your business in a single place, without having to chase different data across your computer or various tools. This goes hand in hand with productivity, and will definitely save you a lot of time and nerves in the future.
Easier Progress Tracking—With a clear overview of your projects, activities and resources, you'll be able to make important business decisions with more ease and allocate your resources better. Additionally, your team members will know at all times what they're working on, where they're at with their tasks, and where their priorities lie.
Better Team Communication—Collaboration becomes much smoother with online organizational tools. A lot of them have chat integrated with the app or some sort of a comment section you can use to communicate with the rest of the team. Plus, with the ability to assign tasks, your team members will know at all times which tasks belong to them.
Reduced Stress Levels—At the end of the day, however, it all comes down to being more efficient and stress-free. If you opt for one of the many organizational tools for the office, you will be able to reduce your own and your team's stress levels, as everyone will have their documents, tasks, and resources in one place. In short: you'll be able to say goodbye to stressing about unfinished tasks, missed deadlines, or lost data.
15 Best Organizational Software for Enhancing Your Work
1. Infinity — An Organizational Tool That Adapts to Your Needs
Thanks to its incredible flexibility, Infinity allows you to organize and manage everything from your marketing projects and HR activities to finances and sales processes. It's truly one of the most versatile organizational systems for work out there.
This also means that almost every niche out there can take advantage of this platform, including entrepreneurs, freelancers, realtors, and devs, plus it definitely doesn't hurt that it offers multiple ready-made templates that you can fully customize to fit your needs.
Infinity lets you create your own structure, which makes organization a whole lot easier, and decide what you want your boards, folders, and items to represent. And once you add your data, you can further mold it to your liking by using Infinity's fantastic attribute system or one of the six available views: Table, Columns, Gantt, List, Calendar, and Form.
"It's one of the TOP 3 tools that we don't want to miss in our stack. We organize a hundred things with it: media galleries, software overview, social media & content marketing plans, CRM, digital resources, etc. I also like the team as they're always listening to us and improving the tool. Highly recommended." - Frank Sellingsloh
So, what else can you do with Infinity?
You can filter, sort, and group your items however you please, and if you don't want to see certain attributes/columns, you can easily toggle them off. You can also track time for all of your tasks with Infinity, collaborate easily with your team via notifications and comments, and track how your team and tasks are progressing.
This entire organizational tool is incredibly intuitive and easy to use, so it won't take you too much time to figure it out and find out how to best use it for organizing your business. Plus, it comes with dedicated iOS and Android apps, meaning that you can access your workspaces even when you're on-the-go.
Key Features
Customizable Structure—Create a structure that functions in a way you want using boards, folders, subfolders, tabs, and items.
Multiple Views—Take a look at your data from a different angle with our views: Columns, List, Kanban, Calendar, and Gantt.
Custom Forms—Create, share, and embed forms to collect the necessary information straight into Infinity.
Time Tracking—Keep an eye on how many hours you spend on certain tasks and learn how to better organize your time and workloads.
Drag-and-Drop Interface—Save time and get more done by simply drag and dropping items from one folder to another.
Sorting & Advanced Filtering—Make navigation and organization easier by using different sort, filter, and group options on your data.
Team Collaboration—Work together with your team flawlessly and complete all of your tasks on time.
File & Note Sharing—Attach and link to different documents in your folders or leave feedback in the comments thread.
Task Assigning—Keep organization at a high level by assigning tasks to team members and always knowing who's in charge of what.
Progress Tracking—Track progress on the company and project level without too much effort.
Notifications—Always stay up-to-date thanks to notifications.
Permission Settings—Set up permissions for different team members and make sure your work doesn't get messed up by accident.
Ready-Made Templates—Start working immediately by loading one of Infinity's many templates into your boards and/or folders.
CSV Import/Export—Import existing CSV tables into Infinity or export folders and boards to your computer when needed.
Zapier Integration—Integrate with over 2,000 apps you use on a daily basis thanks to Zapier.
iOS and Android Mobile Apps—Stay organized even when you're not at your computer with our mobile apps.
If you want to see just how you can organize your business in Infinity, then click on the play button in the video below:
INFINITY TIP: Take full advantage of Infinity's Labels, as they will allow you to better organize everything you're working on. Create a different set of labels for different requirements, e.g. Status, Priority, Progress, etc.
Oh, and remember how we mentioned that Infinity comes with a number of pre-made templates for you to use? Well, in case starting from scratch seems slightly intimidating (or you don't have the time to set everything up yourself), you can go ahead and load one of the templates either into your board or folder.
Picking out a template will depend on what you need to organize, but here are a couple of suggestions to get you started:
Pricing
Infinity is currently running a lifetime deal, which means you get to pick any of the five available plans, pay once, and enjoy the app for as long as you like.
The lowest plan costs $149 for 10 people, and it's good to know that you can upgrade to any of the higher plans whenever you like, straight from the app, just by paying a difference.
2. Zoho Projects — The Best Organizational Software for Project Management
Image Source: zoho.com/projects
Zoho Projects is a project management app that doubles as an organizational tool, and it comes with all the essentials you need to organize and manage multiple tasks, projects, and timelines.
As the name states, it falls under the umbrella of the Zoho family of software applications. This means that, as you need them, you'll have easy access to a variety of Zoho's add-ons, without worrying about any integration issues.
Zoho Project's rich features will for sure allow you to organize yourself in the best possible way: there's everything from Gantt charts to automations, as well as dependencies and time tracking. According to their website, you can use Projects for different niches, including consulting, marketing, development, and even construction.
And thanks to its capacity to expand constantly and let you add whatever you may need to help organize and manage your business, Zoho Projects truly represents one of the best organizational systems for work out there.
Key Features
Customizable Templates
Task Management
Milestone Tracking
Workflow Chart Mapping
Kanban Board View
Task Dependencies
Task Automations
Time Tracking
Charts & Reporting
Gantt Charts
Resource Tracking
Zoho Analytics Add-on
Activity Reporting
Customizable Reports
Status Feeds
Topic & Comment Threads
Team Forums
Public & Private Team Chatrooms
Timesheets
Invoicing
Calendar View
Integrations
Available on Web, Apple, and Android
Pricing
There are four plans you get to choose from, with the lowest one starting at €3 per user, per month with the minimum of six users. You can also use their free plan if you don't have too many requirements, or their 10-day free trial.
3. Evernote — An Online Organization Tool for Note-Taking
Image Source: evernote.com
If you've ever explored different tools for organization, then you've probably heard of Evernote. Evernote is a popular note-taking SaaS app used for capturing and organizing your notes online and through mobile.
What's great about this tool is that it automatically syncs your data across multiple devices and has offline access, which makes it perfect for remote teams or one that's always moving around.
You can easily use it to create task checklists, scan documents, capture screenshots, meeting notes, voice memos, save, and share files such as PDFs, documents, and other business data with your team.
The reason why many teams love this organizational tool is that it helps them keep everything in one place, collaborate with whoever they like, and simply focus better at tasks at hand. Plus, with so many available integrations, you'll probably manage to take organization to a new level with Evernote.
Key Features
Note Taking & Organization
Customizable Templates
Customizable Personal Task Tracker
Permission Settings
Offline Access
Multiple Device Syncing
Team Collaboration
Workflow Tracking
Deadline Notifications
Tagging & Sorting
Advanced Search Features
Document Scanning
Search Handwriting
Search PDFs & Documents
Web Clipper
Third-Party Integrations
Available on Web, Apple, and Android
Pricing
Evernote's Business plan costs €13.99 per user per month, while you can get their Premium plan for €6.99 per month. There is also a free (basic) plan available.
4. Google Calendar — The Perfect Organizational Tool for the Office
Image Source: google.com
Google Calendar is probably one of the most convenient work organization tools you can choose for managing your schedule and reminders.
How come?
Since its parent company, Google, also dominates the online browser space, Google Calendar has no problem being one of the most recognizable apps with the widest reach on this list. Also, it comes readily integrated with Google's Gmail, which in itself is also one of the most popular email clients in the world with a market share of a whopping 26%. In addition to that, you can use Google Calendar to schedule meetings and events, as well as set reminders, which will definitely help you stay organized.
What's great is that this organizational tool actually offers a generous amount of features on its forever-free plan, which allows it to stand out against other paid calendar apps.
Key Features
Appointment Scheduling
Meeting Management
Resource Booking
To-Dos (Reminders)
Notifications
Shareable Calendars
Automatic Suggested Meeting Times
Automatic Time Zone Conversion
Team Availability Management
Event Organization
Google Suite Integration
Third-Party Integrations
Offline Access
Multiple Device Syncing
Multiple Accounts Syncing
Group Calendars
Calendar Migration & Syncing
Conference Call Booking and Planning
Available on Web, Apple, and Android
Pricing
Prices start at $4.20 per user per month, if integrated with Google Suite. Comes free as a standalone app.
5. Trello — An Easy-to-Use Organizational Software
Image Source: trello.com
Trello is another organizational tool that's incredibly easy to use and has a generous free plan.
With its huge gallery of ready-to-use templates, Trello is well-equipped to handle anything from marketing, personal habit tracking, sales process, editorial calendar, and other business process organization needs,
So, what can you do with Trello?
Organize different projects by creating different boards, and then give access permissions per team member involved in your project. You can create and save tasks into cards, attach files, notes, and deadlines.
You can also organize your tasks per project status by setting up project status columns, after which you can drag and drop each task card on the designated column depending on its status.
If you're a solo freelancer, beginning to outsource small projects, or just launching a small business, then this is one of the best and most low-cost online organizational tools you can use.
Key Features
Multiple Views
Ready-to-Use Templates
Create & Save Your Own Templates
Kanban Board
List View
Calendar View
Checklists
Due Dates & Reminders
Email & In-App Notifications
Multiple Team Management
Multiple Boards Organization
Advanced Search Operators
Task Dependencies
Automated Task Workflows
Rule-Based Triggers
Custom Card & Board Buttons
Calendar Commands
Third-Party App Integrations
Available on Web, Apple, and Android
Pricing
Trello offers a free plan that anyone can use, while its Business Class plan costs $9.99 per user per month (when billed annually), and Enterprise plan $17.50 per user per month for 100 users.
6. Airtable — An Organizational Tool for the Tech-Savvy
Image Source: airtable.com
Airtable might look like a spreadsheet, but it's actually a no-code database application that will give you the ability to organize almost any business process you need.
Though definitely versatile, it is also one of the most difficult-to-learn organizational systems for work on this list, so if you're not ready to dedicate some time to figuring out how it works, then you might be better off just going with simpler tools that cost much less.
However, if a little bit of learning curve doesn't scare you, and you're prepared to invest some time to make the most out of Airtable's multitude of expandable features, then you'll be in for a treat.
It's almost like Zoho in its capacity for adding features as you need them, except that instead of paying for added integrations for another Zoho app, with Airtable you expand the features you need by paying to access what are called "blocks". Blocks are mini apps with functions such as time tracking, geo-tagging, and others, that you can drag and drop into your default Airtable.
This organizational tool also comes with its own library of templates for a variety of organizational uses, so you can start off with those and just expand as you go.
Key Features
Grid, Calendar, Form, Kanban, & Gallery Views
Color Coding
Sorting, Grouping & Filtering
Drag-and-Drop Blocks
Countdown Timer & Time Tracking
Ready-to-Use Templates
Database Capability
Link Related Data Between Tables
Ready-Made Templates
Custom Branded Forms
Rich Field Types
Team Collaboration
Real-Time Editing
Multiple Device Syncing
Third-Party App Integrations
Available on Web, Apple, and Android
Pricing
Airtable's Plus plan costs $10 per user per month when billed annually, while Pro plan costs $20 per user per month. Enterprise plans are available upon request, and you can also make use of their free plan.
7. Buffer — A Social Media Organizational Software
Image Source: buffer.com
Buffer is an organizational tool for managing and scheduling your social media activity. While it started out as an all-in-one social media management tool, it has in the meantime turned itself into a suite with two different product solutions:
Publish—For planning, collaborating, and publishing social media posts.
Analyze—For advanced social media analytics and creating reports.
This means that you basically have everything you need for taking your social media to the next level in one place. You get to work together with your team on your Instagram, Facebook, or Twitter stories and posts, analyze data in a unified dashboard, and get valuable insights to up your social media game.
So, if you're running a social media marketing agency, or are a marketing brand of your own, then this is one of the must-have online organizational tools for you.
Key Features
Social Media Post Organization
Social Media Post Scheduling
Automated Social Media Posting
Multiple Account Management
Team Management
Approval Workflow
Team Inbox
Automation Rules
Reporting History
Calendar Management
Engagement Reports
Performance Overview
View Hashtag Performance
Individual Post Analytics
Stories Analytics
Audience Demographics
Data Exporting
Third-Party App Integrations
Available on Web, Apple, and Android
Pricing
Publish starts at $15 per month, while Analyze starts at $35 per month. If billed annually, you can save up on all plans up to 20%.
8. MindMeister — An Organizational Tool for Mind Mapping
Image Source: mindmeister.com
MindMeister is an online mind-mapping and work organization tool that's here to help you organize anything from your ideas and projects to workflows and plans in a completely visual way.
If you need to constantly brainstorm ideas or complex tasks and workflows with your team, MindMeister helps you simplify the process and even allows for live, online collaboration, making it accessible for remote team members.
MindMeister also has a built-in presentation feature that allows you to instantly turn your mindmaps into a slideshow that you can share and present to your team. Plus, it allows you to integrate with its other suite of business process organization apps such as MeisterTask for project management (kind of like Zoho).
If creating a mind map is something new to you, but you feel like you want to try a more visual way of organizing your process, then you'll be glad to hear that this organizational software also provides Mind Map training. And to get started quickly, you can choose from their library of ready-to-use and customizable mind maps and flowcharts.
Key Features
Ready-to-Use Mind Maps
Visual Mind Mapping
Workflow Organization
Team Collaboration
Access Permissions
Icon & Image Libraries
Live Embedding
Mind Map Training
Custom Branding
Custom Themes
Customizable Styling
Third-Party App Integrations
Available on Web, Apple, and Android
Pricing
MindMeister's Personal plan costs €2.49 per month, the Pro plan €4.19, while you can get their Business plan for €6.29. They also offer a free basic plan.
9. Jira — A Work Organization Tool for Agile Teams
Image Source: atlassian.com/software/jira
Produced by veteran business software development company Atlassian, Jira is an organizational tool that allows you to manage your projects using agile project management methodologies.
It comes packed with features aimed at agile teams and developers, including Scrum and Kanban boards, roadmaps, agile reporting, as well as various useful automations. You also get the ability to integrate with many developer tools and over 3,000 apps meant to make your work run more smoothly.
After all, there's a reason why it flaunts itself as the "The #1 software development tool used by agile teams".
So, if you're managing a technical team and bigger, complex projects that you need to run simultaneously and under time pressure, then this one of the best organizational software out there that can help you simplify complicated workflows.
Key Features
Project Organization
Resource Tracking & Management
Turnaround Time Tracking
Organizing Roadmaps
Connecting Issues to Code
Customizable Workflows
Backlog Management
Project & Issue Tracking
Scrum Boards
Burndown Chart
Velocity Chart
Layered Graphs
Sprint Planning
Sprint Reporting
Cumulative Flow Diagram
Release Burndown
Control Chart
Epic Burndown
API Integration
Mobile Apps
Pricing
Jira offers four different plans, one of which is free of charge for up to 10 users and with limited features. The first paying plan costs $7 per user per month, while you can get the Premium plan for $14 per user per month. If you need the Enterprise plan, you'll need to talk to their representative.
10. Asana — A Minimalistic Organizational Software for Task Management
Image Source: asana.com
If your team favors minimalism and just wants to focus on finishing tasks ASAP, then this is one of the best organizational tools to rely on. The learning curve is practically non-existent, the interface is clean, easy to understand, and snappy. Once you log in, you can get started right away.
Asana offers the essential features you need for managing and organizing multiple tasks and projects with your team, such as checklists, team assignments, setting due date reminders, color coded tags, labeling, and more.
Integrate your chosen apps for time tracking, attach files, and set access permissions as you need, then view all activity history right within each task. Taking all this into consideration, you'll agree this is an organizational tool for the office you don't want to miss out on.
And while it did start as a fuss-free, to-do list app, Asana now has the capability to run with more complex workflows such as scrum, agile, Kanban, and more. You can check out Asana's templates to see how they adapt to various types of workflows without losing their trademark simplicity.
Key Features
Task Organization
Task Hierarchies & Dependencies
Automation
Ready-to-Use Templates
Project Tracking
Team Collaboration
Deadline Reminders
Attach Files
View Activity History
Comment Threads
Timeline Views
Gantt Charts
Resource Planning
Forms
Third-Party App Integrations
Available on Web, Apple, and Android
Pricing
Asana's Premium Plan starts at $13.49 per user per month when billed monthly, or $10.99 per user, per month billed annually. There's also a free version of the app available.
11. Wrike — A Robust and Versatile Work Organization Tool
Image Source: wrike.com
Wrike is an online organizational tool that lets you organize your work through different criteria such as campaigns, projects, or teams. And what's great about it is that its onboarding is convenient and easy to understand. You can even interact with a demo version of the app, which gives you a quick feel for how to use it.
Wrike lets you request a task, note instructions, then set a deadline and send these to your team as an email blast. Once done, Wrike automatically turns this into a task and assigns it to all the team members included in your group email.
Additionally, you can opt for native add-ons such as image proofing, for example, which lets you review and approve visuals from within the same platform. There are other add-ons such as advanced analytics, syncing with Github and Jira, and more.
As far as organizational systems for work go, Wrike is definitely a good choice as it also offers convenient integrations with other apps most businesses would need, such as to-do lists, Microsoft Outlook, Google Drive, Salesforce, etc.
Key Features
Create & Manage Multiple Dashboards
Sort Using Various Criteria
Team Collaboration
Gantt Chart View
Timeline View
List View
Kanban Board View
Agile and Sprint Methodologies
Time Tracking
Workflow Reports
Ready-Made Templates
Team Inbox
Team Email Blasts
Automatically Create & Assign Tasks
To-Do Lists
Native Integrations
Dynamic Request Form
Custom Fields
Custom Statuses and Workflows
Third-Party App Integrations
Available on Web, Apple, and Android
Pricing
Wrike offers a free plan plus three paying ones, with the Professional costing $9.80 per user per month, and the Business $24.80. Enterprise plans are available upon request, and they also have separate plans for marketing and service delivery teams.
12. Backlog — An Organizational Software for Project and Code Management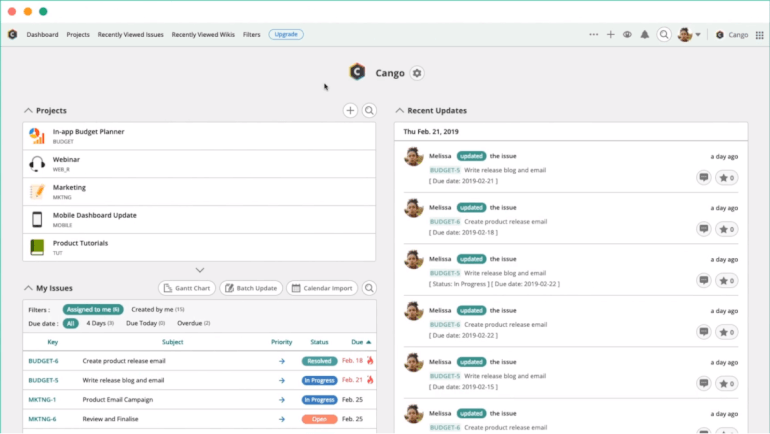 Image Source: backlog.com
Much like Jira, Backlog is an organizational tool made specially for software developers. That is, it's designed to help you make sure your dev team's activity and code versions are tracked and organized.
You can securely code and manage projects from within the platform, enhance project transparency, track your progress, and sync with other apps e.g. GitHub and Jira. Backlog prides itself on helping you deal with bugs faster and simply get more done due to being able to prioritize and discuss your tasks in one place.
Of course, that's not to say marketers, salespeople, or other professionals can't use this app, too. It's just that Backlog is powerful enough to handle the complex workflows that most coding teams have to contend with.
So, if you know that your business won't need that kind of complexity and capability, then you might want to skip on Backlog and research some other organizational systems for work.
Key Features
Project Organization & Management
Team Collaboration
Progress Tracking & Task Scheduling
Resource Planning
Timeline View
Gantt Chart View
Kanban Board View
Bug Tracking
Push Notifications
Activity History
Issue & Update Tracking
File Attachments
Add Checklists and Subtasks
Assign Team Members & Deadlines
Reminders
Code Version Control
Secure Code Collaboration
Track Commits, Changes, & Requests
Comment on Pull Requests
Third-Party App Integrations
Available on Web, Apple, and Android
Pricing
Starts at $35 per month for a team of up to 30, or $350 when billed annually. There's also a free plan available for 1 project with up to 10 users and 100 MB of storage.
13. Canva — An Organizational Tool for Creative Teams
Image Source: canva.com
Canva is a simple drag-and-drop design tool where you can create, collaborate, and manage all of your brochures, social media posts, banners, sales pages, and other marketing materials. And while it wouldn't exactly fall under the category of "tools for organization", it's definitely an app most teams—especially startups—can't do without.
Compared to Adobe, you will be able to figure Canva out in no time at all. Everything is cloud-based, so whether your time is spent in the office or remote, anyone can easily access the files you share with a quick link. You can then organize your work into subfolders and restrict access only to allowed clients and team members.
Canva comes with a number of templates you can use and that will definitely help you get started, and there are even plenty of presentations meant to educate you on how to use this organizational software.
They even have things such as the palette generator, design size guide, logo maker, and font combinations, all meant to make your work run more smoothly.
Key Features
Visual Content Creation
Folder & Sub-Folder Hierarchy
Team Collaboration
Permission Settings
File Sharing
One-Click Design Resizing
Design Approval Workflows
Free Design Templates
Built-In Stock Photos and Graphics
Create Custom Templates
Advanced Template Locking
Customize Company Branding
Create and Save Multiple Brand Kits
Ready-to-Use Templates
API Integration
Available on Web, Apple, and Android
Pricing
Canva offers a free plan for everyone, while the first paid plan starts at $12.95 per user per month when billed monthly, or you can pay $119.40 per year for up to 5 users.
14. Calendly — An Online Organizational Tool for Scheduling Meetings
Image Source: calendly.com
If you run a business that relies heavily on virtual meetings, then Calendly is a must-have organizational tool for managing your appointments online.
Calendly, as the name suggests, is a calendar scheduling app that allows you and other parties to coordinate schedules as to when you can meet for a virtual meeting. Advanced features of Calendly include letting you add custom questionnaires and schedule online meetings, whether one-on-one, collectively, or by hosting a group meeting.
To avoid any overlaps or draining yourself with too many calls, you can set a limit of total bookings per day, and extend the buffer time between consecutive calls, as you please.
In our opinion, this is one of the best organizational software out there without which we couldn't even imagine our meetings, calls, and events. So, a big thumbs up from the Infinity team.
Key Features
Shareable Appointment Link
Easy Calendar Bookings
Appointment Scheduling
Manage Client Bookings
Customizable Questionnaire for Bookings
Automatic Time Zone Conversion
Automatic Appointment Confirmation
Meeting Reminders
Email Confirmation and Reminders
SMS Reminders
Calendar Integrations
Buffer Times Between Multiple Meetings
One-on-One, Recurring & Group Meetings
Third-Party App Integrations
Available on Web, Apple, and Android
Pricing
The Premium plan costs $8 per user per month, when billed annually, while the Pro plan costs $12 per user per month, when billed annually. There's also a free plan available, as well as a 14-day free trial.
15. Pocket — A Unique Organizational Tool for All Teams
Image Source: getpocket.com
Pocket might not seem to fit your typical idea of work organization tools, but this is actually a great app for staying up-to-date with all the important information in your industry, as well as organizing your reading list.
As you browse the web, you can use Pocket's Chrome extension to collect all the blogs and articles that you want to read, but don't have time to at the moment. Saving web pages into Pocket lets you save them for later so you can read them on your mobile or once you do have time, even when you're offline.
Respected publications such as The New York Times, The Harvard Business Review, TED, and others also publish here, so you know you're not just going to get content fluff.
You can use this organizational software on any device you own, which means that you'll always be able to save anything you stumble upon with ease. Pocket also integrates with over 1,000 apps, while developers can even build their own apps.
Key Features
Reading List Organization
Chrome Extension
Mobile App
Save For Later
Offline Reading
Curated Content
Content Search
Multiple Device Syncing
Available on Web, Apple, and Android
Pricing
You can create a free Pocket account, or opt to get one of its memberships. The Annual plan costs $44.99/year, but if you'd rather pay on a monthly basis you can do so for $4.99 per month.
Wrapping Up
If you've gone through the entire post and reading this right now, then you'll definitely have a lot to think about in terms of choosing the right organizational tool for your business. Each one of them has its own advantages and disadvantages, but at the end of the day, it all depends on your business and organizational needs.
If Infinity has caught your eye and you'd like to learn more about it, then we'd be happy to help! You can visit our Help centre, schedule a demo, or simply email us at team@startinfinity.com. But be warned: we'll try to convince you that Infinity's is definitely the right choice for you.
… And no, we're not biased at all.
FAQ
What are organizational tools? An organizational tool or app is a software that is meant to help you organize your work better and boost your performance. There are different types of tools out there, including project management tools, day planners, note-taking software, etc. All of them should be able to make completing your tasks and projects more efficient. What are two popular organizational apps or tools? There are plenty of great organizational tools out there, and you might have even heard of some of them: Infinity, Airtable, ClickUp, Monday.com, Trello, Asana, etc. What is the best tool for staying organized? There is no straightforward answer to this question, as it all depends what you require from an organizational tool. What's certain is that a good organizational tool should increase your productivity, make progress tracking easier, enhance your team communication, and allow you to keep everything you're working on in one place. Why should I pick Infinity to organize my work? Infinity offers a variety of features that will help you stay organized, including the ability to create a structure that works for you the best. In addition to that, you can filter, group and sort your data to stay up-to-date with everything, as well as assign tasks, prioritize them, and leave feedback. It also acts as a centralized hub for all of your data. Does Infinity really offer pay-once lifetime deals? Yes, Infinity is currently offering special lifetime deals, which let you pay once and use Infinity forever. The lowest plan starts at $149, for 10 collaborators, 1 workspace, and 50 GB of storage.