Top 15 To-Do List Apps to Help You Manage Your Tasks
By
Hazel Pan
Mar 27, 2020
If you're a busy entrepreneur, it goes without saying that having a to-do list app that can help you break down complex projects into smaller tasks can be a big time saver.
The good news is that these days, to-do list apps are made in such a way that you no longer need to enter things manually or even remember your own deadlines. Instead, you can insert links to articles or pictures related to your idea, and you can set automated reminders so you don't forget your deadlines.
For those who really need to sketch to help visualize their ideas, there are apps that let you scribble things freehand using a digital pen. More advanced to-do lists apps even help you manage your resources by computing your workload and budget for you.
It's an exciting time for to-do lists, and with a ton of options available right now, it can be hard to pick just one. So, how are you supposed to choose the one that will work best for your team?
There are plenty of things you need to consider, that's true, including pricing, notable features, compatibility with your existing tool stack, and more. But luckily for you, we're going to save you tons of hours researching with this 15-minute article about the top 15 best to-do list apps for mobile devices.
Best To-Do List Apps for You and Your Team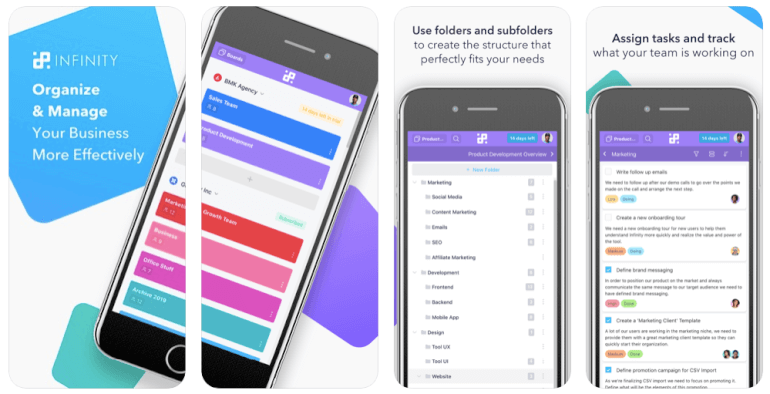 Infinity is a flexible to-do list app that lets you organize and prioritize your tasks however you want. However, it's far more than "just" a simple app—Infinity is designed to maximize productivity for any type or size of project.
It comes with customizable workflows that can be simplified or enhanced to suit your needs, and a variety of ready-made templates you can use to manage your to-dos. You can easily access and load any of these templates in your browser, then continue to work on your lists even while you're on the go using Infinity's mobile app.
Thanks to its custom attributes, Infinity helps you add any relevant data you might have to your lists, as well as assign tasks, mark them as done, and a lot more. Additionally, aside from the traditional List view, you can also see your tasks in Kanban, Calendar, Gantt, and Table view.
In short: creating, tracking, and delegating your tasks will become a breeze once you start using Infinity's powerful software.
Infinity Features:
To-Do Lists
Customizable Fields
Task Management
Categorization/Structuring
Team Collaboration
Activity Tracking
Progress View
Calendar Management
Kanban View
Project Templates
Access/Permission Control
Data Import/Export
File/Docs Management
Search Functionality
Drag & Drop Interface
Data Filtering
Available on Android and iOS
Pricing
Currently offering a lifetime deal that starts at $149 for a team of 10.
Image Source: Play Store
Google Tasks is a to-do list app that comes built-in with Gmail and Calendar. So, if your business relies heavily on Google Suite, then this would definitely be a practical choice for you.
It is a perfectly capable to-do list app where you can jot down your tasks even while you're reading emails on Gmail, and sync reminders with your Google Calendar, after which everything syncs on all devices that you use.
But while it may be convenient as the simplest, fastest option, there's actually not much else you can do with Google Tasks.
You can't have live team collaboration.
You can't share any of your tasks for other people to view and edit.
You can't color code your notes.
So if Google Tasks' simple interface is lacking for you, then read further to look at the rest of the options on this list.
Google Tasks Features:
Google Suite Integration
Capture Tasks from Right Inside Gmail
Automatic Sync of Calendar Reminders
Checklists
Sub-Tasks
Recurring Tasks
Editable Descriptions for Tasks and Sub-Tasks
Turn Emails Into Tasks
Track Due Dates
Task Notifications
Mobile App Ready
Available on Android and iOS
Pricing
Free of charge.
Image Source: App Store
Asana's minimalist and snappy interface makes it a great choice for managers who want a clean to-do list app that lets them focus on completing tasks instead of learning some new, cluttered interface.
With Asana's web-based version, you can organize your tasks in various modes such as traditional List view, Kanban, Calendar, Timeline, and Progress view. Plus, you can sort tasks by assigning team members, due dates, and priority labels. For recurring workflows, Asana allows users to set up task automations.
Checklists aren't the only thing you can make with Asana though, as the app also comes with its own library of templates for HR, marketing, sales, design, development work, and more.
Asana Features:
Task Workflow Automation
Agile & Scrum Capability
Mobile App Ready
Advanced Search
Team Collaboration
Task Tracking & Management
Third-Party Integrations (Slack, Zapier, Hubstaff, Adobe Creative Cloud, etc.)
Drag & Drop Interface
File Uploading
Document Management
Shared/Private Access
Lists
Kanban Board
Gantt Style Progress Timeline
Calendar View
Sub-task Checklists
Follow-up Task Triggers
Deadline Reminders
Activity Feed
Inbox
Team Conversation
Data Export
Task Analytics
Forms for Task Briefs
Image Commenting
Available on Android and iOS
Pricing
Asana's basic plan is free for up to 15 members. Paid plans start at $10.99 per member per month when billed annually.
Image Source: App Store
What to-do list app collection would be complete without mentioning Trello?
Though it now has other views such as Card, List, and Calendar, Trello became popular thanks to its iconic Kanban board view, especially in the digital marketing startup niche.
Trello comes with most of the essentials you'll need to manage your to-dos, such as team collaboration, commenting, file attachments, calendar reminders, labels, and workspaces. In fact, it's enough to cover most startup businesses' needs, which can probably explain much of its popularity with early stage companies.
If you want to add a bit of fun to your boards, simply change the background images in your Trello into something that inspires your team!
In addition to this, Trello also has one of the most generous free plans on this list!
Trello Features:
Rule-Based Triggers
Custom Card & Board Buttons
Calendar Commands
Due Date Commands
Team Collaboration
Commenting
Mobile App Ready
Scheduled Commands
Custom Field Actions
Add Checklists
Kanban Boards
Calendar View
Board Collections
Automations
Task Triggers
File Uploading
Custom Board Backgrounds
Private/Shared Access Administration
Third-Party Integrations
Bulk Data Export
Pricing
Trello has a very generous freemium (includes simple task automations), but the paid plan starts at $9.99 per user per month when billed annually.
Image Source: App Store
Todoist is a user-friendly to-do list app that lets you transfer all the clutter in your mind and work projects into a clean, beautiful user interface.
One thing that makes Todoist unique is how it gamifies productivity through its Karma System, where you get points for completing tasks on time and maintaining your streaks.
Another thing that really sets it apart is that getting started with Todoist is easy. Simply type your task, add a subtask when needed, then set your one-time or recurring deadlines. You can organize each task according to projects, priority, and other labels. Plus, you can even color code them too.
Don't be fooled by its simplicity though, as Todoist can also be powerful enough to be used for Marketing, Sales, Design, and Development workflows, among others.
Todoist Features:
Quick Add Task
Todoist Karma System
Project Templates
Time & Expense Tracking
Collaboration Tools
Customizable Templates
Milestone Tracking
Mobile App Ready
Recurring Tasks
Assign Priority Labels
Share Access Permissions
Delegate Tasks
Multiple Device Syncing
Commenting
Productivity Tracking
Project Progress and Productivity Visualization
Add Labels
Color Coding
Group Tasks To Projects
Third-Party Integrations
Available on Android and iOS
Pricing
Starts at $3 per user per month when billed annually. Free plan available.
Image Source: App Store
ActiveCollab is a powerful software that can do more than just to-do lists.
For starters, ActiveCollab does come with the essentials. You can sort and prioritize your tasks, track progress, interact with other users in real time, and get deadline reminders.
But apart from these, this task management software's extra client management, invoicing, and financial projection features make it a great option for teams who want a single workspace for all their business needs.
ActiveCollab Features:
Customizable Branding & Reporting
Electronic Payments
Email Notifications
Estimating
Calendar Reminders
Expense Tracking
File Management
Gantt Charts
Group Calendars
Invoicing
Project Templates
Time Tracking
Workflow Management
Task Dependencies
Recurring Tasks
Labeling
Mobile Ready
Multi-Language
Access Permissions
Resource Planning
Deadline Tracking
Billable Hours Tracking
Tagging
Version Control
Team Collaboration
Commenting and Mentions
Client Management
Secure Data Storage
Third-Party Integrations
Email integration
Client Management
Budget vs Cost Tracking
Performance Reports
Advanced Reporting
Pricing
Starts at $6.25 per member per month when billed annually.
Image Source: App Store
nTask is a to-do list tool with a huge integration library designed to make it easier for teams to collaborate around multiple tools.
What most users love about nTask is that, much like Trello, it has a generous free plan with features that are good enough for a team of up to 10.
You can:
Organize your projects through filters,
Add task priority labels, dependencies, and follow-up reminders,
Monitor the progress of your and other team members' projects.
Scheduling meetings is par for the course for businesses, and nTask also allows you to manage meetings from within the same dashboard. To top it off, you can have the meetings right inside nTask, since it comes with a built-in online meeting platform.
For small or medium-sized businesses, nTask provides enough features for free that other apps already charge far more for. At this rate, the only thing that could keep users from taking full advantage of nTask's free plan is its limited storage.
nTask Features:
Over 1,000+ Third-Party App Integrations
Built-In Online Meeting Software
Collaboration Tools
Recurring Task Management
Time Tracking
Task Tracking
Task Prioritization
Task Dependencies
Milestone Tracking
Project Budgeting
Third-Party Integrations (Slack, Zapier, etc)
Create Subtasks
Customized Reporting & Visualization
Gantt/Timeline Review
Percent-Complete tracking
List View
Grid View
Board View
Calendar View
Meeting Management
Risk Management
Issue Management
Commenting
CSV
Pricing
The paid plan starts at $2.99 per user per month when billed annually. The free Basic Plan is available for unlimited users.
Image Source: App Store
Any.Do is a to-do list app that looks similar to Google Task, but that's as far as similarities go, because when it comes to feature richness, Any.Do beats Google Task by a huge margin.
Aside from a quick view mode so users can see the tasks that are due Today, Tomorrow, etc., you can also:
Assign, create, and track task progress,
Integrate Any.Do with your Google Account so you can sync your schedules,
Delegate to-dos to other team members,
Exchange files,
Set daily task reminders.
There's even a built-in part-human, part-AI Assistant who can do research for you, book, and schedule meetings.
And while Any.Do is great for teams, it also shines as a personal to-do list app due to its two features, "Grocery List" and "Moment". Grocery List lets you enter items into your grocery list and group them into categories such as fruits or vegetables, while Moment encourages habit formation by giving you a regular reminder to complete your daily tasks.
So as not to get distracted or overwhelmed, you'll only be shown one task at a time, and in order to move on to the next task, you'll need to mark the one before as either done, rescheduled, or deleted first.
Any.Do Features:
Built In Part-Human, Part-AI Assistant
Collaboration Tools
Recurring Task management
Reminders
Grocery List
Daily Planner
To-Do List
Calendar Planning
Multi Device Integration
Google Assistant, Siri, and Alexa Integration
Wearables Integration
Project, Kanban, Calendar View
Color Your Tasks
Customize Themes
Location Based Reminders
Customize Recurring Tasks
Unlimited Attachments
Unlimited Collaboration
Third-Party Integrations
Desktop and Mobile Ready
Available on Android and iOS
Pricing
Starts at $5.99 per month. Free plan is available.
Image Source: App Store
Like Infinity, Omnifocus is fully customizable. The app has a steep learning curve, however, and even has unique terminology to describe common actions.
Take for example a term that they use: "Perspective". This simply means data visualization. "Flexible Inspectors," meanwhile, refer to code blocks containing functions that you can mix and match to create your own project workflow.
Omnifocus also has what is called a "Focus Mode". Under this mode, you should first select tasks that you want to focus on, and then the app hides the rest so you can focus on completing your most important to-dos first.
You can also:
Automate tasks and workflows in Omnifocus using AppleScript,
Create tasks or "action" through Siri voice command,
Set up recurring tasks,
Customize your sidebar,
Add tags,
Customize your homescreen.
Take note that Omnifocus is an iOS-exclusive app, and while it has a web version that became recently available, it does not come with the same complete features available in its iOS version.
Omnifocus Features:
To-Do list View
Inbox
Projects
Batch Editing
Tags
Flags
Forecast
Quick Entry
Attachment Support
Calendar Integration
Encrypted Sync
Notifications & Alerts
Today Extension
Share Sheet
Data Export
Review Mode
Spotlight Search
Hardware Keyboard Shortcuts
Dark Mode
Siri Capture
Siri Shortcuts
Swipe to Flag
Location-based Alerts
Multitasking on iOS
Multiple Windows on iOS 13
Quick Actions
Drag and Drop
Quick Open
Custom Columns
Custom Perspectives
Customizable Sidebar
Focus
Forecast Tag
AppleScript Support
Pricing
$9.99 per month or $99.99 per year. Web add-on at $4.99 per month or $49.99 per year.
Image Source: App Store
Remember The Milk is a feature-rich, intelligent to-do app that can integrate with important work programs such as Google Calendar, IFTTT, Twitter, Google Assistant, and more.
Some of its unique features include Smart List, which creates "special lists" based on criteria that you set, and Smart Add which lets you quickly jot down your to-dos and add labels (color coded too, if you want!) for easier sorting.
If you miss anything, such as overdue tasks or groceries, Remember The Milk will use various methods to remind you, such as:
Remember The Milk Features:
Mobile Access
Create Subtasks
Reporting/Analytics
Access Permission
View Sharing
Color Coding
Tagging
Location-Based Tagging
Tasks & Subtasks
File Management
Attach Files to Tasks
Search Functionality
Smart Lists
Offline Sync
Third-Party Integrations (Google, Twitter, IFTTT, etc.)
Microsoft Outlook Sync
Customizable App Themes
Smart Add
Keyboard Shortcuts
Available on Android and iOS
Pricing
Pro Version goes for $39.99 annually. Free plan available.
Image Source: App Store
Habitica is a unique to-do list manager that uses video game inspired elements to motivate users to turn daily tasks into habits. This app also comes with lists, boards, kanban views, recurring tasks, and more.
But apart from the essentials, Habitica has something that none of the other apps on this list have or are close to having: gamification.
Set in a video game environment where each user has a character that "levels up" for each task completed, this to-do list app is one colorful, creative number that could make accomplishing tasks more fun and a little bit addictive.
Habitica Features:
Adding, Editing and Completing Tasks
Add Labels
Web & Mobile Ready.
Reordering tasks
Filtering by, adding, editing, and deleting tags
Filtering tasks by Due/Dated/Weak/Strong
Viewing completed To-Dos
Task reminders
Once-a-day reminders
Creating & Deleting custom rewards
Viewing the Group Plans shared task board
Viewing Group Plan assigned/claimed tasks
Social Access
Pricing
Habitica is free, but has optional paid plans which start at $4.99 per month.
Image Source: App Store
TickTick is another to-do list app that resembles Google Task. With TickTick, you can record voice notes and turn emails into tasks that the app will automatically create an estimated deadline for.
Once you've set a deadline, duration, or location, TickTick can activate its "annoying alert" feature, which will give you incessant reminders so you don't miss any of your self-imposed deadlines.
TickTick Features:
Collaboration Tools
Mobile Access
Recurring Task Management
Time Tracking
Create Subtasks
Gantt/Timeline View
Percent-Complete Tracking
Reporting/Analytics
Task Board View
To-Do List View
Smart List
Folders, Lists, Tasks, and Subtasks
Pricing
Premium access starts at $27.99 per annum. Free plan available.
Image Source: App Store
ClickUp is another fully customizable to-do list software which you can use to create checklists, delegate tasks, and set reminders. ClickUp also has a vast array of other features that make it an almost complete solution for any business whether they're in the marketing, development, design, or another niche.
Some of these even include features such as slash commands, real-time chat, image annotation, different task views, and inbox, among others.
ClickUp Features:
Rich Editing
Assign Comments
Turn Comments Into Tasks
Time Tracking
Bug Tracking
Client Management
Team Collaboration
Real-Time Chat
Inbox
Customizable Dashboards, Priorities, and Statuses
Data Import/Export
File Management
Email Notifications
Idea Management
Image Comments
Image Mockups
Third-Party Integrations
Chrome Extension
Multi-Project Management
Prioritization
Product Roadmapping
Recurring Tasks
Risk Management
Agile Support
Kanban Support
Scrum Support
Waterfall Support
Task Management
Testing / QA Management
White Label Option
Workflow Automation
Pricing
Start at $5 per month per user. Free plan available for unlimited users and 100MB maximum storage.
Image Source: App Store
Toodledo is a multi-platform to-do list app that's flexible enough to let you customize the features that you want to use. Toodledo has all the essentials you need:
Creating task lists,
Set a one-time or recurring deadline,
Save notes,
Assign user sharing permissions,
Assign priority labels,
Group tasks by projects and categories,
You can share lists with family members,
You can share projects with team members.
Enter any leftover free time from your workflow into your Toodledo tracker and the app will automatically suggest what you should prioritize next based on your data and the extra time you have to execute added tasks.
Overall, if you want a solid to-do list app that will keep you focused on working rather than confused with all the bells and whistles of app interfaces, then Toodledo is a great start.
Toodledo Features:
Collaboration Tools
Time Tracker
Goals Tracker
Multi-Column Lists
Note Taking
Mobile Access
Import/Export Data
Customizable Functions
Access Permission
Sharing Permission
Built-in Time Tracker
Personal Goals Tracker
Calendar Based Reminders
Location Based Reminders
Advanced Data Filters
Habit Tracking
Power Search Tool
Recurring Task Management
Time Tracking
Create Subtasks
Gantt/Timeline Review
Reporting/Analytics
Multiple Device Sync
Reminders
Notifications
To-Do List View
Compatible With Getting Things Done (GTD) Method
Available in iOS, Desktop, and Android
Pricing
Starts at $2.99 per month. Flexible Enterprise package and a free basic plan are available.
Image Source: App Store
After acquiring what was formerly known as Wunderlist, Microsoft has since released the app under its own branding as Microsoft To Do.
The clean interface and snappy response is reminiscent of Google Tasks, but there's a lot more to the app than meets the eye. Since Microsoft To Do works well with all apps under the Microsoft suite, you can expect the convenience of being able to add tasks right from within the Outlook interface, as well as syncing your tasks across multiple devices.
Some notable features include:
The capability to quickly add tasks via voice using Microsoft's Cortana smart assistant.
My Day, which helps you prepare ahead by sending task suggestions for the day that are personalized and prioritized based on your data.
Overall, if you or your company uses Microsoft, then Microsoft To Do should be your natural choice for managing to-do lists, owing to its seamless integration with all things under the Microsoft Suite.
Microsoft To Do Features:
Microsoft Outlook Integration
Multi-Device Syncing
Microsoft Office 365 Integration
Intelligent Suggestions for Daily Tasks
Team Collaboration
Recurring Tasks
Due Dates
Pending Task Reminders
Note Taking
File Attachment
Checklists
Sharing Permission
Access Permission
Available for iPhone, Android, Windows 10, and Web
Pricing
Free.
Final Thoughts
Finding an app that everyone will like is not an easy task, but with the list that you just went through it should definitely be a little easier.
Before you rush into downloading your next to-do list app, make sure to consider the pros and cons on each one in this post, figure out what you need and don't need, and how much you're actually willing to put aside for such software.
Just a friendly reminder before we wrap things up: Infinity has a lifetime deal going, which means that you can pay for the app once and enjoy it for as long as you like. Getting started with Infinity is incredibly easy and you should be able to see all of its benefits in no time at all.
For more information, check out the video below.
As usual, let us know what you think of our new list and if we missed anything that should be here! Simply tweet @startinfinity and @MissPanWriter.
And until then, stay tuned for our next SaaS roundup list!