23 Project Management Software & Collaboration Tools Of 2020
By
Jovana Zoric
Nov 23, 2018
Whether you're planning to organize your company, your team, your freelance work or personal projects, having a reliable and comprehensive collaboration and project management software is incredibly important.
That's why it has become almost impossible for company owners, CEOs, project managers and freelancers to organize all their work without a project management tool.
But here's the problem.
Project management software has become an extremely competitive field. Tons of new tools are being launched every year, all offering somewhat similar features. So, how do you choose the right solution?
The answer is simple, actually. You need to arm yourself with information and knowledge to be able to recognize the best tools and ultimately choose the one that perfectly suits your needs.
To help you on that mission, we've compiled a list of 23 best project management tools.
We've compared them by features, included the pros and cons of every tool, as well as the pricing information. We've also made sure to include the links where you can download these apps. Finally, we threw in some useful resources in case you want to find out more about each tool.

23 Best Project Management Software And Tools
2. Trello
Description
Trello is an online task management software made to ease the process of tracking projects, tasks, lists and documents in a shared and creative space.

Trello uses the Kanban board design to help you define your work structure and keep track of your goals in a fun, flexible and rewarding way.

Due to its simple interface and workflow, Trello is commonly used among individuals, smaller teams and midsize businesses rather than large enterprises and organizations. In late 2017, Trello has reached an amazing goal of having 25M registered users.
3. Asana

Description
Asana is an organizational, team coordination and tracking tool which serves as an all-in-one platform to organize projects, tasks, files and a calendar within a shared workspace.

In Asana, projects can be organized in different types of views. Default views include List and Board (or Kanban) structure, whereas Asana has recently enabled filtering tasks in Timeline, Calendar, Conversations, Progress and Files Views.

Asana has turned out to be the most useful for large enterprises and midsize businesses (it is used by more than 20,000 organizations and 140,000 teams) but has also proven to help smaller businesses as well. However, rarely any freelancer uses Asana as a personal project management software, which makes Asana suitable for teams and groups rather than individuals.
4. Airtable
Description
Airtable is a cloud-based all-in-one collaboration platform that combines spreadsheet and database functionalities into a user-friendly and flexible interface.

Airtable is primarily focused on a spreadsheet concept with an option to add additional views like Kanban and calendar. This gives you the ability to organize everything in one place; from tasks, attachments and records to a sales pipeline and content calendar.

They already empower 30,000+ small to midsize businesses as well as big corporations and enterprises.
5. Jira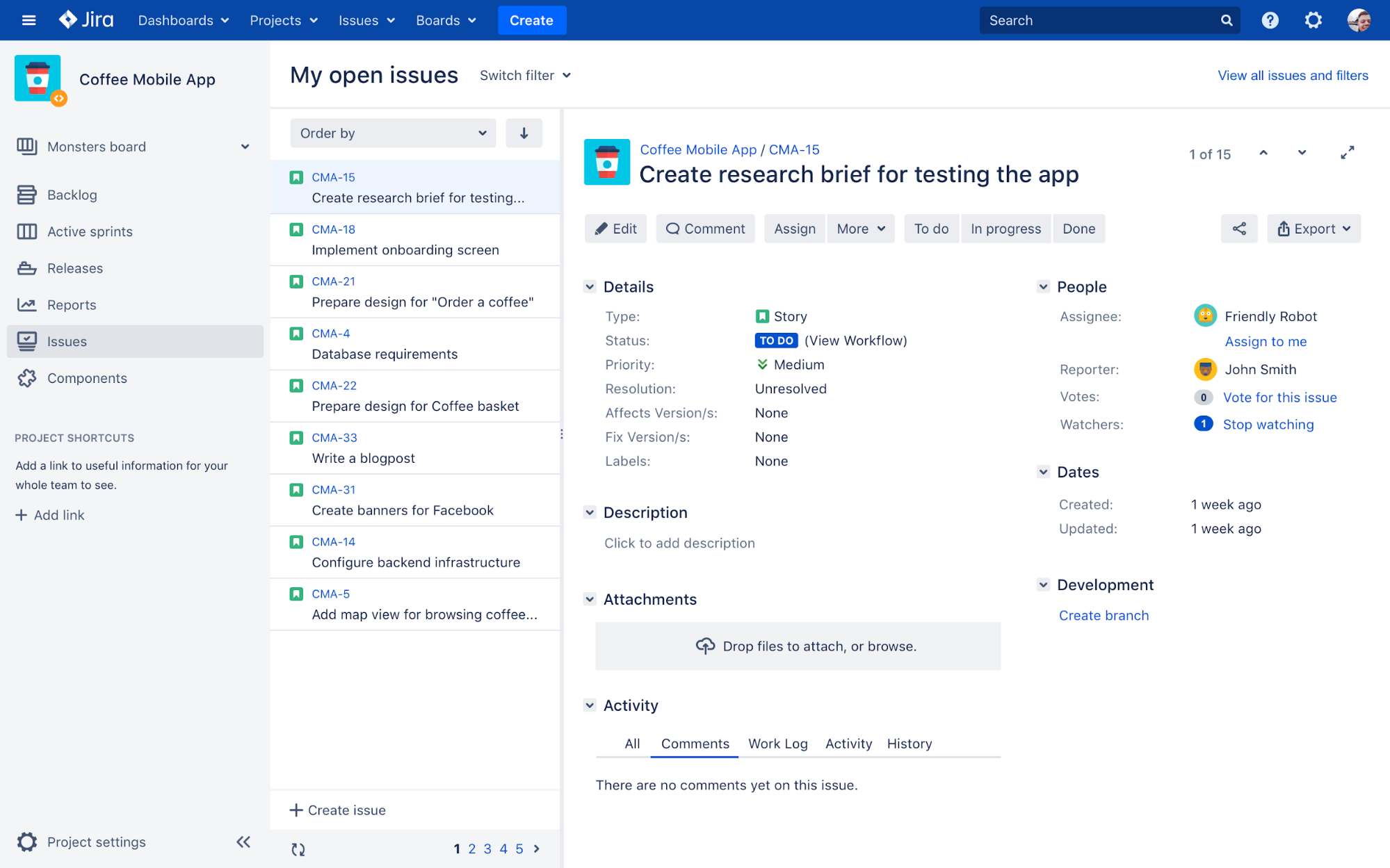 Description
Jira is a project management and issue tracking software created by Atlassian, meant to help teams achieve their goals by prioritizing, sorting and keeping track of their tasks.

Jira is an agile software tool, which means it's focused on capturing, assigning, and prioritizing sprints, ideas and requests defined by skilled, agile and productive teams which are (in most cases) building software or developing applications. Jira allows teams to create a workflow which matches their processes and plans.

More than 51,000 customers, including some top-notch companies (such as eBay, Spotify and LinkedIn) already use Jira to plan, track and release effective software, applications and networks. In 2017, Jira was rated as the third best project management software on the market. It's commonly used by larger teams and organizations, rather than smaller groups and individuals.
7. Basecamp
Description
Basecamp is a collaborative project management tool with a wide variety of features made to facilitate task management, team communication and create a streamlined workflow.

The platform uses a simple and attractive dashboard that helps the whole team have a clear overview of all the projects, tasks, files, discussions and events. From the main dashboard, team members can navigate to each board with just one click.

Thanks to its unique and intuitive design and an all-encompassing service, Basecamp is a great business management software ideal for small, medium-sized businesses as well as large enterprises. The numbers speak enough of its popularity considering this tool now has over 2.8M users.
8. Notion
Description
Notion is a project management and collaboration tool which allows people to organize their workflow by using a flexible and friendly interface to make notes, create databases, manage tasks, and keep track of documents.

Notion offers a solution to your workflow chaos by introducing four different tools for organizing your records: Notes & Docs, Wiki (Knowledge Base), Tasks & Projects and Spreadsheets & Databases.

More than 5,000 teams and 30,000 individuals already use Notion as their online project management software, including Intercom, Slack and Wall Street Journal. It's frequently used by smaller and midsized businesses, rather than large enterprises.
9. Wrike
Description
Wrike is a collaboration, cloud-based tool with an end-to-end solution for project organization from the initial stages to the reporting stage.

It enables project managers and team leaders to create project sprints easily and visualize them in a Gantt chart. As the work process starts, Wrike provides the solution for monitoring all tasks and getting relevant notifications. Project data are synced in the custom report builder so the results can be overviewed easily.

Wrike also has a separate product, Wrike for Marketers, that has custom features and extensions for this creative industry.

After the initial release in 2006, Wrike managed to develop into a project management tool that now has over 17,000 organizations and more than 1 million users in its customer base.
10. monday.com
Description
monday.com is a super attractive and incredibly versatile project management tool that will allow you to organize just about anything your business needs, regardless of the type of the business.

monday.com developers approach project management from an innovative and creative angle, building an online workspace your employees will enjoy being a part of. With a vast choice of templates that you can customize as you like and seven different board views, your team will always be able to see important things at a glance.

Founded in 2012, monday.com now has 350,000 users from all over the world. Although it's perfect for smaller teams, larger companies like WeWork, Discovery Channel and Carlsberg are also using this tool.
11. ActiveCollab
Description
ActiveCollab is a project collaboration hub which provides effective time and data tracking, task management and team cooperation as a one-stop solution to all your business needs.

With a goal to limit the amount of time you spent handling multiple projects or numerous clients, ActiveCollab offers a solution by providing various features, structures and tools in a single powerful, yet simple app. Create and organize projects, add team members or even invite clients to ultimately boost your productivity.

According to their website, ActiveCollab is already being used by more than 200,000 people working for small businesses, larger organizations and even universities and government institutions, such as Apple, Adobe, Nasa, Harvard University and Nike.
12. ClickUp
Description
ClickUp is a cloud-based collaboration and project management tool with a variety of communication and collaboration features.

The platform has three different views for organizing projects, customizable task settings, and separated project filtering. ClickUp users can create custom statuses, manage multiple assignees, and assign comments as tasks.

ClickUp enables teams of all sizes to easily utilize the features of an enterprise-grade software provider, but with much better UX, at a very affordable price. Founded just two years ago, ClickUp already has over 45k subscribers and is recognized as one of the best free project management software solutions for 2018.
13. Zenkit
Description
Zenkit is a project management software which is designed to help businesses, teams or individuals keep track of their data, brainstorm new ideas, track their progress and collaborate more efficiently.

Zenkit uses multiple views and features as a flexible solution to organize and set up a substantial and productive workspace.

Considered as one of the simplest and most practical project management tools on the market, Zenkit is already being used by more than 100,000 teams of all sizes, but also freelancers and entrepreneurs. Popular companies and businesses such as TheNextWeb, TechCrunch, Forbes, and Lifehacker have already adopted Zenkit as their PM solution.
14. Teamwork
Description
Teamwork is a project management software which combines three different tools as a solution to build smarter workflows, improve client management system, and boost team communication and organization.

Based on your needs, you can either choose to individually use any of the three tools (Teamwork Projects, Teamwork Desk or Teamwork Chat) or even combine them to ultimately streamline your business. Teamwork offers a unique account for all three tools and an option to merge and combine data among them.

More than 40,000 teams, businesses and enterprises are already using Teamwork for various purposes and tasks including PayPal, eBay, Disney, Forbes and HP.
15. Hive
Description
Hive is a cloud-based project management software with a simple and intuitive design created to facilitate task management and keep the whole team on the same page, regardless of its size.

Due to its straightforward design, Hive is pretty easy to get used to. This tool offers six different layouts so you can adjust the interface according to your preferences and needs. Aside from that, it's brimming with other features that we'll get to in just a bit.

Connecting all aspects of work, Hive is the ideal solution for teams that are tired of using a bunch of different tools. Hive offers its solutions to small, medium-sized and large businesses and is used by respected companies such as Starbucks, The Economist, WeWork and many others.
16. Freedcamp
Description
Freedcamp is a freemium project management software that allows individuals and teams to organize everything from their personal plans to business projects. With features like to-do lists, calendar, discussion boards and multiple others, Freedcamp truly offers a lot free of charge.

This tool allows you to switch between several different views so you can always have a clear overview of your projects, tasks, calendar and widgets which you can choose according to your needs.

Freedcamp offers its services to individuals, SMBs and enterprises, but at different pricing plans. Those looking for a solid solution with all the essential features of a project management tool will find everything they need in the free version of Freedcamp. However, the free app definitely won't be enough for larger teams.
17. KanbanFlow
Description
KanbanFlow is a neat and simple project management software which offers a kanban overview as a solution to structure, organize and manage your work.

KanbanFlow's simplified features and visually attractive interface help you get a better visualization of your tasks, assignments and files, which is crucial for being more organized, productive and effective.

Being very similar to Trello, KanbanFlow is frequently used among the same audience - freelancers who organize their personal work and notes, small to midsize businesses and teams, but rarely among larger organizations and enterprises.
18. MeisterTask
Description
MeisterTask is an online team collaboration management tool with a wide choice of organizational features that allows its users to collaborate in real time.

The tool is known for its Kanban dashboards which provide an overview of all projects and a set of task management, automation, monitoring and reporting attributes. MeisterTask is integrated with all task management applications that should complement an agile unit.

After being on the market for more than 10 years and having adjusted its UI/UX according to its customers, MeisterTask is rewarded with a reputation of being one of the most intuitive project management tools.
19. Pipefy
Description
Pipefy is a workflow and process management tool, utilized mainly by startups due to the majority of features that support agile project management.

The tool is known for its ability to allow the creation of a custom workflow, email messaging, reporting and overall real-time collaboration. Pipefy doesn't lack in integrations with other tools, such as Google Sheets, Slack, Zendesk, Mailchimp and CRM tools.

Pipefy integrates with more than 500 apps, has over 60k users and has raised around $18.7M in funding. Respectable success in just a couple of years being on the market.
20. Process Street
Description
Process Street is a freemium business process management (BPM) developed to help teams organize recurring processes, create checklists and automate different business aspects such as employee onboarding and task management.

This tool is based on customizable templates for various industries and business aspects that include checklists and can contain different documents like images, videos, emails and subtasks.

Process Street is great from teams of all sizes, whether you want to organize the processes within the whole company or just one department. But, for the complex projects, you'll need to consider the paid version.
21. Quire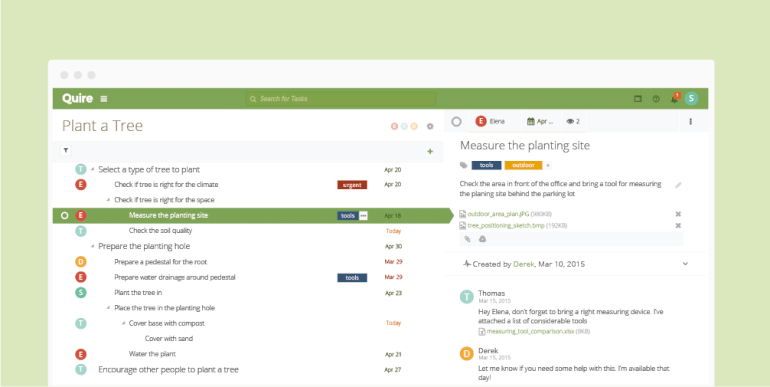 Description
Quire is a collaborative PM tool dedicated to task management. This tool aims to make teams and individuals more productive and more efficient by giving them the exact set of features necessary for task management without being too cumbersome.

Quire is based on a visual tree structure that allows all team members to keep track of their tasks. Aside from that, tasks can be viewed in a Kanban where you can easily track their progress.

Although it's an excellent solution for handling tasks, Quire is lacking many other features to be a truly comprehensive project management tool. That's why it's mostly used by individuals and small teams, but not by large companies.
22. Hubstaff Tasks
Description
Hubstaff Tasks is an Agile project management and collaboration tool that helps teams organize tasks better. It has several features that can provide support for all project phases, and it can be used by freelancers, small businesses, digital agencies, and more.
This tool uses visual Kanban boards, making it easy to use for teams across different industries. Its Sprints feature helps your team focus on more relevant tasks and helps ensure a continuous and smooth flow of work.
Hubstaff Tasks is designed for teams looking to increase their productivity and optimize their workflow. It simplifies collaboration and progress tracking, keeps everyone on the same page, and lets you move tasks from one stage to another with just a click.
23. ProProfs Project
Description
ProProfs Project is a simple yet powerful project management and team collaboration tool that helps in catering to all your project management needs. With this software, you manage your projects, tasks, teams, clients, and other stakeholders all under one roof.
ProProfs Project features multiple views, including a single dashboard and a shared calendar view. Along with streamlining all project execution and team communication, ProProfs Project helps you in monitoring team and project performance. Even reporting and invoicing is a piece of cake with ProProfs Project.
ProProfs is a US-based company that was founded in 2006. From small businesses to entrepreneurs, this project management software is great for all sorts of projects. It is also a great software for freelancers.
So, Which One Is It Going to Be?
Project management software has become irreplaceable for all types of businesses. And although the vast choice of PM tools can be overwhelming, it also means that you have the ideal opportunity to find the software that fits your needs like a glove.

We hope that this list helped you learn more about these tools and maybe even brought you closer to a decision about which tool is the right solution for you.

Finding the right tool that has everything you need is not easy. That's why we've created Infinity, a completely flexible project management tool with infinite possibilities. Infinity helps you reinvent your workspace, organize your projects exactly how you want and keep everything your team needs in one place.

Try Infinity for free!