32 Best Project Management Software to Try Out in 2023
Anyone who's ever had to plan a 12-person field trip or a wedding will tell you one thing: project management is definitely hard.
Project management understandably gets even more challenging when there are multiple teams, clients, and complex tasks involved, which is why it's not the worst idea in the world to use some tools to manage everything.
There are so many great and not-so-great software out there, and it can get overwhelming to look for the best one. Luckily, we've made a list of 32 project management software that deserves to be on your radar. It is a sort of a project management software comparison with the essential info, key features, and pricing plans so you can set different project management tools side by side.
But firstly, let's consider why you should use a software tool to manage your projects.
Top Benefits of Great Project Management Software
Simple Project Organization—How easy it is to create your project pipeline? Are there different views to choose from, like a calendar overview or a Gantt chart?
Good Collaboration—Your team should be able to communicate in a fast and simple way. When choosing a project management tool, make sure to check whether it has a chat or messaging system that fits your team size and needs.
Time Tracking and Invoicing—Most project planning tools have built-in time tracking features or 3rd-party software integrations. If you are creating client invoices, time trackers make it easy to split time spent on each project into billable and non-billable hours. Some project management software contains invoicing features that facilitate the whole process.
Flexibility—Depending on your business processes, you might find it hard to find a tool flexible enough to clearly follow the workflow. Consider the flexibility of each tool and the different ways you can customize your workspace and items.
Intuitive UI—A steep learning curve can discourage team members from using a certain tool. Some software on this list is harder to master, so make sure there are enough tutorials and support for tools with a complicated UI.
Additional Features—Do you plan to use this app on the go? Look for products with mobile apps. How many templates are there for your industry? Are there formulas and advanced equations? These are just some of the questions to ask, depending on how you plan to use the project management software.
Tech Support—If you get stuck or experience any issues, it's essential to have great support. Some project management tools on this list don't have live support, so consider that you may have to rely on email support that can take days.
Pricing—If you're a startup or a small business, a limited budget will often narrow down your options. This is why we made sure to include products with different price ranges, from free tools to those that fall into the expensive range.
Ready to start looking for the right software? Let's get down to business and check the list of the best tools to use for project management!
Best 32 Project Management Tools to Consider in 2023
1. Infinity — An Infinitely Flexible, All-In-One Project Management Software
Description
Forgive us for putting ourselves first, but we really are proud of Infinity's capabilities. Its flexible structure allows you to tailor your workspace to your actual workflow, be it a small personal project or a multi-team enterprise project. Infinity works great for freelance projects, marketing or software development project management, and dozens of other use cases.
You can organize items within your workspace into folders, subfolders, and tabs. There are 15+ attributes to add to your items, such as date, labels, text, checkboxes, formulas, and attachments. Infinity lets you build customizable frameworks and processes using an unlimited number of boards within your workspace and structuring each board to follow your data flow.
Are you looking to organize your e-commerce orders by date in a calendar view? Want to group your employees by department? Infinity project management software offers multiple views—including Table, Columns, List, Calendar, Gantt, and Form—that allow you to see your data from a different angle, as well as filter, group, and customize options to display it in a way that makes the most sense.
The Zapier integration lets you connect Infinity to over 2,000 other apps, including Gmail. Infinity also integrates with Clockify, which enables you to track time spent on tasks within Infinity, review timesheets, and create reports. The Trello integration allows you to import all your data from Trello within seconds.
If you're handling big data projects, Infinity has plans that start from 50 GB and go up to 5,000 GB. We use Digital Ocean servers located in the US and industry-leading Amazon Web Services (AWS) hosting infrastructure.
Infinity also comes with various ready-made project management templates that save you time and effort while building your project pipeline. Check them out here:
Infinity offers an extensive combination of features that will have you all set for project management, organization and effective collaboration.
Infinite Structure—Create an unlimited number of boards for different projects, departments, and clients, and customize each in an endless number of ways.
Different Views—Organize every aspect of your projects in a way that seems most suitable. Use Columns and Gantt Charts to track task project progress, Lists to generate ideas and organize tasks using to-do lists, Calendars to schedule tasks and projects, Charts to view data in a visual way.
Customizable Attributes—Pick from 22 attribute types: date, labels, checkbox, text, etc., and tailor them to your project's needs.
Drag & Drop Interface—Add and order elements in your workspace within seconds.
Filters, Group & Sort—Customize which project data to see, and how you see it, filter out certain tasks within projects, sort items by any attribute, and group projects and tasks by the project lead, project team, status, and start and due dates to avoid clutter.
Templates—Load one of 50+ ready-made templates (project planning, company projects, project tracker, business roadmap, and more) to kickstart your projects and save up some time.
Team Collaboration—Collaborate with your team on projects in real-time, invite people to join tasks and projects, comment under tasks and mention team members in the comments to ensure a smooth workflow and to align actions with project goals and requirements.
Document Management—Easily add documents to share with team members or organize within your personal workspace.
CSV Import/Export—Easily add CSV files from other programs like Excel.
Task Management—Create tasks in seconds, assign them to your teammates, set task priorities, and have them all conveniently displayed using Gantt charts so you can track progress, extend due dates at a click, identify bottlenecks, and tackle them faster.
Activity Tracking—Keep track of recent changes, pending tasks, and team member activities.
Progress Tracking—Check off completed tasks and track overall project progress.
Access/Permission Control—Customize who can see and edit your data.
Automatic Backups & Data Recovery—Never lose valuable information.
Clockify, Trello, and Zapier Integrations—Connect to thousands of third-party apps, import data from Trello, track time your team needs to complete tasks, track profitability of your projects, create invoices, and more.
2. Trello — A Kanban-Based Project Tracking and Management Tool
Image Source: trello.com
Description
Trello is a project management software based on the kanban view, a card-like overview of tasks and projects. Its structure is a double-edged sword: while the kanban view is clean and excellent for small projects, it cannot support complex project management. Trello doesn't have views like table, list, forms, or calendar, which are sometimes better fitting for your workflow.
There are no folders or subfolders and no way to split subtasks within a checklist into smaller steps. If you're handling tasks with lots of documents or branching, you'll soon have a messy board.
Still, with Trello, the accent is on collaboration, and it can be an excellent choice for small teams and straightforward task management.
3. Asana — A Cloud-Based Project Management Software for Teams
Image Source: asana.com
Description
Asana is a project tracking tool great for startups, small and medium businesses, and enterprises. This cloud-based software offers a shared workspace for teams to assign tasks, track progress, and message team members.
There are multiple views in Asana: list, timeline, and board view. Having the freedom to change views makes it easier to track tasks the way you want to. However, Asana does lack other views that many tools on this list offer within their features. There is also no customer management, which is why you should reconsider Asana if you plan to use it in your Sales department.
If you want to use Asana for personal tasks, the basic plan is free and great for simple projects such as to-do lists. However, the strong point of Asana is in its team collaboration features, which is why most freelancers and individuals won't benefit from this project management software as much as teams.
4. Airtable — An Agile Project Management Software
Image Source: airtable.com
Description
Airtable combines the online database features with a spreadsheet view, providing project management and team collaboration in one tool. Its interface offers a flexible relational data model for various business projects that can be organized through Grid, Calendar, Kanban, and Gallery view.
Airtable automations enable you to send notifications, automate tasks, and integrate with other tools. It has Zapier, Workato, Integromat, and Automate.io integrations that let you connect with a large number of third-party apps.
Unlike Infinity, Airtable doesn't have 24/7 live support, so you'll have to rely on email support or a self-serve knowledge base. Otherwise, it is a versatile and agile project management software that is great for real-time collaboration within teams.
5. Jira — A Software Development Project Management Tool
Image Source: atlassian.com/software/jira
Description
Since Jira was primarily designed for software development, it doesn't come as a surprise that it is mostly used for IT project management. Its interface is made to accommodate the agile development approach, providing a Kanban-style overview of tasks.
Jira is an agile project management software great for Scrum, Kanban, and hybrid agile models. It enables teams to assign tasks, track individual and team progress, as well as identify and solve issues and blockers within the workflow. One of the greatest downsides of this software is the lack of an in-app Gantt chart, but there are several Gannt plugins you can download in the Atlassian Marketplace.
7. Basecamp — A Project Tracking Tool for Productivity and Communication
Image Source: basecamp.com
Description
Basecamp is a project management software with a focus on productivity and teamwork. It offers tools like message boards, to-dos, schedules, docs, file storage, real-time group chat, and automatic check-in questions.
Basecamp excels at offering innovative features that are unique to this tool. For instance, it has a team member chat room called Campfire, where coworkers can message each other and share files. Basecamp has its bespoke view called Hill Charts that is a step up from Gannt charts providing another dimension. The purpose of Hill Charts is to anticipate problems before they occur and provide a better estimate of the status of a project.
While Basecamp does a great job at being a productivity tool, its project management abilities are somewhat limited. Some features standard for project management are not included in the software but can be added via third-party integrations.
8. Notion — A Project Management and Collaboration Software
Image Source: notion.so
Description
Notion is designed as an all-in-one workspace for notes, project management, documents, and collaboration. Its features make Notion a great choice for product management, engineering, HR, design, sales, and marketing teams.
The Team Wiki enables your company to store information in a Wikipedia-like format, which is great for the HR onboarding process or projects that require a lot of documentation. Notion has several different views, including kanban boards, tables, and lists.
If you're an individual looking for an easy way for project tracking, Notion has a free plan with basic features that has everything you need. Teams that require advanced features can opt for one of the paid plans offering unlimited guests, advanced permissions, etc.
9. ProofHub — A Project Management And Team Collaboration Tool
Image Source: proofhub.com
Description
ProofHub is a top-rated project management and team collaboration tool that offers a long list of thoughtful features under one roof to give project managers better control over projects and teams. ProofHub focuses on on-time project delivery and on-point team accountability.
ProofHub lets you easily plan, collaborate, organize and deliver projects of all sizes as it offers all features essential for successful project execution and delivery. For example, it has task management software that helps with creating and assigning tasks and setting their time estimates and due dates. ProofHub's Group Chat feature allows all users to instantly send direct messages to each other and reply instantly. Gantt charts allow users to set task dependencies and modify schedules as deadlines shift.
ProofHub also offers time-tracking software and a project scheduling calendar for improved transparency within the team. ProofHub offers flat, fixed-rate pricing plans, which make it affordable for startups and small businesses.
10. Monday.com — A Modern Project Management Software
Image Source: monday.com
Description
Monday.com project management software comes with a modern, user-friendly interface. There are color-coded tasks you can import in one of many customized templates, which help speed up the project management process. Monday.com offers different views such as map, calendar, timeline, or Kanban, depending on the kind of project you are tracking.
One of Monday.com's greatest features are automations—you can automate repetitive tasks to save time and reduce the chances of a human error. For instance, you can create a new lead in the sales pipeline every time you receive an email from a form.
11. Active Collab — A Team Collaboration and Project Tracking Tool
Image Source: activecollab.com
Description
Active Collab project management software comes packed with features for team collaboration and resource management. With its time and expense tracking, Active Collab makes it really simple to track time spent on a project and create invoices for the clients.
Active Collab is great for agile projects as you can easily organize and overview tasks within sprints. On the other hand, it can be used for a traditional approach such as Waterfall.
One of the downsides of this project management tool is that real-time communication between team members isn't as straightforward as it could be. There is a feature called Live Comments that lets you comment on a task and tag the person you want to chat with, but it would be better to have an all-in-one place for communication.
12. ClickUp — An Agile Project Management Software for Teams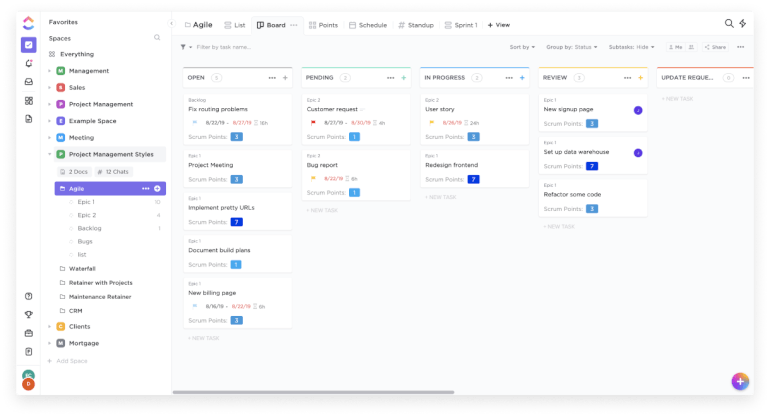 Image Source: clickup.com
Description
ClickUp is a cloud-based project management software designed as a one-stop-shop for team collaboration, document management, task management, and goal tracking. It has a very flexible approach allowing you to view your tasks in various views: as lists, boards, Gantt charts, calendars, etc.
While having many features is useful, it also creates a somewhat steep learning curve for new users. Your team members can get overwhelmed by ClickUps many customization options, so make sure to dedicate enough time to learn how to use the tool.
13. Zenkit — A Free Project Management Software for Individuals and Teams
Image Source: zenkit.com
Description
Zenkit project management software is an online solution that enables real-time collaboration between team members. It allows users to manage data within the project lifecycle and to customize their projects using drag-and-drop features.

Zenkit offers collaboration, calendar management, task management, file sharing, and project search functionalities combined in a single product. It is also available as an Android and iOS app. One exciting feature is the Zenkit Wiki view, which allows users to create a knowledge base from corporate data in a form similar to Wikipedia. This way, you can group unstructured data based on text fields, labels, topis, or hierarchy.

Zenkit is available as a free project management software for personal use and through paying plans for teams.
14. Teamwork — A Client Management and Project Planner Tool
Image Source: teamwork.com
Description
Teamwork is a project management software that combines three different tools to build smarter workflows, improve the client management system, and boost team communication and organization. There are three views you can use to customize your workflow: task list, Gantt chart, or board view.
Teamwork offers time tracking and resource management features so you can avoid employee burnout or assigning too many tasks to a single person. If you need advanced features, the company provides its chat, helpdesk, CRM, or content collaboration software that can be integrated with Teamwork into one suite.
15. Hive — A Productivity and Project Management Software
Image Source: hive.com
Description
Hive project management software enables you to plan projects, track work, and execute digital campaigns. By using and customizing Hive templates, you can save time by avoiding repetitive tasks. There are templates for business development, operations, HR, PR, marketing, product management, and software development.
Although Hive offers automation as one of its features, the greatest downside is that you cannot create recurring dependent tasks within a project and have to manually recreate them every time you need to use them.
16. Freedcamp — A Free Project Planner Software for Individuals and Teams
Image Source: freedcamp.com
Description
Freedcamp is a free project management software that also offers paid plans with advanced features. The free version works great for small, personal projects such as to-do lists or wedding planning, but you will need to pick a paid plan for SMB or enterprise projects.
Freedcamp has some very useful features like the Wiki view that is aimed at projects that require a lot of documentation, or the time tracker that simplifies the client billing process. Still, this project management software lacks a Gantt view in its free version.
17. Kanbanflow — A Lean Project Management Software for Small Teams
Image Source: kanbanflow.com
Description
Much like its name suggests, Kanbanflow is based on the kanban overview of tasks. This project management software has a simple interface with color-coded tasks that can prove insufficient for projects with a lot of visuals since there are no thumbnail previews. Since you have to fully open each document you have uploaded, this makes the process more complicated.
While Kanbanflow can be a good choice for individuals or small teams, it falls short of meeting the needs of large businesses.
18. MeisterTask — Project Tracking and Task Management for Teams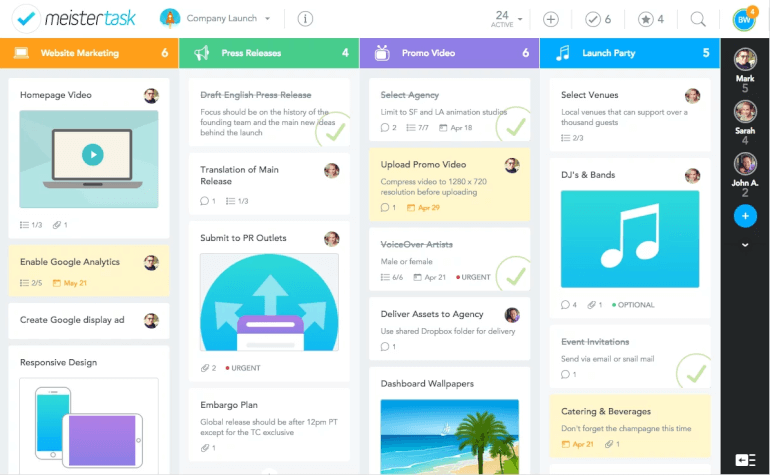 Image Source: meistertask.com
Description
MeisterTask is an online project management software tool with a wide choice of organizational features that allows its users to collaborate in real-time.
The tool is known for its Kanban dashboards which provide an overview of all projects and a set of task management, automation, monitoring, and reporting attributes. MeisterTask is integrated with all task management applications that should complement an agile unit.
While MeisterTask does fall into the category of project planning tools, it lacks the ability to support complex project management. Its greatest value is in online collaboration features, so if you need a tool to manage simple projects, MeisterTask can be a good choice.
19. Pipefy — An Agile Project Management Software for Startups
Image Source: pipefy.com
Description
Pipefy is a project management software aimed mainly at startups that use agile methodology. Its focus is on process and workflow management, bringing customers, vendors, and partners onto the same collaboration platform.
Pipefy is a no-code project planner that lets you create a workflow within minutes. It saves time by enabling repeatable workflows, so you don't have to build them from scratch every time. The customized dashboard feature facilitates reporting and provides a visual insight into your processes.
Although Pipefy has some great automation features, it has its shortcomings. There is no data history, and if you delete something from "pipes" in the pipeline, the data is forever lost. Some integrations and advanced features are not intuitive, but there is a lack of tutorials that would better explain how to use them.
20. Process Street — A Software for Simple Process and Workflow Management
Image Source: process.st
Description
Process Street is a cloud-based project management software that lets you manage recurring workflows for your team. Users can create process templates, run multiple instances of the template as checklists, track progress, and collaborate with their team.
Process Street offers some exciting features, like Approvals. This is amazing for tasks or processes that need authorization by another person. By using Approvals, you can create single-instance, multi-stage, or sequential approvals.
On the downside, Process Street is somewhat rigid when it comes to having different project views. There are no kanban, Gannt chart, or calendar views, which strongly impacts your flexibility in optimally displaying your processes.
21. Quire — A Free Project Management Software for Agile Processes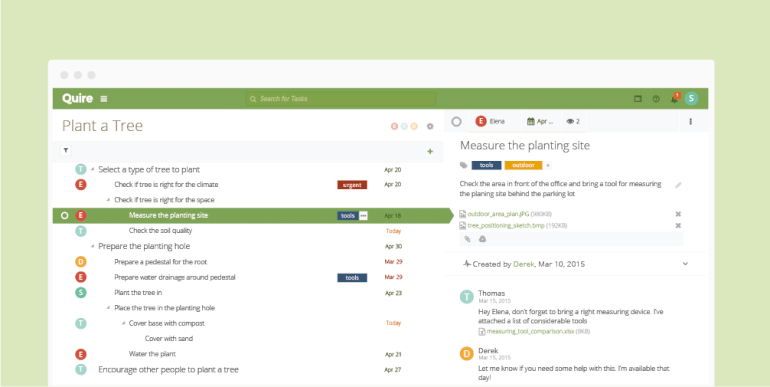 Image Source: quire.io
Description
Quire is a free project management software based on a tree structure that allows all team members to keep track of their tasks. Since this tool is currently free of charge and there are no limited free plans, this is one of the strongest reasons to choose Quire.
On the other hand, free software comes with limitations in features and the ability to tackle more serious projects. It seems like Quire is focused mainly on task management and collaboration, and it can't handle large projects well with its 5 MB file upload size limit. This is one of the most limited project planning tools when it comes to different views—there are no Gantt charts, calendar, or spreadsheet view.
Taken into account that Quire is free, it can be a great choice for learning the ins and outs of project management before tackling more complex projects.
22. Hubstaff Tasks — A Kanban-Based Agile Project Management Software
Image Source: hubstaff.com/tasks
Description
Hubstaff Tasks is an agile project management software based on a kanban board view. One of the strongest arguments for choosing Hubstaff Tasks is if your company is already using Hubstaff, a time-tracking and employee monitoring software. Since Hubstaff Tasks was created as an additional tool for Hubstaff, it integrates with it and is a logical choice for Hubstaff users in need of project tracking.
Compared to other project planning tools, Hubstaff Tasks has limited integration options. It is built around agile methodology, coming with features like automated stand-ups, sprints, and workflows. If you have a small team of up to five people, you can use Hubstaff Tasks for free if the number of your projects doesn't exceed 10.
23. ProProfs Project — An Online Project Management Software
Image Source: proprofs.com/project/
Description
ProProfs Project is a simple project management software for assigning tasks via a shared calendar and keeping track of your projects. This tool lets users sync milestones with other calendars such as Outlook, Google Calendar, or iCal. The time tracking features enable you to easily manage billable and non-billable hours spent on each project.
One of the features that ProProfs Project lacks is the ability to manage tasks using different views. If your workflow can be best presented via Gantt charts, this won't be a problem.
24. Scoro — A Comprehensive Project Management Software
Image Source: scoro.com/blog
Description
Scoro might seem like a rather simplistic tool at first glance but there's much more about this project management software than it meets the eye. With Scoro, you can manage projects start to finish but also your entire company, all in one place.
This tool gives you access to 100+ amazing features that can empower any team to keep up with projects and work with ease while it also includes billing and reporting functionalities incomparable to many other project management tools out there so you don't have to make decisions based on gut-feeling but pure facts.
Put another way, Scoro lets you create, manage, and track projects and tasks, manage resources and track their utilization, provides you with a real-time project overview (planned tasks, files, comments, time spent and billed, etc.), gets you detailed reports on your team's performance and project profitability, and makes it a breeze to create and send invoices.
25. Vivify Scrum — A Colorful Agile Project Management Software
Image Source: vivifyscrum.com
Description
Vivify Scrum is a kick-ass project management software for agile teams and large organizations. It could be everything you need to organize and handle all aspects of your business—project and team management, time management, team collaboration, invoicing, and more.
With Vivify Scrum, you can visualize and customize workflow on a board (Kanban or Scrum), get notified on changes made within the board, track project progress at a click, efficiently collaborate with the team, and get insights into their availability and workload. You can even connect all boards to keep your eyes on all currently running projects and collaborate on tasks with team members from a single page.
Powered with Scrum Metrics and various charts, this agile project management software gives you access to the stats on how well your team is doing but also how well individuals members are doing. Their Time Tracker lets you track time spent on tasks and generates automatic worklogs, which all you can use to make changes that can help your team deliver more value and tackle projects on time.
26. Cherwell — A Project Management Software for IT Teams
Image Source: cherwell.com
Description
Cherwell (now a part of Ivanti) is a leading IT project management solution. It covers everything from logistics to analytics and more and boasts the ultimate flexibility as it adjusts to ever-changing project demands.
Using Cherwell, you can centralize all projects and tasks, visualize relationships, get a deeper understanding of resources available and used so you can improve your IT staff efficiency, and unleash the app's full potential with automated process workflows.
Simple, yet speedy and powerful, this IT project planner comes with visually appealing dashboards (displaying time spent on tasks and projects, costs, revenues, and risks) and features advanced reporting so you can track your team's performance, gain greater visibility of progress, and see real-time spending for each project. As a cherry to the top, you can extend Cherwell's functionality using merge-able apps from their Marketplace.
27. SoftExpert — An Old-School Project Portfolio Management Software
Image Source: softexpert.com
Description
If you are not looking for an overly fancy project planner and management tool, yet the one that gets the job done, keep an eye on SoftExpert. This simple project management software lets you continuously monitor projects and project portfolios, makes it super easy to plan, prioritize and manage projects and business initiatives, manage resources, and finally, align initiatives and investments so your projects meet and exceed requirements and expectations.
With SoftExpert, you can optimize task, milestone and deadline scheduling on interactive Gantt charts, set time estimates, organize files and docs, manage risks, and track costs and revenues for all the project portfolios. This software uses and gathers key selection criteria (timeframe, benefits, costs, and risks) project managers find useful when prioritizing work and creating business strategies.
You can, at any moment, check the status of each task and project, get notified about changes your team members make, and, in case you miss on something, access SoftExpert's customizable rich visual dashboards that are automatically updated. Being one of the best project management tools, SoftExpert smooths the way for creating and executing projects and tasks and ensures you maintain complete control of your resources, capacities, and workloads, minimizes delays, and ensures your team always stays on track.
28. Nutcache — A Collaborative Project Management Software
Image Source: nutcache.com
Description
Nutcache is a free project management software featuring a delightful design and a full suite of functionalities that can unify your projects visually and make it a breeze to streamline projects and workflows, track time, identify and resolve issues—everything high-performance teams need to successfully complete projects.
Organizing projects, tasks, and workload with Nutcache is a pleasure. This eye-on-the-eye software gives you access to all grouped, prioritized, and complete tasks at a click, lets you organize and track them using the famous Gantt chart, and enables you to be more productive.
Not only that, this project management software simplifies cost management and budget planning to make sure everything is running smoothly and profitably and alerts you about potential cost overruns.
Built-in start and stop timers let you conveniently track your employees' work hours, compare estimated and actual time to complete tasks and projects, and enter this all into a timesheet. You can use this info to generate reports and get clear insights into your team's productivity and manage the complete lifecycle of your projects.
29. OpenProject — An Open Source Project Management Software
Image Source: openproject.org
Description
OpenProject is among project management tools that can support your team through the entire lifecycle of any project. This software activates creativity and collaboration and provides a myriad of ways to create, organize, and visualize project plans, and execute them.
With OpenProject, you can define the project scope and specify related work, easily organize and assign tasks, files, and comments, track teams and their work but also issues (and resolve them on the fly), and have it all displayed on a timeline.
Speaking of tasks, OpenProject boasts advanced task tracking features so you can create tasks using templates, display them in several ways, prioritize them and filter critical ones, create custom fields to customize them, assign attributes and filter tasks by these attributes, create visual relationships between tasks, and much more!
This simple project management software lets you divide projects into phases, plan costs for each phase, monitor costs and time spent, and create custom reports to get insights into how well your team is performing.
30. Forecast — An AI-Powered, Beautifully Designed Resource and Project Management Software
Image Source: forecast.app
Description
Forecast is a visual all-in-one project management software built with a clear goal—to help you optimize day-to-day schedules and workloads but to also forecast schedules and workloads months ahead. This intelligent automation platform could be everything you need to plan, perform, and execute projects in a simplified, yet more profitable manner.
With Forecast, you can successfully manage any type of project, including the most complex ones, as it gives you the flexibility and power to easily apply proven methodologies that boost your team's efficiency and productivity.
Forecast boasts task auto-scheduling, automatically estimates task durations and gives you hints on the best people from your team who can work on these tasks, which can kickstart your projects and cut administrative tasks.
As its name says, Forecast gives you a look into the future. You can access the project portfolio at a glance, determine whether you need to engage more talents, see how upcoming plans impact your business, etc.
This resource and project planner also forecasts and displays your project's financial performance so you can track the profitability of your projects, identify who/what is costing you most, and predict your revenue.
31. Wrike — A Free Gantt Project Management Software
Image Source: wrike.com
Description
Wrike is a very intuitive project management software that lets you track your tasks via the Gantt chart. You can divide tasks into folders and subfolders for easier management.
If you come from the marketing industry or need project management software for your marketing department, make sure to check out the special version of the software called Wrike for Marketers. This tool comes with advanced features such as Wrike Publish, that lets you manage your digital assets and upload and download files to and from your DAM solution.
As for other industries, Wrike's Gantt view is agile-friendly and enables you to easily create and visualize project sprints. There is also a custom report builder that syncs all project data and provides a great overview of the results.
32. GanttPRO - A Gantt-Chart Based Project Management Tool with a Short Learning Curve
Image Source: ganttpro.com
Description
GanttPRO is a Gantt chart-based tool with a robust set of project management, collaboration, and resource management features. It suits the needs of various industries and offers them ready-made templates for a quick start. Teams of all sizes can dive into their planning and management processes within 10-15 minutes.
The software comes with different views: a Gantt chart timeline, a Board view, My tasks lists, and some more. GanttPRO offers powerful task management with more than a dozen of options: you can set statuses, priorities, assignees, start and end dates, duration & estimation, and even create custom columns for tasks. The tool is also great for team collaboration through comments, attachments, mentions, and notifications, time tracking, resource and cost management.
GanttPRO integrates with Jira Cloud Software, Slack, MS Teams, and Google Drive. However, it looks quite light on integrations.
Conclusion
Hopefully, this list has helped you narrow down the options when it comes to picking the right project management software. If you're looking to speed up and better manage your work processes, any of these tools is a good investment.
If you'd like to give Infinity a try, we'll remind you that we offer a 14-day free trial that you can cancel at any time. If you need more information, you can schedule a demo call where we'll do our best to answer any questions you have.
FAQ
What is a project management software tool? A project management software tool is a type of software used to plan, organize, and manage project resources and develop resource estimates. What is the best software for project management? The best software for project management depends on the criteria you and your team set, including software features, ease of use, price, customer support, data security, and others. What is the easiest project management software? The easiest project management software has a highly intuitive user interface and simple commands. It shouldn't take long for users to learn their way around the software, and there should be additional resources to help with the learning process. Infinity has a Help Center, video tutorials, a Quick Guide, and customer support available 24/7 for additional questions. What are the 5 stages of project management? The five stages of project management are conception and initiation, definition and planning, launch/execution, performance and monitoring, and project close. Why is Infinity the best for project management? When it comes to project management, Infinity is arguably the best because it offers a great deal of flexibility and freedom to manage projects with 20 custom attributes, 6 project views, an infinite number of folders and subfolders you can create, and advanced customization options.