Top 15 Task Management Software - Best Tools In 2020 From Free to Paid
By
Hazel Pan
Aug 12, 2019
Task management is a pain.
Sure — on a smaller scale, it's easy. (Hey, I can rattle off my grocery tasks too, all for free! Lifetime access guaranteed!)
But once things start to get bigger...
You know, like when you're managing tasks...
for a team
a complex project
or multiple clients...
You need professionally made tools...
… Time-saving solutions that help you manage tasks without wading through a battlefield of processes and people, clients and deadlines, and wanting to set your laptop on fire.
If you're nodding (or shaking) your head right now, then this article was made for you.
In this post, we're listing off some of the best task management software we could find that fit various business needs, teams, and price points — from free to paid.
Note that we tackled some of the same apps before in our post about project management & collaboration tools, but that's only because they're so good, it wouldn't be fair not to include them on this list.
So, let's get to it!
Task Management Software Roundup
Infinity has a task management toolset that can let you organize tasks and projects your way.
You can keep it simple by choosing from a well-stocked library of templates that you can use.
Project management
Agile sprints
Content calendars
Sales pipelines
CRMs
Onboarding workflow
Or you can scale it up by building completely custom task management systems from scratch.
However you need your task management done, Infinity is a scalable tool that can adapt to any niche, need or team size.
And if you're not ready for a full-blown custom solution but off-the-shelf templates aren't enough either, then you can get the best of both worlds.
With Infinity, you can just choose the template closest to what you need, then add custom functions of your own as your processes grow.
Infinity Features:
Access/Permission Control
Data Import/Export
File/Docs Management
Search Functionality
Template Management
Categorization/Structuring
Team Collaboration
Calendar Management
Kanban
To-do Lists
Customizable fields
Task Management
Drag & Drop Interface
Data Filtering
Activity tracking
Progress Tracking
Asana has a clean and snappy user-friendly interface that makes it easy to understand and use from the get-go.
This task management software also has an offline feature, so you can update your tasks on the go. It automatically syncs once you're reconnected to the Internet.
What Asana lacks in capacity to handle more complex tasks that involve budget and cost calculations, it makes up for with third-party integrations to automation apps such as Zapier, timer tools like Hubstaff, and more.
This makes Asana a great option for tasks managers with multiple projects and teams. Each project can have a list of tasks under it and have task dependencies, all attached to a third-party timer app.
It's a feature project managers will love because it gives them a breakdown of how long all tasks and subtasks took to complete per project.
Asana Features:
Mobile App Ready
Team Collaboration
Task Tracking & Management
Third-Party Integrations (Slack, Zapier, Hubstaff, Adobe Creative Cloud, etc.)
Drag & Drop Interface
File Uploading
Document Management
Shared/Private Access
Lists
Kanban Board
Gantt Style Progress Timeline
Calendar View
Sub-task Checklists
Follow-up Task Triggers
Deadline Reminders
Activity Feed
Inbox
Team Conversation
Data Export
Task Analytics
Forms for Task Briefs
Image Commenting
Asana's basic package is free for 10 members. Their premium package starts at $9.99 per month (when paid annually).
Trello is a visual task management software with a generous freemium that's enough to cover most solopreneurs to medium-sized business needs.
Project managers can assign tasks, deadlines, and add descriptions to each task via a Trello card. These cards can be moved around by category on Trello's iconic drag-and-drop kanban board. Users can also review task deadlines via Trello's calendar view.
While Trello is, like Asana, easy to understand and use immediately, it falls back when it comes to more powerful automation features and still lacks a stronger upgrade offer. It also doesn't have an offline version and can be slow to load at times.
Trello Features:
Mobile App Ready
Scheduled Commands
Custom Field Actions
Kanban Boards
Calendar View
Board Collections
Automations
Task Triggers
File Uploading
Custom Board Backgrounds
Private/Shared Access Administration
Third-Party Integrations
Bulk Data Export
Trello's "Business Class" starts at $9.99 (when paid annually). Otherwise, it is free for up to 10 boards.
If spreadsheets and databases had a lovechild, Airtable would be it.
With the data manipulation capabilities of a spreadsheet powered up by the scalability and flexibility of database software, Airtable is one task management software that's definitely not plug and play.
Just like Infinity, Airtable has templates that can help you create content and social media calendars, sales pipelines, and more.
If you're a project manager who handles not only big teams but complex, multiple-step tasks, then Airtable has an architecture that can support those needs.
Just be ready to go through a bit of a learning curve. Past that, you can take on any project and create any task flow your way with Airtable's powerful toolset.
Airtable Features:
Social Media Integration
Email Integration
Third-Party Apps Integration
API
Project Templates
Functional, Mix & Match Blocks
3D Model Explorer
Map & Geocode Integration
Page Design
SMS Integration
Timeline & Gantt Chart
Task Calendar
Form Builder
Kanban Board
Task Tracker
Forms
Image Gallery
Grid View
Access/Permission Control
Data Import/Export
Airtable is free to use for teams of any size provided they don't exceed 1,500 records (rows), 2GB file space, and 2 weeks worth of revision history.
For more functionality such as custom blocks, forms, and more, the Airtable Plus plan starts at $10 per user per month when billed annually.
Basecamp sets itself apart from every other task management software with its own unique project tracking method called Hill Charts.
For starters, Basecamp has all the things: task lists, task assignment, task management, commenting, deadline reminders, team collaboration, file storage, file search, and more, which makes it an excellent, all-around business management software.
But on top of any old checklist, Basecamp lets users track complex, hard-to-quantify tasks via what they call Hill Charts.
Basecamp Features:
API
Third-Party Integrations
To-Do Lists
Task Management
Team Management & Collaboration
Task Assignment
Recurring Tasks
Deadline Reminders
Documents & File Storage
Scheduling
Message Boards
Commenting
Basecamp lets you start with a free 30-day trial. Paid plans start at $99 per month for unlimited users, projects, and 500 GB of storage.
Geflow gives task managers a bird's eye view of all the to-dos, deadlines, and accomplishments of your team, thanks to its signature dashboard.
This task management software's all-in-one dashboard manages to be comprehensive without looking cluttered.
Project managers can create and assign tasks by email, add custom tags, labels, and colored categories.
Onboarding won't be a problem because Getflow is straightforward and accessible for most new users to understand at first glance.
Getflow Features:
API
Visual Project Timelines
Task Tracking Timelines
Kanban Board
Calendar
Tasks & Subtasks
Workload Tracking & Management
Team Messaging & Collaboration
Task Commenting
Task Notifications
Third-Party Integrations (Slack, Google Drive, Dropbox, Harvest, etc.)
Custom Categories
Public/Private Sharing
Recurring Tasks
Project Filters
User Permissions
Project Templates
Export to PDF, CSV, or HTML
Universal Task Search and Filter
File Attachments
The paid plan starts at $5.95 per user per month when paid annually.
Hubstaff Tasks positions itself as every "Agile Project Manager's Dream."
In practice, Hubstaff Tasks frees up a ton of the repetitiveness that has to do with task management, such as daily check-ins with team members, deadline reminders, and task workflows.
As a project manager, you can set workflows that will automatically move a team member on to their next tasks as soon as they complete each prerequisite.
No need to keep checking in to do the updating manually each time. Pretty handy!
Hubstaff Tasks Features:
Customizable Workflows
Automated Task Triggers
Focused Sprints
Agile Methodologies
Kanban Boards and Sprints View
Task Management
Checklists
Team Collaboration
Access Permissions
File Storage
Deadline Reminders
Project Templates
Progress Tracking
Filter & Search Functionality
Integration with Hubstaff Time Tracker
Hubstaff Tasks is free for up to 5 users, unlimited projects, and up to 100 MB of storage. The paid plan starts at $4 per user month and comes with unlimited storage.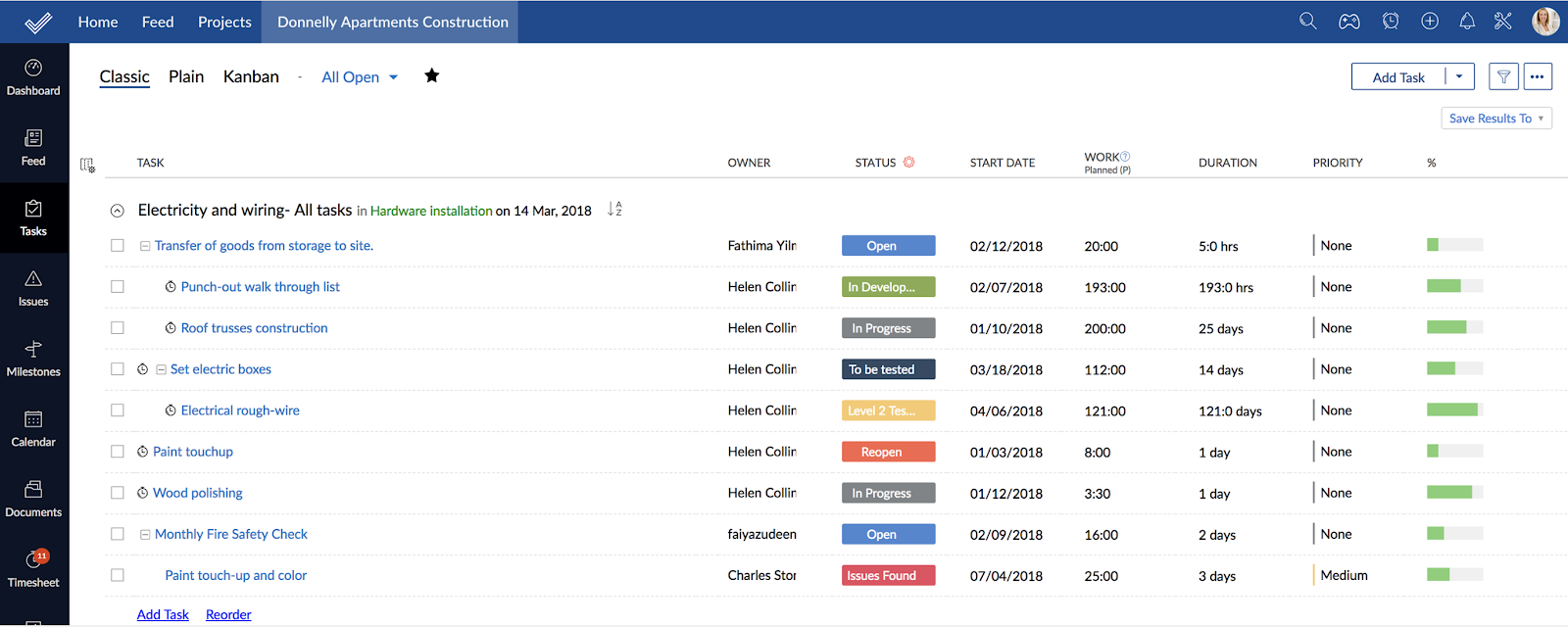 Zoho has more than 40 integrated applications that can help you run your business, and Zoho Projects is one of those.
As an enterprise task management software, Zoho Projects is reasonably priced but powerful enough to let you scale from small to larger sized, internationally distributed businesses.
Task management for teams can be simplified by organizing bigger deliverables into smaller tasks. Project managers can set deadlines, assign to team members, and measure work duration.
As you expand and need more functionality, you can easily integrate with the rest of Zoho's other apps, all built to help businesses scale their operations.
Zoho Projects Features:
API
Third-Party Integration
Mobile App Ready
Task Reports and Gantt Charts
Classic, Plain, Kanban, and Dependency Task Views
Milestone Task Tracking
Calendar
Task Analytics
Invoicing
Issue Tracking
Knowledge Base
Team Activity Feeds
Chat, Forums, & Commenting
Paid plans start at $150 per month (paid annually) for up to 10 team members, clients, and projects.
Todoist is a good-looking, fast-loading, mobile-optimized task management software built to help project managers handle multiple tasks without the "overwhelm."
Todoist uses gamification to motivate its users to stay productive, with user rewards such as Karma points, streaks, and levels.
There's also close to no learning curve to get started with Todoist. The interface is clean and snappy, and you get all the essential features to help you manage your work the right away.
Todoist Features:
Task List
Visual Progress Tracking
Third-Party Integration (Slack, Dropbox, Google Drive, Zapier, etc.)
Team Collaboration & Management
File Sharing
Access Permissions
Productivity Karma Points, Streaks, & Levels
Activity Log
Team Commenting
Automatic Data Backup & Encryption
Pricing starts at $3 per user per month when billed annually.
Any.do is a task management software that you can sync and access across multiple devices. It can even work with the Apple Watch, Siri, and Alexa.
Any.do's interface is swift, clutter-free, and easy to use. You'll get a task list view, priority tagging, and a calendar view to see when your tasks are due.
Any.do also comes with a human-assisted AI assistant to handle scheduling, booking, and other research tasks. It's currently in beta, but it certainly is a great value add once it's launched.
Any.do Features:
Human-assisted AI Assistant
Cross-platform Sync & Access
Task Lists
Checklists
Task Management
Priority Tagging
Kanban Boards
Calendar (syncs with Google Calendar, iCal, Outlook, etc.)
Geolocation Tagging
Third-Party Apps Integration
Custom Boards
Recurring Tasks
Reminders
File Attachments
Team Collaboration
The Premium plan starts at $2.99 per month when billed annually.
Hitask is another task management app with an interface that's nothing short of user-friendly.
You'll get access to a dashboard where you'll see everything you need organized into neat tabs and sections. No more wasted time looking around for the stuff you need.
As a task manager, you can organize multiple tasks into groups then arrange them by priority or progress using tags or custom colors.
Overall, if you know Asana, Google Tasks, and pretty much the basics of most calendar and checklist apps out there, learning to use Hitask from the get-go is a no-brainer.
Hitask Features:
All-In-One Dashboard
Shared Team Calendar with Time Zone Syncing
Task Assignment
Task Sharing
Custom Colored Task Tagging
Calendar (syncs with Google and Outlook)
Cross-Platform Access (iPhone, iPad, Mac, or any other browser)
Issue Tracking
Permission Access
Centralized File Library
Email & Push Notifications
Task & Subtask Management
Team Collaboration
Task Commenting
Hitask's paid Business Plan starts at $5 per user per month.
Miro is a task management software that will let you work remotely with your teammates, comment, and edit your work live, all via a centralized digital whiteboard.
Also, Miro's social proof is on fire.
With juggernauts like Netflix, Cisco, Spotify, Twitter, Upwork, and more singing their praises, it should go without saying that this task management software deserves to be on this list.
Miro is designed beautifully and can handle task management for complex projects such as agile product development, UX research, and design.
You can also easily visualize issues you're tackling in your business through Miro's pre-built Customer Journey Map, Service Blueprint, and other templates.
Miro Features:
Third-Party App Integration
Enterprise-Grade Security
Strategy & Project Tasks Mapping
Lean & Agile Project Management Capability
Mind Mapping
Milestone Charts
Task Progress Tracking
Digital Whiteboard
Project Templates
Icon Library
Wireframing
App Marketplace
Pricing starts at $8 per month per user when billed annually.
Glip is a chat app built with the idea of helping teams collaborate and manage tasks through real-time messaging.
Compared to other task management software with all the bells and whistles, Glip keeps it focused.
Inside the team chat interface, you'll get a quick access view of your team's files, checklists (perfect for developers, bug tracking, QA, and support), calendars (for content or social media marketing teams), task lists (for managing tasks for VAs), and video call integration.
Glip's straightforward, not-trying-to-do-everything architecture is a welcome respite for project managers looking for simpler alternatives.
Glip Features:
Mobile App Available
Team Chat
Team Messaging
Screen Share
File Sharing
Video Chat
Task Management
Team Collaboration
Team Calendar
File Storage
Productivity Software
Glip has an unbelievably generous free account. They only charge for customer support, data compliance/security, and extra storage for their built-in video and screen sharing feature.
Their paid plan starts at $5 per user per month.
First, just like Miro, IDoneThis has some pretty powerful social proof, with brands like Shopify, Zappos, and Buffer as their users.
One of the unique features that customers love most about this task management software is that it lets users review the progress of each team member based on the tasks and projects they've completed over time.
This progress reporting feature is great for employees and project managers alike come performance review time.
It's also easy to gather daily task reports. That's because at the end of each workday, IDoneThis emails users to ask about the tasks they've completed for the day. All you need to do is reply, and IDoneThis will file this for later use — kind of like an assistant.
IDoneThis Features:
Team Collaboration
API
Tasks & Subtasks Management
Checklists
Commenting
Task Reminders
Task Recording
Progress Reports
Recurring Task Management
Time Tracking
Calendar Boards
Activity Feeds
Document Sharing
Pricing starts at $3 per user per month when billed annually.
Powered by AI technology, Redbooth is a task management software that can handle complex functions while not befuddling users with a busy interface.
On a single dashboard, you can view task checklists, timelines, and a calendar. You can also get a deeper view of who owns which task, their task priority status, due dates, and how much time they've spent so far.
Basically, all you need to manage tasks, assign to team members, set reminders, host meetings, categorize tasks, and track productivity is in here.
Redbooth Features:
Third-Party App Integration
Centralized Dashboard
Gantt Timeline View
Task Board View
Time Tracking
To-Do List View
Mobile App Ready
Kanban Board
Agile Capabilities
Client Portal
Built-In Video Conferencing
Milestone Tracking
Resource Management
Tasks & Subtasks Management
Recurring Task Management
Team Collaboration
Progress Reports & Analytics
Document Uploading & Sharing
Redbooth pricing starts at $9 per user per month.
Found Something You Liked?
Task management is not something to joke around with when you're a business owner or solopreneur.
A business thrives on efficiency, after all.
You can easily lose plenty of man-hours just trying to wing it.
So if you want all the task management features of the apps on this list combined into a pretty package while paying for the price of just one… then Infinity is the way to go.
For a one-time price, Infinity gets you all the fancy things...
… reliable templates...
... flexible features that you can scale...
… powerful implementations only spreadsheet masters used to be able to do...
... and the sleek look of a high-end task management app...
… All without having to spend 8+ hours trying to learn it all.
Just check out their quick welcome video below to see how simple it is to get started:
Final Words
I have to say that as a lover of SaaS, I really enjoyed compiling this list of task management tools for you.
What did you think of our recommendations? Got any suggestions on what else we should add?
Give @startinfinity a Tweet and don't forget to tag @MissPanWriter so we can reply to you.
Finally, if you're looking for more substantial discussions, join other productivity SaaS enthusiasts in Infinity's special community here.
Hope to see you there!