15 Best Task Management Software for Getting Things Done
To be honest, picking the right software for task management can sometimes be trickier than completing the actual tasks on your list.
Organizing work in the "new normal" brings its own set of challenges and asks us to learn new skills and adjust our tools. In short, it requires us to become incredibly flexible when it comes to managing tasks, teammates, and work in general.
In a recent article about the modern team organization, the Harvard Business Review gave us a clear hint at what to aspire to. And indeed, the essential quality of successful work and task management in the now is—flexibility.
But how do we go about implementing it in our projects?
What we have learned from managing projects and teams of various sizes is that one of your greatest allies on this path is an organizational tool that perfectly fits your team or project. In practice, lack of flexibility might look like a feeling of being constrained because the tools you are using do not give you enough space to adapt.
As a freelancer with diverse clients, you might need to switch from a simpler, self-organization tool to a flexible task management system. Or, you might be a small business owner whose company is growing, but the tool you are using does not have a feature set to grow with it. Finally, you might want to optimize spendings and find better value for money task planning solutions.
Luckily (for everyone), there are a plethora of task management tools out there. To help you avoid drowning in a sea of options, we went through a set of critical features that the best task management software must have, along with the systematic reviews so that you can hit a bulls-eye choice the first time around.
But first, let's go over a shortlist of key features your new task planning software should have.
10 Key Features of the Best Task Management Software
Great Structure—Is the structure able to handle projects with a few and many tasks, subtasks, and team members?
Complete Flexibility—Does it let you organize anything you want in a way that works best for you?
Task Customization—Does it let you customize tasks according to your system? Are templates offered to help you get started?
Task Prioritization—Good prioritization is the main thing when it comes to task management. Will the tool help you keep your team's focus on track, no matter what distractions may come?
Time Tracking—Will the tool help you meet the deadline and progress swiftly?
Task Tracking—A great task tracker lets you oversee accountability, the team members' dedication, and the task completion progress.
Multiple Views—Can you view your tasks on a calendar, a Gantt chart, or Kanban board?
Visual Appeal—Does it offer a great organizational experience by utilizing visual aids?
Collaboration—Does it offer a set of features that are helping the team collaborate more efficiently?
Excellent Customer Support—Does customer support listen to their users and solve issues promptly? Can they be reached with ease? Do they offer tutorials and other resources?
Some of the reviewed tools tick all the boxes, and some are good at particular things, but you'll decide which one's just right for you as you scroll down.
Top 15 Best Task Management Software to Use in 2021
1. Infinity — The Most Flexible Task Management Tool That Adjusts to Any Project Needs
Infinity was born out of a burning need to create the most flexible and adaptable task management software out there. So, whether you're looking to coordinate your entire company or you're a freelancer trying to manage multiple clients, Infinity's flexible interface will let you collaborate with your team easily and organize anything you need.
But what is it that makes Infinity so special? The infinite structure and powerful customization features that can help you avoid clutter at all cost? Or the fact that you get to define what boards, folders, and items are, and what you want your attributes to be?
Depending on what you need Infinity for, it can be one reason or—hey—all of the above.
"Infinity is as if Trello, Asana, Airtable had a baby. Switch between lists, columns, tables, and calendars. They have templates available to get anyone started. Support is awesome; the wonderful Boka is ever helpful." - Camille A.
So, how can Infinity help you when it comes to task management? To start with, by making sure you have all the features you need to organize and complete all of your work smoothly.
Key Features
Multiple Views—See your tasks from different perspectives: Kanban, Gantt, Form, List, Calendar, and Table View.
Folders & Subfolders—Use them for better data management and organizing your work in general.
Custom Attributes—Create anything from progress bars to checkboxes, to multiple dates and different sets of labels (ideal for setting status, priorities, etc.).
Attachments & Links—Help you store important documents easily.
Public Boards—All you to share your work with guest users.
Assigned Tasks & Comments— To make collaboration with your team smooth.
Notifications—Never miss another task that's due again.
Board Overview—View all the tasks you and your team are working on.
Zapier & Clockify Integrations—Use Infinity with your favorite apps and track time for tasks and projects you're working on.
CSV Import—Import tasks and documents from another app straight into Infinity.
Activity Log—Available on an item and board levels to help you keep track of what your team is doing.
Automatic Backups—No worries about your data getting lost.
Data Recovery—In case it does get lost, we can retrieve it for you.
50+ templates—Start working in Infinity without a hassle with one of the ready-made templates.
Android and iOS Mobile Apps—Complete your tasks and projects even on the go.
To get a full glimpse at how Infinity functions and how to best use it for your needs, check out our Basic Walkthrough or visit our Help Center.
What Else Should You Know About Infinity?
An item can be anything you want, which means that it doesn't always have to be a task. It can be an idea, a meeting, an event, or something else you want to start with.
There are no limits when it comes to customization. Unlike other task management software, Infinity lets you shape your structure, attributes, and everything else inside your boards. Plus, you get to filter, sort, and group data to your heart's content.
It's like an open structure task management tool. Picture Infinity as a tree that can grow the way your project needs it to, so if you need 10 folders and 15 subfolders to make your tasks work, then you've got it.
An all-in-one place for storing all of your data. Keep all of your tasks, documents, contacts, images, metrics, notes, files, goals, team information, and a lot more at the tips of your fingers.
INFINITY TIP: Whenever a new task comes to mind, make it a habit to immediately add it to the backlog and worry about organizing it later.
The best part is that you don't have to start from scratch when working in Infinity! You can use one of the templates in our database to help you set things up and start ticking off your lists' tasks.
Not sure which one to use? We've got a couple of suggestions:
Pricing
If you're still not convinced, then the pricing is undoubtedly going to make your day. Instead of paying per user or per workspace, Infinity is currently running a lifetime deal, which translates into "Pay once, use Infinity forever."
The lowest plan starts at $149 for 1 workspace and 10 collaborators.
2. Asana — Task Management Software Fit for Larger Teams
Image Source: asana.com
Asana is—without a doubt—one of the most popular task management tools out there. If you've ever worked in a large team, chances are you have ran into this useful task manager.
Asana comes with a clean and user-friendly interface that makes it easy to understand. This task management software also has an offline feature to update your tasks on the go, so it automatically syncs once you're back online.
What Asana lacks when handling more complex tasks (e.g., budget and cost calculations) makes up for many third-party integrations to automation apps such as Zapier, timer tools like Hubstaff, and more.
Asana works well for task managers with multiple projects and teams. Each project can have a list of tasks under it and task dependencies, all attached to a third-party timer app. However, Asana often requires integrations with other software, and when including a client or more team members, commenting from multiple sources becomes cluttered and creates clogs in the process.
As it is the case with Infinity, Asana offers project templates to fit your project's specific industry.
Key Features
Team Collaboration & Conversation
Task Tracking & Management
Drag & Drop Interface
Document Management
List, Kanban, Gantt, and Calendar Views (depending on the price)
Shared/Private Access
Subtask Checklists
Data Export
Task Analytics & Forms (depending on the price)
Mobile App
Third-Party Integrations (Slack, Zapier, Hubstaff, Adobe Creative Cloud, etc.)
Pricing
Asana's basic package is free for ten members and includes a limited set of features. A free option does not include Task Analytics, Dashboard, Private teams & projects, and Gantt views. Their premium package starts at $10.99 per user, per month (when paid annually).
3. Trello — A Task Management Tool Great for Smaller-Scale Projects
Image Source: trello.com
Trello is a visual task management software with a generous freemium that's enough to cover most solopreneurs and some medium-sized business needs. It is a Kanban-style task management tool that lets you organize a project on the project board.
You can assign tasks, deadlines and add descriptions to each task via a Trello card. Cards are easy to move around by category on Trello's iconic drag-and-drop Kanban board. Users can also review task deadlines via Trello's calendar view.
While Trello is easy to understand and almost fun to use, it falls back when it comes to more powerful automation features and still lacks a more substantial upgrade offer.
One of the traps that shows up in the complex projects is that Trello may turn into an endless to-do list in which you lose sight of both the bigger picture and small details of your project. If you plan to scale your business, Trello is great for a start, but expect to be shopping around for a more advanced solution as your projects and the team grow.
Key Features
Task Management
Scheduled Commands
Kanban Boards & Calendar View
Board Collections
Task Triggers
File Uploading
Custom Board Backgrounds
Templates
Team Playbooks (pre-made toolkits per industry)
Private/Shared Access Administration
Third-party Integrations
Bulk Data Export
Mobile App
Trello is a very popular and much-loved task management software because of its simplicity (we know, we've used it before). However, it has some downsides when it comes to tracking time and task progress metrics. We wrote in more detail about how and why we have built a fully flexible Trello alternative that is also better priced.
Pricing
Trello's "Business Class" annual subscription starts at $9.99 per month, per user. Otherwise, it is free for up to 10 boards.
4. Airtable — A Low-Code Task Management Platform for Building Collaborative Apps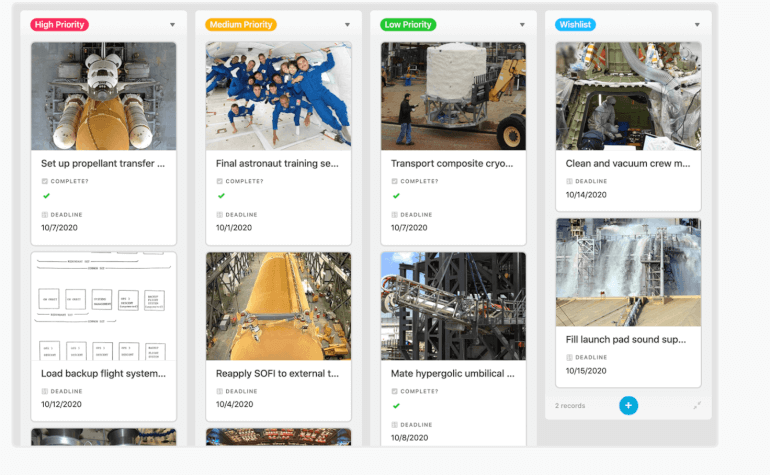 Image Source: airtable.com
With the data manipulation capabilities of a spreadsheet powered up by the scalability and flexibility of database software, Airtable is a different kind of task management software. It is a low-code platform for building collaborative applications that fit your project needs. Some users call it 'Excel on steroids.'
Airtable starts with a database that can be anything from a content calendar to a roadmap and lets you customize it by adding views such as Kanban, grid or calendar, and over 50 pre-built apps.
Airtable Apps marketplace features some familiar task management tools, e.g., Gantt chart, with some exciting editions such as image markup, video snippets, URL preview, JSON editor, collaborative whiteboard, and many more. On top of this, the Airtable community offers over 150 open-source apps on GitHub.
If you're a task manager who handles big teams, multimedia, and multiple-step tasks, then you might find that Airtable's architecture can support those needs. Just be ready to allocate some time to go through a bit of a learning curve.
Key Features
Project Templates
Functional, Mix & Match Blocks
3D Model Explorer
Map & Geocode Integrations
Page Design
SMS Integration
50 Airtable Apps (Gantt charts, URL preview, etc.)
150 Open-Source Apps
Task Calendar, Kanban, Grid, and Gallery Views
Form Builder & Forms
Task Tracker
Access/Permission Control
Data Import/Export
API & Third-Party Integrations
Social Media & Email Integrations
Mobile App
Pricing
Airtable is free to use for teams of any size provided they don't exceed 1,500 records (rows), 2GB file space, and (just?) 2 weeks worth of revision history.
For more functionality, such as custom blocks, forms, and more (that you will need very soon once the project starts flying), the Airtable Plus plan starts at $10 per user per month when billed annually.
If you are budget savvy, have a look at how Airtable compares to flexible and more affordable Infinity.
5. ClickUp — An Adaptable Task Management Software for Teams of All Sizes

Image Source: clickup.com
ClickUp is a task management software with a bold promise: to be the one organizational app to replace them all. It's often referred to as the "best free project management software"—which does sound impressive—but it's good to keep in mind that the "free" part relates to a limited set of features.
What users find great about ClickUp is that it serves well for private and business projects and has a robust set of features with the ability to customize everything—from workspaces to views.
On the other hand, the number of options in ClickUp can make one feel overwhelmed and confused, and that is one of the main issues with it—there is a learning curve one needs to go through to acquire terminology and how the system works.
ClickUp aspires to be more than just a task management software by offering many options to approach your project organization: docs, reminders, goals, calendars, scheduling, and an inbox.
Key Features
Task Management
Time Tracking
Templates
Unlimited Users
Custom Task Statuses & Custom Fields
Custom Views
Gantt, Kanban, Calendar, To-Do List, Notepad, Form, Activity
Goals
Portfolios
Dashboard
Numerous Integrations
Reminders, Tags & Inbox
ClickUp Apps Integration
Mobile App
Pricing
The way ClickUp pricing is formulated sends a bit of a tricky message. They claim to be "free forever," which is valid only for unlimited tasks and users for up to 100MB of storage.
Many customizable features that make ClickUp special (views, calendar, unlimited dashboard, and integrations) are actually starting at 5$ per user per month (paid annually).
6. Basecamp — A Fairly Simple Kind of Task Management Software
Image Source: basecamp.com
Basecamp is a reasonably simple task management tool with one dashboard that everyone involved can see, divided into teams and projects for quick navigation.
A deeper organizational structure occurs within a project with to-do lists, message boards, schedules, documents & file storage, and group chat. Basecamp has an interesting 'big picture tool': a project tracking method called Hill Charts for tracking the progress of a project in time, with defined goals.
Basecamp comes with all the basics to help you organize your project: task lists, task assignment, task management, commenting, deadline reminders, team collaboration, file storage, file search, and more. We have also included in our review of business management software.
However, some flexibility across features is what seems to be missing in Basecamp. A solid structure may become too rigid and limited once your team or projects start to grow and vary. Basecamp's different versions have different essential features (such as time-tracking), and some users find that task and task-bulk update takes too long.
Key Features
To-Do Lists
Task Management & Scheduling
Team Management
Project Templates
Notifications, Message Board, Direct Messages & Chat
Recurring Tasks & Deadline Reminders
Activity View (for managers) & My Stuff View (for individuals)
Documents & File Storage
Scheduling
Various Third-Party Integrations (Basecamp 3)
Message Boards
API (Basecamp 3)
Pricing
Basecamp lets you start with a free 30-day trial. A fixed paid plan is $99 per month for unlimited users, projects, and 500 GB of storage.
7. Flow — A Task Management Dashboard for Remote Work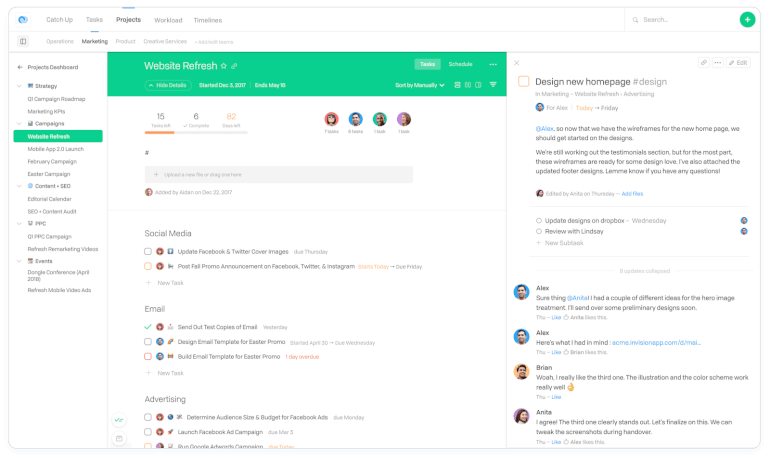 Image Source: getflow.com
Thanks to its signature dashboard, Flow gives task managers a bird's eye view of all the to-dos, deadlines, and accomplishments of their team.
You can easily view tasks in a structured list view while having navigation both on the side and on the dashboard's top. Project managers can create and assign tasks by email, add custom tags, labels, and colored categories.
Interestingly, this task management software does not attempt to tackle all project management issues but instead focus on specific issues only, such as simplifying the workflow by letting users concentrate on priorities a lot easier.
However, problems start occurring once you begin needing more versatile task management software. Recently, users reported it slowing down due to certain integrations in FlowX (such as a version of Slack). One of the major downsides is that there are few options to customize various views and other features.
Key Features
Task Management
Visual Project Timelines
Task Tracking Timelines
Kanban Board & Calendar
Custom Themes
Workload Tracking & Management
Team messaging & collaboration
Task Commenting & Notifications
Public/Private Sharing
Project Filters
Project Templates
Export to PDF, CSV, or HTML
Universal Task Search & Filter
Third-Party Integrations
Mobile App
Pricing
Flow offers a 30-day free trial, and paid plans start at $5.95 per user per month when paid annually.
8. nTask — The Task Management Platform for Small Businesses and Individuals Alike
Image Source: ntaskmanager.com
nTask is a cloud-based task management software that helps small teams and solopreneurs get organized better. With a somewhat strong focus on task planning, you can easily use nTask to schedule tasks, generate progress reports, set recurring tasks, share files, create Gantt Charts to monitor project schedules, and more.
nTask also enables users to plan and monitor budgets for different projects. Additionally, this app focuses on meeting management and scheduling, given its particular integration with Google Calendar and Outlook.
It goes without saying that while nTask is a promising tool, it has more to develop to be a full-service, flexible project management tool. At the moment, there are no templates to help you have a smoother start in your particular field, while the Kanban and Reporting visual organizer options are coming soon.
What might be a "red flag" for potential users is that people have been reporting issues of nTask outages that left them without their data, along with customer support not resolving these on time.
INFINITY TIP: Building our praised support team in Infinity has taught us that timely response, helpful conversations, and tutorials are essential to get any team accustomed to new software in the shortest period.
Key Features
Task Tracking & Scheduling
To-Do Lists
Tagging, Multiple Assignees & Notifications
Gantt & Calendar Views
Task Categories, Labeling & Search
Time Tracking & Spreadsheets
Meeting Management
Task Export
Public URL (for sharing with clients and external collaborators)
Selected Third-Party Integrations
Mobile App
Pricing
nTask offers a 14 day-free-trial and a free option for five team members with limited features. The annual subscription starts at 2.99$ per user per month.
9. Monday.com — A Customizable and Somewhat Complex Task Management Tool
Image Source: monday.com
When it was released, Monday.com seemed like a rising star among business task management software. The flattery was probably due to its highly visual UX and customizable templates. However, nowadays, it seems that some users find it overwhelmingly complex.
Monday.com's interface resembles a spreadsheet, but it offers many additional features that make it more practical and engaging than a plain spreadsheet. The set of standard productivity features gives you a sound basis for task management: time tracking, automated notifications, dependencies, timeline views, and integrations.
Just like Infinity, it offers various templates and use cases that can help you get started faster. And if you happen to have the right skillset, Monday.com provides you with a flexible option to build apps that you can customize for your needs, such as internal tools and data visualization.
The unappealing part of this task management software is that it has a substantial learning curve, and you might need to allocate time to teach yourself and your team how to use it.
Users have also reported issues with the pricing that seems to be counterproductive for collaboration. Subscription modules are measured in a fixed number of 'seats' so that teams have to limit who has access to the tool to keep the prices down.
Key Features
Capacity Management
Task Management
Collaboration Tools
Drag & Drop Function
Forecasting
Task Automation
Reporting/Project Tracking
Resource Scheduling
Search/Filter
Skills Tracking
Utilization Reporting
Mobile App
30-Day File Recovery
Pricing
Pricing is organized per seat (team size) and divided into the 4 feature sets. You have to start with a minimum of 3 seats, and the modules go up in an odd progression (3, 5, 10, 15, 20).
The downside of this is a lack of flexibility: there is no option for a team of 6 or 12 people. The more seats you have, the initial feature set (Basic, Standard, Pro, Enterprise) costs go up, starting at $24 per month.
There is also a free trial option.
10. Zoho Projects — A Task Management Tool Fortified With Applications
Image Source: zoho.com/projects
Zoho has more than 40 integrated applications that can help you run your business, and Zoho Projects is one of those.
Predominantly business task management software, Zoho Projects is powerful enough to help project managers set deadlines, assign tasks to team members, measure work duration, progress, and a lot more.
If your projects start to expand and start needing more functionality, you can integrate with the rest of Zoho's apps built to help businesses organize their operations better. Additionally, this task management tool offers solutions fit for different industries, from construction to education.
As is the case with other tools on this list, Zoho Projects comes with certain downsides, too. Users have reported a lack of features when it comes to exporting files from Zoho, a rather plain UX, and the software's rigidity in terms of implementing an Agile approach.
Key Features
Task Reports & Gantt Charts
Classic, Plain, Kanban & Dependency Task Views
Milestone Task Tracking
Calendar
Task Analytics & Issue tracking
Knowledgebase
Team Activity Feeds
Timesheets & Invoicing
Chat, Forums & Commenting
API
Third-Party Integrations
Mobile App
Pricing
The pricing could use a little simplification. There is a 14-day trial period and a few subscription models organized by a number of users and projects and a varying list of features. The standard plan starts at $3 per user per month (paid annually) for up to 10 team members and 10 projects.
11. Yalla — A Software Focused on Marketing Teams, Agencies, and Creatives
Image Source: yalla.team
Yalla's task planning software is an interesting tool that goes into particularization with its offering. It is a project management software dedicated to marketing teams, agencies, and creatives, allowing you to order back-office marketing services too—if you need them.
It features chat channels, client management with unlimited client invites for collaboration, workflow processes, timekeeping, timeline view, Gantt charts, and much more in the fields that creative and marketing teams might need.
Being particular is excellent if you are in the chosen industry. However, if you are looking for a well-rounded task management tool, you might find Yalla too restricting.
Key Features
Task Management
Campaign Management
Project Management
Brainstorming, Chat & Discussion Boards
Document Management & File Sharing
Custom Task Templates
Company Management & CRM
Time Tracking
Third-Party Integrations
Pricing
Pricing is reasonably simplified. There is a free option for up to 3 users and a limited set of features. The premium model has a full list of features and starts at $10 per user per month when paid annually.
12. Wrike — A Versatile Task Management Software
Image Source: wrike.com
Wrike is a cloud-based task management software with a number of features meant to help project managers and teams get more done.
The team behind the app claims they can help you never get lost in your email or spreadsheets again and have all your projects and progress reports just one click away. With the customizable project dashboards and shared calendars, Wrike wants to prevent project management disorders, such as too many meetings, cluttered feedback space, and lack of team progress data.
Offering a versatile set of task management tools and integrations, Wrike is sure to provide a solid base for your project's organization. Just like in Infinity, you can find project management templates in Wrike, too.
However, users have been reporting issues on the side of the support and the software's functionalities, including notifications on completed projects not working, lack of stability, and too many workarounds for a tool that should simplify your work.
Additionally, there seems to be a time-consuming setup process with a steep learning curve for any team members that come on board.
Key Features
Task Management
Gantt/Timeline View & Kanban Board
Prioritization
Support for Agile methodology
Feedback Management
Request & Resource Management
Retrospectives Management
Status Tracking
Team Management
Brainstorming, Chat & File Sharing
Template Management
Workflow Management
Wrike Analyze - data analytics of a team's performance
Third-Party Integrations (depending on the subscription model)
Enterprise-Grade Data Security
Pricing
Wrike gives you a two-week free trial and a free option for smaller teams (with limited features). Subscription starts at $9.80 per user per month for up to 15 users. As the team begins to grow, the price increases significantly.
An interesting feature of their pricing system is a custom-made subscription for specific industries.
13. Todoist — A Task Management Software for List Lovers
Image Source: todoist.com
Todoist is a good-looking, fast-loading, mobile-optimized task management software built to help project managers handle multiple tasks without feeling overwhelmed.
If you are in a playful mood, Todoist uses gamification to motivate its users to stay productive, with rewards such as Karma points, streaks, and levels available to everyone.
The learning curve is not very steep, meaning that you can start using Todoist fast. The interface is clean and snappy, and you get all the essential features to help you manage your work the right way. They also provide data backup and encryption.
Todoist sounds like the right choice if you can organize your projects' needs with this powerful to-do-list task planning software. Once we step into task management and task progress overview of a more complex project, we see that Todoist does not offer Kanban, Gantt charts, nor the support for Agile methodologies.
Moreover, team communication needs to be done in another tool since Todoist does not support chat nor live chat. In this case, less is definitely not more. In short: Todoist can be useful as a support player for your primary, more varied, and flexible task management software.
Key Features
Tasklist & Task Management
Project Management
Visual Progress Tracking
Milestones Tracking
File Sharing
Access Permissions
Customizable Templates
Gamification: Productivity Karma Points
Activity Log
Commenting & Notifications
Remote Access
Automatic Data Backup & Encryption
Third-Party Integrations (Slack, Dropbox, Google Drive, Zapier, etc.)
Pricing
Pricing starts at $3 per user per month when billed annually.
14. Any.do — A Calendar-Based Task Management Software That Syncs Across Your Devices
Image Source: any.do
Any.do is a task management software that you can sync and access across multiple devices. It can work with the Apple Watch, Siri, and Alexa and has a useful home screen widget for your smartphone.
The interface is swift, clutter-free, and easy to use. You'll get a Task List view, priority tagging, and a Calendar view to see when your tasks are due.
The number of features seems to be pointing out that this smart to-do-list software is suitable for personal organization, featuring collaborative planning, a flexible calendar, and smart reminders.
Third-party integrations come with a set of tips that you can follow for easier setup and task import and integration. Any.do also offers a human-assisted AI assistant to handle scheduling, booking, and other research tasks.
Unfortunately, this great planner/reminder software falls short when it comes to more complex tasks. If you start needing a deeper structure, with dependencies across multiple teams, options for personal and business projects, our suggestion would be to look at more flexible and feature-rich task management tools.
Key Features
Task Management & Task Lists
Task Import
Checklists
Priority Tagging
Kanban Boards
Calendar (syncs with Google Calendar, iCal, Outlook, etc.)
Geolocation Tagging
Team Collaboration
Third-Party Integrations
Custom Boards
Recurring Tasks
Reminders
File Attachments
Human-Assisted AI Assistant
Cross-Platform Sync & Access
Pricing
Any.do is free to start, and the Premium plan starts at $5.99 per month when billed annually.
15. Paymo — A Task Management Software for Smaller Teams and Businesses
Image Source: paymoapp.com
Paymo is a modern project management solution for small businesses and remote teams. With advanced task management, scheduling, time tracking, collaboration, and invoicing, it can help you plan and develop any project from the beginning to the actual payment.
Freelancers and smaller teams can take advantage of this task management software because they can organize and track finances without the need for another app.
Managers get an overview with access to a general board, while team members have access to their tasks. Tasks can be described in detail, with priorities and statuses that enable tracking of time-progress in real-time.
With Kanban and Gantt charts, task managers can always stay on top with project vision and project details simultaneously. Additionally, Paymo's integration with productivity apps extends its possibilities.
However, there have been some issues with collaboration features, such as client access and the data export that asks you to have almost developer level skills to use their API.
Paymo seems to be a good starter task management software if you are a solopreneur, but the flexibility and variety of features found in more robust task management software prove to be a better investment in the long run.
Key Features
Planning & Scheduling
Task Management
Resource Management
Financial Management
File Management
Time Management
Team Collaboration
Customization
Mobile App
Reporting & Invoicing
API
Third-Party Integrations
Pricing
Their focus on smaller teams is also reflected in the pricing model: the subscription starts at $8.95 per user, per month, for "growing businesses." There is no clear indication of the number of team members this is referring to, and this is also where some flexibility could come in handy.
There is also a free version with limited features, labeled as the one for freelancers.
Final Words on Choosing the Best Task Management Software
Hopefully, by the time you're done reading this, you'll have a better idea of which tool would be just right for you and your business.
In case you're still unclear on what to look for in a task management tool, here are three important takeouts:
Pick a task management software that is simple and flexible so that it can grow and change with your team and projects.
Keep in mind that this tool will become an organizational and communications hub helping you with task management, team collaboration, and budget management.
Make sure there is a great Help Center at your disposal and a customer support team that's there to assist you whenever you need it.
If you are ready to change the tool you are using now, set up a no-obligation, one-on-one demo session with Infinity.
For more topics and tips around task and project management, we invite you to join other productivity SaaS enthusiasts in Infinity's growing community.
We would love to hear from you!
FAQ
What is a task management tool? A task management tool is a software tool used for planning, organizing, and prioritizing various personal or work tasks. What is the best task management software? There is no single best task management software—the answer depends on the type of tasks you want to manage, the size of your team, your budget, and many other things. Since Infinity offers great flexibility and is suitable for individuals and teams of all sizes, it is our recommendation for a quality task management software. What is the best way to track tasks? The best way to track tasks depends on your personal preferences. Some people prefer lists, others Kanban boards, some like to organize their tasks in a calendar or a Gantt chart. Infinity currently offers six ways to track tasks: Table, Columns, List, Calendar, Gantt, and Form views. How do you organize your work tasks? You should organize your work tasks in a way that makes the most sense for you. For example, you can organize tasks by priority or by the person assigned to the task, by urgency, status, or task type. With Infinity, you can create custom attributes you can use to group, sort, and filter tasks. Why is Infinity the best for task management? When it comes to task management, Infinity is arguably the best because it offers a great deal of flexibility and freedom to manage tasks with 20 custom attributes, 6 project views, an infinite number of folders and subfolders you can create, and advanced customization options. Is Infinity really a lifetime deal? Yes. Infinity currently offers lifetime membership plans starting at $149, which means that after a single payment you get to use Infinity forever with no additional costs.