15 Best Online Database Software for Managing Your Business
By
Hazel Pan
Sep 18, 2019
Don't you hate having to adjust your business processes just to accommodate the limitations of the software you're using?
What if you could create a custom application that follows the exact sequences of your business workflow?
And no, you don't need to assemble a dev team or go to an expensive coding boot camp to get this done.
You don't even need to completely ditch your current applications — you'll just be enhancing them with the functions you need but that they're lacking.
So what's the secret?
Online database software.
What's an Online Database Software?
Online database software solutions are low-code, DIY app building platforms.
Used correctly, these can help you get a centralized view of all the channels and processes in your business operations so you can manage all your work from one place.
Via drag-and-drop blocks, you can set up automated workflows, systems, and integrations.
The end result?
A completely custom solution that has the specific functions you need to manage and scale your business — even with minimal to no coding skills.
So, does the sound of DIY-ing your own business management software and launching in a few weeks sound appealing to you?
Then check out our roundup of the best online database software below!
Online Database Software Roundup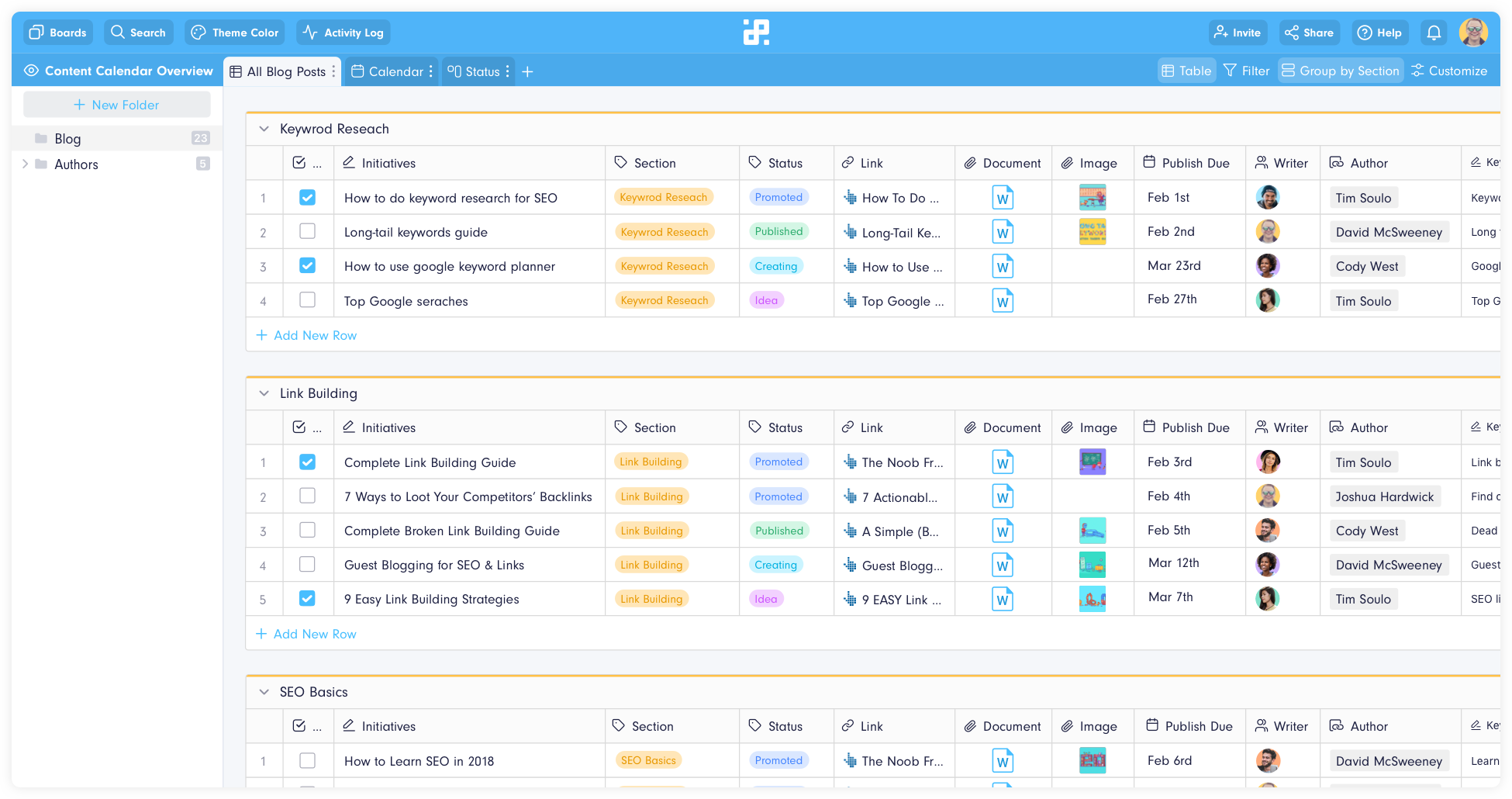 Infinity is probably one of the best online database software you can use to manage and scale your business processes with.
For starters, Infinity is easy to set up — a welcome contrast to how much complex processes the software can actually take on.
Its online project management features come with templates that you can readily use, whether it's for your sales team, agency, dev team, or others.
These workflow templates are also flexible enough to modify to suit your unique business structure. So you won't have to change how you work just to adjust to any limitations of the software.
Infinity Features:
Access/Permission Control
Data Import/Export
Docs Management
Search Functionality
Template Management
Categorization/Structuring
Team Collaboration
Calendar Management
Kanban View
To-do Lists
Customizable Fields
Task Management
Drag & Drop Interface
Data Filtering
Activity Tracking
Progress Tracking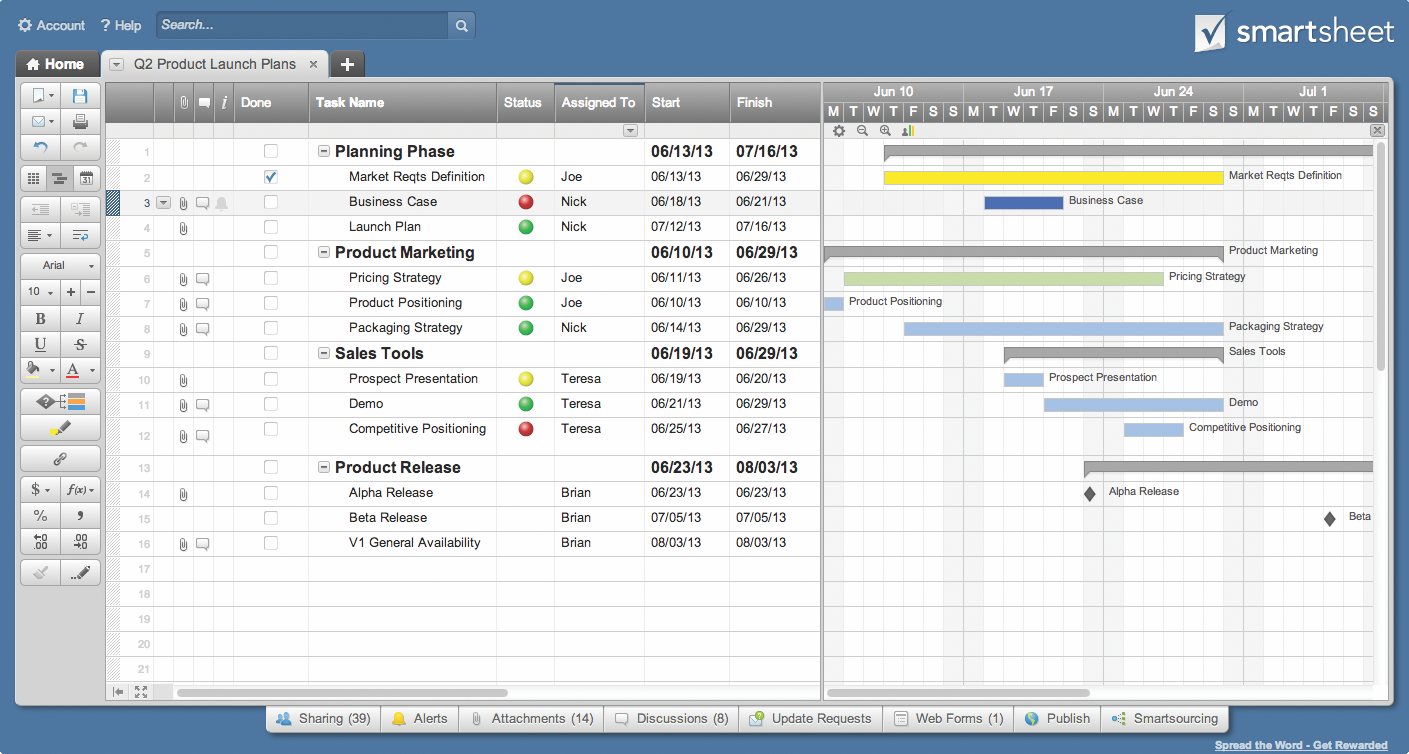 Smartsheet is an online database solution that was built to meet the needs of IT teams and other types of work that require complex business processes.
From its dashboard, you can get a real-time view of your team's data, such as a checklist of all the tasks, deadlines, and assignees, as well as timelines graphed by date.
One side of the dashboard lets you assign task dependencies, special functions, display customizations, and more. You'll also get the capacity to automate task workflows, which saves you time from having to do things manually.
This is especially useful for complex operations like IT, where multiple task dependencies and branches could balloon into an unmanageable mess and become vulnerable to human error if there are no tools to keep things in line.
Smartsheet Features:
Third Party Applications
Library of Free Templates
Data Forms
Automation
Dashboards
Extend Data Analytics with Connectors
Team Management
Report Consolidation
Customizable Fields
Task Management
Custom Branding
Progress Tracking
Collaborative Workspace
Multiple View Options
Mobile and Integrations
Alerts
Smartsheet's pricing starts at $14 per month when billed annually.
Airtable is one of the most popular online database software out there.
Like Infinity, it gives you the straightforward functionality of a spreadsheet with the power of a database.
Airtable also has ready-made business process templates that you can set up from the get-go or recreate to get the best-customized workflow for your team.
However, the similarities end there, as Airtable has a steep learning curve.
On average, if you want to learn how to customize or build anything from scratch with Airtable, then you need to set aside at least 8 hours to learn it properly.
Airtable Features:
Relational Database Functionality
Link Records Between Tables
Filter, Sort, and Rearrange Records
Customized Views
Save and Share Views
Customized Fields
Snapshots
Email Integration
Application Integration
Social Media Integration
Third Party Integration
Forms Management
Calendar Management
Collaborative Workspace
Communication Management
Records Management
Data Synchronization
Automatic Backup
Automatic Notifications
Templates
Upload Spreadsheet
Tags and Keywords
Airtable's pricing starts at $10 per month per year when billed annually.
Retool is an online database software that lets you build your own internal app through drag-and-drop applets of code blocks (much like what Airtable also has).
This software also comes with templates and ala carte functions that you can mix and match depending on what you need for your unique business situation.
If you want a no-brainer way to build a fully custom business process management software for yourself without having to learn how to code, then Retool presents a good option.
Retool Features:
Drag-and-Drop Code Building Blocks
Relational Database Capability
Ready-Made App Templates
Third Party Integration
API
Change Management
Collaboration
Design Templates
Drag & Drop
Feature Library
Visual Interface
Retool's pricing starts at $10 per user per month.
dashdash is an online database software that's powerful enough to automate many repetitive tasks in your business.
It's basically a powered-up spreadsheet that uses formulas to let you automate anything from a simple series of tasks to an all-in-one internal solution.
For example, you can integrate dashdash with other SaaS that you use such as Hunter, to find emails for you, Crunchbase, to fill in richer details about the leads you already have, and Slack, to post on your behalf.
Just imagine the number of hours you'll save from having to manually copy/paste all that info yourself!
dashdash Features:
100+ Standard Spreadsheet Formulas
Automation Functions
Relational Database Capability
Ready-Made App Templates
Third Party Integration
API
Advanced Web Functions: GET, POST, PUT
dashdash is currently available for Early Access only but current pricing data starts at $0.01 per formula.
Memento Database is an online database manager for Android and Desktop.
It has a functional mobile app and is also quite user-friendly, which makes it a hit for particularly low-tech teams who just want the features without the learning curve hassle.
Memento Database also boasts a library of over 4,000 pre-built templates that you can immediately use or customize as needed.
Google G Suite users will also find Memento Database easy to use, since it has no problem syncing with Google Sheets.
Memento Features:
Google Sheet Synchronization
Relational Database Functionality
Memento Cloud Library of 4,000+ Templates
Mobile App Ready
Multiple View Options (List, Table, Map, Calendar, etc.)
High-Function Fields: Text, Integer, Boolean, etc.)
Mass Calculations (sum, maximum, minimum, average)
SMS, Email, and other Message Automations
Data Import/Export
Encryption Security
Barcode Scanning
Sorting and Filtering Entries
Customizable Fields
Memento Database's pricing starts at $3 per month.
Zoho Creator is an online database software that allows you to create custom applications for your business that are all web, mobile, and tablet interface responsive.
Track progress, manage projects, and handle tons of information all in a single platform. You can also build a team learning center, configure workflows, and set rules that will help you automate most processes of your business.
With such a short learning curve, Zoho Creator can help you get your custom app up and running in a short time, whether it's your sales pipeline, marketing, CRM, or whatever you need.
Zoho Creator Features:
Low-Code, Drag-and-Drop App Builder
Team Collaboration
Mobile App Ready
Third Party Synchronization (Excel, Google Sheets, etc.)
Third Party Integration (Salesforce, etc.)
Project Management
Task Management
Team Collaboration
Manage Data Sharing
Multiple View Options (Calendar, Timeline, Kanban, etc.)
Customizable Buttons
Calendar Management
Email, SMS, and Push Notifications
Offline Data Submission
Revenue Cycle Management
Data Analysis
Zoho Creator's pricing starts at $10 per user per month when billed annually.
Quick Base is a "low-code development platform" for creating custom applications from scratch or enhancing the business apps you currently use without having to invest huge resources in development.
You can automate business processes, for example, such as email marketing.
Just create a rich CRM template via Quick Base then integrate it with your emailing platform. You can also track tasks with a timer and integrate it with your accounting and invoicing SaaS.
Quick Base Features:
Mobile App Ready
Workflow Automation
Data Integration
Customizable Roles
Two-Step Authentication
Online Support
Custom Password Policies
Webhooks
Third Party App Integration
Custom Reports
Quick Base pricing starts at $500 per month when billed annually.
TrackVia is another low-code online database software that lets you build and automate custom workflows for any business process while providing you real-time analytics and reporting.
Set up task dependencies that trigger next steps in your process as soon as each task is completed.
Integrate other apps to enhance what you're currently using with TaskVia's API. Then, automate all of this so that your whole system continues to flow 24/7.
From users' point of view, TrackVia is best used for managing complex systems that deal with processing huge arrays of data.
TrackVia Features:
Low-Code, Drag-and-Drop App Builder
Mobile App Ready
Custom Workflows
Compliance Management
Document Storage
Process Management
Real-time Analytics and Reporting
User Access Controls
Custom Web Forms
Notifications and Alerts
Third Party App Integrations
Centralization of Workflows
Business Intelligence
Real-time Charts, Graphs and More
Proprietary Workflow Automation Engine
TrackVia's pricing is customized according to your needs and is available upon request.
If a visually pleasing design appeals to you and is an important factor for your team, then Zenkit is the online database software that you're looking for.
With Zenkit's standard drag-and-drop code blocks (and a good-looking interface for a bit of fun), you can mix and match any functions you need to fit the system you're using.
You can build a whole business solution that connects everything you need: tasks management, client portals, feature roadmaps, bug tracking, invoicing, document storage, proofing, etc., then set up custom task triggers to automate your workflow.
Zenkit Features:
Global Calendar
Activity Tracking
Team Collaboration
Notifications
Labels
Checklists, To-do lists
Global Search
Filter
Bulk Actions
Relational Database Functionality
Number Aggregations
Function Formulas
Rich text Editing (HTML, Markdown, etc)
Drag and Drop Projects
Multiple Views (Priority matrix, Kanban, etc.)
Assign Tasks
Task Commenting
Mentions
File Sharing
Custom Backgrounds
Business-Ready Templates
Function Shortcuts
Customize Item Colors
Google Calendar Integration
Recurring Tasks
Automated Email to Task Creation
User Roles
2 Factor Authentication
Third Party Integration (Zapier, and 750 more apps)
Work offline
Mobile Ready App
Zenkit's pricing starts at $9 per user per month.
Stackby lets you import data from various sources, integrate with apps you're currently using, and bring these together into a comprehensive, all-in-one platform.
Combined, this allows you to manage the multiple processes in your business. Then, make sense out of all these channels using Stackby's powerful relational database and a familiar spreadsheet interface.
You can even get started immediately with Stackby's ready-to-use workflow templates that cover most business systems, from deal-flow management, editorial workflow, research, sales, marketing, and more.
Stackby Features:
Ready-To-Use Workflow Templates
Customizable Layouts (Kanban, Timeline, etc.)
Calendar Management
Contact Management
Content Management
Document Management
Project Management
Real-Time Editing
Real-Time Team Collaboration
Third-Party App Integration
Task Management
Automated Workflows
Task Dependencies
API
Mentions & Reminders
Real-Time Collaboration
Stackby's pricing starts at $5 per user per month.
ZenBase lets you create powerful online databases with rich data, real-time analysis, and interactive reports.
With its Data Import feature, you can transfer data from your desktop to your new database, then get the capability to enrich and organize this data using ZenBase's built-in phpGrid datagrid.
You can use ZenBase to create custom workflows for inventory, business, sales, employee management and more, then visualize how your workflows relate to one another using ZenBase's schema view feature.
Zenbase Features:
Employee Management
Inventory Management
Mind Map Visualization Tool
Business Directory
Database Management
Project Management
Product Category
User Permissions
Task Management
Built-in Cloud Database
Interactive Reports
ZenBase's pricing starts at $39 per month.
Knack is a low-code, enterprise-level solution that can let you DIY your own online database and set up the interface and functions you need, exactly as you need them.
You can accept payments, automate task scheduling and approval, automate notifications, and add even more features by integrating with third-party apps.
You can also add forms, search functionality, maps, tables, rich data, real-time reporting, calendars, and even e-commerce workflows to help you manage whatever business you're in.
This app is a great fit for larger businesses such as enterprises, government organizations, non-profits, universities, and the like.
Knack Features:
DIY App Builder
Payment Processing
Template Library
Team Collaboration
Automated Task Triggers
Notifications
Search Filters
App Integration
Automation
Team Collaboration
Accept Payment Options
Built-in Cloud Database
Interactive Reports
API
Knack's pricing starts at $39 per month.
Caspio already has the standard features you need to create your own business process management database from scratch — minimal to zero coding skills required.
But what makes Caspio stand out from its competition is its dedication to hands-on onboarding and detailed, step-by-step training manuals.
Their support team will stay with you, side-by-side, to help you understand and maximize all of Caspio's features until you finish setting up your own custom business application.
Caspio Features:
Free Ready-Made Application Templates
Online Customer Portal
Revenue Cycle Management
Equipment and Inventory Tracking
Performance Management
Training Programs
Personnel Management
Data Ranking
Training Guides
Collaboration Settings
Caspio's basic pricing starts at $29 per month when paid annually.
RowShare is an underrated online database software app that is as powerful as Airtable...
but maybe just not as cool.
Still, RowShare has everything you could need to build a complete business management app.
Perhaps one of its most unique features is RowShare's RowMerge. RowMerge helps you eliminate human error and the need for manual copy/paste by automatically generating recurring business documents for you, such as invoices, proposals, contracts, certificates, and the like.
RowShare pulls the info you need for these documents using templates you used and data you already have within RowShare, plus imported data from the apps you have integrated.
RowShare Features:
Free Templates
"RowShare for Dummies" Training Ebook
User Permissions
Data Import/Export/Syncing
Microsoft Excel and Word Compatibility
Enterprise-Level Security
RowShare Functions for Calculating Data
RowMerge
Calculated Column
Professional Login
Volume and Data Retention
Third Party App Integration (Zapier, Office 365, Trello, Salesforce, etc.)
Team Collaboration
RowShare's pricing starts at $9 per user per month.
So, Which Online Database Software Should You Use?
Already overwhelmed by all the research you need to do to compare which online database software is a great fit for you?
If you don't have the time to nitpick each one, then go for the software that can adapt to whatever size and business niche you're in.
For that, we recommend Infinity.
Infinity can start small, and is easy to set up since it already comes with ready-to-use templates for the most common business use cases.
You can get it up and running immediately and not have to worry about the learning curve because of its familiar, spreadsheet-like interface.
And, when you're ready to scale, Infinity is powerful enough to accommodate more complex needs.
See how easy it is to get started in this quick demo:
Conclusion
And that wraps up Infinity's online database software roundup for this week!
You know the drill. Don't forget to tweet @startinfinity and @misspanwriter to let us know what you think and if you have any other recommendations.
Till next time, stay tuned for the next business SaaS roundup!