Work Management Software - Top 16 Apps for 2020
By
Hazel Pan
Sep 12, 2019
Are your clients, projects, and tasks starting to overwhelm you?
Well, then congratulations! That's a great problem to have.
But if the overwhelm causes you to…
Miss deadlines...
Forget invoices...
Or spend time weeding through various messaging platforms just to communicate with your clients…
Then you might end up sabotaging your business in the long run.
Plenty of businesses lose huge amounts of money due to all of this busywork.
So, we researched a list of top work management software that can help.
These apps are built to automate most of the busy work for you so you can manage the overwhelm and take back control of your business.
Check them out below!
Work Management Software Roundup
With different functionalities built primarily for work management and productivity, Infinity is a one-stop-shop for all your needs no matter what size your team is.
Infinity uses a flexible and adaptive structure, allowing users of any team size to display, assemble and organize information the way they prefer.
Whether you need to manage workflows for a content calendar, sales pipeline, or HR, Infinity has you covered with their ready-made work management templates.
Infinity Features:
Adaptive Structure
Template Customization
Customization
Calendars
Kanban Boards
To-do Lists
Resource Management
Work Tracking
Progress Reporting and Tracking
Access Permission Control
Data Importing & Exporting
Document Management
Search & Filtering
Team Collaboration
Third Party Integrations
Wrike is a cloud-based work management software that can help you automate workflow processes.
Plan your projects with lists and drag-and-drop boards. Allocate resources with timelines and Gantt charts. Assign tasks to team members, schedule deadlines, track, and report progress.
Then, just use Wrike's Custom Workflows to automate what happens after each task in your timeline is updated. Wrike auto-assigns which team member should take over, too, and you'll get updates automatically.
You can create a total of up to 150 custom workflows and also edit pre-created templates to suit your business needs.
This is a tool best suited for teams with more than 20 members.
Wrike Features:
Gantt Chart
Task Management
Team Collaboration
Customizable Request Forms
Enterprise-level Security
Resource Management using Workload View
Customizable Dashboards
Error Tracking
Auto-assignment Of Tasks Based On Statuses
Tailored Templates for Marketing and Creative Teams
Budget Management System
Wrike starts at $9.80 per user per month.
Trello is a work management software that's widely used by startups because of its generous free plan and its user-friendly drag-and-drop Kanban board.
Trello allows you to easily add members, instructions, and deadlines in a task card and visually track the progress of a project.
Trello Features:
Web-Based Business Management
Mobile App Ready
Drag-and-Drop Kanban Boards
Custom View for Calendar, List and Task per Member
Board Summary
Scheduled Commands
Email Notifications
Customizable Field Actions
Automations
Task Triggers
Bulk Data Export
File Storage
Custom Board Backgrounds
Access Control and Permissions
Third Party Integrations
Trello's business class plan starts at $9.99 when paid annually and for bigger companies, enterprise plan starts at $20.83 per user per month for 100 users.
Airtable is a work management solution that looks like a well-designed spreadsheet but with the capabilities of a powerful database.
Like Infinity, you can customize Airtable to adapt to any work process. You can use its premade work management templates or build one from scratch using its default base.
To add special functions like a task timer or geolocator, for example, simply add mini-apps using drag-and-drop blocks from Airtable's library.
This software is suitable for all team sizes and customer types.
Airtable Features:
Mobile-Ready
Relational Database Capability
Link Records Between Tables
Filter, Sort, and Rearrange Records
Customized Views
Revision History
Save and Share Options
Customizable Fields
Email integration
Snapshot
Integration of third-party apps and social media
Custom Forms and Management
Calendars
Collaborative Workspace
Communication Management
Records Management
Data Synchronization
Automated Backup
Automatic Notifications
Templates
Airtable's pricing starts at $10 per user per month when billed annually.
ClickUp is a work management solution that integrates cloud storage, time tracking, calendars, and notes in just one platform.
You can create task dependencies, custom fields, statuses, and manage tasks using multiple views such as Kanban boards, timelines, and lists.
Its comprehensive but user-friendly dashboard makes it easy to view everything you need to know for effective work tracking. Even better, ClickUp has a functional mobile app, so you can manage project tasks even while on the go.
ClickUp Features:
Mobile App
Custom Fields
Storage
Task Tray
Assign and Resolve Comments
Slash commands
Deep Recurring Tasks
Filter Options
Voice Assistance
Customized Notifications
Customize Assignees
Collaboration Detection
Templates
Scheduling
Threaded Comments
Multi-Task Management
Three Different Views
Progress View
Activity History
Drag and drop Functionality
ClickUp offers a free plan with 100MB storage and a business plan with unlimited storage starting at $5 per user if billed annually and $9 per user if billed monthly.
Workfront, previously known as AtTask, offers a comprehensive solution for work management with its real-time reporting, customizable dashboards, and social collaboration.
It is suitable for all teams because it provides full visibility of a project and allows Waterfall and Agile methodologies.
Workfront Features:
Centralized Projects
Real-Time Reporting
Portfolio Management
Resource Management
Capacity Planning
Gantt Charts
Automated Workflow
Reports and Dashboards
Agile or Waterfall Project Management
Team Collaboration
Mobile-Ready Apps
My Work Dashboard
Social Collaboration
Notifications and Updates
Time Tracking
Enterprise-Grade Security
App Integrations Including Outlook
Online Proofing
Digital Asset Management
Workfront offers a free trial and paid plans are available by quote.
Mavenlink offers a unified solution for work management and professional services automation including accounting, management of projects and resources, team collaboration, and business intelligence.
It is a great platform for project-based organizations.
Mavenlink Features:
Task Management
Team Collaboration
Resource Management
File Sharing
Integration of Email, Quickbooks and Google
SSL Security
Gantt Charts
Task Dependencies
Time and Expenses Tracking
Payment Online
Personnel Planning
Invoicing and Reports
Project Summaries
Work-in-Progress View
Accounts Receivable
Mavenlink offers a free plan. The paid team plan starts at $19 a month.
Clarizen is a powerful, enterprise-level, agile work management software.
Most of its users love that it provides a complete overview of the different phases of a project starting from planning to execution, helping to eliminate time-consuming back and forth between project managers and clients.
Clarizen can also automate workflows and offers free bi-weekly webinars to help users learn how to make the most of their solutions.
Clarizen Features:
Collaborative Planning
Task Management
Portfolio and Resource Management
Personal Calendars and Scheduling
Billable & Non Billable Work Items
Completion Reporting
Time, Expenses and Budget Tracking
Mobile-Ready
Role & Assignment per Project
Custom Fields and Templates
Document Sharing and Management
Executive Dashboards
Import and Export of Data to MS Projects
Clarizen offers a free trial for 30 days. After the trial period, you may choose between the enterprise edition and the unlimited edition available by quote.
LiquidPlanner is an easy-to-use project solution for most technology teams.
This work management software places an emphasis on smart resource planning, risk management, and scheduling.
So, LiquidPlanner's features are designed to allow users an easy way to allocate resources per task, manage workload by team members, and accurately predict progress and available resources per project so deadlines and budgets are met.
LiquidPlanner Features:
Priority-Based Scheduling
Collaboration
Time Tracking
Drag-and-Drop Prioritization
Analytics & Reporting
Workspace Chatter
Client Sharing
Baseline View
Mobile Ready
Task Management
Liquidplanner starts at $9.99 per user for the Small Team plan and $45 per user for Professional.
Clockify is a time-tracking tool and a timesheet that is simple to use, yet packed with features to adapt to any business.
This tool does more than just track time. Clockify helps productivity by identifying wasted time, features a robust reporting system for client rapport, and lets you set hourly rates. You can view daily and weekly reports, edit the visuals to your liking, as well as edit, sort and reorganize your time entries.
Clockify is a collaborative platform that ensures transparency between teams and individuals. As such, it's an invaluable addition to any work management software.
Clockify Features:
Timer and manual mode
Visual charts
Billable and non-billable hours
Custom hourly rates
Detailed reports
Data export to PDF, CSV or Excel
Templates
Progress and budget tracking
Fully customizable workspaces
Available on all platforms
24/7 customer support
Clockify is free to use for an unlimited number of users. For companies that want additional features, the Plus edition starts at $9.99 per month, Premium at $29.99 per month, and Enterprise at $9.99 per user.
Podio is collaboration software with integrated chat, allowing teams to discuss and comment on a project in a single page, in real-time.
It also has tools that allow users to share files, automate workflows, schedule meetings and manage tasks.
For free, you can invite clients, outsourced workers, and other stakeholders into your Podio workspace so they can collaborate and comment on projects with you, eliminating messy email and chat threads from other channels.
Podio Features:
Automated Workflows
Meeting Scheduling
Data Visualization
Social Collaboration
Task Management
Granular Access
Calendar
Unlimited Storage
Personal Dashboards
Connected CRM
Project Management
Integrated Chat
Full Customization
Web & Mobile Compatible
Podio paid plans range from $9 per user for Basic to $24 per user for Premium plans. Enterprise plans are available upon request.
KissFlow is a cloud-hosted work management platform that's specifically built to work best with Google Apps.
KissFlow comes with 50 pre-installed applications that you can use for common business processes such as purchase orders, payment and reimbursement, project progress tracking, employee onboarding, and more. Just add which apps your business needs.
You can also customize and automate workflows as you need them.
KissFlow Features:
Unique 5-Step App Wizard
Progress Work Tracking
Hands-­Off Workflows
Prebuilt Reports
Single Sign On
Attaching Google Docs and Dropbox Documents
Zapier Support for SaaS Integration
Collaboration Features
Mobile Ready
KissFlow starts are $9 per user per month.
If you want a work management software that's familiar and instinctively easy to use, then Teamwork is a great option.
This app is packed with many easy-to-use features that allow businesses to track projects, coordinate, document, and communicate in just one place.
It's an easy way to manage people and deliverables for businesses of any size.
Teamwork Features:
Cross Project Dependencies
Interactive Gantt Charts
Project Templates
Risk/Benefit Analyzer
Task Management
Document Management
Messaging or Instant Messaging
RSS Feed
Social Collaboration Platform
Budget and Forecasting
Time and Budget Tracking
Email Integration
Notification
Teamwork Projects Pro plan starts at $11.25 per user monthly.
For some teams, boring software interfaces can be a bit of a downer. So if you're craving to bring in some pop of fun and color to your work management software, then Ora will give you the visual treat you need.
Ora is an all-in-one platform for team collaboration and agile management, with Kanban boards, time tracking, project reporting, team chats, and third-party app syncing.
What sets it apart is Ora's beautiful UX elements. It has color-coded tasks, customizable backgrounds, cute icons, a kitty mascot, and fun copy which, honestly, can help put work-stressed people in a better, more creative mood.
Ora Features:
Third Party Active-Sync
Agenda View
Slack Alerts
Recurring Tasks
Status Reports
Task and Time Tracking
List or Kanban View
Automatic Filters
List Actions
Scheduling
Git Integration
Basic for up to 3 users is free. Paid plans start at $4.33 when billed annually.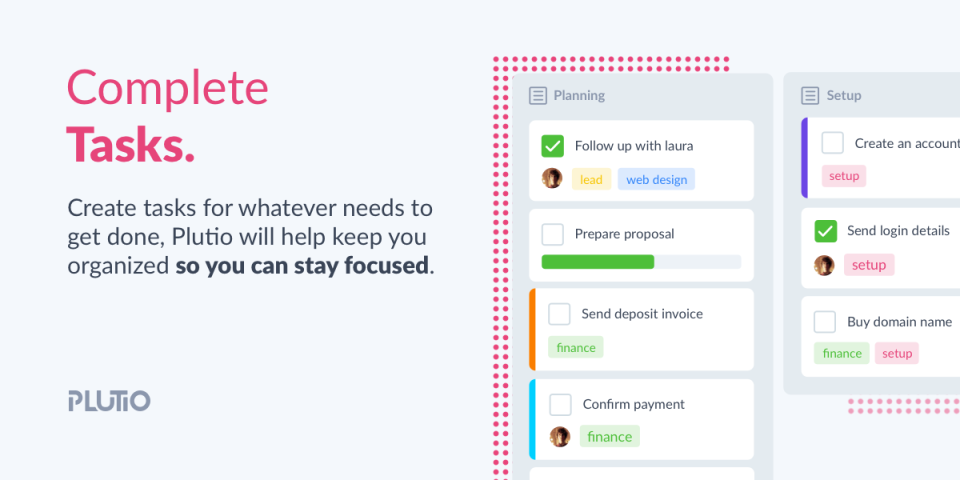 If you're sick of paying for different apps to do all the different things you need, then maybe you need an all-in-one like Plutio.
Plutio is a cloud-hosted platform that comes with all the functions that a small business or freelancer could ever need, such as project and task management, time tracking, real-time inbox, chat, and most importantly — customizable proposals and invoicing.
It even comes with integrated apps and can support up to 20 languages.
So really, Plutio can help you manage tasks at the project level, then manage clients and payments at the business level.
Plutio Features:
Client Portal
Daily Task Digest Emails
Time Tracking
Print-friendly timesheets
Project Tracking
CRM
Built-In Inbox
Live Chat
Calendar
Custom Branding
Third Party Integrations
Invoicing
Proposals
Task Management
Activities Feed
Built-In Custom Search
Fully Responsive (Windows, Mac, Android, and iPhone)
Multilingual UI
User roles & permissions
Data Security
Customizable Dashboards
Advanced Text Editor
Plutio's pricing starts at $15 per month for a solo user and $30 for a team.
Taskade is a real-time task management software with one of the best, mobile-optimized apps on this list. Like Ora, its developers also spent time to make its interface look good.
What's special about Taskade is that it lets you create mind maps — which typically is a different app you'd have to pay for. But with Taskade, you'll get all the work management functions you need plus a good-looking mind mapping tool.
Of course, it comes with all the standard features that a work management software needs, such as the capability to create notes, outlines, recurring tasks, upload files, and instantly share them with teammates.
You'll also get Kanban boards, to-do checklists, charts, calendars, templates, and reminders.
Taskade Features:
Customizable Themes & Backgrounds
Notifications & Reminders
Views & Templates
Real-time Syncing
Push Notifications
Mobile & Desktop Apps
Recurring Tasks
Shareable Lists
Taskade paid plans start at $7 per month when billed annually.
What Work Management Software Will You Use?
What did you think about our list of work management software?
Find anything you liked yet, or did this list just overwhelm you further?
Don't worry.
If all of these choices confuse you, then start with a software that can meet you at whatever stage you're in.
And for that, Infinity is the best option.
It's easy to launch, and even comes with pre-made templates, so you won't have a problem getting started.
It is customizable, so you can edit the default functions to fit your needs.
And finally, it's powerful enough to scale up and add more functionalities as you grow.
Check out how easy it is to set up here:
Conclusion
And that wraps up Infinity's work management software roundup for this week!
Of course, don't forget to tweet @startinfinity and @misspanwriter to let us know your comments.
Catch you again in the next business SaaS roundup!