10 Tips for Putting Together a Winning Project Management Plan
You keep planning and planning, but you're not seeing the desired results. Sounds familiar? No worries, help is on the way, dear!
Efficient project management requires team spirit, the right tools, and uniform efforts towards the organizational objectives. The purpose of the project management plan is not just to fulfill certain goals or objectives, but also to improvise and redirect the plan and the team as per circumstances.
Making a project plan also includes budgeting, setting timelines and guidelines for the workers, and analyzing the reports.
Clearly, project management plans help to troubleshoot the problems faced while executing the project, assure top-quality, and lead to timely project delivery.
Therefore, it's not wrong to say that building a project and executing it in the right way is a full-time job. Needless to say, following a few tips for project management plan is always helpful.
What is a Project Management Plan?
Project management is the procedure of supervising team members associated with a certain project to fulfill the goals within the specified deadline. It involves the use of advanced tools, skills, techniques, and values along with planning tips to efficiently utilize project resources.
The main aim of a project management plan is to plan and project the tasks of a project and ensure that the project schedule is on track with the timeline.
Different Parts of a Project Management Plan
To lead projects seamlessly, the planning is divided into different parts. By following the below-mentioned parts of a project management plan, you can ensure a high rate of success.
Scope Development
The first part of project planning is defining a clear scope statement and noting down the expected project results. It is suggested that the project should be planned in a way that is SMART (Smart, Measurable, Achievable, Relevant, and Time-Bound). The other components identified by the scope statement are goals, budget, timeline, resources, tasks, deliverables, and quality standards.
Brief Overview
The key goals or a summary of the complete project management plan are required, especially for the stakeholders or board members. Major deliverables and milestones are part of this summary. For example, the project's major milestone could be building an app platform, testing its features, user experience, and launching it—which is different from the daily tasks such as coding, content creation, navigating the buttons, etc.
Timeline
Once the scope and key milestones are defined, the team would require a timeline for completing the project. Create project plans as per the estimated time of delivery. For this, you should create short-term and long-term timelines along with regularly tracking each team member's progress. Project plan tools such as Google Sheets or ProProfs Project's time entries can be used for the allotment and tracking.
Budget
The project budget is essential to calculate the cost of the project. The responsibility of allocating and tracking monetary resources is included in this part, which is usually pulled off by the project manager. However, stakeholders and top-level management are usually also involved in the budgeting process. Major project costs include payments to vendors, employee salaries, and the cost of resources, activities, or other tasks.
Resource Plan
The resource plan for project management is determined on the basis of human resources, equipment, and materials. This part of project planning begins by determining the availability of resources and moving on to the allotment and tracking of resource utilization. Resource planning might also include describing any training or development activities that are required for project success.
Communication Strategy
A good project plan is determined by how well team members coordinate with each other. Effective communication plays a key role in the effective completion of the project. The communication strategy is not only limited to communication expectations among the team but also includes the responsibility of communicating regular updates with the stakeholders. This step also includes progress reports, investor circulars, team meetings, etc.
Risk Management
It is practical to assume that things might not go as planned in the earlier project steps. This is where risk management comes into the frame. Risks, when not handled well, can become a major hindrance to the success of a project. For example, to make sure that missing the deadline for a certain task does not become an issue, team members should agree to give regular updates to the project manager.
Quality Standards
Setting quality standards and processes to lead the project is also a big part of building a project plan. Project managers are expected to set a certain set of quality standards for the project in collaboration with the stakeholders. This discussion is further used to execute the POA (Plan of Action) for team members to reach the set standard of performance.
Top Reasons Why You Need a Project Plan
Different parts of the project management plan help you stay on track with the ongoings of the project and meet deadlines with ease. A project plan also helps to procure and utilize resources well in advance while discussing the cost and risk of resource planning with the stakeholders.
The top 5 reasons for creating a project management plan:
It boosts the success rate of the project
It helps to avoid unexpected glitches and delays, thus managing the cost
It keeps the team connected by promoting real-time communication
It leads to effective resource procurement and planning
It defines short-term and long-term goals and milestones.
6 Steps to Writing a Project Plan
Project planning should be fun and easy and of course, flexible in order to fulfill the goals and objectives. However, it is recommended to follow the below-mentioned planning steps in project management for better results:
STEP 1: Define the Goals
Goal defining is a crucial step that must be done in the initial phase of the project management planning. You must choose goals in collaboration with the stakeholders and employees. Here, all the 'whys' and 'whats' of your project are addressed.
STEP 2: Develop a Strategy
The requirements, tasks, timeline, and milestones you set for the project are going to take you all the way to the finish line. Goal setting techniques, structure, and procedures to complete those tasks are covered in this step of the project management plan.
STEP 3: Identify Potential Risks
Risk analysis is an integral part of project management. Risk management includes not only identifying and assessing the risks involved but also creating a plan to resolve them. Moreover, you must communicate how the team should respond to high-risk events.
STEP 4: List Your Resources
The resources include your budget, human resources, material (physical and digital), and the sources where all of these things will come from. This step will also define the needed amount of resources and if they will be procured or hired on a temporary or permanent settlement.
STEP 5: Connect with Human Resources & Stakeholders
Once you've written the project plan, you need to communicate it with the stakeholders and the team members or employees. In this step, put together the project schedule and list down the expectations from each individual involved in the project. Also, you should establish clear communication channels.
STEP 6: Create a Communication Strategy
For this step, it is suggested to hold a kickoff meeting. Set a meeting agenda prior to bringing everyone together and discuss project scope, timeline, budget, and goals. Create a project communication plan to keep the progress on track.
10 Tips for Writing an Effective Project Management Plan
Following a few tips for your project management plan can prove to be extremely helpful in making your efforts successful. Below are some project management plan tips to ensure effective completion of the project:
Identify the core requirements of the project,
Assign an experienced and skilled project manager,
Pick the right tools for the project management work plan,
Utilize all resources effectively,
Set timelines and milestones well,
Plan surprise costs and set a budget,
Write down project planning documents,
Plan a strong communication strategy,
Keep track of the timeline and monitor the progress all along,
Motivate and reward your team members.
5 Tools to Help You Create a Great Project Plan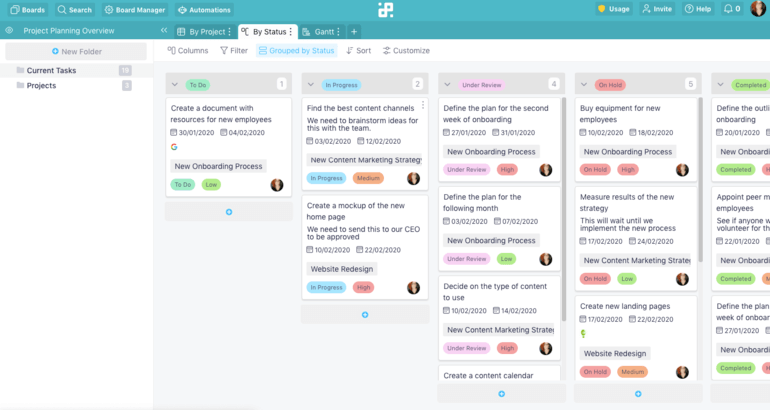 Infinity is a project management tool that comes with all the features you need to plan, organize, and monitor all of your projects. Thanks to its flexibility and various customization options, Infinity lets you create plans that fit your needs and keep all necessary information related to multiple projects in one place.
Create tasks, assign team members, track progress, and a lot more in a few clicks. You can also define project timelines and set task priorities easily, as well as collaborate with your team without a hassle in real time. Infinity offers six different views, including Table, Gantt, Columns, Calendar, List, and Form view, with the latter allowing you to create and share custom forms.

Image Source: proprofsproject.com
ProProfs Project is a project management software that enables its users to manage projects, allot tasks, track timelines, collaborate, communicate with team members, and create presentation-ready reports. It has many advanced features such as Gantt charts, project calendar, online invoicing, file sharing, expense and milestones tracking, and a helpdesk facility. This project management tool is suitable for freelancers, startups, medium and large enterprises.

Image Source: monday.com
monday.com is a mobile and web-based project management platform. Its main aim is to increase organizational efficiency and effectiveness. It's a project manager's way to smarter work as this tool helps to visualize a sample of the project management plan. monday.com also facilitates better collaboration and communication and helps you keep track of the work progress. The built-in email templates, document and content management, and lead filtering features are an add-on for your team.
Image Source: proofhub.com
ProofHub is a project management tool that facilitates fast and efficient work. Task completion is done in a more coordinated and effective manner. Its features are task management, proofing, time tracking, Gantt chart, chat, and file management. This SaaS-based project management tool helps project managers complete projects while being in sync with the team members, clients, and stakeholders.
Image Source: wrike.com
Wrike is an effective and easy-to-use project management tool that offers many integration options. It is a web-based project management tool for a digital workspace. Thanks to its non-complex user experience and interface, you can track and coordinate tasks in the simplest way. Wrike is highly secure, which makes it suitable for fast-growing startups, large enterprises, and multinational companies.
Ready to Plan Your Way to Project Success?
As we have covered the importance of a project management plan, it is now clear why managers need to create a robust plan to boost the success of the project.
With the help of the right tips shared in this blog, you can simplify project planning steps and achieve your short-term as well as long-term goals and milestones.
Good luck!
FAQ
What is a project management plan? A project management plan is a document that provides a high-level vision of your project and guides your efforts towards reaching your project goals. In short—it describes how's your project going to be executed. Why do you need a project management plan? You need a project management plan to fully outline your project's scope (and avoid scope creep) and objectives, plot out budget, resources, timelines, ensure team and goals alignment, and to build confidence. How do you develop a full-blown project management plan? Using project management software like Asana, monday.com, or Infinity can help a lot if you want to develop a project management plan that actually works. Most tools like this come with dedicated project planning templates you can use to take your project management skills to another level.