18 Best Sales Tools to Skyrocket Your Company's Revenue
Great products don't sell themselves. Great sales reps sell great products with the help of great sales tools.
Running a business makes no sense if your product or service isn't selling. However, having a great product/service won't be enough if you don't acquire a decent customer base and if you don't learn how to connect with potential customers.
You need to get to know them and their pain points, understand their emotional drivers, and show some empathy so you can hit the sweet spot and make them buy what you're selling. Also, you should clearly communicate the benefits of your products/services to your potential customers without being too pushy.
To do that, the best companies around the world use sophisticated lead generation and customer retention techniques, which help them become more recognizable, impact the masses, boost up sales, and drive revenue.
But, there's something else that they use.
You've guessed it: sales tools.
With the help of online sales tools, even if you are not a sales professional, you can quickly become one. And isn't that the dream?
So, if you are sick of rejection and following up on cold emails, personalize your outreach and automate your sales process with the help of technology. Let's get started.
Sales Tools Nice-to-Haves
Sales management software come in six categories: sales training, lead handling and processing, CRM, sales automation and integration, sales and market intelligence, and analytics and reporting tools.
However, regardless of which aspect of selling you want to improve, these are some features every sales software should offer.
Simple Setup—Look for user-friendly apps that don't have a steep learning curve and don't require upfront training or ongoing maintenance. Ease of use is one of the crucial features when working with any tool, including sales tools.
Efficient Workflow—Adding as many sales apps as you can and signing up for a bunch of tools won't drive growth faster or make you more efficient. Choose fewer tools instead (or just one), and keep in mind you still need people to perform some of the critical tasks: training, making prospecting calls, and closing deals.
Automations—A sales platform should reduce as many repetitive tasks as possible. Why would you, or someone from your sales team waste countless hours on manual data entry? The best sales tools offer storing all important info under one hub, and enhance productivity by automating tasks (for instance, using a chatbot on your website to engage with new visitors).
Team-Wide Communication—Look for an app that supports communication between your teams, not only within the sales department. Sharing workflows and tagging people from other teams, such as marketing teams, provides additional assistance, gives a better perspective over processes, and provides a huge advantage in regard to companies with isolated sales teams.
Integrations—Leaving a tool you signed up for every time you want to check your meeting calendar or send an email is time-consuming and decreases your team's productivity. Instead of switching between apps, choose a fully-featured sales software or the one that integrates with other tools you use on a daily basis.
18 Sales Tools for Boosting Productivity and Profits
1. Infinity — The Best Sales Management Software for Growing Your Revenue
Infinity is one of the best sales apps for businesses (big and small alike) who are looking for a solution that can help them find new customers, build meaningful and lasting relationships with them, and close more deals so their business is profitable and sustainable in the long run.
With Infinity, you can go all the way—from building an easy-to-follow sales plan, to capturing new clients, defining your client onboarding process, tracking orders, tracking your leads, building a sales pipeline, clarifying your team's tasks, measuring results, and everything in-between.
Infinity is intuitive and flexible enough that you can use its features to skyrocket any business while keeping everyone from the team—salespeople, managers, team leaders, and executives—involved. Note that Infinity also welcomes newcomers and individuals who want to perfect their sales processes and boost sales month after month, year after year as well.
"Definitely a customer-first company, they're always connected with their customers to provide the best solutions, great product with crazy details to manage the almost whole process of your company." – Osman Erdi Balcioglu
This sales software will ensure that your sales process runs smoothly at all times, and help your team reach potential clients, set up meetings, note down relevant info, etc. With Infinity, you can get a clear overview of your leads pool, as well as add their names, emails, phone numbers, and other relevant information for easier follow-up, conversion tracking, and analysis.
Infinity's unique structure system allows you to organize your workspace the way it suits you best. Classify your items into boards, folders, subfolders, and tabs, then choose one of the 7 available views (Table, Form, Column, List, Calendar, Chart and Gantt) to display your data.
Last but not least, Infinity can help you streamline the ordering process and track orders and details with ease: product models sold, quantity, the total price of orders, shipping address and statuses, and arrival dates.
And if there's an app or tool you're in dire need of, but missing in Infinity, you can connect the tool with over 3,000 apps via Zapier, and multiply its capabilities and your chances of selling.
Click on the video below to learn more about how Infinity works:
Key Features
Pre-Built Sales Templates—Infinity has a huge base of 50+ customizable and easy-to-use templates, 9 of which are Sales templates.
7 Views—You can combine views to get the maximum optimization and the best overview of your sales processes.
Infinite Structure—Organize your work any way you want. With Infinity, you can create an unlimited number of boards, folders, and items.
Amazing Attribute System—Tie various attributes such as dates, predicted amounts, created at and created by, links, formulas, and many other attributes to your leads so everyone has a clear understanding of the plan and progress.
Filtering and Grouping—View only certain leads/companies and group or separate data to have a better overview of the process.
Team-Wide Communication—You can invite people from other teams to join your sales team and collaborate on tasks, share boards (even outside the app), add comments, and chat with everyone to ensure you are going in the right direction.
Activity Log—Infinity notifies you about every single change – both on the board and item level so you can keep track of your team members and updates about each particular lead assigned to them.
Workflow Automations—Automate a large chunk of work so everyone can focus on the implementation of the sales strategy, reaching out to leads, and, of course – selling.
Reminders—With Infinity, no task is left behind. We will remind you about follow-up and thank you emails you should send, upcoming meetings, etc.
3,000+ Integrations—Connect Infinity with thousands of other sales tools to increase the chances of winning more deals.
Sync Across Devices—Track sales processes and performance of your sales reps and managers from your office or remotely, on any device you own. Use Infinity on your desktop, browser, or Android/iOS platforms.
As we've mentioned, Infinity offers a wide range of customizable templates, including a comprehensive sales CRM template that combines the best features of the templates in the "sales" category. You can use it to keep track of all the important sales aspects and heaps of different details about your leads.
Here are a couple of templates to help you get started on your sales journey:
INFINITY TIP: Infinity boasts a fabulous attribute system that includes dates, labels, checkboxes, checklists, attachments, votes, numbers. Your sales department will indeed have to include some numbers, such as currency, percentage, decimal, while Infinity allows creating a custom number format as well.
Pricing
Infinity offers a 14-day free trial, as well as two types of plans. Basic plans start from $3.75 per user per month, while Pro plans start from $6 per user per month.
2. HubSpot — A Free Sales Platform for Small to Enterprise Companies
Image Source: hubspot.com
HubSpot offers an unparalleled experience, both for your sales team, managers, professionals, and your customers. This powerful sales platform can handle every step of the process and offers a couple of solutions to fit the needs of different businesses – free, CRM, professional, and enterprise plans. Using them altogether may boost your sales and drive huge revenue.
It's amazing how flexible and customizable the sales process is with this tool. HubSpot is packed with a bunch of email templates, call scripts, and sales content your expert team can further tailor to your business needs whilst you can create and set tasks and track your team's progress.
With HubSpot, you can easily get to know your prospects better, collect data from new visitors, get insights into which pages are the most viewed, etc. Thanks to this info, you can target only those people who showed interest in your products, deepen these relationships, and close more deals faster by providing instant quotes.
Share your calendars with prospects and let them choose a time and date for the meeting so they gain a sense of being in control. Prioritize sales calls, record them from your browser, and the software will bring all data together to one place.
If you are looking for a free tool that can offer maximum visibility into the whole sales process, a high level of optimization, exceptional customer experience, and help you grow, keep this one in mind.
Key Features
Customizable Email Templates and Follow-Up Tasks
Email Tracking
Pipeline Management
Live Chat
1:1 Videos
Workflow Automation
Branded Quotes
Analytics and Reporting
650+ Integrations
Sync Across Devices
Pricing
You can use HubSpot sales software for free or sign up for one of their paid plans, starting at $45/month.
3. Salesforce — A Sales Software with a Gorgeous, User-Friendly Interface
Image Source: salesforce.com/products
Salesforce is an awesome sales software that can help you find new customers, keep the old ones around, close deals fast, and grow your accounts even faster. It combines the following features: marketing, team collaboration, account contact management, opportunity management, and more.
Getting more leads is easy-peasy with Salesforce. This tool provides a deep insight into your leads' activities and lets you know which marketing campaigns, including campaigns on social media, are driving the most leads so you can act on. You can set up automatic lead scoring to make sure no lead falls through the cracks and drive them in while they're hot.
Salesforce lets you automate workflows and approvals. Its intuitive interface makes it super-easy to auto-assign tasks, create automatic email alerts, automate manual tasks, automate deal discount approvals, etc. Also, this sales tool supports file sharing between your teams, advanced searches, and smart notifications.
On top of that, you can track your campaigns in real-time, get detailed reports, and forecast the success of the currently running campaigns. Salesforce is all about staying on top of your sales, and your business, of course.
Key Features
Automatic Lead Scoring and Routing
Drag-and-Drop/Point-and-Click Interface
Real-Time Updates
File Sharing
Data Grouping and Filtering
Team Performance Tracking
Comprehensive Forecasts
Quoting Capabilities
Automated Approvals
Sync Across Desktop and Mobile Devices
Pricing
Salesforce lets you try any of their plans for 14 days for free. Once the trial expires, you should sign up for a paid plan (starting at $25/user/month when billed annually).
4. Better Proposals — A Handy Proposal Writing and Sales Software
Business proposals are one of the key elements of sales for many people, from freelancers to enterprise companies. Unfortunately, writing business proposals isn't all that fun and can sometimes take a while. The worst of all—you have no idea whether that proposal will result in a sale or not.
Better Proposals is a software made for writing, managing and sending business proposals. Instead of typing away in a Word document for hours, it lets you create web-based proposals in the app, with stunning design elements and optimized for any device that your clients may be using.
Create high-converting proposals in minutes thanks to 200+ proposal templates for different uses and industries. Instead of writing from scratch, change a few details now and there and you'll be ready to hit "send" and start making money within minutes.
To make it easier for you to create proposals, the app integrates with 40+ other applications, including popular CRMs and other sales tools. It also has electronic signatures, so customers can sign directly from the proposal as they read it. To round it all off, they can also pay within the proposal, using integrations with PayPal, Stripe and GoCardless.
Key Features
Advanced Proposal Editor
200+ Proposal Templates
Analytics Dashboard
40+ Integrations
Electronic Signatures
Payment Integrations with PayPal, Stripe and GoCardless
Intelligent Pricing Tables
In-Depth Reports
22+ Languages
Pricing
Better Proposals' pricing starts at $19 per user per month, allowing you to send 10 proposals per month.
Image Source: business.linkedin.com/sales-solutions
Being the #1 professional network with over 450 million registered users, LinkedIn is indeed full of sales opportunities. This online sales software actually features 3 tools in one: Sales Navigator, Sales Insights, and Latest Updates. If you combine these, you can personalize your outreach, target and connect with the buyers, access valuable data and insights, build lasting relationships, and meet revenue goals.
LinkedIn Sales Navigator offers an impeccable search experience so you can easily find new prospects, save target audiences so the app notifies you about customized suggestions and new matches. This way, you can engage with the entire network by starting meaningful conversations with the right people and companies.
LinkedIn Sale Insights can give you more clarity about sales planning by providing real-time data on the growth of your sales or specific departments. When you accurately segment your audiences, your sales teams focus on the right accounts, which results in a more productive salesforce.
Last but not least, the latest LinkedIn release can help you find even more people relevant to your business by giving you access to an interactive Account Map. This sales platform also allows you to collaborate with the team, upload CSV files, prioritize accounts based on insights, and many more.
Key Features
Advanced Lead Searches
Custom Lead Recommendations
Tracking Engagement
Sales Insights
CRM Integration
Notes and Tags
Invoicing
File Uploading
Integration with Other Sales tools like SNAP
Available on All Devices
Pricing
LinkedIn Sales Solutions offer a 1-month free trial and 3 paid plans: professional ($64,99/user/month), team ($103,33/user/month), and enterprise (price on request).
6. Acquire — An All-Inclusive Sales Tool
Image Source: acquire.io
Acquire is an advanced sales platform—a centralized hub you can use to improve your customers' experience, boost their engagement, and grow sales. It offers a unified customer view of all your activities and customer interactions, including emails, live chat, social media (Twitter, Messenger), and video calls so you don't have to toggle between different apps and ensures you never lose track of your customers again.
Acquire's co-browse features speedy support and enables interactions between two browsers so your agents can help customers that get stuck find the right direction by giving visual cues—highlighting and marking the way, even on mobile, reduce frustration, and improve customer satisfaction.
Acquire Analytics gives you deep insights into all aspects of customer engagement, track your agents, lift up the ones that are underperforming and improve the overall team performance, measure chatbot performance, define busiest hours and help you organize capacities accordingly.
This sales software offers vast capabilities on qualifying issues, resolution management, intelligent support, so you can rest assured everything is running at maximum efficiency, which results in optimal customer experience and sales boosting.
Key Features
Single Customer View
No-Download Co-Browsing
Chatbot
VoIP Calls
Email Management
Cross-Channel Communication
Activity Heat Maps
Custom Reports
Knowledge Base
50+ Integrations
Pricing
Acquire has no fixed plans but creates custom proposals based on several factors upon your request.
7. Zoom — A Sales Software for Remote Conferencing Needs
Image Source: explore.zoom.us
You don't have to physically collaborate with prospects to conduct demos and close deals. Zoom is one of the best online sales tools with heaps of cloud video conferencing features that can give you a clearer picture of what works for your clients and what doesn't so you can offer an alternative.
With more than 300,000 customers, you can rest assured many of your potential clients/customers are already on Zoom! This tool allows you to host meetings with or without video, invite as many parties as you want, host video webinars, share screens (even on mobile) and conduct meetings on the go, share meetings with multiple contacts, and collaborate with your teams—sales, marketing, etc.
How can Zoom help you close more deals? With this app, you can schedule proposal reviews within 24 to 48 hours after presentations, prepare customized proposals, and keep customers excited about your offer. Zoom has a base of pre-made contracts you can customize further or create your own contracts that contain non-standard terms and conditions, explain this all to clients via video meeting, and send contracts for signing.
Some of Zoom's extra features include dynamic voice detection, HD video and voice, waiting room, virtual backgrounds, and personal meeting rooms. This sales app is easy to use and boasts advanced features that offer a seamless digital experience for you and your prospects, and leads to more sales deals.
Key Features
Unlimited Number of Meetings
Live Virtual Events
Ready-Made Contract Templates
Conference Rooms
Meetings Recording
Meetings Reminders
Content Sharing
Fullscreen and Gallery Views
Mobile Sharing
Calendar, Slack, Salesforce, and Zapier Integrations
Pricing
You can use Zoom for free, or sign up for one of their paid plans starting at $149,90/year/license.
8. ClinchPad — An Online Sales Software for Small Teams
Image Source: clinchpad.com
ClinchPad is a sales management software that stands somewhere between a spreadsheet and traditional CRM software. Although not overly fancy, it is still extremely useful for small teams striving for excellence and big results, and has no learning curve. It gives you insights into past and upcoming tasks, helps you get more organized, sets up an easy-to-navigate sales pipeline, and increases revenues.
This software features a Kanban-like style and arranges leads into cards, as well as stages into columns so you can track performance from a single view. You can add, name and rename leads, assign them to a person from your team, move leads through stages, filter them by various attributes—products, users, zones, and contacts, and create multiple sales pipelines for various aspects of the sales process.
ClinchPad boosts team collaboration and performance through several built-in features and allows you to assign to-do lists to each of your leads, follow them, assign them additional attributes (the type of lead, product ID, etc.) and attach files, create and share notes with the rest of the team, and track their daily activities.
As a cherry to the top, this sales software offers advanced reporting features so you can understand your data better and get reports on your team's performance via visually appealing bars and pie charts. If you need a tool that gathers all the necessary data in one place, helps you stay on top of the sales cycle, and saves tons of time, this one might be it.
Key Features
Clean and Intuitive User Interface
Kanban Boards View
Quick Actions
Automatic Notifications
Custom Fields
Document and File Storage
Data Backups
Daily Activity Snapshot
Pre-Defined Reports
20+ Integrations
Pricing
You can use ClinchPad for free until you reach 100 leads, after which you should sign up for a paid plan (starting at $9/month).
9. Wiza — LinkedIn Prospecting Made Easy
We've already mentioned LinkedIn Sales Navigator that can help you find relevant prospects. However, there is no way you can verify the data about a prospect. So, you might end up with the wrong contact information.

Luckily, you can solve this problem with Wiza. All you need to do is set the prospect details, such as location, job details, industry, etc. Wiza will verify this information collected from LinkedIn and create a list of relevant, up-to-date contacts.

Key Features

LinkedIn Prospecting
LinkedIn Scraping
Email Verification
Pricing
You can start using Wiza for free, but the number of emails for validation will be limited. Subscription plans start at $50.
10. Bitrix24 — A Free Sales Management Software
Image Source: bitrix24.com
Bitrix24 is one of the best free sales tools for small to medium teams, packed with a bunch of features, including lead-to-deal management, inside sales team management, and call center. With it, you can automate sales processes, provide instant quotes, send invoices, get sales reports, share tasks, documents, and calendars with your team.
One of the best CRM tools on the market, Bitrix24 is a unique platform where you can organize your contact base, interact with existing and potential contacts, track the history of contacts, and assign different data to each (meetings, messages, phone calls).
You can create reports and carry out an analysis of how your team is performing, how your marketing and email campaigns are performing, and get insights into whether your sales targets are met.
Bitrix24 also integrates with VoxImplant.com so you can make web phone calls to your clients from your desktop and mobile, record these calls and store them in the cloud.
This sales platform encourages team collaboration and you can use it to hold online meetings, discuss further steps with people from the team, follow their activity in the Activity Stream, create workgroups to which you can invite outside parties as well, and receive immediate feedback from everyone involved in the sales process.
Key Factors
Cloud-Based Tool
Task Management
CRM Activity Stream
Email Marketing
Dashboards and Reports
Workflow Automation
Inbound and Outbound Calls
SalesForce Training
Video Conferencing
Hundreds of Integrations
Pricing
Bitrix24 offers a basic sales plan for teams that are just starting out, while their advanced plans start at $19/month.
11. Yesware — A Sales Software for Professionals
Image Source: yesware.com
Yesware is a simple-to-use sales platform that offers modern solutions for building meaningful relationships with your prospects, speeding up your daily workflow, and winning more deals. It integrates with Gmail and Outlook so you can track email activities in real-time and see who is opening your emails and clicking on attachments.
With Yesware, you can personalize your outreach to different prospects and audiences, create custom email campaigns, and schedule automated emails and automated follow-up emails to increase the chances of your prospects responding to your offer.
Integrate Yesware's Meeting Scheduler with Outlook or Google calendar to set up meetings by type or length, share your availability with prospects, and share meeting invites with the team so you can book more meetings and skip back-and-forth convos.
"My Dashboard" is a place where you can track the performance of your email campaigns, gain insights into which templates and campaigns are converting, compare weekly trends, pinpoint your warmest leads, see how your team is performing, and figure out ways to improve and make more sales.
Key Features
Email Tracking
Follow-Up Templates
Custom Touches
Team Meeting Types
Real-Time Notifications
Document Management
Calendar Sync
Reminder Scheduling
Reporting and Analytics
Zoom, LinkedIn, and Salesforce Integrations
Pricing
Yesware sales app offers a free 14-day trial and 3 paid plans (starting at $15/month when billed annually).
12. Trello — A Kanban-Style Sales Platform
Image Source: blog.trello.com
Trello is probably one of the most popular project management and sales apps on this list. It features smooth workflows, nurtures leads, and promotes closing deals, and comes with more than 10 pre-built sales templates. These include sales pipeline, contract review, customer onboarding, CRM and sales pipeline, and several more you can adjust to your liking.
Instead of creating boards from scratch, you can focus on delighting and winning leads. Trello lets you create a pipeline where you can manage incoming leads, organize their info, and add notes on each lead's card, assign leads to team members, add due dates to tasks, and move leads through the pipeline by dragging and dropping cards. You can even invite your customers to a shared Trello board and get a chance to impress them even more.
This sales software integrates with Crmble and makes it a piece of cake to turn the eye-pleasing Trello boards into a powerful CRM system where you can organize contact details, collect data, and import CSV files. This way, you can track leads and get reports on your board activity such as the percentage of your leads by stage, volume of leads by source, and see the big picture of how your sales pipeline is performing.
Trello Sales Funnel with 3 Smart Fields automatically calculates your profit based on your revenue and expenses so you can track the profitability of your business. You can also include Legal and IT departments in the process and keep everyone from the company in the loop.
Key Features
Pre-Made Sales Templates
Calendar Power-Ups
Custom Fields
Email-to-Board Function
Customized Lead Resources
Checklists
Reporting Features
Built-In Automations
Team Collaboration Features
Integration with Crmble, Salesforce, and 150+ Power-Ups
Pricing
Trello is free for individuals and small teams and has 2 full-featured paid plans for bigger teams and companies, one priced at $10/user/month when billed annually and a tailor-made plan to different companies' needs.
13. Proposify — A Beautifully Designed Online Sales Software
Image Source: proposify.com
Proposify is one of the best sales apps that improve sales productivity by reducing the time your teams need to create proposals so they can focus on selling. This software gives you control over the sales process, start to finish, eliminates the tedious administrative work, and helps you build winning proposals and close more deals almost effortlessly.
With Proposify, you get access to a gallery of impressive and customizable proposal templates your sales team can use over and over again and store past content in one place for when you need the same template again.
Proposify's custom fields let you swap out the client's name, company name, and company email in seconds, send proposals and make it easy for clients to sign these proposals online, right in the browser.
This sales tool features automatic notifications, reminders, and gives you insights into your prospect's activity (how they are interacting with your proposal and how much time they spend on each section) so you and the team can act accordingly.
The app allows you to tailor your price to each client but also lets them choose optional add-ons and gives them a sense of control. You can also send proposals in PDF formats if your clients like it better, and set up reminders on thank you emails after you close the deal to show some extra attention and appreciation.
Key Features
Dozens of Branded and Customizable Templates
Automated Workflows
Custom Fields
Custom Dashboards
Real-Time Notifications on Desktop and Mobile
Custom Permissions
Automatic Reminders
Reports and Analytics
E-Signatures
Export to PDF
Integration with HubSpot, Salesforce, Chat Apps, etc.
Pricing
Proposify offers a 14-day free trial and 3 paid plans, starting from $19/user/month.
14. Slintel — A Game-Changing Marketing and Sales Tool
Image Source: slintel.com
Slintel is an online sales software with powerful features that can improve your sales performance. It gives you strategic, data-backed insights into finding people who are ready to buy from you—or, in percentage, 3% of your buyers.
What's more, Slintel gives you up-to-date info about your prospects' preferences, needs, and pain points so you can understand them better before getting in touch, which creates a perfect base for successful and long-lasting relationships.
You can also use this sales platform to find competitors' customers and build pitches tailored to their likes and needs, discover which software products and technologies your prospects are using or looking for, so you can build killer pitches based on this info, and increase the chances of selling by almost 100%.
Slintel's deep insights simplify the sales process by guiding you towards meeting your customers' secret wishes and offering products and services that can make their life easier.
Key Features
Segmented Buyers Lists
Competitor Intelligence
Company and Lead Insights
Lead Enrichment
Intent Scores
Powerful Filtering
Keyword Tracking
Renewal Data
Green Field Opportunities
Export and Update History
Chrome Extension
Pricing
Slintel offers a free demo and creates custom pricing for different clients.
15. PersistIQ — An Intuitive Email Sales Tool for Small Teams
Image Source: persistiq.com
PersistIQ is a sales software that automates a large chunk of work and saves you 2 hours a day, while still retaining the human element and keeping everything tidily organized so you can connect with customers, start meaningful conversations, and close more deals.
You can reach new customers through a built-in dialer or by sending emails, build and run targeted inbound and outbound campaigns, and automatically send follow-ups. PersistIQ makes it easy to group your prospects in spreadsheets and filter them by various attributes, such as opens, replies, statuses, or custom fields.
It encourages communication within your sales team and lets you share templates, leads, and workflows with them, give custom permissions, and monitor their performance. Also, this sales tool provides detailed reports on the performance of your campaigns, tasks, calls, and templates so you can, eventually, refine the sales process and boost its efficiency.
Key Features
Dozens of Customizable Templates
Automated Replies
Email Tracking
One-Click Access
Detailed Analytics
Personalized Variables
Powerful Filtering Capabilities
Spreadsheet-Like Database
Chrome Extension
Hundreds of Integrations
Pricing
You can use PersistIQ forever for free or sign up for one of their paid plans (starting at $29/month/seat when billed annually) to reap all of the benefits it provides.
16. Albacross — A Sales Software with Amazing Integrations
Image Source: albacross.com
Albacross is a sales management software that identifies anonymous visitors on your website (displays their names, company's name, role, location, social profiles, and email address) that are showing buying intent but still not converting, helps you reach out to them, close more deals, and accelerate revenue.
This app lets you filter prospects by various factors such as the number of employees, location, industry, the technology they are using, and more so you can easily match with the ideal buyers. Going further, you can filter visitors by the number of visits, pages visited, engagement, and session duration.
This sales software indeed makes lead segmentation easy-peasy and lets you assign leads to your sales reps. If you integrate Albacross with Slack, the app will instantly notify your sales reps when targeted customers visit your website, which increases the chances of selling.
When you know how to recognize buying intent signals, understand what your prospects are interested in, and calculate the best time to initiate a convo, you can turn your website visitors into customers in one-two-three.
Key Features
Intent and Activity Tracking
Powerful Filtering
Lead Segmentation
Instant Notifications
Automated Workflows
Custom Property Mapping
Account Intelligence
Account-Based Marketing
Insights and Analytics
Integration with Hundreds of Outreach and CRM Tools and Other Apps
Pricing
Albacross offers a flexible pricing scheme based on the size of your team.
17. Demandbase — A B2B Sales Tool
Image Source: demandbase.com
Demandbase is a leading account-based sales software that can accelerate the sales cycle so you can win big deals. It uses AI and real-time data to help you prioritize accounts that are ready to buy and uncover buying signals coming from different locations.
This software tracks real-time activity on your website and your email inboxes, identifies intent behaviors, supports time-wide communication, and alerts your sales and marketing teams about opportunities so they can take appropriate actions.
Instead of engaging with the entire base of visitors, this online sales tool cuts out unknown and lost opportunities so your teammates reach out to key personas interested in your products/services. You can also segment audiences by various attributes (behavior, journey stage, intent, etc.) and build an ideal buyer profile, target visitors, and provide a personalized website experience (customize copy, CTAs, images, and links) to boost the chances of selling.
With Demandbase, you can build a killer sales strategy and discover opportunities on the go, which can save a lot of time and help you focus on winning customers instead of just looking for them.
Key Factors
Hyper-Flexible Dashboards
Website Personalization
Audience Segmentation
Unlimited Automations
Cross-Channel Communication
Custom Activity Weightings
Multi-Touch Attributions
Heatmaps
Form Enrichments
35+ Integrations (Salesforce, HubSpot, Gmail, Google Analytics, etc.)
Pricing
Demandbase offers an on-demand demo while keeping their pricing secret so you should contact their customer support to get more info about paid plans.
18. SPOTIO — The Best Sales Management Software for Sales Reps and Managers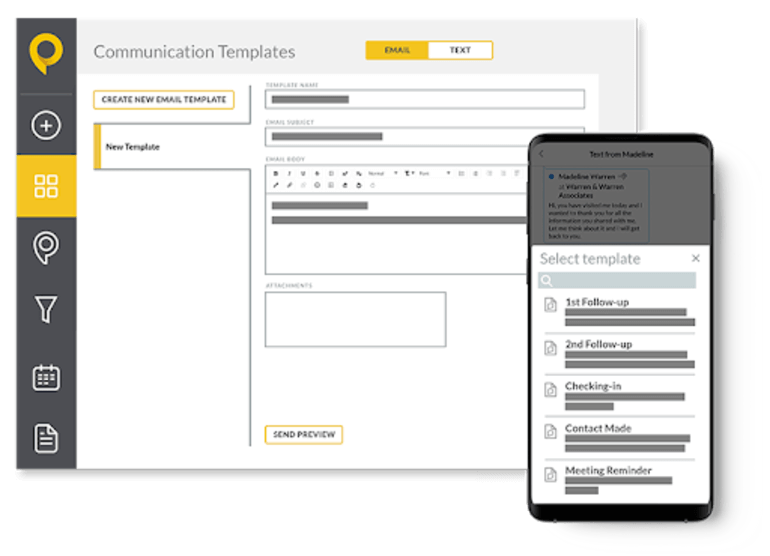 Image Source: spotio.com
Are your sales reps going nuts trying to keep track of their leads, wasting time on low-quality prospects, and tedious administrative work? Are your managers having difficulties managing the team? SPOTIO, one of the best sales apps out there, can help you track, manage, and optimize activities, provide you with real-time data on your team's performance, boost productivity within your organization, and grow sales revenue.
This mobile-friendly app stores everything your sales reps need in one place—tasks, appointments, lead notes and automates data entry so they can focus on being more productive. Available as a desktop app as well, SPOTIO provides insights into your team's daily activities – emails, texts, calls, and visits and makes it easy for managers to track performance and what's happening inside the team.
The app automatically plans and routes sales activity day by day for every lead and customer so nothing falls through the cracks and ensures your teammates spend more time on selling. SPOTIO integrates with a bunch of tools so you can get an even deeper analysis of your team's performance so you can make smarter decisions and optimize your sales activity for growth.
Key Features
Communication Templates
Real-Time Activity Tracking
Task Automation
Automated Data Entry
Documentation and E-Contract Management
Customer Mapping
GEO-Based Tracking
Appointment Setting
Performance Insights
Integration with ERP, CRM, and Other Tools
Pricing
SPOTIO has 4 paid plans offering different features, starting at $39/user/month.
Wrapping Up
Aren't you all excited about making your business more profitable? Of course you are! With the help of some of the sales tools we listed, you can increase the chance of selling by 86%. Yet, can you tell which one ticks all the boxes for your business?
If you think it might be Infinity, schedule a demo call with one of our super-friendly customer representatives or drop us an email at team@startinfinity.com and you'll receive a prompt reply.
FAQ
What is sales management software? Sales management software is the kind of software tool that helps facilitate sales processes. These tools can improve contact management, lead generation, customer relationship management, sales funnel, and many other aspects of the sales. What tools do sales reps need? Sales reps need all kinds of tools that can help them manage and optimize sales processes. These tools include CRM (customer relationship management), reporting and analytics, automation, sales intelligence, lead management, etc. There are tools like Infinity that combine features that help with different aspects of the sales and integrate them into one wholesome platform. Which are the sales productivity tools? Sales productivity tools are software tools designed to simplify sales processes, optimize the workflow, automate repetitive tasks, and provide a centralized platform for managing all contacts, leads, and deals. What is the best software for sales? Infinity lets you save and organize your leads by filtering, grouping, and sorting them any way you like. There are 22 custom attributes, 7 project views, an infinite number of folders and subfolders you can create to declutter your sales funnel. Infinity lets you integrate with other applications so you can organize everything you need within a single workspace. If you want to save time, you can use ready-made templates like Sales CRM, Sales Pipeline, Sales Plan, or Client Sales Process to quickly create your workflow.