5 Simple Steps to Improve Processes in Your Business
How to reduce customer churn, boost productivity, and generate more consistent revenue? It's simple! Improve your business processes!
Efficient business processes can give your business a competitive advantage. But like any advantage, it must be maintained because there's no shortage of competition.
In the first quarter of 2021, more than 300,000 new startups launched in the United States. To put things into perspective, that's more than 3,000 new businesses each day.
This means that, if you want to remain competitive, it's essential to hold your business operations to high standards and continually take steps to improve processes and remove weak spots.
So, to help you out, we've put together this blog in which you'll learn:
What is process improvement,
How to improve business processes,
Which tools to use to improve processes and productivity.
What Is Process Improvement?
Business process improvement (BPI) is the practice of looking at your current workflows and improving your efficiency, effectiveness, or accuracy.
During process improvement, leaders develop strategic business plans to implement new technology, improve process analytics, and measure metrics. Process improvement can also reduce pain points and friction in existing processes.
Benefits of Process Improvement
Effective process improvement makes you company, employees, and your product more successful, which helps you create a more sustainable business.
Specifically, process improvement can result in:
More efficient workloads,
Better time management,
Higher quality deliverables,
Improved customer satisfaction,
Lower customer churn,
Streamlined internal communications,
Better alignment on strategic goals,
Increased profitability.
Most of the time, businesses rely on several accepted process improvement techniques, such as Six Sigma, Total Quality Management (TQM), or Kaizen to improve their processes.
But the truth is that you don't need to use a formal methodology to get started on your process improvement project, as many of these practices follow the same five steps:
Review current processes,
Map out blocks and barriers,
Assess the negative impact of barriers,
Develop an action plan,
Evaluate results.
Now, let's get into a bit more detail about each of these, so that you get a better idea of what they entail.
5 Steps to Improve Business Processes
1. Review Current Processes
The first step of process improvement is identifying a current workflow that needs some upkeep. For example, the process may not be working at all or not working according to plan.
Once you've identified a process you'd like to improve, put the finger on your end goal and stakeholders.
To define the end goal, you need to ask yourself first: "What is the final deliverable?". Is it a product or a service? What is the result you hope to achieve through this process?
Once you have your answer, you need to understand who the stakeholders are and ask yourself:
Who is in charge of overseeing the entire project?
Who has ownership of each task?
Who needs to be kept informed about the process?
The DARCI framework can help you identify all stakeholders and understand each person's role in the project. DARCI represents the various roles a stakeholder can play in a process, such as a decision-maker, accountable, responsible, consulted, and informed.
Finally, you should understand how your team currently tracks progress and deliverables.
Once you have over and done with the review of your current process, you can use e.g. a Gantt chart to make a diagram of the entire process, including touch-and-go tasks, task owners, and dependencies.
Image Source: startinfinity.com
2. Identify and Map Out Barriers
Once you have a thorough understanding of the process you want to improve, it's time to identify up-in-the-air areas and barriers to success.
Ask yourself and your team:
What's holding the team back?
What are the main barriers that prevent work from getting done?
You can also start brainstorming possible root causes for each block at this stage. Here are some common business challenges you may uncover when taking a closer look at your barriers:
Lack of resources—Not enough funding or insufficient tools,
Lack of time—Issues with timeline, unrealistic deadlines,
Not enough bandwidth—Too much work for the team,
Unrealistic goals—Deliverables too large for resources and timeline,
Lack of clarity or instruction—DARCI isn't being used properly.
Business challenges happen due to poor planning, communication, or leadership. The good news is that process improvement gives you the chance to fathom out the root cause and fix it to boost efficiency and generate better results.
3. Assess the Negative Impact of Barriers
Now that you've pieced together the barriers in your process, you need to understand how they impact the outcome. You should assess four areas of impact: stakeholders, deliverables, final results, and other business areas.
Stakeholders—Are the individuals responsible for task completion struggling with unrealistic deadlines? Are decision-makers unable to be effective because they lack clarity about the project's goals?
Deliverables—Which deliverables are falling behind or not meeting quality standards?
Final Result—Process inefficiencies can impact results in various ways, including missing deadlines, inaccurate information, or solutions that don't solve the original problem.
Other Areas of Business—How do process barriers impact your strategic business goals?
Inefficient work processes can cause lower conversion rates, lower profitability, pushed deadlines, and wasted time and resources.
Considering each impact area makes it easy to see how one small holdback can create a negative ripple effect throughout your business. If you've identified several problem areas, then assessing the impact of each will help you prioritize what to fix first.
4. Develop an Action Plan
Once you have identified the problems and understood their impacts, it's time to problem-solve! For best results, you'll want to face each problem and its root cause head-on.
Develop a detailed plan for your new process using the info you've gathered in the first three steps. Here are some examples of process changes you can use to address the common root causes listed in step two:
Lack of resources—Increase budget, find efficiency tools to support your team, or outsource certain tasks.
Lack of time—Update goals, set realistic deadlines, restructure the timeline so that it's practical for your company's and team's size.
Not enough bandwidth—Add more team members to the process, delegate more significant tasks to other team members, and identify opportunities for process automation.
Unrealistic goals—Break down large deliverables into bite-size pieces and create obtainable goals that make sense with your resources and timeline.
Lack of clarity or instruction—Review the DARCI framework and make adjustments where necessary. Smooth the path for communication between management and strategy teams.
Keep in mind that while this list of solutions addresses the common business challenges, it's by no means exhaustive. However, no matter the steps you decide to take, your detailed action plan should include:
The specific steps to be taken (How much more budget? What tasks will be automated?),
Task ownership (Who is responsible? Who is accountable?),
Task timelines (When does each action step need to happen?).
Your main task in process improvement is to identify the exact problem and outline a step-by-step guide that addresses issues directly. Specificity, accountability, and clear deadlines are the elements of a successful action plan.
Image Source: startinfinity.com
5. Evaluate the Results
Before you put your plan into action, make sure you identify the key performance indicators (KPIs) that will help you evaluate the success of your process improvement efforts.
For example, if your goal is to increase sales conversions, you should fast-track the number and ratio of deals won. And if you want to improve efficiency, you can keep track of how many deadlines your team meets.
Image Source: hubspot.com
It's best to know the baseline metric for your KPIs so that you can compare results as you implement your action plan. No process is as sound as a bell, but tracking results helps you continuously improve along the way.
Tools to Help You Improve Processes and Productivity
According to Capterra, project management software offer a large number of benefits when it comes to improving your processes and team productivity, which would explain why they are an indispensable part of almost every team's daily activities.
Some of the top benefits listed include better timeline estimation (60%), more effective resource use (55%), and enhanced team communication (49%).
So, what are some of the project management tools you can use for the purpose of improving your processes?
There are plenty of choices to pick from, including Infinity, Airtable, Wrike, Clickup, Trello, Asana—just to name a few. Each of these tools has its own advantages and disadvantages, but the most important thing is that they'll definitely assist you in improving your business processes in the long run.
Other software that might come in handy are various customer communication tools, such as Surveys and live chat tools that integrate with your CRM to help you get feedback from your consumers to identify inefficiencies and understand the impact of your process blocks.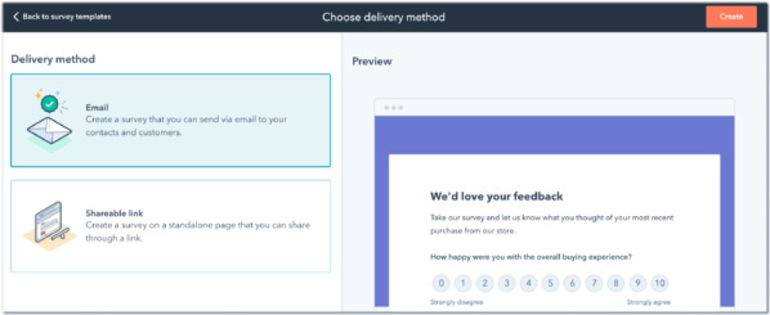 Image Source: hubspot.com
If needed, outsourcing can also help you out! Working with third parties can greatly reduce the workload on your team and improve your ability to create high-quality deliverables on schedule.
Let's Wrap It Up
If you want to lead a successful, thriving business, you need to understand and prioritize continuous improvement. To implement process improvement, evaluate your current performance, look for bottlenecks, and identify their root causes. Most importantly, work with your teams to face your problems head-on and make sure to analyze your results.
By continually assessing the effectiveness of your workflows, you will be able reduce barriers to success and empower your teams to achieve better results.
FAQ
What is business process management? Business process management is a series of steps taken with a clear goal in mind—to help you improve your business process so you can achieve a particular business goal. Each of these steps should be continually reviewed so that business processes within your organization are improved for real. How can I make my business processes more efficient? To make your business processes more efficient, try to identify the pros and cons of your current business process management, then use this info to set specific goals you want to achieve by improving your business process. You can also form a cross-functional team to get several views of what you can do to streamline your game plan and automate processes. Finally, roll out these new processes but keep in mind they shouldn't be set in stone. You should continue improving and streamlining these processes and schedule regular check-ins with your team and stakeholders. What is the best tool out there for improving business processes? The best tools you can use to improve business processes include Kissflow, HubSpot, and Infinity, just to name a few.