Top 23 Time Management Tools to Help You Avoid Burnout
While we do not have super powers to manipulate time, we do have time management tools to manage it a bit more efficiently on a daily basis.
In the business world, the old adage "time is money" still rings true. But is it possible to get time on our side in this day and age?
An average entrepreneur or team manager often has too many responsibilities to juggle. If that's you, and you find yourself wishing the day lasted a few hours longer, you might just get your wish.
Of course, you can't prolong the day—unless you're working overtime—but you can spend your time at work more efficiently.
Sounds like a dream, especially when you're so overwhelmed with your tasks that procrastination begins to rear its ugly head. Wouldn't it be nice if you could eliminate the decision fatigue and the time-wasting that comes from poor time management?
With time management tools, that dream becomes reality.
What Are Time Management Software Used For?
Time management tools are a bit of an umbrella term for a vast array of different apps and methodologies.
It might refer to a specific method of time management, such as David Allen's Getting Things Done, or the Eisenhower Matrix. Both GTD and Eisenhower matrix, as well as other time management methodologies, operate under similar principles.
Their goal is to help you:
Reduce decision fatigue by setting priorities,
Save time by organizing your work at every place and with every workflow,
Establish long-term and short-term goals,
Measure and easily track all work done.
However, these solutions are also apps that are based on one or more of these methodologies, all designed specifically to make you and your team more productive, help you fight procrastination, and keep you safe from burnout and stress.
Seems pretty useful, right? In today's post, we'll go over some of the best time management apps out there. All you have to do is research the available options and pick the one that fits you best.
23 Best Time Management Tools to Help You Work More Efficiently
1. Infinity — A Time Management Software That Covers All the Bases
When it comes to time management, everyone has their own preference (obviously), which can make life pretty difficult for time planning app designers. This is why customizable software is gaining more users, and why Infinity is probably one of the most notable all-in-one options you can find (we're not biased at all).
The basic principle of Infinity is that you start simple and build up to whatever purpose you need it for. Only your imagination can set the limit for what you can do. With the building blocks provided by the tool—workspaces, boards, folders, and items—you can do anything from simple, personal to-do lists to complex project management for multiple team members.
Every item comes with customizable attributes, which are the main thing that allows you to adjust your time management system to what you need.
"Excellent organizer tool. It shines most in its clarity, cleanliness, and conformability. Infinity is still in development, but development is active, ongoing, and transparent. Great team, great product, and great time to join with the Lifetime Plan!" - Michael B.
Looking for a GTD-like set-up, but only for sorting your tasks? With Infinity, you can do that by utilizing different types of views and filters according to the attributes that you set for each item. Want to build a Kanban board or a Gantt chart? Both are available, along with five other types of views in Infinity: Table, Columns, List, Calendar, Chart and Form.
Possibilities are endless, which is why Infinity users love it so much.
You can check out our basic tutorial to get a better idea of why Infinity is just right for you:
Key Features
7 Different Views—Find the view that suits your needs the best and optimize the way you work. Pick between Columns, List, Table, Calendar, Gantt, Chart and Form.
Infinite Structure—Boards, items, folders, and subfolders—Infinity's structure makes it a breeze to organize and adjust workflows on the fly and prevents you from wastefully spending your time.
Highly Customizable Attributes—Specify your tasks with our 22 customizable attributes. Label tasks using tags, assign them to your co-workers, add start and due dates and time fields, create checklists, and way more.
Workload Management—We believe you are doing your best to allocate resources in the best way possible. However, there's a thin line between assigning the optimal amount of work to your team members and overbooking them. With Infinity, you can set realistic deadlines, track everyone's progress on tasks, but also identify when someone is lagging behind and needs more time to complete tasks. This way, you can jump in and re-schedule these tasks or invite other members to join and get them tackled on time.
Activity Tracking—The activity log gives you a clear overview of all changes (and when these changes were made) your comrades make on the board and item level.
Filters, Group & Sort—Organize and display data you want or need to see at that moment. Group and sort tasks by start or due dates to see how much time your team has to complete them, reschedule tasks that require more effort, and set priorities straight.
Automations—Infinity's workflow automations can save you massive amounts of time you would, otherwise, waste on tedious admin work and repetitive tasks, and help you and the team be super-productive, even on the busiest days.
Reports—Infinity is about to release a new, reporting feature in the near future. Using reports, you can get insightful information on a weekly or monthly basis of how productive and time-efficient your team is.
And while this time management tool might seem overwhelming at first, fear not: if you need help getting started, Infinity has plenty of ready-to-use templates to choose from. They cover a variety of niches and industries (just like the tool itself), but can be customized to your unique needs easily.
To save you some time, here are a few templates that would come in handy when building your own time management system:
INFINITY TIP: Organize all of your work in Infinity and then use Clockify to track the time spent on completing your work. Review your tasks and the hours put into them at the end of each week to get a better insight into your productivity habits.
Pricing
Infinity offers both Basic and Pro plans. Basic plans start from $3.75 per user per month, and Pro plans start from $6 per user per month. All plans come with a 14-day money back guarantee, which allows you to get your money back in 14 days from the moment of purchasing a subscription plan.
2. BeTimeful — A Time Management App to Help You Break Your Social Media Addiction
Let's face it, how many times have we gone to YouTube for something specific only to end up watching a video on beluga whales doing somersaults? How many times have we gone to Instagram to message a friend to find ourselves scrolling 20 minutes deep into the news feed abyss?
BeTimeful's free extension solves just that. Instead of blocking the entire website & making you want to browse it even more, aka FOMO, it only removes a website's distracting elements such as newsfeeds & recommended videos when you're in work mode, making sure you stay focused. It even integrates with your favorite calendars like Google Calendar & it even has its own built-in calendar.
Want to always be motivated while being focused or during work? BeTimeful got that too! It replaces the captivating news feeds with daily personalized productivity tips and inspirational quotes too.
Key Features
Google Calendar Integration
In-Built Pop Up Calendar
Custom Social Media Platform Blocking
Self-Disciplined Features
Passwords & Puzzles
Early Access to Mobile App & Safari Extension
Daily Inspirational Quotes
Personalized Productivity Tips
Pricing
BeTImeful can be used free forever. Its pro plan starts at $4.99 with a 7-day trial which can always be extended for free (unlimited) via referrals.
3. ProofHub — An All-in-One Hub for Project Time Management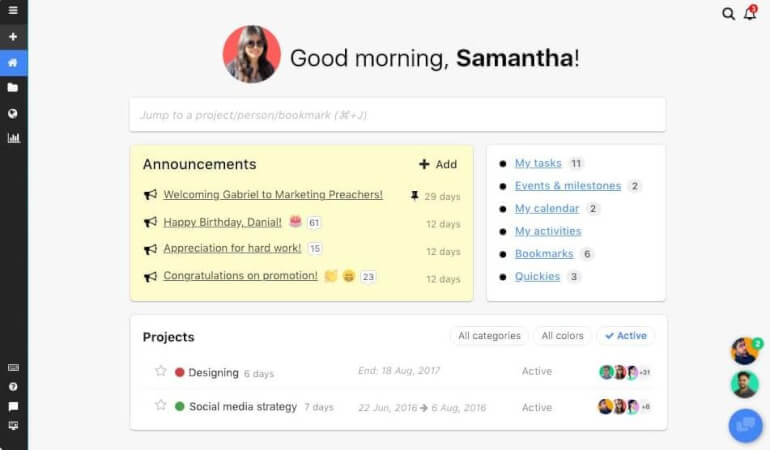 Image Source: proofhub.com
ProofHub is an excellent time management app for collaborative projects, especially for managers whose teams have grown a bit unwieldy and tough to track. In environments like that, effective communication and task delegation are essential for proper time management. If a manager doesn't have any insight into how long team members are taking to complete certain tasks, any type of planning becomes a nightmare.
However, any tracking app needs flexibility, too—especially when you need the ability to track multiple projects and tasks at once. ProofHub allows that by enabling users to track their project status, work progress, as well as any relevant information.
It sets up a Kanban system for the workflow, and each team member is assigned the roles that they need to access their team's workflow. That way, there is no confusion when assigning tasks, and permissions are easy to manage.
Key Features
Real-Time Reporting Tools
Project Status Tracking
Work Progress Tracking
Discussions, Chat & Collaborative Proofing
File Management
Deadline Reminders
Recurring Tasks
Time Tracking
Mobile Apps
Email Integration
Data Import & Export
API
Pricing
You can get started with ProofHub with their Essential Plan, which is the basic level, for the price of $45/month (billed annually) or $50/month (billed monthly).
4. Weekdone — A Time Management App for Setting Your Goals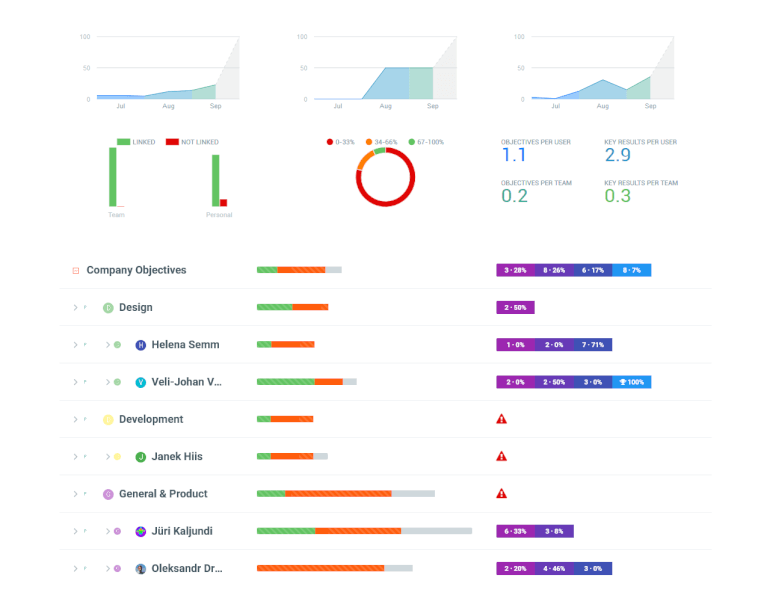 Image Source: blog.weekdone.com
Many of the tools for time management on the market today use some version of the GTD methodology, or are inspired by it. However, Weekdone offers something different: it's based on the OKR system, which is Google's approach to setting goals.
OKR stands for Objectives and Key Result, and it's meant to create alignment in the organization that uses it. It's a simple process, and using Weekdone ensures that you'll get the hang of it in no time.
Through the app, you develop and set your own OKRs, and then track them through the weekly reports, feedback and dashboard. With this unique system, Weekdone ensures that everyone in the organization is working toward the same goal and that no time is being wasted.
Key Features
Objectives & Key Results
Effective Goal Setting
Reporting
Data Visualization
Dashboard
Weekly Check-Ins
Coaching, and Support
Specialized OKR Education
Integrations: Zapier, Slack, Asana, Basecamp, etc.
Pricing
Weekdone is free for up to 3 users, and offers a 15-day free trial for 4 and more users. The paid plans (for 4 or more people, up to over 500) start from $90 a month (billed annually) or $108 a month (billed monthly).
5. Toggl — A Time Planning App for a Fast Working Pace
Image Source: toggl.com
Toggl is a time management tool that excels at compiling time tracking data across different teams and projects. Its biggest appeal lies in its promise to help you make better business decisions—and it certainly provides enough data to do that.
This time management software shines in combination with other productivity apps, although it's definitely worth trying it out even without any other integrations.
Toggl is focused on the present and tracking the way each team member is spending their time. However, it can also make projections about the future by taking into account the data it's already compiled. With it, you'll know exactly how long your projects are going to take, as well as the exact areas where you can improve your time management.
Key Features
Time Tracking with Reminders
Scheduled Reports
Time Audits
Insights
Project Dashboard
Calendar Information
Background & Auto Tracking
100+ App Integrations
Pricing
Toggl has a free plan for up to 5 users. All their paid plans come with a 30-day free trial, and if you like the app, you can purchase the Starter pack for $9 per user per month, or Premium for $18 per user per month. There is also the Enterprise plan, which is suitable for large organizations.
6. Clockify — A Time Management Application for Freelancers and Teams
Image Source: clockify.me
Speaking of time tracking apps suitable for both freelancers and teams, Clockify absolutely must make the list. Thanks to its ease of use and the variety of things you can track, this time tracking software is invaluable to managers who want to improve their team's efficiency.
Clockify allows you to track time as you work, or enter the hours manually if that's what you prefer. It shows the data on a timeline, lets you mark your hours as billable, and makes it so easy to log all your weekly activities that you'll wonder how you lived without it.
Clockify is available on web, mobile, and desktop, and it has versions for both Windows and Mac, as well as iOS and Android on mobile.
Key Features
Dashboard
Adding Time
Billable Hours
Calendar
Timesheets
Tracking Projects, Tasks & Estimates
Team Feature
Visual Charts
Live Status
Reports
Third-Party Integrations
Templates and Totals
Pricing
Clockify has a few pricing options, but for users who only need a simple time tracker, it's free. Their offers for teams range from $9.99 a month to $9.99 a month per user, depending on which features you need. You can try out each plan for free.
7. Remember the Milk — A Time Management Tool to Remember It All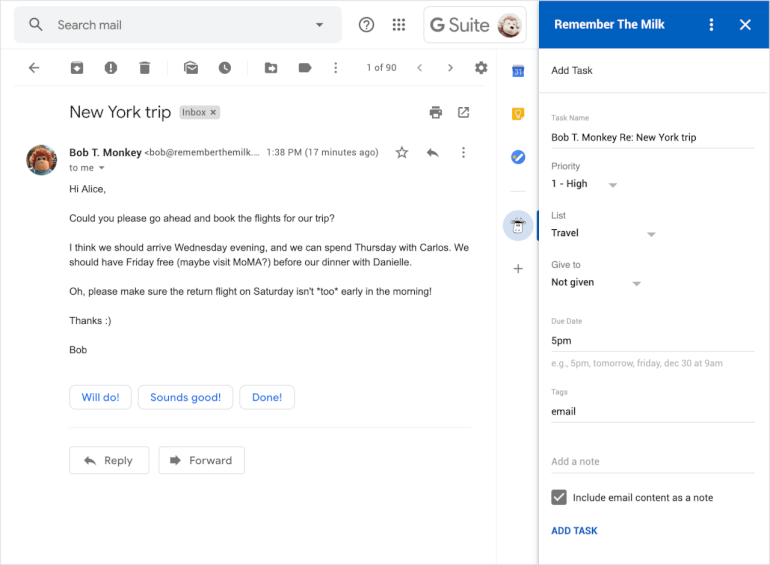 Image Source: blog.rememberthemilk.com
Remember the Milk is one of the most widely used tools for project time management for a good reason. It has everything you could possibly need to manage your personal tasks and free your brainpower for the work that requires unbroken focus.
It's wonderfully customizable, colorful and easy to use, even for advanced users who require multiple lists and more refined time management. The tags and the Smart Lists help you stay on top of your tasks—even those you've been postponing forever despite their high priority.
You can adjust Remember the Milk to work as a GTD-type system, or implement the Eisenhower matrix, and never have to worry about forgetting anything again.
Key Features
Adding Tasks On-the-Go
Smart Lists
Mobile Reminders
Customizable Organization of Tasks
Subtasks
Sharing Lists & Delegating Tasks
File Attachments
Integrations with IFTTT, Zapier, Google Calendar, Twitter, Evernote, etc.
Mobile Apps Available
Pricing
Remember the Milk is free to use, but the Pro account has extra features (subtasks and push notifications are Pro only). To unlock those with the Pro account, the price is $39.99 per year.
8. MyLifeOrganized — A Time Management App to Eliminate Decision Fatigue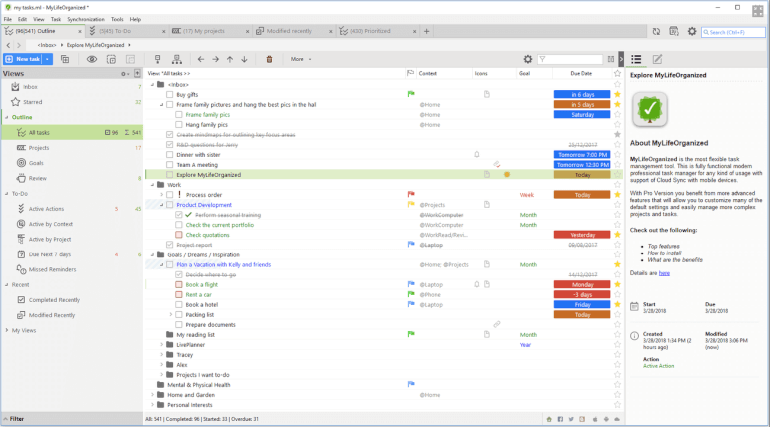 Image Source: mylifeorganized.net
MyLifeOrganized provides the basic tools for time management in the form of to-do lists and task creations. However, it has a unique twist that works wonders at eliminating decision fatigue: based on the information you fill out for each task, it will generate a list of tasks that you need to tackle right away.
The way this tool accomplishes smart sorting is through assessing due dates, dependencies and contexts of each task. It also has location-based reminders, so if you're at the store, MLO can send you a notification with your shopping list you made earlier that week.
This time planning app is perfect for the GTD methodology, although it is flexible enough to be adjusted to whatever your needs are.
Key Features
Task Contexts, Due Dates & Dependencies
Smart To-Do List Generation
Location-Based Reminders
Outlines
Next Actions List
Cloud Sync Service
Custom Views
Pricing
All MLO paid plans are one-time purchases. There are two versions for Windows, Pro and Standard, which cost $49.95 and $59.95, respectively.
There are also two versions for iOS and Android, Free and Professional, which costs $29.99. However, bear in mind that if you want to use cloud sync, it comes with a price tag of $14.95 per year or $9.95 for six months.
9. Traqq — Efficient Time Tracking Tool to Boost Productivity and Collaboration
Image Source: traqq.com
Traqq is a powerful time tracking app designed to enhance teamwork and productivity within your organization. With the increasing reliance on technology for efficient collaboration, Traqq offers a comprehensive solution that records employee activity without disrupting their workflow.

One of Traqq's standout features is its robust employee monitoring capabilities. It allows you to effortlessly track the tasks, performance, and progress of your team members. The detailed statistics and timesheets provide graphical representations of each employee's activity levels, enabling managers to analyze individual and team performance effectively.

Transparency is crucial for fostering a healthy work environment, and Traqq excels in promoting it. By monitoring the apps and websites being used, Traqq encourages open communication and ensures that everyone is on the same page.

Traqq simplifies the process of creating reports with its automatic time tracker. You can easily filter and categorize the data to generate insightful reports for analysis and decision-making. Additionally, Traqq's smart notifications and alerts serve as helpful reminders, ensuring that every minute of work is accurately recorded.

Whether you're a freelancer, a small team or a large organization, Traqq offers flexible pricing options to suit your needs. With a user-friendly interface and seamless integration, Traqq is an ideal time tracking app for improving collaboration, boosting productivity, and making informed business decisions.

Key Features

• Employee monitoring and performance tracking
• Detailed stats and graphical timesheets
• App and website usage monitoring
• Automatic time tracking
• Customizable reports and filters
• Smart notifications and alerts

Pricing
Traqq offers a range of plans to accommodate different team sizes. The Basic plan is free for up to 3 users, providing a great starting point. For more advanced features and scalability, you can choose the Pro plan at $6 per user per month. For larger organizations with specific requirements, Traqq offers customizable Enterprise plans tailored to your needs.
10. nTask — A Time Management Tool for Organization, and Collaboration
Image Source: ntaskmanager.com
nTask is probably one of the best time management tools out there, both for freelancers who work alone and teams who need to be in sync. At its core, it's an online collaboration platform with plenty of useful features, all of them focused on helping manage time and projects more effectively.
Defining project deliverables, allocating resources, and adjusting your budgeting is super easy with nTask. However, the aspect where it shines the most is its collaborative power. Meetings in nTask come with features such as meeting agenda, following up on key discussion points which you can bookmark, and determining which actions to take.
All those things get incorporated into the project planning right away. And if you need even more connectivity, nTask can integrate Zapier, which opens up new possibilities.
Key Features
Collaboration Tools
Create Subtasks
Gantt/Timeline View
Mobile Access
Percent-Complete Tracking
Recurring Task Management
Task Board View
Time Tracking & Timesheets
Reports
Automatic Web Timer
To-Do List View
Dependencies & Milestones
Third-Party Integrations
Pricing
The basic plan intended for individuals and freelancers is free, with paid plans starting at $2.99 monthly per user when billed annually.
11. Wrike — An Easily Customizable Time Planning App
Image Source: wrike.com
Wrike has gained popularity over the past couple of years, especially with younger and artsy audiences. The reason behind it is quite simple—Wrike is basically a blank canvas you can customize and adapt to your needs easily!
One of the best features of this time management software is setting any of the essential views for handling projects and workflows, such as Board, Nested List/Checklist/To-do List, Calendar, Timeline, and Gantt chart view.
Wrike allows you to organize your projects in a timely manner, as well, which lets you be even more productive and helps you save time more successfully.
The customers who have premium Wrike for Marketers and Wrike for Marketers Enterprise plans also get access to Wrike Proof, which is Wrike's built-in image review tool.
Key Features
Different Views (Board, Gantt Chart, Workload)
Customizable Dashboards
Customizable Forms
Custom Workflows
Task Tracking
Assigning Tasks
Tasks & Project Commenting
Customizable Descriptions for Tasks
Rescheduling Tasks
Tasks & Project Commenting
File Attachment
Time Tracker
Real-time Project Status/Report
Third-Party App Integrations
Built-in Messaging Platform
Dynamic Request Forms
Built-in Proof Tool
Pricing
Wrike offers a 14-day trial and has a free plan for smaller teams, but with somewhat limited options. Paying plans start at $9.80 per user monthly, for up to 15 users.
12. EpicWin — A Gamified Time Management App for Mobile Users
Image Source: youtube.com/user/rexboxproductions
Sometimes, all you need as an incentive to manage your time better is a bit of fun. The folks at EpicWin know this, so they've gamified to-do lists and put an RPG spin on project time management. In a nutshell, EpicWin is an app that makes boring chores manageable, and by having fun while doing it, it saves you a bunch of time as well.
If you've ever played a quest-oriented game, the basic principle will be familiar. Every task becomes a quest, and completing them earns you experience points, improves your stats, and develops your character. This app helps users remember that time management is a skill you can learn in a continuous, fun process.
The best thing about this time management app is that it is addictive, like any other top RPG video game. By playing it more you will work faster and save more and more time while having fun.
For some, EpicWin is a dream come true!
Key Features
A To-Do List with an RPG Spin
Recurring Tasks
Reminders
Animated Battles to Destroy Your Chores
Very Easy to Use
Points
Rewards System
Epic Loot
Fun Avatars for Leveling Up
Pricing
EpicWin currently costs $1.99 for iPhone users.
13. Flow — A Time Management Tool Made Simple
Image Source: getflow.com
Flow is a time management software that helps you manage your projects, tasks, and time—for yourself and as a part of a team. The best part about it is that it makes time management incredibly simple, and lets each team member choose how they're going to approach it.
Flow's flexibility makes it an excellent tool for teams who feel constrained by typical solutions, and it will make sure that you never miss another deadline again. The collaborative and communication side of it is superb, as well, which is a must—especially for teams working remotely.
Flow aims to be an all-in-one hub for teams who need to create diverse workflows, and it does a great job at achieving that. It's built for teams of all sizes, so you don't have to worry about whether you'll be able to collaborate with everyone at the same time.
Key Features
To-Do Lists, Kanban Boards & Team Calendars
Project Schedules
Project Customizations: Colors & Icons
Real-Time Notifications
Public and Private Projects
User Permissions
Notes and Attachments
Sorting and Filtering
Duplicating & Exporting Projects
Recurring Tasks
Comments & Discussions
Team Features: Subteams, Filtering, Timelines, Calendars, Boards & Lists
1,000+ Integrations with Other Apps
Pricing
Flow's Basic plan covers all essential features and costs $8 per user per month (billed monthly) or $6 per user per month (billed annually). There are two more plans, Plus and Pro, with prices up to $18 per user per month (billed monthly) or $10 per user per month (billed annually).
14. Notion — A Customizable and Flexible Time Management Software
Image Source: notion.so
If you are after a minimalistic UI, then Notion is one of the best time management apps you could opt for. We can't think of a tool with a simpler design—it looks like a true notebook, which was the main idea in their building process for sure.
Notion manages tasks and projects and builds a database which is easily accessible to all members in real time. Everyone can have their own workspace, share it with all (or only some of the members) which ultimately saves you a bunch of time, and boosts your individual and team productivity.
Not only is Notion a great choice for project time management, but it also functions as a Team Wiki for your entire team, helps you manage projects and tasks, and functions as the perfect document editor.
Key Features
Roadmaps
Databases
Tables
Checklists
Calendars
Smart Notifications
Real-Time Collaboration
Comments, Collaborate & Share
Workflow Management
Document Interlinking
Web Clipper
Web, Desktop & Mobile Apps
Pricing
Notion offers Personal, Personal Pro and Team plans. Personal is free of charge for you and your five guests, Personal Pro costs $4 per month, and the Team plan is $8 per person monthly.
15. Trello — A Kanban-Style Time Planning App
Image Source: trello.com
Trello is a project management-slash-time management software whose strongest point is the Kanban-style user interface. So, if you are not used to the card-like overview of tasks within your project, the dashboard can get overwhelming and messy rather quickly, so this is definitely not a tool for everyone.
However, for small teams, Trello works just fine. It also offers a generous free plan that allows you to have up to ten boards per team. The storage is a bit limited—only 10 MB per attachment available—but other than that, it's a time management tool you don't want to miss out on.
The reason behind Trello's popularity lies in the eye-catching design, it is fun and intuitive, and ultimately, it connects the team in a way that saves time for everyone! If you avoid doing huge projects in it, Trello will definitely save you time on small and medium-sized projects.
Key Features
Activity Logging
Boards
Lists
Attach Photos & Drawings
Due Date Tracking
Progress Tracking
Collaboration Tools
Task Management
Template Management
Prioritization
Pricing
We already mentioned that Trello has a free plan, while its paid plans start at $9.99 per user monthly, but it is billed annually.
16. Asana — A Powerful Time Management Tool for Teams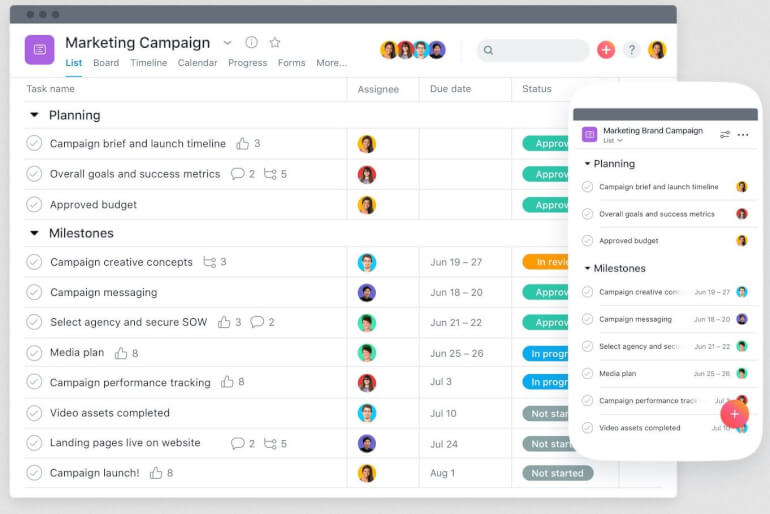 Image Source: asana.com
If you're after clutter-free tools for time management, Asana is just for you. It is especially convenient for team leaders and managers, since they can easily monitor the whole team and their progress, thanks to automation, which takes a bunch of processes that usually waste time out of the table.
With Asana, you can easily see at a glance who's working on what, and ensure that no one ever misses another deadline again. Additionally, Asana also offers full offline access, so it allows a continuation of work even if you lose your internet connection.
Another great feature of Asana is a library full of templates for various businesses, so you won't build a workflow from scratch ever again. There's also a number of third-party integrations you can use to speed up your work processes and save time.
Key Features
Task Tracking & Management
Deadline Reminders
Data Export
Team Conversation
Drag & Drop Interface
Team Collaboration
Calendar View
Timelines
Automations
Portfolios
Workload Management
Third-Party Integrations
Custom Templates
Pricing
Asana has a basic plan which is free for up to 15 members, while the paid plans are at least $10.99 per member monthly, but billed annually.
17. Things 3 — A Time Management App for Unbeatable Productivity
Image Source: culturecode.com
Things 3 is intended for personal use, and it's definitely one of the best time management tools for Mac and iOS users out there. The app gets a lot of praise for its design and functionality, as it allows you to make your plans for the day on the go and manage your projects effortlessly.
The basics are simple. To-do lists help cover any smaller tasks you have, while Projects are reserved for big goals. You can sort these into different Areas, so you never lose sight of the bigger picture. This time management software helps you organize your tasks into lists for today and upcoming days, as well.
Things 3 has been built from the ground up, and now offers a far better design, as well as a number of new features you'll definitely find useful if you want to manage your time and your team better.
Key Features
Reminders & Calendar Integration
Repeated To-Dos
Upcoming Lists
Tags and Filters
Quick Entry and Quick Find
Forwarding Emails to Create a To-Dos
Magic Plus Button
Widgets
Calendar Events
Pricing
Things 3 offers a free 15-day Mac trial, but it also is an app for the iPhone, iPad, and Apple Watch. The starting price is a one-time payment of $9.99 per user.
18. RescueTime — A Tool for Time Management and Distraction-Free Work
Image Source: youtube.com/user/RescueTimeOfficial
RescueTime is a powerful time management tool that is here to help you if you're struggling with procrastination. Despite it's simple design, the way RescueTime breaks down how you spend your time will be eye-opening and incredibly helpful.
One of the unique features of RescueTime is easy offline time tracking—it provides a full picture of your day and the ratio of productive hours versus distracting time. Once you've identified your time sinks, RescueTime also helps you reclaim control over your time by helping you set goals and stay on track.
You also get reminders, reports, and the ability to block distracting websites, which makes this tool the perfect accountability buddy.
Key Features
Time Tracking
Offline Time Tracking
Setting Smart Goals
Reminders
Reports and Insights
Real-Time Alerts
Blocking Distracting Websites
Integration with over 100 Apps
Pricing
The Basic plan of RescueTime is free, although it does come with limited features. If you want to track your improvement over time, block distractions, and use offline time tracking (among other things), you'll need to pay for the Premium plan, which is $12 per month or $78 per year. The Premium plan also has a 14-day free trial.
19. monday.com — A Visual Time Management Tool
Image Source: monday.com
monday.com is among the best productivity and time management apps out there. This award-winning tool is built to help teams manage their work and time and achieve more while spending less.
With monday.com, you can set exact time frames and manually track time by switching the time on or off, or you can put everything on autopilot. If you ask us, let the app tackle the manual work for you and focus on tasks that require immediate or special attention.
monday.com is the manage-and-track type of tool as it lets you assign tasks, set task priorities and due dates, and track progress and time spent on each so you can know where your projects stand, figure out ways to manage time more effectively and boost the overall productivity.
This simple and colorful time management software lets you analyze data, break down time by clients, projects, and tasks, and create flexible reports to get a better understanding of how to plan and manage time. You can access all these amazing features at any time, from anywhere, using monday.com's mobile app, and enhance productivity and improve your time management skills.
Key Features
Time Tracking
Time Frames
Timelines
Task Priorities
Workload Management
Automations
Customizable Notifications
On-The-Go Tracking
Flexible Time Reports
Session Management
Pricing
Start free to supercharge your workflows with monday.com, then sign up for a paid plan (basic to enterprise). Basic plans are priced at $8/seat or $24/month.
20. Everhour — A Hassle-Free Time Management App
Image Source: everhour.com
Everhour is one of the easiest-to-deploy tools for time management. If you want to push your teams to the next level, optimize and refine processes, then this tool could be worth checking out.
With Everhour, you can manage your timekeeping and stay on top of all the activities within your teams and on projects. Shortly, you can firstly set deadlines, then track time employees take to complete tasks, and compare results to KPIs to gain insight into whether your company's goals are met on time and budget.
Not only you should keep an eye on your team members' working time to track finances but to actually increase their productivity. Everhour's analytics can give you useful and comprehensive feedback on how to manage time in an efficient manner. By having an overview of past performance and a record of time and budgets invested in past projects, you can accurately evaluate time for the upcoming ones.
Finally, this time management app lets you export these reports and share them with clients to show them how great you and your team are with project management and easily get all the projects you want.
Key Features
Time Tracking
Time Estimates
Timesheets
Time Approval
Reminders
Task Management
Calendars
Workload Management
Expenses Tracking
Reports and Dashboards
Trello, Github, ClickUp, and Many More Integrations
Pricing
Everhour has a single plan priced at $8.50/user/month when billed yearly.
21. Scoro — A Team Time Management Software
Image Source: scoro.com
Looking for a time management tool that can optimize your workflows and improve your time management? Scoro manages all aspects of your business in one place and lets you plan your time, schedule activities, and track whether everyone from the team is using their time efficiently.
With Scoro, you can schedule tasks and projects, set priorities and deadlines, share calendars with the team so they can stay updated about changes, and keep an eye on progress via Project Timeline. Scoro's Planner makes it super-convenient to plan projects, allocate resources, and manage time like a pro.
Being able to see who's working on what and how much time it takes to complete assignments, you can analyze and optimize activities using dashboards and make sure no one is wasting time. Scoro lets you monitor the billable and non-billable time your co-workers spend on meetings and projects.
Using this project time management solution, you can generate detailed work reports you can further break down by activities, projects, partners, clients, and more. When you know how well your team is utilizing their time, you can identify and solve obstacles, optimize time-consuming activities, and come up with smart time management strategies that can contribute to more productive work.
Key Features
Templates
Time Planner
Task Scheduling
Time Estimates
Project Timelines
Time Tracking
Quoted vs Confirmed Time
Time Locking
Colorful Dashboards
Activity Reports
Pricing
Get started with Scoro for free, then choose between their 4 paid plans, starting at $26/user/month.
22. WorkOtter — A Project Time Management Software
Image Source: workotter.com
WorkOtter comes with a bunch of built-in functionalities that can give you the predictive ability and make it one of the best time management apps out there. Project managers can use it to schedule activities, approve and lock time, and monitor its utilization via interactive dashboards that can help them manage resources better.
With WorkOtter, you can skip the typical, boring timesheets and wasteful administration processes. Instead, this tool lets you update assignments, set due dates and time estimates, update statuses, and add collaboration notes on a single consolidated screen and create dynamic reports at a few clicks.
This time management application auto-generates timesheets, automatically approves time (if you choose so), and sends emails to everyone from the team who missed a deadline. You'll be able to see who has submitted their work and whose work is left to be approved by following the colored indicators (red, yellow, and green).
Not only you can track assigned and estimated time on timesheets but also see how your plan is progressing, identify risk and issues, and generate time utilized vs forecasted reports, under-performing reports, break down time by clients, admin, projects, and other statuses you establish.
Key Features
Estimating and Templates
Project Scheduling
Timesheets
Priorities
Auto Approve
Workflow Management
Email Updates
Robust Timesheet Reporting
Microsoft Project Integration
Pricing
WorkOtter offers a pay-as-you-go type of deal. Contact them via email for more information about their pricing.
23. ClickUp — An Inspiring Time Management App
Image Source: clickup.com
ClickUp is a popular time management application packed with a bunch of features that can make you save time and hit goals faster. For starters, it lets you estimate how much time your co-workers would need to complete tasks and subtasks, and split the time between them if you are working on a complex project.
With ClickUp, you can do more than just allocating time. You can track time, jump between tasks, set dependencies by drawing lines between tasks in Gantt view, and monitor how your team is spending their time, all from your mobile or desktop, anywhere you work.
And, just in case your schedule changes, this app lets you rearrange dates for the next day, week, or month in a calendar view using their drag-and-drop functionality. A timeline view displays the completion rate of your tasks for the past 1 to 12 months so you can monitor your team's performance over time.
This project time management platform allows you to see time entries, apply custom filters, add labels, and generate general time reports or build reports for every member of the team to see where and how most of their time is spent.
Key Features
Drag-and-Drop Scheduling and Rescheduling
Start and Due Dates
Gantt Charts
Milestones
Workload Management
Time Estimates
Time In Status
Time Tracking
Time Reporting
Billable Time
Pricing
ClickUp is among the best free tools for time management. It has a paid version if you want to expand all of its functionalities ($5/member/month).
Conclusion
We hope something on our list of time management tools has managed to tickle your fancy. All of the apps we listed here do a great job at helping you boost your productivity and manage your time like a boss. Try out a few to see which fits you best, or, if you're feeling wild, try them all!
If you're looking to pick just one time management software, consider Infinity, as it can cover all your project and time management needs in the most effortless way possible. Time and task tracking, project management and insane productivity boosts can become a permanent part of your workday.
Sounds too good to be true? Contact us via email at team@startinfinity.com or schedule a demo with our team members to see it for yourself.
Did we miss any of your favorite tools? Let us know in the comments below!
FAQ
What are examples of time management tools? There are different types of time management tools: calendar tools, to-do tools, time tracking tools, or tools that combine all these features into one. Some examples of time management tools include Infinity, ProofHub, Weekdone, Toggl, Clockify, Remember the Milk, MyLifeOrganized, etc. What are the five time management techniques? There are many time management techniques, but here are five most popular examples that can help manage time better: 1. Eating the Frog—starting with the hardest or most unpleasant task, then tackling easier tasks. 2. Pomodoro—dividing your workday into 25-minute chunks and dedicating each chunk to a single task, with 5-minute breaks between each chunk. 3. 80/20 (Pareto's Principle)—focus on 20% of your actions that produce 80% of desired results. In other words, prioritize the most important and most productive tasks. 4. Eisenhower Matrix—create a 2x2 matrix with the labels Urgent/Not Urgent and Important/Not Important and put each task into one of the four fields, then tackle those that fall into the Urgent and Important field. 5. Kanban Board—create three columns: To Do, In Progress, and Done and organize tasks as boards within these columns. Great time management tools come with features based on various time management techniques, like a Kanban Board view or Pomodoro timer. What are four time management tools? While it is hard to precisely define the number of time management tools, the most popular four categories include calendar apps, time tracking tools, to-do list tools, and notebook apps. Most modern time management tools, like Infinity, are a hybrid of two or more categories. What is the best time management tool? Infinity is a great time management tool because it offers a great deal of flexibility and freedom to manage projects with 22 custom attributes, 7 project views, an infinite number of folders and subfolders you can create, and advanced customization options.