14 Best Bug Tracking Software for You'll Want for Your Team
Three things are certain in life: death, taxes, and bugs in code.
Okay, Benjamin Franklin might have not known about the last one, but it doesn't mean it's not true.
No matter how hard testers may try to report every single bug they come across during testing, some bugs still end up unreported, causing glitches to happen in the final production. Well, to err is human, right?
However, these glitches can lead to tremendous consequences. Based on recent research, bugs cost the enterprise software market $61 billion annually, which is 620 million hours developers waste annually on debugging software failures. We don't want this to become a norm, do we?
So, how do you make sure these bugs don't ruin your project completely and lead to outrageously high costs? Provide your team with the right and powerful bug tracking software that will help them record, report, assign and track the bugs.
In a nutshell, bug tracking systems help you ensure that all the detected bugs are fixed. Essentially, they track issues and enable team leads to analyze them properly and then assign the work to appropriate team members so that they can work on the problem resolution and terminate those bugs. Simple as that!
Here are some of the main features each bug tracking software must have:
Customization
Filtering
Task Management
Reporting
Collaboration
Still not sure why a bug tracking system should be the essential part of your toolkit? Let's help you make up your mind by taking an overview of the most important benefits this bug tracking software will bring to you, your team, and your business in general.
Why Do You Need to Invest in a Powerful Bug Tracking Software for Your Team?
It delivers a product of high quality—Bug tracking tools make sure all the bugs are fixed by controlling each team member's activities. This helps you deliver an efficient product without additional costs and within the planned period.
It brings higher ROI—Best bug tracking software can prioritize bugs allowing you to focus your efforts on solving bigger high priority bugs, decreasing the cost of development and increasing productivity.
It improves communication, connectivity, and teamwork—Bug tracking software can provide a more streamlined communication by informing team members about the activities they need to do to fix bugs on time through chat interfaces and email notifications.
It helps you detect issues before it's too late—By using bugging software, companies can keep a record of all bug issues and always know who fixed them and how long it took them to solve the issues. Also, the tool usually offers metrics that can help you keep track of all the defects previously reported.
It enables a high-quality service—Bug tracker enables end-users to report any bugs and issues directly on their app, and then they get regular updates through alerts. This way, customers always have a clear insight into the efficiency and reliability of the product.
Now, the big question: how to choose the right bug tracking software that will perfectly meet your business needs?
With so many bug tracking tools on the market, this can be a really tough decision. But, we are here to help you go through this process as smoothly as possible.
Check out the top 14 bug tracking software you should consider to bring your software product to the next level.
So, let's get started!
14 Bug Tracking Tools Your Dev Team Will Thank You For
1. Infinity — An All-in-One Bug Tracking Software to Help You Deliver Great Results
Infinity is a project management tool and collaboration tool that doubles as a bug tracking tool. It's there to simplify all of your business processes, streamline your workflow, enhance team communication, and—track bugs.
In other words, it lets you organize all of your activities and get more things done in less time. Most importantly, its flexible structure gives you the freedom to create, develop and organize your projects the way it suits you.
Thanks to its unlimited structure and customization options, you can truly create a system that works best for you and your team, and ensure no bugs go undetected. Want to separate different bugs and issues into different folders? No problem. Need to view our bugs from various perspectives? Sure, just pick a view you like the most. Want to filter out only the most recent problems with your application? You can do that, too!
"It's one of the TOP 3 tools that we don't want to miss in our stack. We organize a hundred things with it: media galleries, software overview, social media & content marketing plans, CRM, digital resources, etc. I also like the team as they're always listening to us and improving the tool. Highly recommended." - Frank Sellingsloh
On top of this, you can use comments and notifications to easily stay up-to-date with your team's progress, updates, and priorities. There's also the Clockify integration that lets you track time for all of your tasks and always be in the know who is working on what at any given moment. Plus, with the Zapier integration, you can integrate Infinity with any other tools you need for your daily "buggy" activities.
Overall, being intuitive and super-easy to use, Infinity is an amazingly powerful bug tracker that offers an infinite number of benefits. And the top four are:
It helps you get rid of the clutter.
You no longer feel overwhelmed by the number of tasks.
It adapts to your team's needs and not the other way around.
It streamlines your task management and workflow.
Need more info on how everything works? Check out our basic video tutorial:
Key Features
Infinite Structure—Create a wide range of boards, items, and folders so that you would build a perfectly designed system to suit your business needs.
Activity Tracking—Stay on top of all the activities, updates, and changes to help everyone be on the same track in real time.
Task Assigning—Make sure you always know who is doing what on the project.
Clockify Integration—Track time of your team's activities and make sure everyone meets their deadlines.
Over 50 Templates—Get started by using one of the ready-made templates to speed up your processes and manage all of your tasks like a pro.
Task Management—Both task assignment and time-tracking of your projects' progress will keep everyone on the same page and boost the overall team productivity.
Drag & Drop Interface—Organize your workplace and improve your workflow in a matter of seconds.
Customizable Attributes—Choose one of the 22 attributes to oversee your processes and make your workflow run smoothly.
Seamless Team Collaboration—Use different devices to communicate and collaborate with your team in real time through comments and notifications.
Public Boards—Share boards with other team members, as well as with the clients and external parties who are not members of the team.
Document Sharing—Add and share all of your documents easily by using Infinity without wasting time searching for them on your computer.
Plus, infinity comes with 50+ templates you can use to learn all there is to know about Infinity in a matter of seconds. The great thing about these templates is that you can modify them to your liking. Check out some of them:
INFINITY TIP: Use the form to collect bugs and issues into Infinity, and then organize all data with the help of labels and other attributes. This way, you'll always know exactly what you and your team are working on.
Pricing
Infinity comes with a 14-day free trial, as well as two plan tiers: Basic and Pro. Basic plans start from $3.75 per user per month, while Pro plans start from $6 per user per month.
2. BugHerd — The Best Bug Tracking Tool for Team Collaboration
Image Source: bugherd.com
BugHerd is a visual bug tracker software that enables your team to track bugs and conduct all of the team's communication to solve the issues right on the spot. It's highly intuitive, straightforward to use, and an ideal solution for non-developers like project managers who gather feedback from various sources and then manage it until they resolve all the defects.
It enables you to convert clients' feedback into tasks, with all the screenshots and changes. Plus, BugHear allows clients to report issues directly from users' websites. This lets developers have an instant and clear view of all the issues on the site. Clients report these issues, which the platform then converts into a bug report.
There is also a visual task board that lets you overview all of your and your team's tasks and their status. While users can assign tasks using the drag-and-drop feature, team members can see who is working on what at any given time. Overall, it is one of the most efficient tools on this bug tracking tools list.
It can be integrated with other great apps like Basecamp, Zapier, Redmine, Jira, GitHub, Tracker, etc. The only drawback you need to keep in mind is that it cannot be integrated with WordPress.
Key Features
Collaboration
Guest Access
To-Do List View
Visual Task Board
Kanban Board
Backlog Management
Alerts/Notifications
Automatic Screenshots
Product Roadmapping
File Attachments
Filtering
Email-to-Task Conversion
Task Editing/Updating
Prioritization
Pricing
BugHerd starts at $39 per month for 5 users. If you choose an annual plan, you will get a 20% discount, and you can use a free 14-day trial without providing your credit card details.
3. Backlog — A Powerful Bug Tracking System for Developers
Image Source: backlog.com
Backlog may be the answer if you are looking for an ideal bug tracking system for your development teams. This cloud-based project management software lets anyone report bugs quickly and easily, providing a complete history of all comments, updates, status changes. It's an ideal solution for a variety of departments, from development teams to marketing and IT teams.
It has a plethora of great features, including file sharing, comment threads, watchlists, and Gantt charts, which enable its users to visualize project workflows and timelines. Gantt, Git, and Burndown charts provide you with greater visibility of the projects and boost productivity.
Plus, this bug tracker software allows users to track changes and document them but also proposes any changes that should be made.
Finally, Backlog brings team collaboration to a whole new level. It lets developers comment on each issue, and team members involved in that particular project will automatically be notified. This further enables the improvement of the code, organizing and sharing project details and increasing value in the long term.
Key Features
Gantt Charts
Collaboration
Project Management
Secure File Sharing
Real-time Gantt Charts
Meeting Notes
Testing / QA Management
Burndown Charts
User Permissions
Meeting Notes
Bug & Issue Tracking
Project Summary Reports
To-Do List
Pricing
Backlog offers a free trial and a free plan, which lest you check what works or not for you. When it comes to pricing plans, the Starter plan starts at $35 per month, and the Enterprise plan costs $1,200 a year.
4. Monday.com — A Unique Bug Tracker Software for Your Team
Image Source: socialenterprisebr.net
Although Monday.com is designed for different kinds of environments, it's usually an ideal solution for software development as a bug tracker, as well. There is even a bug tracking template included to make your learning process easier. This bug tracking tool also offers time tracking capability, notifications, and automation you can customize. This way, you can track bugs easily and focus on what matters.
Monday.com has a very intuitive interface that allows you to manage backlogs, sprint planning, and dependencies easily. It brings collaboration to a higher level by keeping everyone in sync no matter where they are at any time. What's more, sharable boards let you share your work with clients or partners. All in all, one of the best bug tracking tools that should definitely be on your list of priorities.
Finally, Monday.com has fully customizable labels with colorful designs and multiple views, enabling each team member to have a clear insight into the team's capacity, progress, effort, and efficiency at any given time.
Monday.com can be integrated with a whole range of apps, including Google Drive, Slack, Jira, Typeform, Zapier, Trello, Google Calendar, and many more.
Key Features
Due Date Tracking
Email Updates
Workflow Management
Tags & Keywords
Customizable Fields
Survey
Time Tracking
Ready-Made Templates
Time Tracking
Progress Monitoring
Custom Workflows
Activities
Updates
Pricing
Monday has four pricing plans Basic, Standard, Pro, Enterprise. The Basic starts at $39 per month for 5 users. It also provides a 14-day free trial, which, according to some users, is a short period to learn all there is to know about the app.
5. Jira — The Best Bug Tracking Software to Streamline Your Workflows
Image Source: jira.com
Jira is a project management tool and one of the best bug tracking systems that will definitely come in handy when tracking bugs. It provides many useful features such as workflow management, a complete set of recording, and reporting. Thanks to its support for a wide range of methodologies such as Kanban, Scrum, and Scrumban, it allows teams to plan and organize their projects in the way that suits them.
It has a highly intuitive interface that enables users to optimize their processes and activities and improve their collaboration on so many levels. Plus, this bug tracking software can be integrated with more than 3000 external apps, allowing you to find and leverage all the functionalities you need.
Jira is perfect for developers because of its ability to track any kind of issues, and it is not focused on only one type of software development industry. Also, it lets you create project roadmaps so you can find all projects in progress, and there is a drag-and-drop feature that lets you manage your projects in detail.
Some users complain about Jira's mobile version because it requires a lot of navigation to perform various tasks. So, if you like to manage tasks from your phone, you may want to look for some other bug tracking tools.
Key Features
Advanced Reporting
Mobile Interface
Scrum, Kanban & Scrumban boards
Excellent User Experience
Unlimited Custom Fields
Search & Filtering
Bugs & Defect Management
Mobile Interface
Easily Import Data from Other Systems
Collaboration Tools
Traditional Methodologies
Time & Expense Tracking
Pricing
Jira offers a free version, but it is not free bug tracking software. It offers several pricing plans. The basic plan starts at $7 per month, per user.
6. GoodDay — A Great Bug Tracker Software for Productivity
Image Source: gooday.com
GoodDay is a project and team management tool that doubles as a bug tracking software, allowing you to organize and plan all of your tasks and projects easily. It can also help you improve all the processes based on agility, transparency, recognition, and accountability. It's an ideal tool for organizations of all types and sizes.
It has a robust architecture and so many features that help businesses connect their execution, goals, and strategies. It offers a reporting engine and a time-tracking feature. It is integrated with multiple user-friendly third-party collaboration, calendar, and email apps like Slack, Gmail, Google Calendar, and many more.
The best thing about this app is that it also offers an "ActionRequired" feature that lets you identify, which team member is responsible for a particular action on a particular task or a project.
This bug tracking software is a bit slow, though, when used from a mobile device. Still, it has a bunch of useful features worth a try.
Key Features
Activity Dashboard
API
Progress Tracking
Task Tracking
Project Management
Task Scheduling
Project Time Tracking
Reporting & Statistics
Collaboration Tools
Project Planning
Third-Party Integration
Custom Statuses & Workflows
Recurring Tasks & Events
Agile Board
Custom Work Items
Tags
Task Deadlines
Pricing
GoodDay offers a free plan for up to 15 users, and it is free forever. If you want to move to a Professional plan, you need to pay $4 per user per month.
7. Rollbar — A Bug Tracker Software for Agile Workflows
Image Source: rollbar.com
The best thing about Rollbar is that it lets you debug your software while in production—it tracks errors and enables the development team to manage them and solve them efficiently.
One of the reasons why this best bug tracking software stands out on the market are some of its features like instant notifications, analysis tools, and real-time error feed. Also, it has a proprietary technology that groups errors together and, therefore, simplifies the whole process for your development team.
Rollbar supports a whole range of languages and frameworks, including Python, JavaScript, WordPress, Pyramid, .NET. It comes with Rollbar Query Language that enables users to have communication with the database.
The app also includes notification filters that let you prioritize all the notifications based on the type of error. On top of this, you can leverage its workflow control capabilities to tag issues as resolved, active, or muted.
Finally, this bug tracking software can be integrated with a huge number of big players like Asana, Help Scout, Buddy, Jira, Jenkins, Google Cloud, Github, Slack, Split, and many others.
Key Features
Collaboration Tools
Reporting/Analytics
Debugging
Task Management
Workflow Management
Assignment Management
Dashboard
Recurring Issues
Strong Security
Seamless Integrations
Issue Tracking
Bug Tracking
Monitoring
Reporting & Statistics
Pricing
Rollbar basic plan starts at $41 per month. You can also use a free version for any hobbies or side projects.
8. Asana — Among the Most Powerful Bug Tracking Tools to Connect All of Your Work in One Place
Image Source: asana.com
Asana is a bug tracking tool that lets you and your team navigate work, from daily tasks to project strategies. It's undoubtedly one of the most popular bug tracking tools and project management tools on the market that enables your team to stay focused on their projects, goals, and tasks through lists, boards, calendars, and Gantt charts.
Task management is at the heart of the Asana tool. Each and every task has attachments, assigned team members, due dates, comment threads, and other fields. You can search work history for every single project you are or were working on, which can be very helpful when it comes to billing and employee reviews.
One of Asana's features is the Timeline view, which you can manage effortlessly. You can easily move due dates, sub-tasks, items. Another thing that distinguishes Asana from the pool of other bug tracking tools on the market is portfolio view. This feature allows managers to have a clear view of who is responsible for what on the project and then balance the workload.
However, Asana might not be too user-friendly for new users because of too many features and intimidating interface and graphics, so you may want to opt for some other bug tracking tools.
Key Features
Bug Tracking
Calendar Management
Multiple Workspaces
Progress Tracking
Template Management
Activity Dashboard
Third-Party Integrations
Automation & Rules
Task Commenting
Task Management
Custom Fields
Real-Time Changes
Status Reporting
Due Date Tracking
User Access Controls
Pricing
Asana offers a free trial and a Free plan. The Premium plan starts at $10.99, and Business Plan starts at $24.99 per user per month.
9. Airbrake.io — A Bug Tracking System for Frictionless Error Monitoring
Image Source: airbrake.com
Airbrake.io is a leading cloud-based error and bug tracker software that helps development teams of different sizes improve their operations, activities, and processes. This tool includes a number of excellent features like issue tracking, backlog management, ticket management, and workforce management.
It allows you to locate the file and detect affected users, URLs, browsers, and other things. Also, you can easily monitor code quality through detailed dashboards, deploy tracking, and error trend graphs. In addition, this bug tracking software allows you to group errors based on their type so that the developers who are proficient at solving those types of errors fix them.
Error data management is the feature that lets users to aggregate bugs and use that data to identify methods, files, and code snippets that are responsible for the exception.
Key Features
Real-Time Alerts
Email Notification
Error Charts
Multiple Users
Custom Alerts & Notifications
API
Error Grouping & Organization
Third-Party Integrations
Error Filtering
Error Searching
Error Details
Custom Alerts & Notifications
Fix Bug Quickly
Historical Data Retention
iOS & Android Apps
Pricing
Airbrake.io offers a free trial and four pricing plans. The essential plan starts at $49 per month. If you need additional features, you have to choose between a Startup plan, Growth Plan, and Enterprise Plan.
10. Zoho Bug Tracker — A Simple but Powerful Bug Tracking Software
Image Source: zoho.com
Need a simple bug tracking tool that will fix your bugs in no time? Zoho bug tracker software is usually described as "simple, fast and scalable". You can track bugs and record them based on a few parameters like due-date, severity, fields, and custom-set statuses.
You can customize your interface time management and project management features. Plus, reporting features let you have a clear insight into progress, milestones but also logged and resolved bugs. News Feeds and notifications keep the team up to date with all the changes and the progress.
All in all, Zoho Bug Tracker is one of the bug tracking tools that has more professional features than other bug tracker software on the market because it allows users to share and access data about their bugs time anywhere. On the other hand, it is not so visually appealing like BigHerd, Monday, or Infinity.
It comes with many integrations from Zapier to Google Drive.
Key Features
File Sharing
Custom Fields
Time Tracking
Custom Workflows
Bug Reports
Interactive Forums
User Management
Dashboard
Email Notifications
Custom Views
Integrations
Pricing
Zoho Bug Tracker starts at $40 per month per user, and it offers a freemium version for no more than 5 users and 1 project.
11. DebugMe — The Most User-Friendly Bug Tracking Software for Your Team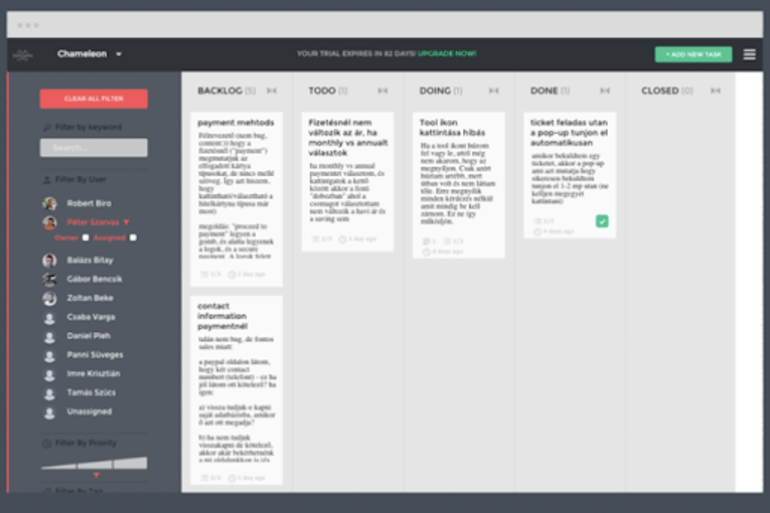 Image Source: startup88.com
DebugMe is one of the best bug tracking software that is easy-to-learn because it is not packed with features and modules. It gives you the ability to leave feedback directly on-site through pins, blackouts, highlights, and drawings. You can communicate with the members of your team through comments, get notified about changes, and manage tasks on your Kanban board.
DebugMe toolbar lets you send feedback about the website you are developing and make reports quickly and with ease. There are great features like highlighting, drawing, and hiding elements that allow you to visualize a bug or an issue. Finally, it provides you with all the tech details like used plugins, browser version, screen and viewport resolution, operating system information, and Javascript and cookie enablement through screenshots.
This bug tracking software comes with a number of integrations, including Visual Studio Online, Trello, Yahoo, Teamwork, Redmine, Gmail, Jira, and many others.
Key Features
Easy Visual Reports
Numerous Third-Party Integrations
Intuitive Interface
Project Management
Collaboration
Dashboard
Toolbar
Ticket View
Pricing
DebugMe starts from $14 per month and offers three plans Standard, Professional, and Enterprise.
12. DoneDone — An Easy-to-Use Bug Tracking Tool for Teams of All Sizes
Image Source: donedone.com
DoneDone is another bug tracking system that lets your development team track and fix issues efficiently. It offers a highly intuitive dashboard with a sleek design where you have an overview of all of your issues and tasks. All of these can be categorized by using different parameters, including task name, assignee, priority, due date, status, and many more.
This great tool is integrated with apps like Slack and Glip and offers all the necessary features your team needs to track bugs efficiently. Besides being an ideal solution for developers, its simplicity allows non-techies to use it and handle most bug tracking demands.
You can create an unlimited number of bug tracking tasks manually in just a few steps. These tasks can also be created automatically through the Mailboxes feature. This feature allows users to communicate through mentions, emails, and comments.
According to some users, the price of DoneDone is too high for the small-size organizations. Still, this bug tracking tool is packed with some really powerful features, so you should definitely give it a try.
Key Features
Dashboard
Task Management
Ticket Management
Recurring Issues
Workflow Management
Assignment Management
Issue Scheduling
Recurring Issues
Issue Auditing
Pricing
DoneDone is not free bug tracking software does not offer a free version, which might be inconvenient for some users. Their basic pricing plan starts at $ 4 per month, per user.
13. Bugfender — An Awesome Bug Tracking Software for Developers
Image Source: bugfender.com
Bugfender is one of the best bug tracking tools out there which allows you to find bugs and resolve them or any other issues on one unified platform. Any user can get quick access to mobile or web application logs no matter where they are located. It does more than the standard crash reporting—it logs almost anything even when you are working in an offline mode.
This bug tracking system is an ideal solution for teams of all sizes but mainly focused on developers, including Android Developers, Javascript developers, iOS developers, and customer support teams. Bugfender has some amazing features that make it stand out from the crowd, like reporting, issue tracking, offline access, GDPR compliance, and many others.
Plus, Bugfender can be integrated with a whole range of amazing apps like Slack, HipChat, Intercom, Jira, Campfire, Trello, etc. On top of this, it offers an in-app feedback module that businesses can use to design a custom feedback page through which they can gather reviews and ratings and manage them.
Key Features
Issue Auditing
Web Logs
Bug/Issue Capture
Compliance Reporting
Archiving
Collaboration
Backlog Management
Ticket Management
Network Logs
GDPR Compliance
Reporting/Analytics
Pricing
Bugfender gives you the ability to use a free account if you are a new user and up to 100K Daily Log Lines. If you need more than that, you need to choose one of the available 3 pricing tiers. It starts from 29 euros per month.
14. Wrike — An Ideal Bug Tracking Software for Managing Multiple Projects
Image Source: wrike.com
Wrike is a powerful bug tracking tool and project management tool, which allows users to customize their dashboards, workflows, request forms, reports, and so much more. Also, you can choose how to track bugs by choosing between one-click Gantt charts, Kanban boards, and traditional views.
Wrike also offers a possibility to manage activities, projects, and processes through folders and tasks, dashboards, calendars, notifications, and reports. This bug tracker has very good navigation and a user-friendly interface, and a number of templates in case you are starting from scratch and could use a little help to get started.
Like most other tools, Wrike also has numerous integrations with some of the most popular apps like Dropbox, Google, Microsoft, Github.
Keep in mind that many users complain about Wrike being too robust and flexible, which may be overwhelming for new users and teams. So, you may want to choose some other more simple tool.
Key Features
Due Dates
To-Do Lists
Kanban Board
Work Capacity
Progress Monitoring
Dashboards
Creation & Assignment
Task Prioritization
Community Forum
Collaboration
Time Tracking
Budgeting
Progress Monitoring
Pricing
Pricing starts at $9.80 per user per month. There are four different price points, including a free version and plans, which offer the ability to invite free external collaborators to a paid account.
Conclusion
Now that we have covered the best bug tracking software to keep an eye on, did we make your decision-making process at least a bit easier? If you are still facing a dilemma about which one to choose, we strongly suggest you opt for Infinity, not only because we created it, but because we know it will give you everything you need for successful bug tracking.
From customization and collaboration to time-tracking and document sharing, Infinity will help you streamline your processes and get rid of those bugs before in no time. The result? High productivity, strong efficiency and long-term project success.
Don't waste your time! Contact us to learn all there is to know about Infinity or schedule a demo with some of our experts. We'll be happy to answer all your questions and walk you through our simple yet powerful tool.
FAQ
How do you track bugs? When tracking bugs, the most important thing is to create a system that works well with your team. For example, you should design a bug reporting form that is informative but easy to fill out. If you organize bugs by project, version, or release, it will be easier for you to keep track. How do I create a bug tracking system? The easiest way to create a bug tracking system is to use some kind of software tool. This way you can design a process that will be straightforward and easy for your team to use, and save time by storing all information in one place and organizing it by project or other criteria. How does a bug tracking system work? A bug tracking system helps you log and track bugs so your team can handle them as soon as possible. There are many bug tracking tools that simplify this process and save time normally spent on bug tracking. Which bug tracking tool is best? Infinity lets you save and organize bug reports by filtering, grouping, and sorting them any way you like. There are 22 custom attributes, 7 project views, an infinite number of folders and subfolders you can create to add additional information. Infinity lets you integrate with other applications so you can organize everything you need within a single workspace.