16 File Sharing Software for Keeping Your Business Organized
When you play the game of file sharing, you win or you lose. There is no middle ground. Unless you have file sharing software to help you.
Can you remember how frustrating it was emailing large documents 20 years ago? You had to copy files to discs or attach them to emails, and wait for hours for these files to upload. And then, YouSendIt, a file-sharing service, came like a blessing in 2004.
The pioneer of file sharing software, this solution made it possible for individuals and businesses of that time to easily and securely share large files but also resulted in an increase of files created every day.
It also announced an era of modern, sophisticated file sharing and cloud-based software and storage services that offer some extra functionalities on top, such as file sync across multiple devices and document and file collaboration.
We've created an exhaustive catalog of 16 best file sharing software you can use to receive and share sensitive documents, multimedia files, multiple files at a time, and large presentations with friends, teammates, stakeholders, suppliers, vendors—basically anyone.
Let's go through major elements of file sharing programs, and then move onto the most exciting part—programs themselves.
8 Key Features of a File Sharing Software
Down below, you'll find the most important elements of any file sharing program you should meticulously consider before making an actual purchase:
Sharing Capacity—Some industries, such as video production, design, and gaming industry, may have higher file sharing requirements. Depending on your organization's needs, you'll most likely need a file sharing system that comes with no file-size uploading and sharing limits. Also, if you are typically sharing gigabyte-size files, look for a software with high-speed transfers, otherwise, you'll just waste time trying to share them.
File Formats—Not all software support sharing multiple file formats—text, images, PDFs, GIFs, videos. Thus, make sure to check whether the one you intend to purchase enables sharing formats you use the most.
Storage Capacity—Organizations with large workforces (research, graphic design, and IT companies) create large volumes of files each day. Thus, they need file sharing programs with bigger storage to save these files. If you want to share files worry-free, a software with 500GB+ of storage is a must.
Number of Users—How many people are there on your team? Is everyone creating, sharing, and receiving files? Then make sure not to cap on the number of users allowed to use the software. Note some vendors define their prices based on the number of users.
File Availability—Most file sharing programs come with basic plans that have a short file expiration date. Running a business, you just never know when you may need to share or download old files again. With professional plans, you get access to links and files you shared a while ago. Some file sharing software even allow you to create custom expiry dates or set your files to never expire.
Custom Controls—Speaking of custom expiry dates, some programs give you a bunch of extra and branding-related customizations so you can create a workspace that suits your specific file-sharing and business needs.
Collaboration Features—If you typically work together with your team on the shared documents, you'll need a software that supports task assignment, co-authoring, and commenting.
Mobile User-Friendliness—You can share files from the comfort of your office and on the go if the app you are using supports mobile file sharing. Managing, storing, and sharing data via your laptop, phone, and tablet can ensure a seamless experience.
16 Noteworthy File Sharing Software in 2023
1. Infinity — Crème de la Crème of File Sharing Software
Photos, videos, GIFs, presentations, PDFs, audios—you probably store all these files on your computer, right? Yet, are you happy with the amount of storage you get? Don't you think having all these in one place can be dangerous? Have you ever lost valuable files you've created and accumulated for so long due to accidental deletion or computer loss?
One thing is sure, no matter if you are planning a course, project, social media campaign, or organizing a video production project—you can't do without files. Infinity is the ultimate file sharing platform suitable for individuals, freelancers, and businesses who want to securely store and share all their valuable files—videos, docs, images, GIFs, PowerPoint presentations, and make sure everything is running like a well-oiled machine.
All this is possible thanks to our amazing set of customizable attributes. The "attachment" attribute lets you drag files from your computer and upload them in seconds. Infinity also integrates with 3,000+ apps via Zapier such as Google Sheets, Office 365, Dropbox, Box, Google Forms, and many more to help you generate all files from other platforms under one hub.
"I'm very happy with this purchase and I find the tool more to my liking after doing a trial of Air Table and subscribing to Asana and Monday (which has a much higher price point)." – John Kranz
With Infinity, you can organize your files by folders and projects and collaborate on them, set custom view/edit permissions, and receive notifications when someone from the team uploads new file versions.
Here's a short video of how intuitive and pleasing it is to use Infinity:
Key Features
Infinite Structure—Infinity has a fully customizable structure consisting of boards, folders, subfolders, and items you can use to neatly organize your projects.
Drag-and-Drop Interface—Simply drag and drop files from your computer to upload them to Infinity.
File Management—You need no other tool to store your files but Infinity.
Team Collaboration—The comment section enables constant communication with the rest of the team on the next actions they should perform on files.
Internal and External Sharing—Infinity lets you upload and share documents internally, with teammates, and externally, with stakeholders.
Activity Log—With Infinity, you can track your employees' activity on files in real-time.
Granular Permissions—Set up your team's roles and permissions on working on files.
Storage—Depending on the plan you choose, you can get anywhere between 5 and 150GB of storage for all your files.
Backups—Infinity cares about your files' security. We do backups two times a day to prevent your files from missing.
Multiple Select—Select multiple files at once and share them via links outside Infinity.
Mobile and Desktop Access—Upload, access, and manage your files via Infinity's dedicated web and mobile apps.
With Infinity, you can upload files, share and collaborate on them using a single tool and save a lot of time and money and boost your team's productivity, big time. Additionally, you can use one of the many templates (there are 50+ pre-made templates in our database) to organize your files:
INFINITY TIP: If you are working in video production, use Infinity's custom attributes such as video stage, target length, and release date to track progress. Create and upload thumbnails to make your videos more clickable once released.
Pricing
Infinity's subscription plans are twofold: Basic and Pro. Pricing for the Basic plan begins at $3.75 per user per month, while the Pro plan pricing starts at $6 per user per month. All plans come with a 14-day money back guarantee, which allows you to get your money back in 14 days from the moment of purchasing a subscription plan.
2. Dropbox — An Intuitive File Sharing Software
Image Source: dropbox.com
Dropbox is one of those well-familiar platforms that offer stress-free and effortless file sharing in real-time. It supports sharing a myriad of file formats, including simpler ones like images and videos, to zipped and CAD files with anyone, including non-registered users, via computer, phone, or tablet running on any system (Mac, PC, Linux, Android, and iOS).
With this file sharing software, you really don't have to worry about file size limits. It supports sharing large files and has no restrictions on the number of files shared or how many users can share these files either.
Dropbox instantly notifies you and all the recipients about any changes made to your files—views, edits, etc. You can use it to collect files to one central location where other members of the team can access them or divide file-heavy projects into multiple folders and then share these folders with the rest of the crew and other relevant parties and set folder permissions (view-only or view+edit).
Integrated with Slack, Dropbox lets you share files, write comments on files, and communicate with different departments, while it offers great functionality to Office and G Suite users who can use it to create and organize files in an efficient and productive way.
Dropbox is one of the most popular file sharing programs for individuals while businesses can upgrade to their business plan if they need more storage.
Key Features
All File Formats Supported
Unlimited File Sharing
Cloud Storage
Real-Time Updates
Shared Folders
Granular Permissions
Important Folders Backup
Google Docs, Microsoft Office, Sheets, and Slides File Sharing
Integration with Slack and Zoom
Mobile Offline Folders
Pricing
Dropbox is priced at $9.99/month for individuals while professional plans for individuals start at $16.58month when billed yearly.
3. Google Drive — A File Sharing Software with Productivity and Collaboration Features
Image Source: developers.google.com
Google Drive is one of the most user-friendly file sharing programs for users already familiar with the Google ecosystem, although it is a no-brainer to use for non-Google users as well. It supports cloud storing and sharing files, collaborating on files and folders, and accessing them via any device—mobile, tablet, or computer.
You can use it to store, edit and share 100+ file types, including images, videos, audios, PDFs, and CAD files, and edit and share Microsoft Office files without having to convert them. It takes (wait for it) 45 seconds to upload a 195MB file, which is fairly impressive. Fun fact—Google Drive is 50% faster than with most other file sharing software.
AI-powered, it offers powerful search capabilities such as "Priority" to help you find files at a glance and predicts which files you may need at a certain moment. Integrated with some of the popular cloud-native apps such as Sheets, Docs, and Slides, this file sharing system encourages real-time team collaboration via Google productivity apps.
Using Google Drive means seamlessly creating and sharing files within your teams and organizing them any way you want while resting assured they are well kept. Google Drive is indubitably one of the most used free file sharing software among individuals, startups, freelancers, and businesses looking for a sophisticated, easy-on-the-pocket solution that supports efficiency, collaboration, and productivity.
Key Features
100GB/User
100+ File Formats Supported
AI-Powered Searches
File History
Shared Drives
Team Messaging
Audit and Reporting
Integrated with DocuSign, Slack, Atlassian, Slack
Offline Access
Sync Across All Devices
Pricing
Individuals can use Google Drive for free as long as they need no more than 15GB of storage. Paid plans, for teams, start at $8/active user/month.
4. Hightail — A Secure and Fast File Sharing Software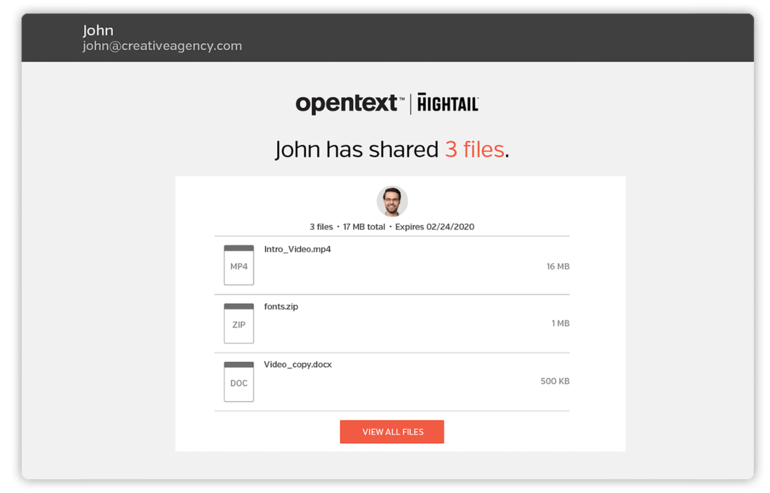 Image Source: hightail.com
Remember the file sharing pioneer we mentioned in the intro, YouSendIt? Well, it was rebranded back in 2013 to Hightail, a file sharing system that supports uploading, sharing, and receiving both small and large files (JPG, PDF, PTT, Zip, CAD, MP4) with registered and unregistered users.
Drag and drop files from your Google Drive, Dropbox, OneDrive account, or your computer, preview files before hitting that send button, access files at a click, and download docs lickety-split.
This software features a unique visually-pleasing shared-space interface that promotes team collaboration. You can view, edit, and send multiple files at once and receive feedback on the latest versions of your files.
With Hightail, the best file sharing platform for businesses, you can track all files sent and received and recent activities your teammates and recipients make on files as this app boosts team collaboration and even provides extra features meant for teams. Next, it allows you to protect files with access codes, allow or prevent commenting and downloading, and add security permissions to your content.
Key Features
All File Formats Supported
Unlimited Storage
Sent File Tracking
Delivery Notifications
Fast File Download
Automatic Desktop Folder Sync
Automatic Email Notifications
File Expiration Date Control
Enterprise-Grade File Security
Integrated with Zapier, OpenText Core, OpenText Media Management, Google Drive, and Microsoft OneDrive
Pricing
Hightail is forever free for sharing smaller files until you reach 100MB of uploaded files and 2GB of storage. Their paid plans start at $12/month.
5. Box — A Cloud-Based File Sharing System with Best-of-Breed App Integrations
Image Source: pcmag.com
Box is a file sharing program built to help you securely share 120+ file types (Word, Excel, PDF, PSD, Zip, etc.) of any size via links or directly from any device you own to recipients. Also, recipients can open, edit, comment, download, or forward files you've sent no matter whether they have or don't have a Box account.
You can already tell its functionality goes far beyond sharing files. Box is a place where you can create, edit, store, and manage all your content, bring your people and applications together in the cloud and speed up and streamline business processes.
This platform boosts collaboration inside or outside your organization, and, thus, encourages internal and external communication with your teammates and partners to ensure everyone is on the same page.
Box automatically syncs any changes and updates made to a shared file so you can keep track of your team's activity and prevent edits to the wrong files. It promotes a tight control over file sharing and comes with several permissions levels. Being one of the most advanced business file sharing software, Box lets you set expiration dates on shared files to ensure you never lose valuable content (or keep it for as long as you need it).
Key Features
120+ Files Supported
Cloud Storage
One-Click File Sharing
Customizable Shared Link Settings
Real-Time Notifications
Expiration Dates
Data Encryption
Unlimited External Collaborators
Document Watermarking
1,400 Integrations
Pricing
Box has plans for individuals (free and paid) and businesses (starting at €4.5/user/month when paid annually).
6. WeTransfer — An Artsy File Sharing Platform for Creative Teams
Image Source: wetransfer.com
No file is too large for WeTransfer, one of a few beautifully designed file sharing platforms on the market with superb cross-functional features. WeTransfer makes it so easy to send up to 20GB in one go (no zipping required) and helps you deliver your ideas around the world and make a bigger impact. It has a simple drag-and-drop interface so you can move your files (images, videos, notes, graphics, and presentations) with just one click.
You get 1TB of storage for files of all types and manage transfers and expiration dates for the following week, month, or choose to keep them around forever. This software gives you a deep insight into your transfers and the number of downloads.
Not only you can track downloads but undo wrong file transfers by simply deleting them and sending the right ones. WeTransfer lets you set password protection to keep all your files and transfers secure so you can sleep tight knowing no one can steal your valuable information.
The main reason why creatives and creative teams put this file sharing software forward is that it lets you design a page that will display your personality and transfer this design to your email background to add a little bit of a twist in your client's inboxes when sharing links and files.
Key Features
Super-Fast File Upload and Share
1TB of Storage
Email and Link Sharing
Custom Expiration Dates
Total Downloads
Drag-and-Drop Interface
Access Controls
Custom URL
Slack Integration
Available on Mobile and Desktop
Pricing
WeTransfer has a forever-free plan with basic functionalities and a full-featured paid plan ($12/month).
7. Citrix — The Best File Sharing Platform for Small Businesses
Image Source: citrix.com
Citrix is a unique file sharing system built with a clear goal—to remove workflow complexities and provide a simple and secure virtual working space for small and medium businesses. Its ShareFile feature can help you store files in virtual data rooms, expeditiously share an unlimited number of files up to 100GB, and get feedback and e-signature on each, on any device.
This file sharing software lets you access your files anywhere—whether you are in the office or on the fly, protect these files, emails, and attachments, and keeps them safe in the cloud. Citrix encourages collaboration and makes communication with clients smoother. You can add an unlimited number of clients and share as many files as you need with each through a unique and secure login, and even let them edit files.
Besides storing and sharing text files, images, and videos, Citrix collects feedback on your files and pulls files from your emails and inboxes to free you up from clutter. The tool's analytics capabilities can help you detect and resolve potential threats to your valuable files and prevent intrusions.
Citrix partnered with Wrike to help businesses manage projects, achieve higher levels of productivity and automation, and create a simple and secure way to work.
Key Features
Sharing Files up to 100GB
Unlimited Storage
Cloud File Sync
Unlimited Clients
Real-Time Collaboration
Personalized Feeds
E-Signatures
Office 365 Integration
Available on Mobile and Desktop
Pricing
Citrix's pricing starts at $2/user/month and goes up to $25/user/month.
8. Synology Drive — An Enterprise File Sharing Software
Image Source: synology.com
With Synology's File Station, you can share your files with anyone, via multiple platforms—Windows, Linux, and MAC computers and Android and iPhone phones. This business file sharing software is one of a few that can not only change the way you access and share data but your whole working method as well.
It acts like a file manager so you can use it to request file uploads, share, and download files with just one click. Sharing links with Synology, you can specify file validity periods, set passwords, and customize access permissions.
Synology connects with Google Drive, Box, Dropbox, and Microsoft OneDrive and makes it convenient to access and transfer data stored in these files. The built-in universal search feature lets you search through all your files (documents, photos, videos, music) in seconds while it also boasts keyword searches within documents for more refined results.
You can choose to permanently keep or permanently delete your files to declutter your workspace. Speedy, secure, and simple, Synology's file sharing system ensures maximum usage of the Internet and can be of great use when sending massive files so you can use your time in a more efficient manner.
Key Features
Public Cloud Storage
Cross-Office File Sharing
Online File Editing
Previous File Version Restore
Universal Searches
Keyword Searches
Sync on Demand
Custom Expiration Dates
Real-Time Collaborations
Scheduled Backups
Pricing
Contact Synology via email to find out more about their pricing options.
9. FileCloud — A Simple and Clean Enterprise File Sharing Software
Image Source: getfilecloud.com
FileCloud is one of the best file sharing software for business. Although it seems quite basic at first, this platform features great functionalities, starting from uploading and searching for files, downloading files and folders, viewing recent activities on files, to more advanced features like renaming files and folders and setting access privileges.
It lets you upload and share an unlimited number of files with no size limit, set expiration dates, and share these files publicly or privately. FileCloud supports previewing, uploading, and sharing files of various types, including PDFs, Word, Excel, and PowerPoint documents, as well as medical images.
One of the highlights of this file sharing program is that you can view, upload, and forward files you receive via emails without leaving the app. On top of this, FileCloud keeps all your files secure and lets you set folder and subfolder permissions.
It gives you full control over your files so you can lock them for edits or enable conversations within files and notifies you when other users share new files or update the existing ones.
Key Features
Large File Support
No Storage Limit
Unlimited Users
Automatic Unlimited File Versioning
File Previews
Restrict File Uploads
File Locking
Smart File Classification
View-Only File Sharing
Sync Across Devices
Pricing
FileCloud's pricing starts at $4.20/user/month for smaller organizations. They also have custom plans for enterprises.
10. Egnyte — A Fast and Secure Business File Sharing Software
Image Source: egnyte.com
Egnyte could be one of the best file sharing software for business. It smooths out sharing files, regardless of their size, which ensures a smoother workflow and efficient file collaboration, so no time is wasted.
You can access, share, and collaborate on any type of file, including massive file folders, from any location, even at places with unstable or limited connectivity, and any device. Egnyte sync files on the go (even when you are offline), right after any changes are made and saves you a lot of time you would otherwise spend waiting for changes to sync.
With Egnyte, you can share files internally and externally (via links and emails), request files, download them, and manage file access. This file sharing software integrates with multiple third-party platforms like Slack and Teams and makes it easy to access media and design files, folders, and projects at a glance.
The final touch that makes Egnyte so special is that you can use it to collect files from external folders, remove file size limitations, and schedule automated bulk file transfers.
Key Features
Large File Sharing
1TB of Storage
Recent Files
Internal and External Sharing
Online and Offline File Sync
Custom Keyword Classification
Security Backups
Automated Archiving
Unlimited Integrations
Mobile and Desktop Apps
Pricing
Egnyte's plan for teams is priced at $10/month/employee, their business plan at $20/month/user, while they have enterprise plans with custom pricing as well.
11. Wire — An Eye-Catching Enterprise File Sharing Software with Productivity Features
Image Source: wire.com
Wire is a unique file sharing software designed to help enterprises overcome file sharing limitations and boost the security of these files and the productivity of the whole company.
All files you share with other members of the team or clients are end-to-end encrypted and locked for everyone but receivers. You can set privacy settings on who can send files – your team members and/or pre-approved guests, which reduces the risk of malware but also makes collaboration smoother.
Search features built in Wire can help your team save up to 30% of the time you would, otherwise, spend searching for certain files. Use Wire's visual searches to quickly locate files, whether it be photos, screenshots, links, or documents, and its fast searches to find files shared via messages.
This file sharing platform is available on mobile and desktop devices and provides lots of powerful functionalities either way so you can have a pleasurable experience with sharing files. Got a new device recently? Install Wrike on your new gadget, restore history, and get access to all files shared from day one, even with low bandwidth.
Key Features
Ephemeral Messages and Files
Internal and External File Sharing
File Updates
Powerful Visual Searches
Team Collaboration Features
Custom User Permissions
Secure Guest Rooms
End-to-End Encryption
Integrated with Zendesk, Okta, Rambox, and All-in-One Messenger
Pricing
Wire's Pro plan is priced at $5.83/user/month and their Enterprise plan at $9.5/user/month.
12. Pydio — An Enterprise File Sharing Software and Sync Platform
Image Source: pydio.com
Pydio is a file sharing platform built for collaboration within and outside your team. It acts as a central hub for all your files that allows you to easily upload, manage, download, and share files up to 5TB in seconds, which makes it one of the most powerful solutions on our list.
Boasting an easy-to-organize interface, consisting of Workspaces and Cells, Pydio can help you sort files and arrange them by folders, share them securely in a few clicks with your team members and external stakeholders. You can also chain together actions on files to ensure a smoother workflow and encourage your team members to perform tasks in a timely manner.
With Pydio, you can assign different tags to files and folders, filter them to pull the ones you need right away, move, copy, rename and delete files, and even generate file reports. This file sharing platform lets you identify user roles and set permissions and expiry dates to protect valuable info.
Finally, Pydio makes your files accessible from anywhere, anytime, via desktop and mobile apps and comes with Online Office Suite and Online Chat so you don't have to switch between apps but directly work and collaborate with the team on files.
Key Features
Convenient Large File Sharing
Drag-and-Drop Interface
File Actions
File Tags
Filter, Sort, and Group
User Roles
Built-In Collaboration Tools
Internal and External File Sharing
Reporting Features
Desktop and Mobile Apps
Pricing
Pydio is free for home users, while their paid plans come at 2,980€/year for teams of 100 users.
13. Bitrix24 — A 100% Secure Business File Sharing Software
Image Source: bitrix24.com
Bitrix24's My Drive is an enterprise file sharing software, cloud or self-hosted, that comes with a suite of powerful features that can also make managing and editing your documents and files a breeze. It acts as a centralized access point for personal and business files you can organize into separate folders and keep them conveniently stored in one place.
With Bitrix24, you can upload new files on a daily basis and get the most out of the app's unlimited storage, but also delete obsolete files to de-clutter your workspace. It is armed with various search filters so you and your coworkers can access the right files whenever you need them, without losing a minute.
A desktop version of Bitrix24's My Drive gives you insights into the most recently uploaded or edited files, including names of persons who created and edited these files. Each time someone uploads or edits a file, the app will notify you right away so you can keep track of all team's activities.
With My Drive, you can collect files and folders shared with you via other drives and apps as well, as it integrates with Zapier, Zoom, Mailchimp, Whatsapp, and hundreds more. Bitrix24's file sharing system provides flexible access anywhere you are, online and offline, and via desktop devices and mobile apps.
Key Features
Unlimited Users
Cloud or Self-Hosted
File Revision History
Multi-User Online File Editing
File Sync
Custom Access Permissions
File Filter and Search
Floating Notifications
Daily Backup
Offline Access
Local and Online File Editing via MS Office, OneDrive, and Google Drive
Pricing
Bitrix24 is probably the best free file sharing software for individuals and small teams. They also have special and business plans starting at $19/month with awesome file sharing features.
14. Slack — A Collaborative File Sharing Software
Image Source: slack.com
Slack is a collaborative-in-nature software that comes with outstanding file sharing features that boost communication within the team and outside your company. With this file sharing program, you can add any type of file (photo, video, presentation, documents) to any conversation to add more context to it and explain critical details about tasks and projects you are on, share these files outside the team, get feedback from clients, and search for files in discussions.
All this, thanks to channels—searchable spaces in Slack, within which you can conveniently store convos and files, access them whenever you want, and give access to third parties when it's needed.
Working on projects, you are probably dealing with big files. Slack lets you collaborate on large files, break them into pieces and share across different departments for better work organization. Even more, you can share your files from any device—computer, mobile phone, or cloud storage service in a matter of seconds.
Slack lets you conveniently upload and forward files via its drag-and-drop interface from Box, Dropbox, OneDrive, and GoogleDrive, and integrates with hundreds of other productivity apps to help your team quickly take action. Last but not least, this business file sharing software gives you full control over who can access and edit your files and find them in searches so you can sleep tight knowing no one can misuse your valuable info.
Key Features
Up to 1TB of Storage/Team Member
Drag-and-Drop File Upload and Share
Large File Collaboration
File Export from Messages
File Searches
Number of Views
Real-Time Notifications
Auto Sync
Access Permissions
Integrated with 2,200+ Apps
Pricing
Slack is free for small teams and their pricing plans start at $6.67/month.
15. ProjectSend — A Self-Hosted File Sharing System
Image Source: projectsend.org
ProjectSend is a one-of-a-kind file sharing software you can easily install on a shared web hosting account or your own VPS. What are the main benefits of using a self-hosted app? With ProjectSend, your files are fully secure and kept in your own space.
As its name suggests, the app is built with project management in mind and lets you easily upload files, share them across different departments, and assign them to other members of the team. Next, you can share files with clients and client groups, who can also upload files you can further edit.
One of the best things about this file sharing program is that it gives you and other administrators a detailed overview of activities on your files—edits, downloads, viewers, etc. so you can keep control of both your team members and your clients.
ProjectSend makes a great choice for a variety of users—distributors, non-profits, companies, and professionals due to its comprehensive file-sharing capabilities that can improve communication and productivity and help you grow day by day.
Key Features
Self-Hosted
Unlimited File Size Uploads
File Sharing with Groups and Clients
Show/Hide Files
Detailed Log of Actions
Sortable Lists of Files
User Roles
Available in 35 Languages
GitHub Integration
Pricing
To find out more about ProjectSend's pricing options, contact them via email.
16. MediaFire — An Affordable File Sharing Software
Image Source: mediafire.com
MediaFire is one of the simplest solutions for uploading, storing, and sharing files (docs, photos, PDFs, videos, and audios). Being one of the best file sharing software, it lets you create file folders by projects to organize your workflows in the most efficient way and share these files and folders (no matter of their size) via links, email, social media profiles, or on your website almost momentarily.
You can also download files in bulk, directly to your MediaFire account, in a single click from websites, social networks, and emails, and then organize them into folders, ZIP files, and projects.
MediaFire is accessible via all devices so you can view, manage, and share files from your office, home, or on the fly. The built-in file manager makes it convenient to upload, move, copy, and search your files and control access.
The most unique feature of this file sharing system is a free One-Time Link you can use to protect personal and work documents from further sharing. This way, you can rest assured no one but recipients will get access to confidential documents. As a cherry to the top, MediaFire offers an ad-free, pleasurable experience for large companies, professional photographers, or avid collectors that need a tool that can help them get an edge over their competitors.
Key Features
100 Users + 100+ Additional Users
Easy File Upload and Share
Unlimited Bandwidth and Downloads
Powerful File Manager
One-Time Links
Multiple Uploads at Once
Ad-Free Sharing and Downloads
Password Completed Files
Long-Term Storage
Detailed Security Log
Pricing
MediaFire offers a free plan with 10GB of storage, a pro plan at $3.75/month, and a business plan at $40/month for 100 users when billed annually.
Wrapping Up
We've come a long way together to reach this point. Now, the main question is – can you tell the best one out of these 16 file sharing software?
Infinity is one of the most flexible tools for any individual and business and could be the right choice if you are looking for a comprehensible, affordable solution. If you share our opinion, schedule a demo call or email us at team@startinfinity.com if you have second thoughts and would need any further explanations.
FAQ
What is a file sharing software? A file-sharing software is a cloud-based program that allows individuals, teams, and companies to transfer, store, share, and sync various files with more ease. A file-sharing app helps users upload files to a shared storage space and then decide who can access those files. What is the best file sharing software? The best file sharing software is one that not only helps people transfer files online, but also manage them without a hassle. There are plenty of great file sharing software out there, although it's difficult to single out only one. Some popular choices include Google Drive, DropBox, Slack, Hightail, WeTransfer, Infinity, etc. Why is Infinity a good choice for a file sharing software? Infinity helps you upload, store, and share files in one place, which makes it a lot easier to manage your important documents, images, etc. Additionally, other people in your team can see the files, as well, making collaboration smooth. Finally, Infinity keeps your files safe and ensures they stay within the software no matter what. How much storage does Infinity offer for my files? Depending on the plan, Infinity can offer anywhere between 50GB to 5,000GB of storage for all of your files.