Kanban Software to Use in 2023—Top 20 Picks
One thing's for sure: using a Kanban software definitely works a lot better than just closing your eyes and visualizing your projects.
It all started in Japan, back in the 1940s, with Taiichi Ohno, the Master Mind of the Toyota Production System. This engineer invented a methodology based on the way supermarkets managed their inventory—by not overstocking shelves but making sure to meet consumer demand.
Taiichi developed a management method to align the use of materials when making cars and the company's inventory levels. Workers passed cards between teams to communicate work capacities and materials needed with suppliers in real time. This eliminated unnecessary work and increased the overall productivity.
David J Anderson wrote a book, Kanban: Successful Evolutionary Change For Your Technology Business, and broke this methodology into 5 components: visual signs, columns, WIPs, commitment points, and delivery points, and introduced Kanban to agile software development teams.
Today, Kanban is the holy grail of numerous successful and prosperous companies with steady workflows. The beauty of this productivity method lies in its flexibility to adjust to almost any type of team.
It makes task planning and creation quick and convenient, helps with managing the amount of work in progress, keeps you focused on what's important at that moment, gives you a detailed overview of each task, but provides a birds-eye view of your project as well. Kanban also acts as a database for documents related to tasks and projects you can access whenever you want, from any device you own.
If you are looking for a tool that can help you manage and organize workflows, identify bottlenecks, eliminate distractions, and focus on delivering value, check out the list of 20 Kanban software we've compiled just for you.
But first, let's take a quick tour and discuss some of the main benefits of Kanban tools.
Kanban Software—Key Benefits to Keep in Mind
Increased Focus—Most productive individuals swear by multitasking, claiming it fuels productivity and helps them get more things done throughout the day. Yet, doing a bunch of tasks at a time can actually make you feel overwhelmed so you lose focus. Kanban teaches us to slow down and dedicate attention to individual tasks if we want to achieve true productivity and eliminate errors.
Customizable Workflows—Kanban tools are great to use as you don't have to start from scratch every time you start a new project. Most apps have pre-made templates you can further customize to fit your workflows.
Increased Transparency—You can't really reach your goals if you don't have a detailed overview of your projects and tasks, as well as your team's skills and potential. Kanban tools also give you and your team members a better understanding of each card, so everyone knows whether you all are going in the right direction.
Improved Organization Skills—A Kanban board app makes it easy to plan, create, prioritize, track tasks and projects, and improve organization. You can break down projects into tasks and subtasks, and start working on the essential ones first, then write them off one by one by using checklists.
Improved Team Communication—Poor communication can be fatal for your business. Kanban tools facilitate communication by allowing team members to add comments, chat in real-time, and mention each other in tasks and projects.
Tracking Performance—Kanban ensures you are operating at a stable and predictable system. Most of the tools we are about to list below have reporting and forecasting capabilities so you can have clear insights into your team's performance, identify the eventual hiccups, etc.
Top 20 Kanban Software to Look Out for in 2023
1. Infinity — A One-of-a-Kind Kanban Tool with Endless Customization Options
Kanban is no rocket science, but Infinity makes it even more fun and simple. This Kanban project management software is so flexible and user-friendly that you will fall in love with the famous Kanban cards right away. Infinity features a stunning and colorful interface, and since Kanban is all about visualization, it's clear that we might be a match made in heaven.
Infinity gives you the freedom to customize your workflows any way you want, and there's a slight chance you'll get addicted to spending time creating projects and tasks and completing them bit by bit.
It doesn't matter how many projects you are working on or how many team members are involved, Infinity has endless capacities. You get an unlimited number of boards to structure however you want and ensure a seamless workflow and maximum productivity within your organization.
Infinity offers a great overview of your projects and tasks and lets you divide them by folders, subfolders, and tabs to keep your Kanban boards tidy. Once you organize your items, you can start giving them a deeper context by assigning them attributes, such as due dates, checkboxes, attachments, etc, filter and group them, and drag-and-drop them across the board by stages to eliminate repetitions and track progress.
"Question that lies here is. What you CAN'T do with SI? We have been using this amazing tool for quite some time, and the team behind it is always improving it and adds new features. This is a work of love, and the tool is really powerful. You can shape it to adapt to your workflow, or, use the templates they provide." – Leonardo Wolff
Additionally, you can use Infinity to automate some of your tasks (especially the ones you don't like), set your own rules, and leave repetitive actions to us so you can focus your attention to what matters the most.
Infinity's integration with Zapier will allow you to level up your Kanban game by using all the apps you normally would, just in combination with Infinity. You can integrate with over 3,000 different apps and make your workflow run more smoothly.
Let's check what working in Infinity looks like:
Key Features
Infinite Structure—Create an infinite number of boards and customize them in an infinite number of ways.
7 Views—You can switch between seven different views to get a better—or just more interesting—overview of your tasks. Choose the Columns view and make any task Kanban-like.
Pre-Made Templates—With over 50 templates in our database, it's practically impossible not to be able to find a template that suits your projects.
Automations—Automate repetitive tasks, build custom rules, choose your triggers, and you'll reduce bottlenecks and develop a system that works for you.
Task Management—Create tasks, delegate them to your teammates, and see how well they can manage.
Activity Tracking—Get real-time updates every time someone uploads a file, makes a comment or completes a task.
Progress Tracking—Check the progress bar and tell by its color how much work is left.
Drag and Drop Interface—Importing elements to Infinity and moving tasks as your projects proceed is a breeze.
Priority Management—Kanban is all about putting important work to the forefront. Group tasks by priority (high-medium-low) and check them off, one by one.
Document Management—Upload and store everything that's important.
Zapier, Trello, and Clockify Integrations—Infinity is a one-stop-shop as it integrates with 1,000+ apps and combines all the features you need to incorporate Kanban.
Desktop Version, iOS and Android Mobile Apps—Use Infinity whenever and wherever you go, either on your laptop or your phone, and never miss a beat.
What's great is that you don't have to waste a lot of time figuring out how to start using this Kanban tool and setting up your boards. We've designed a simple, yet powerful Kanban template you can start using within a few minutes, as well as a dozen of other templates that will help you get started more quickly.
Here are just a couple as an example:
INFINITY TIP: You can add different statuses and names to your tasks. Color-code each status (for instance, dark to light blue or vice versa) to make a clearer distinction between the stages of progress.
Pricing
Infinity offers Basic and Pro plans, with Basic plans starting from $3.75 per user per month, and Pro plans from $6 per user per month. There's also a 14-day free trial you get to use once you sign up for an account.
2. nTask Board — The Best Kanban Software for Professionals
Image Source: ntaskmanager.com/blog
Improved planning and sorting, real-time communication, and smooth workflows reflect what nTask's personal Kanban board system offers. You can use it to track your projects and performance in a visually attractive way, find and solve problem areas, and meet deadlines with ease.
nTask offers a great selection of pre-made Kanban templates so you can start adding projects and tasks right away, prioritize and move them along the board, attach images, files, and documents to them, and assign these tasks to your teammates.
With nTask, you can keep all that matters in a centralized hub, complete tasks on time, eliminate inconsistencies, communicate with the rest of the team in the comment section to ensure a seamless workflow and increase productivity.
Key Features
Multiple Kanban Boards and Cards
Custom Statuses
Automated Workflows
Task Reports
Data Filtering
Drag and Drop Interface
Team Collaboration
Real-Time Notifications
Gantt Charts
Integration with 1,000+ Apps
Availability on All Devices
Pricing
nTask is free for as long as your team has 5 members and you need no more than 100 MB storage. If you need extra features, nTask offers paid plans starting at $2,99/user/month when billed annually.
3. MeisterTask — A Kanban Board App Ideal for Big Teams
Image Source: meistertask.com
Incredibly intuitive and flexible, MeisterTask is a dazzling Kanban board app. It provides you with all the features you need to establish a seamless workflow, communicate with the team, and track time and performance.
Although it is primarily a visual tool, MeisterTask offers greater functionalities, including recurring tasks, task automation, etc. With it, you can assign tasks, add tags, update task statuses, set due dates, move tasks from one section to another or let the app do everything for you.
MeisterTask notifies you about the eventual blockages, once these blockages get resolved, as tasks are getting completed, and provides insights—reports and statistics that can help you get a better grasp of your team's productivity. It has no learning curve and you can get productive from the very first minute of using it.
Simple, yet packed with all the essential features, this Kanban tool adapts to your needs so you work smarter, not harder.
Key Features
Several Workflows (including Kanban)
Multi-Board Views
WIP Limits
Project Planning
Task Management
Custom Fields
Time Tracking
Due Dates
Task Dependencies
Multiple Checklists
Available on Web and Mobile
Pricing
MeisterTask offers a basic free plan and several paid plans priced at €4.19/month and up.
4. Asana — An Easy-to-Use Kanban Project Management Software
Image Source: asana.com/uses
Asana is one of the most flexible software allowing you to customize your workflow, track the progress of the team in a visually appealing manner, and acts as your personal Kanban board.
It lets you create clear workflows, spot bottlenecks, gives you visual insights into the tasks that need to be completed, and lets you move them from to-do to done lists.
With Asana's Boards view, you can create columns that represent several stages of your work: new work, priority work, on-hold, and completed. Each column consists of cards that represent tasks, you can name as you wish, add additional info about each, add deeper context, attach files, and search these tasks by tags.
Asana allows you to automatically drag and drop tasks to move your work through stages or you can do this manually. For instance, you can assign tasks to other members and move them into the In progress column or let this Kanban board app do this for you – everything for the sake of better time management and higher productivity.
Key Features
Board View
Automated Workflows
Drag & Drop Interface
Task Dependencies
File Attachments
Timeline Features
Real-Time Communication
Custom Statuses
Over 100 Integrations
Sync Across Devices
Pricing
Asana offers a free plan and 3 paid plans (starting at $10.99).
5. Kanbanize — The Best Kanban App for Beginners
Image Source: kanbanize.com/kanban-resources
Kanbanize is one of the leading Kanban board software that can provide a better overview of your projects and help you plan and execute tasks in a time-efficient manner. This software features an amazing work hierarchy including management boards and team boards to which you can add projects and break them down into tasks, and then delegate these tasks to your team members.
You can also leave comments on these tasks, assign them colors, set deadlines, and even see history logs. The tasks are automatically categorized by progress and potential risks so you can stay in control of your workflows, optimize them when needed, and eliminate overlaps.
Kanbanize offers a high level of transparency across all levels and a plethora of performance metrics and analytics modules (Cumulative Flow Diagram, Cycle Time Scatter Plot, Blocked Time Heatmap, and Monte Carlo Simulations and Forecasting), so you can accomplish continual improvement within your work organization.
Key Features
Unlimited Board Flexibility
Card Templates
WIP Limits
Custom Fields
Role-Based Access
Team Workspace
Workflow Analytics
Time Tracking
Dozens of Integrations
Sync Across Multiple Devices
Pricing
Kanbanize offers a free trial and a paid plan priced at $149 when billed annually, or $179 when billed monthly.
6. Jira — The #1 Kanban Board Software for Agile Teams
Image Source: atlassian.com/software/jira
Although it is most famous for being a top-notch agile scrum software, Jira also implements the Kanban method that turns your workflow into stunning visuals and allows you to organize and track task completion and performance with ease. It features an eye-catching Kanban board that supports a grid system so you can compare plans and progress.
This Kanban tool boasts real-time reports so you can have accurate insights into your team members' results. With it, you can plan activities throughout the day, organize long-term projects, as well as prioritize and delegate tasks to your colleagues.
Besides being able to assign work, follow your team's activity, and capture issues, with Jira you can automate some of the actions and streamline your workflows.
Keep in mind most Jira features are Scrum-oriented and this software could be a bit overwhelming for a new-comer but you can certainly find it useful if you have a bigger team and already have some experience with Kanban.
Key Features
Kanban Board Templates
KanbanBacklog
WIP Limits
Cross-Team Dependencies
Automation Tools
Custom Workflows
Timeline View
In-Depth Analytics
World-Class Integration
Available on the Apple Store and Google Play
Pricing
Use Jira for free or pay $7 or $14/month/user for their standard or premium plan.
7. Monday.com — A Simple Kanban Tool with Hundreds of Integrations
Image Source: support.monday.com
Monday.com is an intuitive Kanban software that can help you plan workflows, allocate and use your resources better, understand your pain points, communicate with ease, and keep projects under control.
This tool has an intuitive and simple, still attractive structure that supports numerous useful features, such as multiple views, attaching files, making comments, etc. It collects data from your boards and uses it to create reports, so you can see if your projects are going in the right direction.
Monday.com offers several standout task management features such as task delegation, hours spent, deadlines, automation, and a bunch of customization options so you can design a personal Kanban board and make sure you don't miss a chance to make your workflows more efficient.
Key Features
Customizable Kanban Board
Backlogs
Automatic Notifications
Drag and Drop Interface
Export/Import
Gantt Charts
Reports
Time Management
Integrated with Hundreds of Apps
Sync Across Desktop and Mobile Devices
Pricing
Monday.com offers a free trial and 4 paid plans, starting at $8/seat when billed annually.
8. Trello — The Most Popular Kanban Board App
Image Source: trello.com
Trello is a project management tool and a visual collaboration tool based on the Kanban framework. It can be your personal Kanban board that helps you manage and organize tasks in to-do list formats.
It uses boards, lists, and cards that serve as task containers and represent the steps of the process. You can name and rename these lists to match your next actions, add as many as you want, and share them all with your team members.
Trello cards represent ideas or tasks you can split into more manageable ones and then assign them to other people, label or color them, add due dates, attach documents and files, and create related checklists. You can move tasks across the board to change their status and have a better overview of the workflow.
However, as a Kanban tool, Trello doesn't support some of the inputs crucial for Kanban. You can't describe cards, set WIP limits, or measure cycle time. Although not a fully-featured Kanban system, Trello can bring a better vision of the Kanban system closer to you and integrates with multiple apps that can make up for this lack of functionalities.
Key Features
Board Collections
Checklists
Calendar View
Data Filtering
E-Mail Notifications
Deadline Reminders
Drag & Drop Interface
Privacy Settings
Third-Party Integrations
Available on Android and iOS devices
Pricing
You can use Trello for free or sign up for a paid plan (starting at $9.99).
9. Flow-e — A Free Kanban Board for Managers and Small Business Owners
Image Source: flow-e.com/blog
Flow-e is an elegant Kanban-style software that kinda reminds of Trello but offers a little bit extra.
This tool was created with a clear goal in mind: to make it convenient for you to plan and complete projects and tasks within your Outlook inbox. Simply transform your emails into actionable items and you will have them all in one place, in a Kanban view. Flow-e also helps you focus on a single task at a time and eliminates distractions.
With this free Kanban software, you can categorize and group tasks, delegate them to others, add notes, create subtasks, set deadlines—so you can manage your workflows in a time-efficient and productive manner.
If you don't mind using it on your desktop devices only, this Kanban board software could tick all the boxes for you and tame chaos in your mailbox.
Key Features
Kanban Boards with Unlimited Columns
Card Tagging
WIP Limits
Custom Lists
Email and Task Management
Calendar View
Timeline View
Meeting Reminders
Track Delegated Tasks
Integration with Kanbanize
Pricing
Flow-e is completely free if you are an individual and completely free if you are already using Kanbanize and working with a team.
10. Taskworld — The Best Kanban Software for Android Users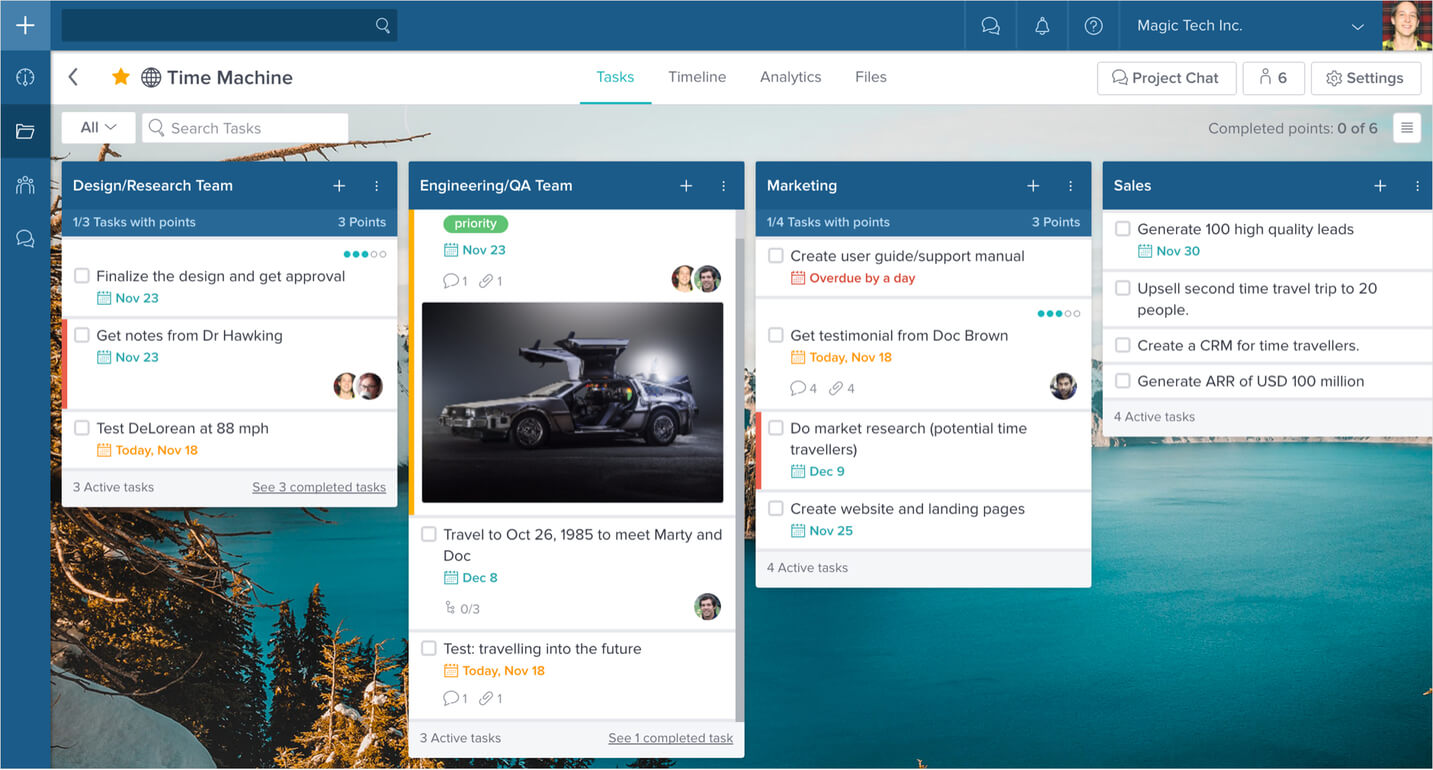 Image Source: taskworld.com/blog
Taskworld is a dedicated Kanban project management software, ideal for junior teams. It boasts a powerful visual view of your projects and tasks, lets you track progress, and check who is working on what so nothing slips through the cracks.
With Taskworld, you can add context to your tasks by creating subtasks, setting due dates, reminders, and adding tags and colored labels. This Kanban tool shows the top 3 items (tasks) per checklist and lets you move each as you progress. It also creates project status reports so you can track your team's overall performance, even months back, and export them to PDF.
Taskworld supports team collaboration so you can add task attachments from Box, Dropbox, and Google Drive other members can see, create public channels, or message privately. All this, for the sake of better productivity of Android users (iPhone users seem to have difficulties using it).
Key Features
Multiple Views (including Kanban)
Task Points
Recurring Tasks
Checklists
Activity Logs
Privacy Controls
Milestone Tracking
Emails-to-Tasks
Performance Reviews
Box, Dropbox, Google Drive, Google Meet, and Google Calendar
Pricing
Taskworld offers custom pricing, a professional plan ($10/user/month when billed annually), and a business plan ($22/user/month when billed annually).
11. Bitrix24 — A Free Kanban Software for Small Businesses
Image Source: bitrix24.eu/uses
Bitrix24 is one of a few free Kanban software packed with functionalities that can make your workload easily manageable. With Bitrix24, you can create as many Kanban boards as you want for different projects and clients to gain clarity and streamline their completion. You can invite people to projects, give permissions, copy them, etc.
This tool offers enhanced task management, secure internal communications between team members, time tracking, and reporting features, which is basically everything you need to master the Kanban style. You can move tasks through the stages, as you are getting closer to the final stage, and even change their names and colors.
Bitrix24 introduced some changes related to Kanban recently so you can apply filters to your boards, customize these filters, allow other users to save filters, and many more. Although not a fully-featured Kanban tool, you can rest assured you can go from an idea to a completed project with Bitrix24 in one-two-three.
Key Features
Kanban Organization
Group Task Management
Task Dependencies
Checklists
Emails-to-Tasks and Vice Versa
Gantt Charts
Task Time Tracking
Easy Navigation
Workflow Automation
Several Dozens of Integrations
Available on Mobile and Desktop
Pricing
Bitrix24 offers a free starter business tool, while paid plans start at €19/month.
12. KanbanFlow — A Beginner-Friendly Kanban Tool
Image Source: kanbanflow.com
KanbanFlow is a no-brainer Kanban board app ideal for tracking the time you and your team members need to complete tasks.
The app features a simple stopwatch timer and the Pomodoro technique timer, while you can log time yourself as well, set the limits that are typical for Kanban, and finally, get reports on time spent.
With KanbanFlow, you can divide your board into sections, create lists and cards, and even subtasks for better workflow management. Next, you can filter tasks by setting due dates, adding labels and colors, and attachments.
All members on the team can instantly see the changes you make while you can track their progress from wherever you are—at the office or while traveling. This Kanban tool is both simple and flexible, plus it has no learning curve and offers great functionality.
Key Features
Dedicated Kanban Tool
Customizable Workflow
Recurring Tasks
Emails-to-Tasks
Real-Time Updates
Time Tracking Features
Reports and Analytics
Import/Export Options
Powerful Integrations
Available on Desktop and Mobile
Pricing
You can use KanbanFlow's powerful free version or sign up for a paid plan ($5/user/month).
13. Toggl Plan — A Beautifully Designed Kanban Project Management Software
Image Source: toggl.com/plan/boards
Another minimalistic, yet irresistibly attractive Kanban board app, Toggl Plan can help you manage projects, tasks, and teams and kick out stress. This project management and planning tool allows you to add labels to each task and task group, so you can break them down by categories and stages of completion, and have the best project overview.
If necessary, you can set milestone visibility so everyone from the team, or people working on the same project, can get a better grasp of the workflow. Typical for all Kanban systems, Toggl Plan lets you drag and drop, reorder, and prioritize tasks, upload files, add comments, customize colors, and many more.
Juggling dozens of projects is a piece of cake with Toggl Plan and their visual overviews. You don't get reports, but you'll certainly notice an improvement in terms of productivity without feeling too much pressure.
Key Features
Kanban Boards
Customizable Statuses
Drag and Drop Interface
Task Priorities
Checklists
Easy Sharing
File Upload
In-Task Comments
Third-Party Integrations
Sync Across Devices
Pricing
Try out Toggl Plan's features for free or sign up for a paid plan if you think you would be a good match ($8/user/month or $13/user/month).
14. ClickUp — An Awesome Kanban Tool with Offline Mode Included
Image Source: clickup.com/blog
ClickUp is a Kanban software familiar to almost everyone that can help you visualize your tasks and projects and deliver them faster via intuitive and interactive Kanban boards.
This software lets you create as many statuses (Kanban columns) as you want and assign them proper names, color-code them, and save them as templates for future projects. Once you customize the columns, you can start adding tasks and highlighting the most important ones so your team members start working on them straight off.
For the sake of good organization, ClickUp allows you to organize tasks by their names, status, assignees, start and due date, and add tags that make them easier to filter.
If you thought Kanban is super-science, ClickUp—one of the best Kanban software, could prove you wrong. Move tasks with ease, keep your team in the loop, eliminate wasteful work, and get things done!
Key Features
Multiple Views (including Kanban)
Drag and Drop Interface
Customizable Statuses
Task Reminders
Checklists
Built-in Docs
Screenshot and Recording
Time Tracking
Offline Mode
Custom Notifications
1,000+ Integrations
Pricing
ClickUp is free until you reach 100MB of storage and their paid plan comes at $5/month/user when billed annually.
15. Agilean — A Rising Star Among Kanban Board Software
Image Source: agilean.in
Agilean makes delivering projects simple and easy. It features clean, eye-pleasing Kanban boards with great functionality to help you manage activities, automate workflows, assign tasks, get insightful reports on your projects, and many more.
This Kanban software offers a myriad of highly configurable boards within which you can create tasks and subtasks, color-code them, assign them start and due dates, estimate the time needed for completion, and measure the time your team members need to complete them so everyone can have a clear idea of progress.
You can track your tasks and identify impediments, and take appropriate actions to overcome these impediments and smoothly execute tasks. Agilean provides reports on your teammates' ability to deliver results and statistics for individual members of the team— everything for the sake of higher efficiency.
This software boasts automation features that can save you a lot of time and help your team, no matter its size, boost productivity.
Key Features
Kanban and Scrum Boards
Task Dependencies
Automated Workflows
WIP Limits
Drag and Drop Functionality
Team Collaboration
Risk Rating
Retrospective Analysis
Reporting
Github, Slack, and Dropbox Integrations
Pricing
Agilean offers a single full-featured paid plan priced at $5/user/month.
16. Scrumwise — A Simple Scrum-Based Kanban Tool
Image Source: scrumwise.com
Looking for a tool that won't take weeks to master? Scrumwise is a straightforward Kanban software that boasts providing simplicity to leave you more time to focus on your project.
Just like the name suggests, this software was built for Scrum, but it also supports overall Agile methodology like Kanban. Some of the most prominent uses of Scrumwise are backlog management, release management, time tracking, and sprint management. There are burndown charts, epics, and other Agile components that let you organize projects with ease.
When it comes to Scrumwise Kanban boards, you can use them for workflows, backlog management, or whatever fits nicely in a Kanban board. The good news is you can mix Scrum and Kanban within the same board, which gives you full flexibility to organize tasks in the way you like best.
While Scrumwise doesn't have as many features as some other tools we mentioned, it is a great choice if you need something simple and clean. You can easily integrate it with other tools using Scrumwise API or use the GitHub integration to includes Scrumwise information in commit messages.
Key Features
Teams and Roles
Backlog Management
Release Management
Sprint Management
Task Boards
Burndown Charts
Kanban Boards
Time Tracking
GitHub Integration
Pricing
Scrumwise has two pricing plans: a monthly and a yearly plan. The monthly plan is $9 per user per month while the yearly plan is $7.50 monthly per user, billed annually.
17. SwiftKanban — A Feature-Rich Kanban Tool
Image Source: digite.com
SwiftKanban is another Kanban software that offers a mixture of Kanban, Scrum, and Scrumban within a configurable visual workflow.
This tool has great Kanban boards equipped with features like SmartLanes. SmartLanes can be associated with any label you choose and when you move cards between lanes, the selected label value will change from lane to lane. When creating a user journey, you can use the Story Mapping feature based on a method developed by Jeff Patton.
The Enterprise/ Portfolio Kanban feature is very interesting, and appealing to companies looking to implement Portfolio and Risk Management into their business. The many subfeatures include portfolio modeling, portfolio tracking and management, demand assessment/shaping, capacity measurement, booking/allocation planning, opportunity & risk assessment, portfolio prioritization, as well as scope and schedule forecasting.
Thanks to many advanced reports like Cycle Time Analysis or Cumulative Flow Diagram (CFD), SwiftKanban gives you a detailed insight into your processes. If you have been using Agile for some time now and want a powerful tool to help you streamline your projects, this might be the one.
Key Features
Personal/ Team Kanban
Enterprise/ Portfolio Kanban
Scrum/ Scrumban
Predictive Flow Metrics
SwiftESP
Story Mapping
Business Rules
Roadmap
Open REST/ SOAP API Integrations
Zapier Integrations
Pricing
SwiftKanban offers a free trial and several different plans. The prices are available at request.
18. Eylean — A Diverse Scrum and Kanban Software
Image Source: www.eylean.com
If your team is looking to switch to Agile from a Waterfall or another approach, Eylean might just be the perfect tool. This Kanban software is chock-full with features that will help you set up your processes and optimize them with each sprint.
Among the many use cases for Eylean, Agile and digital transformation is one of the most prominent. This tool offers Scrum, Kanban, Scrumban, SaFe, LeSS, and general Agile templates that will jumpstart your transformation and make it easier to start. If these words sound scary and complicated, don't worry — Eylean has templates made for non-tech people so you don't have to be an IT genius to implement them.
Besides having great templates, this Kanban tool offers advanced reporting. There are burndown, CFD, Dashboard, and Lead/Cycle time reports, just to name a few. Monitor task progress, track time spent on tasks, and take full control of your roadmap.
When it comes to boards, Eylean has both Scrum and Kanban boards and it supports Scrumban — a compromise if you find Scrum too strict and Kanban too uncertain. Kanban boards come with standard features like progress columns and statuses, task cards, WIP limits, swimlanes, and commitment points. That's everything you can wish for in a Kanban software.
Key Features
Scrum and Kanban Boards
Scrum, Kanban, and Scrumban Supported
Burndown Charts
Task Assignment and Comments
User Permissions
Schedule or Roadmap View
Time Reports
Lead and Cycle Time
Dashboard
TFS Integration
Time Tracking
Cumulative Flow Diagram
Pricing
Eylean has 3 pricing plans, the lowest starting at €9 ($10.7) per user, per month.
19. ProofHub — Kanban Software With Proofing and Collaboration Features
Image Source: proofhub.com
When it comes to work management, ProofHub is certainly one of the most popular tools there are. While it's not designed only for Agile processes like some software on the list, thanks to its many features including the Kanban boards, ProofHub can be a powerful Kanban tool.
Kanban boards are essentially a special view in ProofHub that lets you organize tasks by stages following Kanban principles. You can add labels like "to-do" or "done" to your boards and use the filtering option to narrow your search to tasks within a single stage in the development process. Speaking of tasks, there are great ways to customize them, including setting dates, creating recurring tasks, creating subtasks, etc. One interesting customization feature is the ability to set time estimates for each task, which in return lets you learn how far off are you when it comes to estimating how long a task takes to complete.
Team collaboration can be tricky when it comes to tasks that require feedback and multiple edits, and the feedback loop often takes more time than needed. This is why ProofHub's proofing feature (it's in the tool's name, after all) comes in handy. Teams can collaborate on designs and documents, and leave suggestions using markup tools. The one-click approval is a simple yet effective way to greenlight a design or a document that leaves no room for confusion.
When English is not your native language, an interface in English can make it harder to master a tool. ProofHub is one of the rare Kanban tools on the market that lets you choose between English, French, Polish, Portuguese, Spanish, and German language interface. Très bien, n'est-ce pas?
Key Features
Kanban Boards
Table View
Discussions
Gantt Charts
Calendar
File and Document Management
Custom Roles
Chat
Proofing
Timesheets
Multi-Language Interface
Pricing
ProofHub currently has two plans: the Essential plan for $45/month when billed annually and the Ultimate Control plan for $89/month when billed annually.

20. Yodiz — Free Kanban Software for Solopreneurs With a Paid Version
Image Source: digite.com

Yodiz is another tool built upon the Agile methodology with the idea of simplifying project and sprint planning. This software supports Scrum and ScrumBan approaches and offers several different views that provide a visual on your roadmap, epic, backlog, sprint, release, issues, or planning. Depending on what you need Yodiz for, you can choose between the Issue Tracker and the Agile Management tools, and we'll focus on the latter.
As mentioned above, Yodiz has features designed to help Agile teams. Its product backlog view provides visibility on complexity, size, trend, and insights into the backlog, like the velocity chart for the selected time period. The epics view makes feature management much easier as it lets you prioritize features, define your customer journeys, and choose key functionalities.
With analytics like burndown tracking or story allocation, Yodiz can help you track progress and pinpoint issues in each sprint so you can overcome them in the next one. If there's one feature that sets this tool apart, it's Release Management — you can plan, track, and manage releases in a separate view so you can visually track which sprints are linked to the release and how each spring is progressing.
If you're looking for a free Kanban software and you're a freelancer, solopreneur, or part of a really small team, Yodiz offers a free starter plan for up to 3 users. Of course, this plan comes with limited features, so don't expect to enjoy apps, integrations, or other advanced stuff. Still, this is a great way to try Yodiz out so you can decide whether to upgrade to one of the paid plans.
Key Features
Supports Scrum and ScrumBan
Product Backlog
Epics
Sprints
Release Management
Planning Board
Burndown Tracking
Story Allocation
Bulk Updates
Filtering
Pricing
Yodiz has a free limited plan for up to 3 users, and paid plans starting at $3/month per user for the Issue Tracking tool and $5/month per user for the Agile tool.
Wrapping Up
Woohoo! Congrats! You've made it to the final part of our post. Provided you are here, we believe you have already shortlisted several Kanban software, but might be still undecided. It is tough picking the right one for your team, we know.
In case you're thinking about choosing Infinity for your big Kanban ideas, we encourage you to sign up for our trial and test things out yourself. We're also here if you want to have a chat! Schedule a demo call, email us at team@startinfinity.com or check out our Help Center to get an even better overview of Infinity.
FAQ
What is a Kanban software? A Kanban software is an online tool which helps your team visualize their projects and tasks in the form of a Kanban board. Kanban itself is a visual system that allows you to easily manage your work, follow your progress from the beginning to the end, and be more efficient. What's the best Kanban software? There is no single answer to that question, as there are many Kanban tools available online, including Infinity, Trello, ClickUp, nTask, Jira, and many more. Ultimately, the best one for you will be the one with the features that work for you the best. What are some of the benefits of Kanban tools? Aside from increased efficiency and productivity, a good Kanban software will help your team function better, reduce wasted time and work, and focus on continuous delivery. Kanban software are also known for being flexible and providing team with a lot of flexibility when working. Why should you choose Infinity as your Kanban software of choice? Infinity's main benefit is flexibility and that shows in the Kanban view, as well. Additionally, it comes with a number of customization and collaboration features that will make working easier for you and your team, plus a very user-friendly Kanban board which you can structure however you like.