17 Essential Small Business Tools to Accelerate Your Growth
You don't need a big budget to make it against large companies. Small business tools can help you make a splash!
In the business world, you can either start your own job or work for someone else. And, if you've chosen the entrepreneurship path, we bet you're juggling multiple roles at a time—creating work schedules, running ad campaigns, managing payroll, filing reports, and so on.
And while you're doing it all manually, your competitors are implementing strategies and using tools that provide them a little extra support and help them improve their business processes.
So, if you want to ramp up productivity and skyrocket your small business, you can't go without a small business tool. Down below, you'll find a list of small business tools you can turn into priceless growth engines that require none to minimum investment to start. You'll easily go premium once your small business outgrows the basics.
The Benefits of Using Small Business Tools
Small business software can radically boost your efficiency and adapt your operations to the ever-evolving business environment. These handy systems running behind the scenes can support your big goals, help you keep up with big challenges and reduce costs, all without an astronomical price tag.
Here's a list of why you should consider harnessing the power of tools for small businesses:
Unify your remote workforce—If you want your team (and your business) to grow, you should be able to prioritize and optimize work. Software for small businesses support the concept of remote work and ensure your workforce is perfectly synchronized.
Improve collaboration—Collaboration and cohesion are keys to successful ventures. Small business tools ensure everyone switches from individual to team mindset and empowers each member to communicate with the rest of the crew during daily huddles and exchange ideas across teams. Also, this reduces the unhealthy competition in your team and eliminates duplication of effort.
Increase productivity—With the help of a small business tool, you can become a productivity ninja in one-two-three. Small business tools can streamline operations across your entire structure and help you get rid of procrastination and laziness so you work smarter, not harder. More advanced small business software can enable you to create custom workflows and automate recurring processes, which all can help your business thrive.
Maximize time utilization—Tools for small businesses can give you powerful insights into how you and your teammates are using your time. Once you realize where most of your time is going, you can take the necessary steps to plan and organize time, divide and prioritize activities, group similar tasks together, assign time limits to these tasks, and get it all tackled even when the pressure is high and time is tight.
Keep your company data safe—Small business systems enable a smooth flow of information across your company, give you one-click access to all data, and keep this data fully secure.
Down below, you'll find a list of 17 small business tools we split by categories to help you find exactly what you're looking for in the blink of an eye.
Project Management Tools for Small Business
1. Infinity — A Super-Flexible Small Business Software for Growing Organizations
Image Source: startinfinity.com
Infinity is a small business software with endless work organization possibilities. Starting from its unique structure to multiple views to various data customization options, this tool offers you a high degree of freedom to set things up the way it works best for you but to also tweak it anytime.
The best way to get started with Infinity is to load one of our dedicated templates for various business purposes:
Let's break this down a little bit to make Infinity's features more digestible for a potential new user. This tool consists of workspaces (you can build a single workspace or multiple ones), boards (for organizing various projects), folders and subfolders (meant to help you classify data and declutter your space), tabs (to display your data in various ways), and finally—items (tasks, files, contacts, whatever you make it).
"Highly customizable tool. You should just try it! Using it every day!" - Rik Goethard, Product Hunt Review
Isn't it already easy to spot you can organize all your things in Infinity like a pro? Moving on to the next feature—data views, it's good to know you can switch between 7 views in a matter of seconds and display your data in the most suitable way.
Still not convinced working in Infinity is that simple? Check out the video below:
For instance, when creating task dependencies, you'll need the Gantt chart view or a Column view to track progress of tasks and projects. A software like this can give you a better perspective of whatever you are working with (databases, meetings, events, etc.), and clarity is exactly what you need to grow your small business.
Working on projects typically involves collaboration between teams. With Infinity, you can bring all your people, projects, and tasks under one roof, assign or multi-assign teammates to tasks, let them exchange opinions in the comment section, and share work outside Infinity, with stakeholders or whoever you want to see your progress.
No doubt, Infinity is among the best small business tools out there, but that doesn't mean you can't expand its functionalities even more. Integrate Infinity with Clockify to track time spent on projects and tasks as well as over 3,000 apps on Zapier (and counting).
Key Features
Infinite Structure—Create an unlimited number of workspaces, boards, folders (and subfolders), and items to have everything you're working on whipped into shape.
7 Data Views—See your data any way you want! Infinity comes with 6 dedicated views.
20+ Custom Attributes—You can add as many custom attributes to each item on your boards. Some of our users' fav attributes include dates, checklists, links, progress bars, and effort ratings.
Sort, Group, and Filter—View only specific data by grouping or filtering it by a certain attribute such as priority or assignee or sort it out by name or date and have it all neatly displayed on your boards.
Multiple Select—Move or delete items in bulk in just a few clicks.
Team Collaboration—Assign work to your teammates or invite new people to your boards by simply typing in their email addresses. Mention anyone working on your projects in the comment section to encourage your teammates to join discussions, set up permissions and share boards outside Infinity, and much more.
Activity Tracking—Stay on top of your team members' activities within boards and items, and filter these activities by folders or team members.
Notifications—Stay in the loop with Infinity's email and in-app notifications whenever someone from the team updates work, mentions you in a comment, and so on.
Web, Desktop, and Mobile Apps—Work on projects and tasks directly from your browser, download Infinity's dedicated desktop app, and continue working even when out of the office via your Android or iOS device.
Pricing
Go Basic or go Pro with Infinity. Basic plans start at $3.75 and Pro at $6 per user per month. You can also give Infinity a try by using our 14-day free trial.
2. nTask — A Small Business Software with an Attractive Free Plan
Image Source: ntaskmanager.com
Small business owners sometimes have limited budgets, and that's totally fine with nTask. Being one of the best small business tools, nTask makes it a breeze to efficiently run projects and tasks even when tight on money.
nTask features a super user-friendly interface even technophobes find easy to grasp. It is packed with a bunch of functionalities that can skyrocket any small business, including Kanban boards built to help you track and optimize work, Gantt charts that make it convenient to monitor project schedules, risk management and issue tracking, timesheets, and many more to help you successfully run and deliver projects.
This tool for small businesses takes a leap beyond project management and allows you to collaborate with the team, schedule meetings, make progress reports, and share files among other things.
Overall, nTask is a low-cost handy tool for startups and small business owners packed with amazing features you can upgrade as your business expands.
Key Features
Unlimited Workspaces
Unlimited Tasks
Multiple Sub-Tasks
Timesheets
Bulk Actions
Custom Filters
Custom Statuses
Team Collaboration
Meetings
Budget Tracking
Alerts and Notifications
Pricing
nTask has a forever free plan for individuals and freelancers, a premium plan for startups and SMEs ($2.99/user/month), business ($7.99/user/month), and an enterprise plan (custom pricing).
3. Asana — An Intuitive Small Business Tool for Project and Task Management
Image Source: asana.com
Packed with all the features your small team may need to hit deadlines and reach goals, Asana is a one-stop-shop type of tool.
This small business software provides an easy way to organize and manage people, projects, and tasks in one place, and achieve success without the scramble. Not only can you manage projects but also see where your work stands at any moment, see how every piece of your project fits together, stay on track, but also identify the next steps and see how the eventual changes would affect the workflow.
You can easily check the status of each project in Portfolios and identify whether there are any bottlenecks, address risks, and take action to reestablish a smooth operation.
It doesn't matter if your business is small or large, you have to manage workloads either way. Even if there are 3 people on your team, you should be able to see if they have too much work on their plate or if they are underworked, then assign work more efficiently.
Lastly, this small business software comes with automations, meaning you don't have to do the work you hate. Automations reduce errors, simplify workflows, and give you more space to solve more important problems. Integrate Asana with TaskBill.io to track the time your teammates spend on tasks, get summary reports, and invoice your clients.
Key Features
Unlimited Tasks and Projects
Unlimited Messaging
Project Overview
Project Briefs
Workload Management
Reporting
Dashboards
Automations
Pricing
Asana is completely free for small teams (of 15 people) while their priced plans for bigger teams start at $10.99/user/month.
4. Teamwork — Among the Best Small Business Tools for Project Management
Image Source: teamwork.com
Teamwork is an easy-to-use, yet powerful project management software for small businesses. Powered with simple to advanced time-saving, reporting, and collaboration-enhancing functionalities, this tool could be everything you need in one central location.
With Teamwork, you can customize your workflows to how your team already works and view your projects from multiple angles. Just because you are a small business, doesn't mean you don't run complex projects.
Teamwork makes managing multiple projects at a time a breeze. Create projects and tasks in a few clicks, assign work to your team members, track the time they take to complete tasks, get deep insights into workforce capacities, and have it all displayed on a dashboard. Once a project is complete, you can quickly create invoices based on the billable time logs.
Integrate Teamwork with Teamwork Spaces, CRM, and Chat as your budget and business grow to manage teams and projects even more efficiently. One thing is sure, this small business tool is impossible to overgrow as you scale and you'll gradually discover layers to it as you expand.
Key Features
20 Project Templates
Portfolio Management
Workload Management
Resource Scheduling
Gantt Charts
Messaging
Reporting Dashboards
Time Tracking
Project Time Budgets
Invoicing
Pricing
If you are just getting started with project management, you can use Teamwork for free, then upgrade to one of their paid plans ($10/user/month and up).
5. Trello — A Project Management Tool for Small Businesses and Startups
Image Source: blog.trello.com
If you are a startup or a small business, Trello could be the tool you need to start thriving. With this small business software, you can hire your first employees, bring your ideas to life, hit revenue goals, and much more.
Visual and easy-to-use, Trello comes with a gallery of pre-built templates you can use to kickstart your business. It consists of boards, lists, and cards that make it effortless to plan and organize workflows, keep work moving forward, and help you scale at a steady pace.
And, you probably already know you can't scale without getting a deep insight into how your team is doing and pinpointing your growing pains. Trello's dashboards and key metrics help you make data-driven decisions and boost performance.
Another reason why Trello is among the best software for small businesses is that it automates repetitive, tedious tasks that can distract you from focusing on what really matters—growth. Lastly, as a small business owner, you need all the support you can get.
Integrate Trello with Slack, Jira, or Confluence to communicate with the team more efficiently and take your business to the next level.
Key Features
Templates
Assignee and Due Dates
Multiple Data Views
Advanced Checklists
Timeline
Calendars
Power-Ups
1,000+ Automated Commands per User
Saved Searches
Unlimited Activity Log
Custom Backgrounds and Stickers
Pricing
Trello is free for individuals and small teams. Once your business starts growing and you get to run multiple projects at once, you can upgrade to a paid plan ($10/user/month).
6. ClickUp — Among the Best Software for Small Business with a Free Plan
Image Source: clickup.com/landing
ClickUp makes a great choice for any type of business, big or small. This powerful project and task management platform is super convenient to customize to the needs of various teams and gives them a perfect base for reaching their goals with ease. Packed with 35+ apps, ClickUp helps you save time with automations, track progress, and collaborate with the team.
Fast-tracking your teammates' work is a breeze with ClickUp. This tool lets you assign a single task to multiple assignees, turn comments into action items, and share screen recordings to make it easier to communicate progress and bottlenecks with the rest of the crew.
ClickUp comes with multiple task views and visualizations that can help you easily arrange and rearrange tasks and subtasks (when working on complex projects), edit them in bulk, and track the entire cycle, from start to finish.
This small business tool is equipped with automations that offload manual work and reduce errors. Recurring tasks are among the most popular ClickUp's automations for they ensure you stay on top of your schedules and reminders. Even better, there are over 100 ways to automate your workdays.
You can automatically assign tasks, move statuses, and much more, or simply build your own automation (no coding required), deliver projects with half effort, and grow twice faster with this small business software.
Key Features
Task Tray
Task Dependencies
Nested Subtasks
Reminders
Workload Chart
Automations
Time Tracking
Scheduling
Custom Notifications
Offline Mode
Pricing
ClickUp has a solid free plan and a paid, super-affordable plan priced at $5/user/month.
Best CRM Software for Small Businesses
7. Salesforce — Probably the Best Sales Tools for Small Businesses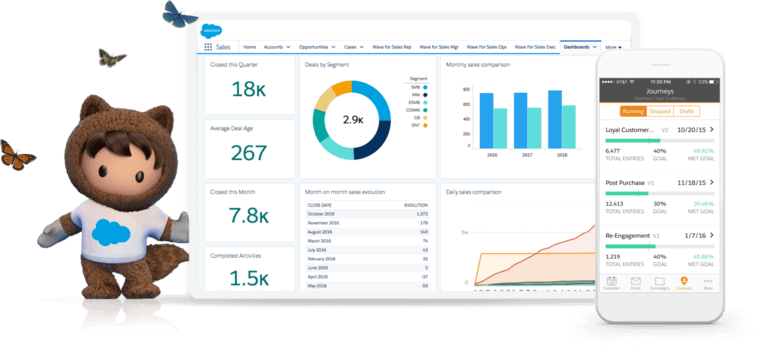 Image Source: salesforce.com
Salesforce is a big name in the sales industry that can help both large and small businesses sell smarter and strengthen their customer service. This small business sales tool offers not one but 4 pricing plans packed with various features that can make customer service and customer relationship management much smoother.
More advanced plans offer a complete customer service and sales solution for small businesses while Salesforce's fully-featured package offers a complete suite of sales solutions and marketing automation tools that can quickly take any small business from 0 to success.
In a nutshell, with Salesforce you can manage your business interactions, engage with customers and prospects, and offer an outstanding service they can't get anywhere else. And, as you scale, Salesforce can provide all the extra tools you need to win and keep even more customers. And that's why Salesforce made it to the very top of client relationship management for small businesses.
Key Features
Lead Management
Email Templates
Mass Email
Collaborative Forecasting
Task Management
Activity Feed
Customizable Reporting and Dashboards
Team Chat
Mobile App
Offline Mode
Pricing
Salesforce small business plans start at $25/user/month.
8. Salesmate — An Affordable CRM Software for Small Businesses
Image Source: salesmate.io
Salesmate is a software that makes client relationship management for small businesses a pleasurable experience. It offers a simple and productive way to make relationships with customers more personal, nurture these relationships, and grow your revenue (guilt-free).
With Salesmate, you can personalize and automate emails, texts, and follow-ups while trying to convert prospects into customers. And, once you do, this small business CRM tool allows you to track sales activities and contacts and eliminates repetitive tasks so you can fully focus on selling, upselling, and crushing goals.
Not only can you gain deep insights into your sales activities but also your team's performance. Salesforce intelligence and reports teach you how to improve your game and grow your business.
As you see it coming, you can get the most out of this CRM tool for small businesses and activate their calling software available in 90 countries, which can, without doubt, help you expand your base so you can start selling around the world.
Key Features
Multiple Pipeline Management
Workflow Management
Email Templates
Email Tracking
Web Forms
Lists
Built-In Calling and Texting
Dashboards
Advanced Reporting
Pricing
If you are a small business that needs to build and organize essential sales functions, Salesmate's starter plan priced at $12/user/month could help with that. If you want to automate your sales processes, then a growth plan would do ($24/user/month).
9. Salesflare — Among the Best CRM Software for Small Businesses
Image Source: salesflare.com
Salesflare advertises itself as a tool specifically built to help other small businesses sell to other businesses. This no-brainer CRM software can help you level up your game, sell actively, and increase revenue.
Don't let the initial impression about Salesflare fool you. Although it looks simple, this tool is packed with a lot of powerful features like automations. It automatically pulls up and updates information to reduce the time you would typically spend on data entry by up to 70%. It also gives you a full overview of all your opportunities so you can devote some time to each during the day.
Salesflare automatically gathers and stores all customer info, including emails, phone numbers, and postal addresses. It collects data from social profiles like LinkedIn and emails into your address book so you can have all the info about your customers at your fingertips.
Team collaboration is smooth and seamless with Salesflare as well. Your teammates can follow each other's customer conversations and get involved in phone calls, email communication, and meetings to increase the chance of selling.
Key Features
Automated CRM Data Input
Email, Link, and Website Tracking
Personalized Email Campaigns
Automatic Follow-Ups
Customer Address Book
File Management
Custom Dashboards
Team Collaboration
Activity Dashboard
Reporting and Statistics
Third-Party Integrations
Pricing
Salesflare's most affordable plan packed with all CRM features a small business may need is priced at $29/user/month. They also have pro and enterprise plans ($49/user/month and $99/user/month).
Great Marketing Tools for a Small Business
10. HubSpot — A Marketing Software for Small Businesses
Image Source: hubspot.com/products/marketing
HubSpot is one of a few marketing tools for small businesses that can assist you on your journey to attracting the right audience and converting visitors into leads. No more scattered data or time lost on failed marketing strategies—yay!
This software combines a multitude of features that give you the right context so you can run campaigns and scale from a single, easy-to-use platform. With HubSpot, you get a chance to make great, highly converting content prospects long for and create a winning strategy that will captivate your ideal customers' attention.
HubSpot provides you with all the info you need to track your marketing activity and figure out what drives the best impact. Build mobile-optimized landing pages, forms, automate cross-functional operations, run A/B tests, track and manage leads—these are some of the most popular features HubSpot offers that can help you in scoring a higher conversion rate and higher ROI.
With contacts created, new contacts by source, new contact conversions by the first conversion, and qualified leads, this marketing software for small businesses gives you deep insights into how things are going so you can translate current results into future strategies.
Key Features
Campaign Management
Marketing Automation
Forms
Email Marketing
Landing Pages
Live Chat
Collaboration Tools
Predictive Lead Scoring
Website Traffic Analytics
Custom Reporting
Pricing
HubSpot has a free limited plan and 3 paid plans starting at $45/month.
11. BuzzSumo — A Superb Content Marketing Software for Small Businesses
Image Source: buzzsumo.com/blog
Successful marketers use marketing tools like BuzzSumo to get into the nitty-gritty of best-performing content but to also learn more about what's going down. Thanks to BuzzSumo, you can quickly generate words your target audience is searching for, filter keywords and trends by region, and predict viral hits.
Taking a step further, this amazing software gives you hints on which content you should produce. You can generate content ideas on your own as well and monitor content performance once it's live.
BuzzSumo helps you stay on top of industry updates, important events, brand mentions, and your competitors. You can even set alerts for updates related to your business, whether it be keywords, topics, or brands.
Lastly, one of the ways to grow your small business is to collaborate with influencers. With BuzzSumo, you can easily identify and connect with millions of creators and authors that are already engaged with the audience you are targeting. This way, you can spread your message further, amplify your reach, and increase engagement, which is why BuzzSumo made it to this list of the best small business tools.
Key Features
Content Analysis Reports
Influencers Search
Backlinks
Domain Reports
Custom Feeds
Facebook Page Analyzer
Top Author Searches
Geographic Filtering
Realtime Updates
Automations
Pricing
BuzzSumo offers free limited access for one user while their paid plans start at $99/month.
Best Accounting Software for Small Businesses
12. QuickBooks — The Holy Grail of Accounting Software for Small Businesses
Image Source: quickbooks.intuit.com
QuickBooks is a cloud-based accounting platform specifically built for small and medium businesses to help them run operations smarter, wherever they are operating from. With QuickBooks, you can track expenses, handle money management, run payroll, and much more.
To get a better insight into where your money flows, QuickBooks allows you to connect your bank and credit card accounts. A balance sheet and profit and loss reports are only a click away! Besides, all transactions are automatically imported, so all that you need to do is assign them and attach receipts and invoices.
Best of all? With QuickBooks, you'll be able to simplify bookkeeping, reduce stress and work, and always be prepared for tax time. This small business software automatically generates your tax returns, and it is a no-brainer to understand why so many startups and small businesses are using it.
Key Features
Income and Expense Tracking
Cash Flow Management
Manage and Pay Bills
Sending Estimates
Tracking Sales and Sales Tax
Tax Deduction
General and Enhanced Reports
Automated Workflows
Batch Invoices and Expenses
Project Profitability Tracking
Pricing
QuickBooks' pricing starts at $12.50/month and goes up to $150/month.
13. Wave — An Easy-to-Use Accounting Software for Small Businesses
Image Source: waveapps.com
Wave Financial is a simple, reliable, and secure accounting software for small businesses that can help you gain control over your finances from the very first moment of using it. This tool makes it convenient to manage cash flow, balance your books, and prepare yourself for tax time.
Use Wave's smart dashboard to organize, understand, and monitor your expenses, payments, invoices, and income, connect it to other Wave products features (payments, payroll, etc.), and automate a large chunk of work so you can focus on things that matter most.
Now that we've mentioned invoices, it's good to know you can create and send invoices using Wave's 100% free invoicing software packed with functionalities such as recurring billing.
You can even create and send invoices on the go, run your business from anywhere, and stay on top of your cash flow using this small business software. The app will instantly notify you when your invoices get viewed, paid, or (God forbid) become due.
Key Features
One Account, Multiple Businesses
Unlimited Income and Expense Tracking
Double Entry System
Invoice in Any Currency
Unlimited Bank and Credit Card Connections
Tax Categories
Dashboards
Powerful Reports
Automatic Backups
Pricing
Wave Financial is among a few free accounting software for small businesses.
HR Software You'll Need for a Small Business
14. Bamboo HR — An HR Software for Small Business with Heart
Image Source: bamboohr.com/blog
BambooHR is among the best small business tools for managing the most important asset—people you work with. This software makes it a breeze to organize all the info about your employees and helps you with hiring and onboarding new team members.
Switch from slow and inconsistent hiring processes to finding the best candidates with BambooHR. This tool improves communication, eliminates bottlenecks, and ensures no good matches slip through your hands.
Onboarding is super smooth with BambooHR as it allows you to create a personalized experience for every new hire, helps you skip formalities, and makes sure your new teammates have an amazing onboarding experience.
You already know that paying employees on time is extremely important for any business. Tracking time and time-off requests as well as preparing and tracking payroll with BambooHR is a delightful experience for both you and your squad!
Finally, this HR software for small businesses gives you a deep understanding of how your employees feel, what their expectations are, the areas they could use some help with, etc. With BambooHR, you can gain deeper insights into your employees' performance and satisfaction and create an actionable plan that will guide your small business forward.
Key Features
Applicant Tracking System
Employee Records
Company Calendar
Time-Off Management
Email Alerts
Benefit Tracking
Time Tracking
Employee Satisfaction
Document Storage
Reporting
Pricing
BambooHR provides a free quote for different types and sizes of businesses.
15. 15Five — Among Highest Rated Small Business Tools for Employee Management
Image Source: 15five.com
15Five is a popular HR and employee management software for small businesses that offers a complete solution for developing remote teams, increasing engagement, and improving management effectiveness.
If you want to help your employees thrive, you should understand what drives them, how they are doing, and whether they need additional support. 15Five makes sure you drive real engagement with surveys and make decisions that can make sure your teammates are satisfied and highly performing.
Speaking of performance, 15Five also lets you measure performance through multi-faceted reviews as well as support and inspire the growth of your teams. This small business tool is well-aware of the fact that employee recognition means the world. If you regularly celebrate your people's achievements, everyone's going to feel valued and motivated to do even better.
To round things up, 15Five contributes to training and building a vibrant, growing community that can produce results and transform your business in an impactful way.
Key Features
Employee Performance Tracking
Real-Time Feedback
1-1 Meetings
Hive Fives
Alerts/Notifications
Heat Mapping
6-Month Check-In History
Objectives (OKRs)
Bulk Import
Reports
Pricing
15Five has a basic plan priced at $7/user/month, $14/user/month, and a performance plan (with custom pricing).
Scheduling Software for Small Businesses
16. Calendly — A User-Friendly Scheduling Software for Large and Small Businesses
Image Source: calendly.com/blog
Calendly is one of the best software for small businesses with outstanding scheduling capabilities. It takes out the busy work of scheduling meetings, making it as simple as ABC to schedule (basically with just one click).
This comprehensive meeting and scheduling platform lets you set availability, send your preferred times, choose the type of meeting (group, collective, and round-robin), and share it anywhere (to your website, web chat, or email).
Your invitee can also set their meeting preferences, and the app will schedule the most convenient time for all attendees. Scheduled events are instantly displayed on a calendar so your availability is always up to date.
This tool's analytics integrations can help you measure funnels, refine your conversion strategy, and improve your booking flow. You can also connect Calendly with Zapier and integrate it with CRM software to cut clerical tasks and focus on what matters.
As a cherry on top, this small business software makes it easy to track your schedules, reschedules, and cancellations on the fly via mobile apps. You can even integrate it with PayPal and Stripe to collect payments at the time of booking!
Key Features
Scheduled Meetings
One-on-One Meetings
Team Pages
User Groups
Meeting Notifications
Custom Email and SMS Notifications
Workflows
Personalized Booking Links
Redirect Invitees
Web, iOS, and Android Apps
Pricing
Calendly has a free option and 3 paid plans starting at $8/ month.
17. Buffer — A Social Media Scheduling Software for Small Businesses
Image Source: buffer.com/resources
Buffer is a super-handy small business software that can help you tell the world your story and build your audience on social media. Packed with publishing, analytics, and engagement features, Buffer could be the tool you need to finally beat the algorithm.
You can plan, create and schedule thumb-stopping posts to drive meaningful engagement to your social media channels, whether it be Instagram, Facebook, LinkedIn, Twitter, or Pinterest. Collaborate with your team on posts to create content your audience is going to love, tweak it for the listed social media platforms, and set the time and date you want it to go live. It's that simple to use Buffer to create and publish on-brain, high-quality content that drives engagement.
Yet, Buffer goes beyond scheduling and lets you analyze and measure your performance and create in-depth reports that can help you grow reach and traction on your posts.
Lastly, building a loyal audience on social media requires you to engage more with them through comments, stories, and messages. This social media small business tool makes sure you're on top of important interactions that are likely to turn followers into raving fans and/or customers.
Key Features
Multiple Social Channels
Calendar View
Direct Post Scheduling
Posting Schedules
Hashtag Manager
Custom Video Thumbnails
Stories Analytics
Post Reports
Strategy Recommendations
iOS and Android Apps
Pricing
You can schedule 10 posts/month for 3 social media channels with Buffer for free. Or, you can sign up for a paid plan ($15/month and up). Using Buffer Analytics comes for $35/$50/month. There's a 2-week free trial available as well.
Summary
Limited budgets, manpower, time—small businesses are facing numerous challenges on their road to success. When workloads start piling up and reaching your business potential seems impossible, put one (or more) of the 17 small business tools from our lists into action and you'll soon be back on track, stronger than ever.
And, if Infinity caught your attention for its astonishing features, let's get in touch! Book a demo call today to explore more options on what Infinity can do for you and your small business. Feel free to reach out via email team@startinfinity.com as well!
FAQ
How to grow my small business? Your goal is to grow a loyal customer base (it's a no brainer your business needs customers to thrive). To do so, you should unleash the power of client management, project and task management, accounting, and marketing software for small businesses that can help you improve business processes, automate some parts of running a business, improve communication with the team, prepare you for tax time, and maximize your earning potential. Can a small business grow without using small business tools? Sure it can. However, growing your small business without using small business tools can take much longer compared to using at least one of them. What are the best small business tools for project management out there? There are loads of great small business tools for project management on the market. However, ClickUp, Trello, Asana, and Infinity are currently among the highest positioned tools for project management for both small businesses and enterprises. What are the best free small business tools? ClickUp, Trello, nTask, and Wave, to name a few, are some of the best small business tools that either have free versions or are completely free.