7-Day Personal Development Plan (With Templates)
Do you have what it takes to complete our 7-Day Personal Development Plan and improve the way you live your life? Let's find out.
If you're like most of the entrepreneurs, your yearly resolutions look something like:
Organize and prioritize daily tasks
Define, set and track goals
Read business and personal development books
Form new healthy habits and fight bad ones
Plan meals and eat healthy
Exercise and improve health
Track your finances
Each year you promise yourself to pay more attention to these habits, in order to become a better person and start following your own personal development plan, hence building a foundation to living a long, and successful life.
Heck, you even go from zero to hero and commit yourself to becoming a real human-machine.
But most of the days, you're not a machine.
The main difference between us and Mark Zuckerberg is in the two key factors which determine our life:
Willpower to keep doing what we need or want to
Discipline to fulfill our commitments
So, why aren't we all CEOs of multi-billion companies and leading the world's number one social media channel?
Because the willpower we have is not equal, and the things we invest our willpower in are not the same.
Simply put: Willpower is like fuel. If you run out of fuel working on your project, you won't have much left in the tank to hit the gym, for example.
However, in order to stop limiting your aspirations and hobbies to willpower only, you'll need to master discipline to be successful in the long run and get yourself a first-class ticket to a destination where you've always wanted to be.
Discipline is all about forming habits. Once something becomes your habit, your brain will need less willpower to complete it.
That's why we've got a special, 7-day hack for you, in order to help you take full control of your life, create a well-organized, and easy-to-follow personal development plan, and be that one step closer to becoming a 'multi-Zuckerillionaire'.
Day #1 — Define and Track Your Personal Goals
"Whatever your mind can conceive, you can achieve", said Napoleon Hill in his world-famous 'Think and Grow Rich'.
If you wish to be successful, you'll need to know what you want and where you want to be.
Start with defining measurable goals and steps on how you are going to achieve them. Some of the key questions are:
Am I happy with where I am currently?
Where do I want to be? When?
How can I get there?
Be fully honest with yourself and write down everything you want to achieve.
Setting goals gives you long-term vision and short-term motivation to actually accomplish them.
Yes, it's totally realistic to be a millionaire. Or lose those 20 pounds.
But only when you know exactly what you want and work on it every day.
With your goals fully defined and tracked, you can measure your progress and achieve your goals faster.
Here's the easiest way to implement this into your daily routine:
1. Load the Personal Goals template
2. Define your personal goals by categories
In this specific template, you'll have your goals categorized by 'Personal Growth,' 'Health,' 'Relationships,' 'Work,' and 'Explorations'.
This template is fully editable, so if you have an idea of what you could change, we'd be super glad you did!
3. Track progress of your goals by setting a 'Status'
We've decided to set the status of our goals to 'Not Started', 'Some progress', 'On Track' and 'Achieved'.
4. Create small tasks on how you can achieve these goals (this will be tomorrow's challenge)
Just click on any of the items (goals, in this case), and the modal from the image above will show.
'Checklist' field will help you divide your goals into smaller tasks/accomplishments.
NOTE: As you can see, we've provided you with 13 examples (items) what your goals could be.
If you feel like 'Stop smoking,' 'Eat more healthy' and other goals are not related to your personal development plan, feel free to delete the demo data and start inserting your own goals and their details.
Once you've imported all your goals and their category, priority, stage and progress, you're all set to go towards the second day of building your personal development plan.
Day #2 — Define Daily Tasks and Complete Them
Now that we know the importance of setting goals, it's time to figure out the action plan for our aspirations.
There is a famous axiom that says: "The Universe rewards action, not thought".
That's exactly what day two of your Personal Development Plan is—taking action.
Here's what we can do:
1. Load Infinity's Personal Tasks template
2. Create your to-do list based on your goals and everyday life
We've provided you with a couple of examples like 'Buy a new T-Shirt,' 'Book the hotel for August vacation,' 'Wash the car,' etc.
Using a simple 'Checkbox' field, we've marked which tasks are done, and which are yet to be done.
3. Define your tasks using Dates, Category and Priority fields
If a to-do list seems a bit too simple for you, you'll definitely be a fan of different view types to spark your imagination and give you that extra dose of creativity and motivation to be persistent with your daily tasks.
It's all about consistency, remember? And for that, you need an appealing, intuitive and easy-to-use system.
Pro Tip: You can also use a calendar to have your tasks arranged by date (day, month & year).
That's about it for Day 2 of building your personal development plan.
Day #3 — Define and Track New/Bad Habits
It's about time for the real deal.
This is the day when we really create the system which will help us commit to making significant changes.
We've already mentioned how important habits are, but we can't emphasize this enough: The sooner something becomes a habit, it'll be much easier for you and your brain to process it and get it done more efficiently.
On the other hand, this could also be your perfect time to quit old habits, which have proven to be bad for you.
"Depending on what they are, our habits will either make us or break us. We become what we repeatedly do. It's up to you to form the habits in a way your life wish to be".
Here are your 4 steps to start tracking both new & bad habits at a single place.
1. Load Infinity's Habit Tracker template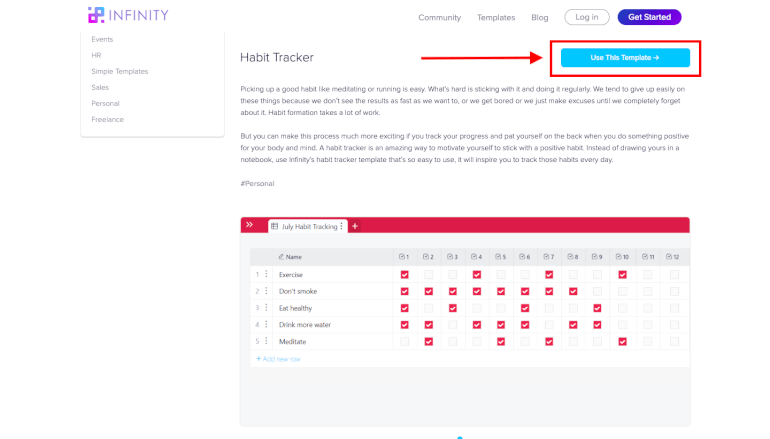 Super easy, right?
2. Write down a couple of habits, both good and bad ones, then categorize them
In the 'Habit Tracker' template, you'll find examples such as 'Don't smoke,' 'Exercise,' 'Eat healthy,' grouped by 'Good Habits' and 'Bad Habits'.
3. Keep track of them every day
We've made this super easy for you, as we've created 'Checkbox' fields for every single day of the month, which you can either tick, or leave blank, depending on your activity for a certain habit.
Keep doing what needs to be done for every single month, and we promise that the change you expect from following your personal development plan is inevitable.
Moving on to Day 4!
Day #4 — Track Your Finances
We were raised with a mindset that we shouldn't pay too much attention to money, as it eventually corrupts people.
But that's not exactly the truth. The truth is that it's not money that brings happiness, but rather the things that money allows you to do.
"If you don't take care of your money, your money won't take care of you".
If money management isn't something you enjoy, consider managing your money as if it were a part-time job. The time you spend monitoring your finances will pay off.
You can make real money by cutting expenses and earning more interest on savings and investments.
I'd challenge you to find a part-time job where you could potentially earn as much money for just an hour or two of your time.
It's rather simple: If you wish to get closer to accomplishing your goals and building your own personal development plan which you'll actually stick to, resulting in living a better life, you'll need to take responsibility for how you spend your money and manage your finances.
On top of that, you'll know exactly how much money you'll both earn and spend for a single month.
It's basically like a receipt for your monthly cash flow.
We highly recommend writing down everything that has to do with your cash flow and keep track of your income and expenses.
1. Load Infinity's 'Finances Tracker' template
2. Insert all data related to either your Income or Expenses, then categorize them
Some of the examples you'll find in our template include 'Job salary,' 'Stock trading' and 'Side Project' as sources of income, as well as 'House rent,' 'Gym membership' and 'Car' as sources of expenses.
3. Insert and keep track of your monthly earnings and spendings
Write everything down. Once you implement keeping track of how much money you're both earning and spending into your personal development plan, you'll know exactly where you're standing with your finances. You'll also be available to plan your future expenses thoroughly, as well as how much money you are saving each month.
Day #5 — Organize Your Meals
We've all had goals when it comes to weight management, right? Whether it is to lose 10 pounds or gain some muscle, we've all been there.
Can you imagine that roughly 70% of people don't stick to their fitness goals?
We believe that might be due to people's constant rejection of organizing their meals and incorporating them into their personal development plans.
But the good thing is that it's never too late.
However, this time we want to share some special tips & tricks with you.
The foundation of staying on track with our weight goals is to:
Eat healthy
Exercise enough (this is tomorrow's challenge!)
Of course, you'll need to be consistent over a certain period of time.
... And what's the best way to be consistent?
Exactly: to form habits. But, forming a habit of eating healthier won't be enough at this point. You'll need to be prepared. You'll need the right strategy.
This time, pile up your favorite healthy recipes and start preparing your meals in advance so that you can always be prepared for the upcoming day(s).
Pro Tip: Use a scale to measure how much you eat, and store your food in Tupperware for each meal.
With this approach you'll:
Save more money (ditching restaurants and skipping on snacks).
Save time (taking 30–45 minutes in the morning to prepare your meals for that day, or 1–2 hours on Sunday evenings to cook your meals for the whole week is actually pretty convenient).
Actually stick to your food and weight habits in the long run, and accomplish your goals much faster.
Now, here's our advice:
1. Gather all your favorite healthy recipes
2. Load Infinity's 'Meal Planner' template
3. Replace our examples with your favorite recipes
4. Start preparing your meals in advance
One step at a time, okay? For starters, try preparing your breakfast only. Then move onto breakfast and lunch. Eventually, you'll include dinner on that list, as well.
Also, look for more simple recipes to start with, and include the food you like to eat and prepare.
You'll eventually progress towards exploring new recipes, trying new and different food, which will make you super motivated and happy that you've formed this habit.
In no time, you'll have both your meals organized and incorporated into your personal development plan, but will also stay consistent with all the healthy choices you've tried so far.
Pro Tip: Combine this template with the template from Day #3—Habit Tracker
Once you're all set to go with your meals prepared in advance, make sure to reward yourself a bit, and visually note that you've been persistent and dedicated that day.
Tick your 'Eat healthy' checkbox for each day you've been dedicated to your fitness goals.
Day 5 of creating your personal development plan—done.
Two more to go!
Day #6 — Create a Workout Planner and Hit The Gym
"In order for man to succeed in life, God provided him with two means: education and physical activity. Not separately, one for the soul and the other for the body, but for the two together. With these means, man can attain perfection".
Wise words from one of the wisest Greek philosophers, Plato.
As we've mentioned before, a lot of people don't stick to their fitness and exercise goals.
The reason for that is because there is an extreme lack of mechanisms for forming habits and tracking progress. People simply don't have enough willpower to keep up with this in the long run, and often rely on their coaches or friends to motivate them.
It's not about relying on your coach or friend to track your habits in their personal development plans.
The truth is, the only one you can rely on is yourself, and your own habits.
Here's what regular physical activity does to your body:
Improves learning capabilities
Builds self-esteem
Boosts immune system
Prolongs your life
Improves sleep
Has anti-aging effect
Helps to control addictions
Boosts productivity
Makes you feel good in your body
If you've ever stuck with any physical activity for a slightly longer period of time, then you'll know what we're talking about. Find what sort of physical activity excites you, and implement it into your weekly personal development plan.
Here's what we suggest:
1. Define your favorite physical activities
They could be running, working out in the gym, some basic body-weight exercises, hiking, biking—really, whatever that'll help you stick to it and be consistent in the long run.
2. Load Infinity's 'Workout Planner' template
3. Insert your favorite exercises and keep track of your progress
You'll see a couple of examples of what you can do on the left-hand side of the screen. We've included workout plans for Gym and Swimming, which represent our activities, but you'll also see a place to track all of your results after each workout, including the number of sets, reps, weight, time, and many more.
4. Track progress of each session
With Infinity, you can also quickly insert the progress you're making for each session by quickly typing in the values (numbers) into individual fields.
We've included fields like 'Weight', 'Sets', 'Notes', etc.
P.S. Combine this template with 'Habit Tracker' from the third day of this challenge.
Day #7 — Find, Organize And Read Books
We're at the very end of our 7-day challenge to create your personal development plan!
For the final day of this adventure, we'll focus on one of the most important aspects of our journey: education.
We'll keep this one super short, but clear:
"A learning curve is essential for growth".
Learning and education are the processes that should never end for a human being. If you've ever wondered which investment pays off the most, it is definitely knowledge.
At the age of 87, Michelangelo said: "I am still learning".
And we should continue to learn throughout our whole lives, as well.
Here's what we suggest:
1. Define which types of books pique your interest
Anything from business to psychology could work. We'll give some tips at the very end of this chapter.
2. Buy, borrow or download the books and create your stack
3. Load Infinity's 'Book Tracker' template to insert your choice of books
4. Keep track of how far you've got with reading them, as well as the most important notes or knowledge points you've received from reading your books
We've included fields like dates, format, progress, category and notes to help you be consistent and enjoy your time organizing your virtual bookshelf.
With the end of Day 7 of building your Personal Development plan, we're wrapping up this journey of introducing you to the system which could help you form habits, organize and keep track of all the important stuff going on in your life.
Don't forget that it takes 21 days to form a habit.
So repeat this challenge three times, and you're on your road to accomplish this year's entrepreneurial resolutions. For good.
Conclusion
A good part of the 7 Day Personal Development Plan we've presented is Infinity — a completely flexible and customizable work management platform.
Due to the software's ability to adapt to everyone's needs, you can create your own system in order to organize any type of use case, some of which we've presented through 7 (out of 50+) templates Infinity currently offers.
FAQ
What are personal development examples? Some examples of personal development: reading more books, learning a new skill, improving communication with others, living more healthy, finishing a course, etc. How do I write about my personal development? You can use Infinity personal development templates to write about your goals. First, define and set goals, use labels to prioritize them, create deadlines, and track progress using one of Infinity's simple templates. What are some good personal challenges? There are many great personal challenges you can take up: for example, you can set out to complete an online course within the next three months, exercise three times a week, drink at least eight glasses of water every day, etc. You can check out Infinity's personal development templates for inspiration. What are the five areas of personal development? When talking about personal development, goals can be divided into five general areas: mental, social, spiritual, emotional, and physical. What are the personal development skills? Personal development skills, or soft skills, are personality traits and behaviors related to how you work and communicate with others. Some examples of soft skills include empathy, leadership skills, time management, creativity, punctuality, teamwork, etc.