Top 16 Idea Management Software to Facilitate Your Team's Innovation
Turning ideas into reality sounds better on paper than in practice. But with the right software, it just might become easier.
However, there is a secret ingredient that can help you on this journey, and that is—creativity.

Why?
Creativity sparks innovation.
Creativity streamlines team efficiency and productivity.
Creativity elevates team spirit and enthusiasm.
Creativity encourages problem-solving.
Creativity saves time and money.

The result? Success and growth.
What you need is an engine that will help you tap into your team's creativity, let their creative juices flow, and then pick and implement the most inspiring and innovative ideas. And this engine is idea management software.
Idea management software allows organizations to collect all their team's ideas and then store them in one centralized database. Because, in essence, companies generate thousands of ideas that then need to be properly managed, processed, and finally implemented. And, idea management software is the backbone of your idea management process, enabling your team to gather ideas, discuss, evaluate, and prioritize them.
But the ultimate best thing about having this kind of tool in your toolbox is that it gives you the ability to measure the bottom-line impact of the ideas you and your team collect and develop. This further lets your team collaborate with its maximum capacity and pick the best ideas that would allow your organization to compete at higher levels. From brainstorming, idea management, and project planning to product lifecycle management and portfolio management, there is a whole range of features that help your team members remove the creativity blockade and capture and automate the progression of ideas any time, anywhere.
Don't hesitate to try one of the idea management software as there are numerous benefits and values they can bring to your team's creativity and business innovation.
Why Idea Management Software Must be on Your List of Priorities
Creating a culture of innovation—one of the biggest values of this tool is that it inspires innovation on all business levels and lets every employee become an innovator and contribute to the organization by sharing their ideas.
Increasing employee engagement—an idea management tool encourages all team members to take part in the process of generating and managing new ideas which instantly helps them feel more valued and makes their effort more appreciated and visible.
Improved decision-making—having all kinds of ideas gathered in one place increases transparency across all the team and lets you and your entire team make better decisions faster and more easily which ultimately saves much of your time and money.
Improving customer experience—innovation can significantly enhance customer experience which in turn can help build a positive brand image and increase its reputation.
Optimization of various processes—by using idea management software, organizations can optimize a wide range of processes, from evaluation of ideas and idea management to tracking project progress and implementing innovation projects.
In today's oversaturated market, choosing the idea management software that will help you experience the above-mentioned benefits and achieve your business goals can be a real challenge. That's why we've decided to help you out by creating the list of the most powerful idea management software currently on the market.
Take a look and choose wisely!
16 Idea Management Software to Look Out For in 2023
1. Infinity — The Best Idea Management Software that Powers Up Your Creativity
Infinity is perfectly designed to help you unleash your and your team's creativity and inspire innovation across all of your teams and departments. With its powerful flexibility, adaptability, and customization capabilities, Infinity is the powerhouse that will empower creative minds to come up with innovative ideas to help your business reach the stars.
The very core of this idea management tool is that it offers one centralized place for all of your projects and ideas, allowing you to create your own structure, organize brainstorming sessions, customize it to your needs and preferences so that you can brainstorm, develop, gather, share, and analyze all of your ideas with the rest of the team.
For instance, you can add an unlimited number of boards, folders, and items in your own workspace and then customize them the way you like it. Next, you can use more than 22 attributes like date, labels, attachments, checkbox, and formulas, customize them to your needs and then add them to your items.
Want to track the time across your projects and tasks? No problem. Infinity is integrated with Zapier and Clockify which help you track time with ease and make your workflow flow seamlessly. Need to view your data in different views? Infinity is here to jump to the rescue. It lets you view your data in seven different views, including table, columns, list, calendar, chart, Gantt, and form.
"We use infinity on a daily basis. It is our core tool for project management. You can do almost everything, with so many different views. And it is improving every day!" - Javier Loureiro
To help you learn the ropes in no time, we've created a video tutorial that will guide you step by step through the entire process:
Key Features
Team Collaboration—Use one centralized hub to communicate with the rest of the team easily and efficiently.
Project & Task Management—Collaborate with your team members on projects and tasks, share ideas with ease in real time and make your team communication a breeze.
Document Management—You and your team can add all of your documents and share them which allows you to find all you need in just a few clicks.
Infinite structure—The best thing about Infinity is that it is infinite—it lets you create your own structure, create an unlimited number of boards, items, and folders and tailor them to your needs.
Drag & Drop Interface—This feature lets you organize your workspace in a few easy steps.
Over 50 templates—Having difficulty figuring out where to start? No worries. Choose one of the 50+ templates to speed up the processes and make your work more efficient.
Notifications—Stay up to date with your team's activity and never miss any changes, updates, and comments.
Filter, Group & Sort—Categorize all of your new and old ideas and prioritize them so that you have a clear view of who is doing what on the project at any time.
Zapier & Clockify integration—Track time across all of your tasks and projects to always make sure you meet the deadlines and avoid stressful situations and tight schedules.
Public/Private Options—Make sure you always know who has access to sensitive data and share your boards with your team members or clients.
Customizable Attributes—Use one of the 22 attributes and adapt them to your workflow.
Seven Views—Choose the way you want to view your data by using one of the seven views available.
In case you are looking for a quick solution to get started on your own, we've created a list of 50+ ready-made templates that should ease your learning process and help you organize your projects and tasks flawlessly. Check out a few of them which can help you make things run more smoothly when starting from scratch:
INFINITY TIP: Use Gantt charts to organize different events, projects and other areas of work that will let you view all of your tasks and projects at one glance. This way you can visualize all of your long-term projects much better.
Pricing
Infinity offers two types of plans: Basic and Pro. Basic plans start from $3.75 per user per month, and Pro plans start from $6 per user per month. All plans come with a 14-day money back guarantee, which allows you to get your money back in 14 days from the moment of purchasing a subscription plan.
2. Confluence — A Unique Idea Management Tool for Your Team's Collaboration
Image Source: k15t.com
Confluence is a super-powerful idea management tool designed to streamline innovation through effective collaboration. If you and your employees want to develop and publish your ideas, all you need to do is create dedicated spaces and invite all of your team members to collaborate.
Your team can share ideas through product requirements, research reports, and meeting notes. Plus, each team member can provide feedback by commenting directly on documents. Also, you can use page trees, which let you build a hierarchical list of pages within space. This awesome tool offers a wide range of great functionalities which may come in handy for some employees, and at the same time be a bit inconvenient for others who are just starting from scratch.
Ultimately, Confluence is an ideal innovation management solution for product management teams. Its knowledge management module allows its users to search for any relevant content they may need depending on the project requirements. This allows managers to restrict access to some sensitive data and work in closed groups.
Confluence integrates with Jira which makes your projects even more transparent.
Key Features
File Management
Multimedia Support
Knowledge Base
Real-Time Editing
JIRA Software Release, Sprint & Issue Planning
Team Activity Tracking
Collaborative Workspace
Task Notifications
Event Planning
Mentions
Collaborative Workspace
PDF, Office Doc & Image Sharing
Internal Q & A
Meeting Notes
Access Control
Task Notifications
Outlook Integration
Pricing
Confluence offers a free trial with no credit card required and it starts from $5 per month for 11 to 10.000 users.
3. Miro — A Top Idea Organization Software for Streamlined Team Communication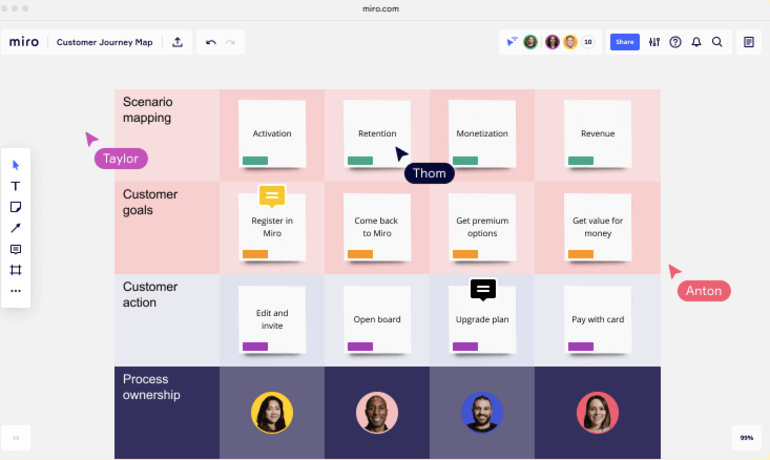 Image Source: miro.com
Miro is different from its ideas management software alternatives because it can be used as a whiteboard platform to brainstorm ideas, manage workflows, use digital sticky notes, and then share your ideas with the rest of the team so they can provide some feedback. Users can also add additional content to the board like interactive prototypes or spreadsheets.
If you have a tough time getting to know Miro, don't you worry because there are more than 60 interactive frameworks and templates that can empower your team to collaborate faster and more efficiently on developing ideas. Plus, it offers wireframes, an integrated library of icons, and other different types of content.
Finally, Miro lets you save whiteboards as PDFs or turn them into a presentation which comes pretty handy when you want to refer back to something your team created earlier. This idea organization software also lets you integrate with a number of third-party apps including Dropbox, Slack, Sketch, and many others.
Keep in mind that there is a steep learning curve for users since it is different than most of its alternatives.
Key Features
Auto-Arrange
Whiteboarding Toolkit
Manual Backups
Administrative Capabilities for Teams
Works with Docs, Images, Videos
Colourful Post-It Notes
Extension for Google Chrome
Text, Voice & Video Chat
Real-Time Visual Collaboration
Cloud-Based, No Download Needed
Freehand Drawing
Infinite Canvas
Presentation Mode
Pricing
Miro offers four pricing plans—free, team, business, and enterprise. It starts at $8 per member per month and its free plan comes with three boards, core integrations, and premade templates.
4. Crowdicity — The Most Intuitive Innovation Management Solution
Image Source: alcorfund.com
If you are searching for an ideal idea management tool with a thorough set of features that will boost your team's creativity and inspire innovation—Crowdicity should be your pick. This tool is available in German and English and it offers a wide range of very useful features, including configurable polls, content filters, file uploads, live chat, idea sharing, and many others.
What's so good about this app is its amazing interface which lets users easily assign members to collaborate on tasks, post their ideas, and then vote on the best possible ideas that should be implemented. Crowdicity also offers optional integration with 250+ social media accounts like Twitter, Facebook, and Google+ which encourages its users to share their ideas with friends across these platforms.
Bear in mind that Crowdicity does not offer some quantitative tools which you can find in other alternatives and it does not give you much insight into idea management processes and best practices, which some users may find challenging.
Key Features
Idea Management
Control User Access & Privileges
Gather Comments, Ideas & Ratings for Analysis
Integrated Email Management System
Change Logos, Colours, Buttons, Backgrounds, Links
Mobile Access
Status Tracking
Real-Time Analytics
Feedback Management
User-Access Controls
Project Tracking
Voting
Customizable Branding
Pricing
Crowdicity offers a free trial but the starting pricing plans and details are not offered by the vendor.
5. Aha - the Best Idea Management Tool for Strategic Planning
Image Source: aha.io
Aha is a cloud-based ideas management software whose biggest strength lies in its ability to enable strategic project planning. It was initially designed for businesses of all sizes across a variety of industries, from non-profit, medical, and marketing to IT services and education.
This tool offers two primary products: roadmap product and an ideas product. Roadmap product lets you facilitate strategic planning, identify, and analyze various scenarios. On the other hand, any ideas product lets you gather ideas, make feedback, and gather comments from partners, customers, and employees.
This idea management tool can be integrated with a wide range of third-party apps like Azure, Slack, Jira, Google, and it supports both agile and scrum workflows allowing users to create all kinds of roadmaps. On top of this, this app comes in two versions: a more sophisticated Ideas Advanced and basic Ideas Essential.
Key Features
Analytics
Progress monitoring
Roadmaps
Task Management
Work Capacity
Community Forum
Team Collaboration
Wiki Documentation
Task Ranking
Kanban Board
Project Management
Timelines
Custom Workflows
Pricing
Aha offers a free trial and its basic plan starts at $59 per user per month if paid annually.
6. Codigital - A Great Ideas Management System for Small-to-Medium Sized Businesses
Image Source: codigital.com
Another great tool we needed to include in this list is Codigital—an innovation management solution built to cater to the needs of large audiences during events like conferences, workshops, seminars, and alike. It streamlines idea management and the ideation process. For example, if you ask a question "How to improve our website?", a new campaign is created and employees can instantly give their suggestions on the topic.
When the system gathers a certain number of answers, it asks the participants to choose between two ideas to identify the idea that shows the biggest potential. Then, once the system chooses the best answers, they enter the next phase where employees further work on the development of new ideas. The tool works like a panel discussion where answers can be split apart, merged, and modified until they reach a consensus.
This solution is ideal for any organization looking for a way to deal with predetermined challenges and share and gain insights from different departments.
Key Features
Email Digest
Sample Management
Email/Online
Data Management
Panel Management
Sample Management
Mind Map
Collaboration
Collaboration
Status Tracking
Activity Dashboard
Idea Ranking
Pricing
Codigital offers a free package called "Teams" which can be used by 50 participants. It comes with a month of data storage and one project creator.
7. Idea Box - A Great Innovation Management Solution for Teams Worldwide
Image Source: brightidea.com
This is another advanced idea management software you must take into account when searching for an ideal solution for your business. It is perfectly built to engage users across the world and empower them to collaborate with ease. With its super-intuitive interface and a drag-and-drop feature, Idea Box makes the innovation management process straightforward.
With this ideas management system you can gather, share, analyze, and collaborate on your ideas with the rest of the team. It includes a number of powerful features like idea ranking, mind mapping, crowdsourcing, feedback management, polls, status tracking, and many others.
On top of this, Idea Box serves as a collaboration platform that allows team members to discuss various topics as well as share and comment on ideas. Another cool thing is that you can create microsites that are focused on particular challenges or issues.
Key Features
Transparent Evaluations
ROI Tracking
Engagement Metrics
Mobile Collaboration
Drag-and-Drop
Robust Innovation Pipeline
Feedback Management
Discussion Threads
Trend Tracking
Evaluation Workflow
Collaboration
Engagement Monitoring
Pricing
Pricing information is not provided by the vendor. If you want to find out more you need to contact its sales teams or request a demo.
8. Rever - the Best Idea Management Software to Improve Your Operations
Image Source: reverscore.com
What sets Rever apart from other idea management tools is that it is designed to meet the needs of industrial and manufacturing companies. In a nutshell, Rever helps organizations to engage their employees in continuous improvement of their operational processes. This makes perfect sense since frontline workers always need fresh new ideas to streamline their processes.
Some of Rever's core features include status tracking, file uploading, workflow management, idea sharing, status tracking, and many others. A great thing about this tool is that it enables workers to take pictures of all the improvements and upload them so that everyone could stay up to date with all the ideas. Also, they can assign anyone on the team in just a few clicks which brings the collaboration to a whole new level.
In addition to this, managers can encourage employees to show their maximum potential by distributing recognition points. Managers also have insights into employee performance and overall idea management. While this tool significantly helps optimize industrial operations and therefore increases overall employee satisfaction, it is not a great solution for some other industries. So, if you are not involved in industrial processes in any way, you may opt for some other tool that will suit your needs better.
Key Features
Mind Map
Trend Tracking
Engagement Monitoring
Collaboration
Activity/News Feed
Evaluation Workflow
Approval Workflow
Activity/News Feed
Ideation/Crowdsourcing
Best Practices Identification
Activity Dashboard
Collaboration Tools
Data Import/Export
Pricing
Pricing details are not provided by the vendor so you need to contact them to learn more. Rever offers a free trial and a free plan.
9. Ideanote - Idea Organization Software Built for New Product Launches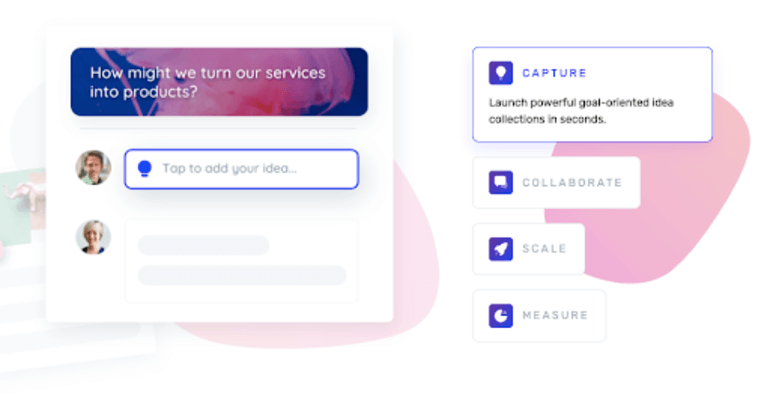 Image Source: ideanote.io
One of the reasons why Ideanote is definitely one of the best idea management tools on the market is because it empowers your team to easily and effectively develop and implement new ideas. It is a kind of a central hub where everyone on the team can present, discuss, and analyze their ideas. Plus, your innovation can scale from only one team to all other departments within the organization.
You can create a number of missions, ideas, and projects and launch ideas for new processes, solutions, and products in a matter of seconds. Next, you can share all of your missions using links or email invites and even identify the top innovator in your company.
What's more, Ideation's clean and user-friendly interface helps everyone on the team keep everything neat and organized and always up to date with all the activities and changes. This allows team members to keep track of the progress of their suggestions. This amazing app also includes collaboration tools which help team members invite other parties to discuss and analyze ideas.
Some users complain about the lack of tutorial videos, success stories, and use cases which makes the learning process a bit more challenging than with other alternatives.
Key Features
Idea Ranking
Collaboration Tools
Workflow Management
Gamification
Engagement Monitoring
Idea Ranking
Status Tracking
Trend Tracking
Discussion Threads
Activity/News Feed
Polls
Mind Map
Tasklist
Search
Competitive Intelligence
Pricing
Ideanote provides users with three plans: Starter, Business, and Enterprise. Starter starts at $249 per month per one team and up to 100 ideas.
10. Hype Innovation - An Ideal Innovation Management Solution for All Your Ideas
Image Source: hypeinnovation.com
This cloud-based idea management tool helps teams of all sizes walk through the innovation lifecycle easily, efficiently, and stress-free. From idea ranking, discussion threads, and project tracking to voting features, participation reports, and key metrics, Hype Innovation offers a plethora of features that can help you build innovative solutions.
The best thing about this app is that it allows you to customize every campaign. If you are an idea owner, you can define different parameters for every posted idea like project duration, discussion methods, teams, and implementation channels. On top of this, you can use filters to choose participants based on their skills, location, and department.
To make things more interesting, this ideas management software also includes an evaluation tool that helps managers make their decision on which ideas are worth higher investments.
However, some customers complain about the app configurability, so you may want to keep that in mind when choosing the best ideas management system for your business.
Key Features
Brainstorming
Activity Dashboard
Creator Tracking
Collaboration
Automatic Notifications
Chat
Reporting & Statistics
Third-Party Integration
Customizable Branding
Commenting
Activity Tracking
Idea Ranking
Ideation
Multiple Projects
Summary Reports
Pricing
Pricing details are not provided by the vendor.
11. Planbox Innovate - A Perfect Idea Organization Software to Accelerate Your Business Outcomes
Image Source: planbox.com
Planbox Innovate is an all-in-one cloud-based idea management software that empowers you and your team to generate, pitch, evaluate, and manage all of your ideas in one centralized hub. This platform combines artificial intelligence, advanced search technology, and machine learning to automate idea creation and innovation discovery.
In a nutshell, Planbox agile innovation management suite is built to streamline team collaboration and idea management for all teams across industries. Its key features focus on a four-level structure including projects, initiatives, tasks, and items.
Users can create an unlimited number of projects and initiatives, use filters to personalize the interface and adapt it to their needs. They can also integrate Planbox with other tools so they can use even more versatile features. On top of this, there are progress reports and burndown charts users can leverage to monitor teams' progress.
Key Features
Employee Communities
Ideation
Campaign Planning
Task Tracking
Rules-Based Workflow
Charting
Campaign Analysis
API
Ad Hoc Reporting
Powerful Analytics
Reporting Tools
Open API
Pricing
Planbox pricing plans depend on the number of users. This idea management software offers a free plan which includes 2 users, 1 organization, and 2 projects. The Group plan starts at $5 per user per month.
12. Ideawake - The Best Idea Management Tool that Ensures Your Company's Growth
Image Source: Ideawake.com
Ideawake is one more powerful innovation management solution that supports innovation initiatives by offering a complete set of features needed to enhance processes and idea management, like real-time chat, idea lifecycle tracking, status development, crowdsourcing, and many others.
It also gives you easy access to all kinds of resources like case strides, best practices, and already developed processes to improve the idea maturing. Plus, it has a super easy and user-friendly interface which, combined with awesome features, makes a perfect recipe for success.
Through the process of gamification you can encourage employees to participate in a certain project by giving them points for completed tasks. If employees recognize an opportunity to innovate, they can just post a challenge and tag the person they want to participate in the development of that particular idea. As simple as that!
Key Features
Discussion Board
Employee Portal
Scorecarding
Visual Analytics
Gamification
Chat Functionality
Employee Self Service
Collaboration Tools
Survey Management
Feedback Collection
Email Invitation & Reminders
Collaborative Workspace
Chat Functionality
Access Control
Activity Monitoring
Pricing
Pricing details are not provided by the vendor.
13. Ideascale - All-in-One Idea Organization Software for the Entire Organization
Image Source: ideascale.com
One of the most popular idea management tools on today's market is undoubtedly Ideascale. The reason why we decided to include it in this list is that it serves around 25,000 users around the world across different departments.
The tool allows you to collect your team's ideas, vote, and choose the one with the biggest potential, and then evaluate and implement that idea. Some of the top features include collaboration, ideation, workflow management, idea ranking, mind map, discussion threads, trend tracking, etc.
Ideascale integrates with different modules like social media, collaboration, and project management modules. It also offers an open API that enables integration with other apps.
Some users complain about the complexity of the app and that it is not really a good solution for beginners.
Key Features
Idea Ranking
Status Tracking
Workflow Management
Polls/Voting
Discussion Threads
Collaboration
Evaluation Workflow
Activity/News Feed
Feedback Management
Gamification
Mind Map
Trend Tracking
Pricing
Ideascale offers a free trial and offers 4 pricing plans: Engage, Evolve, Advance, and Transform. All the details are given by the vendor.
14. Canny - An Idea Organization Software to Help You Build Better Products
Image Source: canny.io
Canny is the best idea management software for large enterprises that lets you come up with the most amazing ideas from not only employees but also customers. Also, Canny offers a Changelog feature that allows you to keep track of the progress and get a better understanding of all the activities across your team.
You can do this in four easy steps: capture product feedback, inform product decisions, share your roadmap, and announce product updates. You can choose different privacy options to limit access to your boards. Plus, you can discuss different topics with your team through internal comments.
Finally, Canny lets you customize your brand colors, logo, and prompts the way you like it. To make sure important responses are seen by everyone at the top, don't forget to pin your comments.
Key Features
Identify Users
Board Privacy
Internal Comments
Pinned Comments
Customization
User Segmentation
Tags & Categories
Status Updates
Date Estimates
Labels
Schedule Releases
Collaboration
Ideation
Intuitive User Interface
Pricing
Canny plans start at $50 monthly for up to 100 tracked users.
15. Asana - An Ideas Management System that Enables Work on Big Ideas
Image Source: asana.com
Asana is primarily a task management solution that stimulates your team to communicate with ease, share documents, exchange ideas, and stay up to date with all the changes and activities. Plus, it is an ideal innovation management solution for companies of different sizes.
With its features like document management, reporting, task management, dashboards, templates, and automatic notifications, Asana encourages your team to unleash their creativity and generate a wide range of inspiring ideas. The tool can be used from different devices including tablets, laptops, and smartphones and can be integrated with a wide variety of apps like Slack, Box, Dropbox, and Google Drive.
Also, some users complain about a steep learning curve as there are many features included in the tool, so you may want to opt for some more simple and suitable free idea management software for your business needs.
Key Features
Customizable Dashboards
Integrations
Activity Feeds
Email Integration
Tags & Comments
Customer Support
Group Discussions
Custom Calendar
Setting Priorities & Due Dates
Events & Meetings
Prioritization
Subtasks Assignment
Multiple Workspaces
Group Discussions
Project/Task Creation
Pricing
Asana offers a free trial and a free package for up to 15 users. Premium package starts at $21 for 5 users per month.
16. IdeasMine - The Best Innovation Management Solution that Turns Ideas into Actions
Image Source: slideshare.net
IdeasMine is an idea management software designed to serve startups and agencies to innovate through teamwork and collaboration. It is a collaborative innovation platform with a simple and operational system allowing you to collect all the ideas from employees.
Simplicity is what distinguishes IdeasMine from the rest of the idea management tools on the market—it is super easy to use, super easy to understand, and super easy to manage. What more could you ask for from an ideas management system?
This tool offers a plethora of features that may come in handy when managing projects and tasks across departments. These include brainstorming, project tracking, creator tracking, and other cool functionalities. Plus, IdeasMine offers training via live online events, webinars, and in-person sessions.
Key Features
Brainstorming
Activity Dashboard
Collaboration
Creator Tracking
Idea Ranking
Project Tracking
Status Tracking
Workflow Management
Training
Simple Interface
Idea Management
Ideation
Pricing
IdeasMine offers a free version and a free trial. Its pricing starts at $1.00 per month, per user.
Conclusion
Still having second thoughts about which idea management software to choose for your business needs and team's requirements?
We hope we succeeded in bringing the concept of idea management software closer to you and that we helped you on your decision-making journey. But, if you plan to leverage the maximum creativity of your team to innovate, progress, and reach the top in no time, Infinity is undoubtedly the tool you should use to start this journey. Why? It has all the functionalities you need to let your creative juices flow and shoot for the stars.
Want to learn more? Schedule a demo with some of our team members or contact us at team@startinfinity.com. We're here to help you on every step of your Infinity journey.
FAQ
Why is idea management important? Idea management is important because it can boost creativity and maximize the output of brainstorming sessions and idea generation. If you use a system like an idea management software, it is easy to capture ideas, organize and prioritize them, choose the best ones, and work on developing them into initiatives. How do you share innovative ideas? The best way to share innovative ideas with your team is to use idea management software where you can collaborate in real-time, discuss your ideas, and decide on which suggestions are the best. What is an idea management system? An idea management system is a software tool that helps you save ideas, brainstorm with other team members, organize and prioritize all ideas, and boost creativity and productivity. What is the best idea management software? Infinity lets you capture all your ideas and organize them by filtering, grouping, and sorting them any way you like. There are 22 custom attributes, 7 project views, an infinite number of folders and subfolders you can create to declutter your brainstorming boards. Infinity lets you integrate with other applications so you can organize everything you need within a single workspace.