15 Project Management Software for Delivering Projects Effectively
Having the right project management software in your stack, managing the workforce, priorities, deadlines, and budgets is no-bother.
Poorly defined goals and objectives, struggling to keep teams on the same page, miscommunications and misinterpretations, and overseeing risk are just a few challenges project management teams face all the time. Probably that's why around 97.5% of companies fail to complete their projects, which is, no doubt, quite disheartening.
So, is there a way to implement the lessons you've learned about managing projects, prevent all of the issues you've come across, and deliver projects on time and budget? You bet! And it's simpler than you think… Simple as choosing the right project management tool from our list that matches your team, workflow, budget, and existing toolkit.
We've done our best to help you filter out the noise on the market and reviewed 15 project management software we believe could make it easy-breezy for you to plan, control, monitor projects, and make sure nothing slips through cracks.
Must-Have Features of Top Project Management Software
What are the key functionalities of the most popular project management softwares? What does it take to make delivering projects less stressful? It's the features!
Project and Task Management—To be able to deliver projects, you need to outline what needs to be done, decide who's going to do what, set deadlines, etc. All this info should be available to the team so everyone can update work and track progress on individual tasks and projects in general.
Scheduling and Tracking—Gantt charts, calendars, and timelines could be your best friends when working on projects. You should be able to know where work stands at any moment, see how far your team has come, and how close are the milestones and deadlines. Having a broader picture of important dates, you'll be able to assign work accordingly and engage more people on critical tasks so they are not hindering the timely delivery of the project.
Communication—Delivering projects successfully is out of the question if people on the project aren't really working together, as a whole, if giving feedback takes a lot of time, or if the team is overloaded with information (yes, this can happen,too). Almost all project management tools are built in a way that will keep everyone from the team in line. Messaging, commenting, real-time chatting, video calls, and voting are some of the features to look for in this kind of software.
Reporting—Tracking everything manually can be a real chore. Project management tools that have reporting features or integrate with other tools with reporting capabilities can make it clearer what is working and what is lagging so you can use this info to re-optimize bad processes and stimulate the good ones.
15 Project Management Software To Keep an Eye On
1. Infinity — A Project Management Software For Teams of All Sizes
Tired of juggling between all kinds of tools (planning, GTD, and collaboration) when working on multiple projects? Then you probably still haven't heard of Infinity, a project management software that brings all the project management essential to one place.
Infinity can help you improve processes, scale best practices, make better use of your budget, and deliver projects on time while saving you time. Infinity's templates are there to help you get your projects rolling. Here are a few project management templates you can check out right away:
Now it's time to create first tasks, assign work to your teammates, and set deadlines. Actually, there are over 20 attributes you can add to your items to give them more context, including links, attachments, references, and more.
Infinity also lets you display data in 7 different ways so you can display time-sensitive tasks on a calendar, visualize project timelines on a Gantt chart, track task completion on a Kanban board, and get a quick overview of your teams' to-dos by choosing the List view.
"Michael Jordan of project management tools. Super useful, intuitive, user-friendly app & dedicated team." — Matija Golubovic, Product Hunt review
Since your teams have to collaborate with each other when working on projects, this project management app can make it convenient for them to talk about updates, ask for opinions, or help on tasks. You can easily write or reply to comments, provide feedback, and track the latest changes in the Activity Log.
This project management tool is also powered by automations that can truly make managing projects much easier. This way, you won't forget about important tasks, events, or meetings ever again. In other words, you'll be able to schedule things, automate some of the actions that eat up your time on a daily basis by creating recurring tasks and setting reminders.
All in all, Infinity can make sure everything goes according to plan and help you deliver projects, no matter small or big, easier than ever before.
Key Features
Infinite Structure—Infinity's structure consists of workspaces, boards, folders, tabs, and items you can use to neatly organize every single detail of your projects.
Templates Gallery—Infinity offers 8 project management-related templates and over 40 other kinds of templates you can easily customize to your work needs.
7 Views—Have all your project data displayed at a glance any way you like—on a Kanban board, chart, table, calendar, Gantt chart, or list, while the Form view lets you create custom forms and even embed them on your website.
20+ Custom Attributes—Infinity lets you assign 22 attributes to each task, some of which include a checklist, date, label, number, or vote. You can add progress bars to all of the tasks within a project and track whether they are executed or time or not. You'll love the formula attribute as well, since it makes it easy to estimate costs and calculate weekly, monthly, or yearly budgets.
Data Customization—Filter, group, or sort data by whatever attribute you want, select multiple items at once, and edit them all together.
Communication and Collaboration Features—Use features such as commenting, activity log, and board sharing to streamline communication with team members. You can also invite members and stakeholders to start using Infinity, set up permissions, which will keep everyone in the loop and ensure everything you are doing is for the sake of the project.
Automations—Focus your time on tasks that matter for the project instead of doing everything manually and make sure you get reminded about important upcoming stuff.
API—Not only can you improve and automate your workflows using Infinity's automations but you can also connect it to other third-party apps or build your own, custom programmatic interactions.
3,000+ Integrations—Infinity integrates with other project management tools thanks to Zapier so you can migrate your data and have it all in one place almost without any effort.
Mobile and Desktop Apps—With Infinity, you can manage projects from anywhere—your office, cafe, or home. Infinity's app is available for mobile and desktop devices (Windows, Linux, and macOS) while you can use it directly from the browser as well.
Pricing
You can get one of Infinity's Basic plans starting from $3.75 per user per month, or a Pro plan, starting from $6 per user per month. Whoever signs up for an account gets a 14-day free trial to explore Infinity's features.
2. Wrike — An Intuitive Project Management Software For Teams of 5+ People
Image Source: wrike.com
There are many reasons why Wrike falls into the category of top 10 project management tools. First of all, it is super versatile so management teams can easily customize it to their usual workflow and continue working their way but more efficiently.
Wrike has quite a simple interface that allows the user to navigate their workloads, priorities, schedules, and everything in-between in just a few clicks. Plus, you can choose how you want to see your stuff, whether it be on a Kanban board, Gantt chart, or else.
This project management software also enables real-time communication and messaging between teams and individual members, which truly brings everyone of the same wavelength. Additionally, Wrike will notify you all about the latest updates so members can track progress on tasks, provide feedback, and more.
Wrike's resource management and performance reporting features can give you deep insights into the direction you're going in and truly make a difference in how you manage and deliver projects.
Key Features
Templates
Interactive Views
Real-Time Collaboration
Project-Level Effort and Time Planning
Notifications
Project, Task and Guest Approvals
Reporting
Budgeting and Billable Hours
Over 400 Native Integrations
Pricing
Wrike has a free plan while their paid plans start at $9.8/user/month.
3. Zoho Projects — A Practical Project Management Software
Image Source: zoho.com
Zoho Projects is a project manager software that combines flexibility and customization many project management teams would use to deliver projects easier.
Besides offering basic, yet super-useful features such as Kanban boards and Gantt charts, Zoho Projects also offer some high-level functionalities, such as escalations and resource utilization charts.
Not only does this software for project management come with a gallery of templates but it lets you convert successful projects into templates you can reuse and customize as much as you want.
Automations make Zoho Projects even more valuable since you can automate a good portion of daily tasks that can be quite tiresome, such as sending notifications or requiring approvals, which can reduce project delays.
Key Features
Task and Project Management
Project Templates
Task Tracking
Time Tracking
Reminders
Automations
Workflow Rules
Planned vs Actual Progress Reports
Project Budgeting
Pricing
Zoho Projects have a free plan and two paid plans priced at 5 and 10€/user/month.
4. Hive — A Project Management Software Built to Help You Deliver Projects Faster
Image Source: hive.com
Hive is among project management softwares that can help you stay on top of your projects without feeling overwhelmed. It takes less than 60 seconds to create a new project, add project members, set project visibility settings, and start taking action.
You can choose between 6 types of layouts and see projects in a way that makes most sense to you. All of the project-related tasks are collected in a separate folder so every member can easily access them, update progress, and check on due dates.
Hive's Focus Mode makes it possible to work without any interruptions, while there are features such as baselines, time tracking, and recurring tasks that can help you save yourself time and be more productive with whatever you're on.
Being one of the best project management apps, Hive gives you a bird's-eye view of your entire business. Navigate all of your projects using the Portfolio View and track every action and detail for any project, filter, group, and sort information, and keep tabs on major accomplishments easier than ever before.
Key Features
Templates
Project Baselines
Project Linking
Team Resourcing
Project Portfolio and Summary
Automated Workflows
Time Tracking
Native Chat
Reporting
Pricing
Hive has a free solo plan and two paid plans—Hive teams priced at $12 and enterprise plan (custom pricing).
5. Nifty — A Project Management Software For Forward-Thinking Teams
Image Source: niftypm.com
Nifty is a project management app that makes working on projects smooth and even delightful. The team behind Nifty emphasizes the fact teams are wasting 5 hours a week switching between various tools, which is why they've brought a good chunk of functionalities into one app, to help you be more productive.
You can use Nifty to set and visualize big-picture goals, manage campaigns, individual tasks, and, of course, projects. Nifty's collaborative nature makes it effortless to collaborate with the team, share thoughts and ideas or hop on calls in a click to gather feedback.
Being one of the best online project management tools, Nifty makes it a breeze for project managers to track task completion. The "All Tasks" tab is a place where you can see both progress and delays.
Lastly, Nifty features automated progress reporting so you can keep an eye on all activities even on days when your schedule is hectic, and monitor your team's performance across all projects.
Key Features
Project Portfolios
Workload and Project Overviews
Cross-Project Overviews
Team Workloads
Workflow Automations
Task Dependencies
Recurring Tasks
Team Chat
Budget Tracking
Time Tracking and Reporting
Pricing
Nifty is one of the best free project management tools while they have paid plans as well starting at $5 per member, per month.
6. Trello — A Simplified Project Management Software
Image Source: trello.com
Trello is one of those online project management tools that puts focus on simplicity so you and your team can truly manage projects instead of trying to figure out how to use it.
Trello is built around one of the most popular project management methodologies, Kanban. Start with a board (that corresponds to a single project), then create lists and cards to organize your tasks by stages on the board, and dive into details.
You can color-code cards, set due dates, make checklists, attach files, and more within each card and easily manage every single part of any task. Trello offers a more interactive experience by letting you collaborate on a board to make sure all of your teammates are singing the same song.
Finally, this project management software can help you reduce the time you spend on boring tasks. Butler, Trello's automation bot, can move lists, schedule assignments, and surface upcoming deadlines to make it possible for everyone to devote their time to project-related work.
Key Features
Customizable Templates
Unlimited Boards
Advanced Checklists
Workspace Commands
Log Activity
Dashboard, Timeline and Calendar Views
Automations
Unlimited Power-Ups
Pricing
If you're just getting started with project management, you can use Trello for free. Trello's paid plans start at $5/user/month.
7. Asana — A Reputable Project Management Software
Image Source: asana.com
Most project management tools are built around a major idea—combining multiple functionalities you can find in other tools such as setting and tracking goals, tasks, workloads, deadlines, and progress, and bringing them to a single tool.
Yet, how can you use Asana to track projects exactly? First, you can easily load and then copy project templates, organize work and tasks using lists or Kanban boards, break up tasks into subtasks or group them by sections, set start and due dates, and assign work.
Asana then takes a step further and allows you to create custom fields, forms to submit work requests, vote for tasks, set task dependencies, and sync tasks across projects.
This software for project management also makes it convenient to keep initiatives on track and projects on course. You can also get real-time project info, create reports, and spot bottlenecks on time.
Key Features
Unlimited Projects
Project Templates
Private Teams and Projects
Task Templates
Project Overviews
Project Briefs
Workload Management
Rules
Reporting
Time Tracking with Integrations
Pricing
Asana has a free plan and 2 paid plans priced at $10.99/user/month and $24.99/user/month.
8. Smartsheet — A Dynamic Spreadsheet-Like Project Management Software
Image Source: smartsheet.com
Smartsheet is one of the most popular project management software that empowers teams to achieve more and pushes them towards successfully executing projects with speed. It is armed with all the features you may think of when working on projects, including strategic planning, project planning and scheduling, resource management, task and budget tracking.
Once you've defined a project scope and created and assigned tasks, Smartsheet would let you visualize them in a couple of ways. Use calendar, grid, card, and Gantt chart views to represent different types of data in the most meaningful manner.
Smartsheet allows attaching files from other apps to give your team more direction and help everyone stay on the same page. You can stay on top of team activities but also hold stakeholders accountable by tracking tasks by members and making sure priority tasks are delivered on time.
Another great thing about this project management app is that it can help you streamline workflows—set conditional paths, send alerts, update and approval requests, record dates when milestones are reached, which can help a lot with execution and saving valuable time.
Key Features
Project Baselines
Critical Paths
Task Dependencies
Resource Management
Team Collaboration
Activity Log
Automations
Private Sheets and Reports
Notification Center
Reminders
Pricing
Smartsheet's plans are priced at $7/user/month and up.
9. Teamwork — A Project Management Software With Extensive Features
Image Source: teamwork.com
Teamwork is a project management tool that has become insanely popular lately because of its pleasing interface and the positive experience many project management teams have had using it.
If you want to be able to easily plan and track projects, maximize resources, and make the most out of your budget, Teamwork's features could get you there. This tool has no learning curve and makes it a breeze to set up new projects and kickstart work. Start off by customizing a template from the gallery. Each template is carefully designed so it helps you save time while getting more things done.
This platform gives you a bird's-eye view of every project, lets you assign tasks in a few clicks, collaborate with teams and clients in real-time, get snapshot views of the upcoming tasks, milestones, and events.
Teamwork allows project owners and admins to update project statuses, build track the health of each project, and manage all risks associated so your team can complete projects when planned, which is why Teamwork has found itself on our list of the best online project management tools.
Key Features
Project Templates
Project Portfolios
Task Templates
Project Updates
Workload Management
Time Tracking
Task History
Dashboards
Billing and Invoicing
Pricing
Teamwork is one of a few free project management apps for small teams while their paid plans start at $10/user/month.
10. nTask — A Powerful and Affordable Project Management Software
Image Source: ntaskmanager.com
nTask is a project management tool that offers an array of features that can make managing projects way simpler and smoother. That means you can plan projects, schedule initiatives, manage resources, and generate reports, all within nTask.
It takes just a few steps to create to-do lists and tasks, add assignees and attachments, create subtasks, set task dependencies, milestones and deadlines. With nTask, you can gain more transparency, define work capacity, track progress, and make sure resources and work are allocated efficiently so no one from your team is overworked or underworked.
Knowing that delivering projects is impossible without streamlined collaboration, nTask makes it possible to chat with the team, share progress, files, and documents, and ask for feedback, anytime.
To help you nail your projects, this project management app allows you to spot issues, link issues to projects and tasks, and assign every issue a priority level so your team knows what to focus on. Spotting, organizing, and working on issues is one of the main things to do if you want to nail projects.
Key Features
Pre-Built Board Templates
Project Linking
Progress Lines
Resource Allocation
Timesheets
Time Tracking
Budgeting
Risk Management
Issue Tracking
Reporting and Visualization
Pricing
nTask has a free plan and two paid plans ($3/user/month and $8/user/month).
11. ProjectManager — A Basic Project Management Software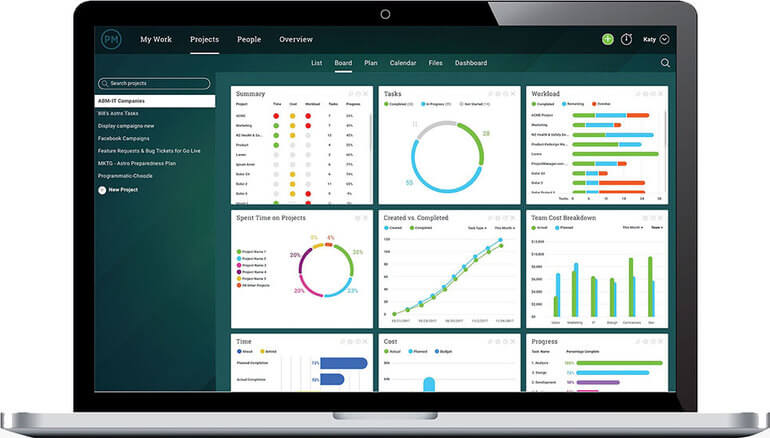 Image Source: projectmanager.com
ProjectManager is, obviously, software for project management that can be used for planning, scheduling, managing, and executing both short-term and long-term projects. It boasts resource management, collaboration, and reporting features that are a no-brainer to use and will make evaluating progress much faster.
With ProjectManager, you can manage multiple projects at once and get real-time insights into how each is performing in just a few clicks. You can create and organize a project portfolio and even create interdependencies.
Needless to say, ProjectManager simplifies and facilitates task management as well. The team can track tasks and their completion on the Kanban board, log hours, attach files, and comment on other tasks to stay in touch with other people on the project. The app will send you a notification as soon as there are new task and status updates so that everyone is informed about up-to-date changes.
As new tasks arise, you can easily check team availability, who's overworked or underworked, who's on vacay or on leave, and delegate work accordingly. Lastly, just like other project management solutions on our list, ProjectManager allows tracking task and team progress, costs, and everything in-between, and generating insightful reports that can be printed as well.
Key Features
Project and Task Management
Project Portfolios
Resource and Team Workload Management
Team Collaboration
Drag-and-Drop Functionality
Time Tracking
Budget Tracking
Dashboards
Reporting
Pricing
ProjectManager has a free plan for up to 3 users while paid plans start at $11.5/user/month.
12. Breeze — A Clean and Intuitive Project Management Software
Image Source: breeze.pm
Breeze is a project management tool that can truly make working on projects a breeze. With Breeze, you can quickly develop a new project approach and find ways to do more in less time and in a less stressful manner.
Breeze has a simple layout so you can get a hang of it right away and start organizing different aspects of your projects. That means you can organize items by project, department, stage, and priority and see it all on a timeline, calendar, board, or spreadsheet and manage your tasks and to-dos visually.
What else brought Breeze to our list of the best project management apps? Well, it allows users to estimate work, track workloads (in general or by a member), track time, and chat with teammates.
Last but not least, with Breeze, you can have a clear overview of our projects on a dashboard, identify issues on time, act on them on the fly, and run reports that highlight metrics that matter the most. That's why many teams use this tool to manage projects from start to finish.
Key Features
Project Templates
Master Project Board
Project Budgeting
Estimates and Sizing
Recurring Tasks
Project Notes
Time Tracking
Team and Workload Management
Task Completion Analytics
Email Notifications
Pricing
Breeze's plans start at $49/month for a team of 5 users.
13. Workzone — A Great Project Management Software for Busy Teams
Image Source: workzone.com
Workzone is among the best project management solutions you can use to focus on what's important, track where your projects and work stand at any moment, get more things done, together, and measure, compare, and improve results.
Project managers love Workzone's project templates you can reuse in just a click, which can save you a lot of time and reinforce efficient and consistent processes. Workzone's project dashboards can give you the big-picture overview of all projects your teams are working on, things that should be done in the upcoming period, and the status and progress on all ongoing projects.
When working on multiple projects at a time, some of your team members might be overburdened with work while some of them might be underworked. Workzone's workload reports can help you delegate responsibilities and keep everyone balanced while still ensuring the work quality is great and that deadlines are met.
Workzone also makes it convenient and smooth to submit project requests, track requests on the approval dashboard, receive feedback, and make sure communication with stakeholders is on point. Those are the reasons why many users see Workzone as the best project management app out there.
Key Features
Unlimited Project and Task Management
Project Templates
Custom Project Intake Forms
Task Dependencies
File Sharing, Reviewing, and Approving
Resource Management
Time Tracking
Workspace Groups
Custom Reports
Pricing
Workzone's pricing starts at $24/user/month.
14. Ayoa — A Thoughtfully Designed Project Management Software
Image Source: ayoa.com
Ayoa is a project management tool that has everything you need to manage both big and small projects effectively. With Ayoa, you can brainstorm ideas, organize projects, motivate teams, and increase overall productivity.
This platform is a place to manage and track multiple projects with ease. It allows you to choose different views for different projects and categorize and display tasks in the style that feels right.
Once tasks are created and delegated and your team members get down to work, project managers can easily track task progress, see how much of each task has been done, and how far the deadlines are.
This simple project management tool encourages the users to utilize the power of teamwork. You can share your mind maps and task boards with the rest of the team, suggest ideas on how to make processes more efficient and resolve issues. Task comments, group chats, and instant messages bring teams on the same page and make managing and delivering projects with Ayoa plain sailing.
Key Features
Project Boards
Project Progress Bars
Task Planning and Scheduling
Unlimited Sharing and Collaboration
Colorful Bubbles and Task Lists
Mind Maps
Whiteboards
Video Chats
Daily Summaries
Pricing
Ayoa offers a 7-day free trial and 2 paid plans priced at €9/user/month and €12/user/month.
15. Flow — A Powerful and Flexible Project Management Software
Image Source: getflow.com
Flow is a project management tool with a visually stunning interface suitable for a wide array of industries. Since it is super-intuitive, your team will be able to pick it up in no time.
What can you do with Flow to make working on projects smoother? Well, Flow is packed with a bunch of project management-related features such as project scheduling, project sections, and projects colors and icons. In other words, you can easily set daily, monthly, and weekly schedules for each project, keep work on different projects separate, or make project templates out of successful projects.
Flow keeps everyone from the team instantly updated about new tasks, task updates, and mentions. It also lets you make some of the tasks recurring to make sure important things are never missed and to encourage new, positive habits.
Being among the best project management systems, Flow could definitely offer a helping hand with projects that span across multiple teams and keep you all updated, focused, and successful.
Key Features
Project Templates
Public and Private Projects
Project Timelines
Project Dashboards
Recurring Tasks
Comments and Discussions
Teams and Subteams
1,000+ Integrations
Pricing
Flow has 3 paid plans starting at $6/user/month.
Summary
How did you like this project management software roundup? Have you already spotted a tool that could make your team's day-to-day work smoother and delivering projects less challenging?
If Infinity has caught your eye, then you should know that this feature-rich project management tool would be a great fit for any team and any project. If you need more convincing, sign up for our trial or schedule a free demo call.
FAQ
What are the main benefits of using a project management software? A project management software can help with planning and scheduling projects, tasks, and subtasks, allocating resources in an optimal way, keeping real-time checks on progress, and these are just a few benefits that you may experience if you start using a tool like this. How can I know if my team needs a project management software? If your team is struggling with planning, organizing, and running projects in a predictable and profitable way, then you may start thinking about implementing this type of tool into your workflow. Which project management software should I keep my eye on? Project management software you should keep your eye on are Wrike, Trello, Smartsheet, and Infinity. Oh, by the way, Infinity's currently running awesome lifetime deals so you can get unlimited access to all of the tool's features at a steal price, for a lifetime.