16 IT Management Software to Help You Manage IT Projects
Forbes Insights says: The digital workplace merges work and life—a virtual space with applications, services, and information on demand.
For users, this means access to the technology they need, when they need it, on whichever device they prefer to use."
If you are working in an IT company, you must be familiar with information technology systems and how critical they are for the whole organization's productivity and efficiency.
In a nutshell, IT management involves keeping track of a wide range of assets like software, hardware, and networks. It makes sure information systems function efficiently and helps people maximize their potential at work. Indeed, more and more organizations focus their attention on IT as the center of their innovation and project development. As a matter of fact, IT departments are becoming the focal point in organizations across industries as they are busier than ever.
These processes used to be handled by maintaining manual logs on spreadsheets, which means more work, time, and effort. Today, it's a dedicated IT management software that does the whole work.
IT management software is the backbone of the IT department responsible for organizing, keeping track of, and managing all technology assets inside the company allowing you to easily access anything you are looking for from your computer or some other device.
Essentially, it helps businesses use their resources in the best possible way, make their data secure, incorporate the best technology practices and offer better services in general.
The bottom line: Having an IT management software is imperative in today's digital world. And here are the reasons why your organization must have one:
Why Do You Need to Invest in Powerful IT Management Software?
More balanced capacity and workload—Through IT management software you can harmonize project flows and use all of your resources at their full capacity. This way you minimize downtimes, eliminate employee burnout and reduce talent retention. Plus it helps you fit into your budget.
Lower maintenance costs and efforts—IT automation streamlines update processes so that users don't have to reach out to IT when they encounter an issue which increases employee efficiency and lowers frustration.
Much lower risk—Every IT project carries risk which can exponentially spike. IT management software prevents this from happening or at least minimizes risk factors as most users know what to expect.
Better end-user experience—Definitely one of the biggest advantages of having IT management software is that it improves user experience. Changes that used to be a dreadful experience for users as they carried many risks, now become easier to handle and even exciting (new features). Also, the learning curve is less steep.
Higher revenue and productivity—Well-managed IT leads to better user experience which then leads to increased productivity. Plus, it helps employees stay focused on the work they do as there are fewer IT issues that might distract them along the way.
Predictable budget needs—IT management software helps you have a clear insight into how many devices need to be upgraded and how much it will cost you in a specific period of time. This lets you predict your budget, and retain IT talent.
Reduced hardware costs—Since the hardware is tracked and cataloged, it is less likely it will somehow be misplaced or even lost, which therefore reduces the cost of procurement.
But, choosing the right one is a long and winding road—the options are many! Luckily, we are here to guide you and help you pick a simple, user-friendly IT management software that will ensure your company's growth and make all of your processes run smoothly.
Here is the list of the top IT management software chosen by our experts to help you make the right decision and pick the tool for your specific business needs.
16 IT Management Software to Try Out in 2023
1. Infinity — A Unique IT Asset Management Software for Businesses of All Sizes
Infinity has a reputation as a fan-favorite IT management software because of its incredible flexibility and the ability to simplify complex things allowing you to navigate your business processes like a pro.
It helps businesses unify their software projects, manage project collaboration and automate simple tasks.
Infinity is highly customizable as it enables you to adapt your database, edit dashboards and manage the information to suit the needs of the hour. You can easily break down your projects into boards, folders, subfolders, tabs, and items and use one workplace to access all of them in just a few clicks. No matter whether you need to keep track of your assets or organize and manage your project and team collaboration, Infinity is there at your side in real time.
For instance, let's say you need to organize all of your company resources including servers, applications, operating systems, employees, and computers. Infinity offers you the possibility to organize them all through boards designed for various purposes. And, if you add different ways to organize that data such as forms, columns, Gantt charts, calendars, lists, charts and tables to the formula, you've got your one-way ticket to success.
"As part of Group Procurement, this platform is very useful especially when you are catering to many departments/business units within the group. You can do so much with Infinity." - Gemar Alumbre
Once you organize that data, you can further customize items - filter, group, sort, reorder data, color-code boards, and add labels. Plus, you can choose among more than 20 attributes like labels, links, text, dates, checklists, votes, progress, and many more and then you can customize them to your needs.
Naturally, automation plays a major role in a well-organized management system. Infinity can help here, too. It lets you manage repeating dates, automate workflows, and set reminders so you can focus your thoughts and efforts on things that matter the most.
Finally, to streamline team collaboration and keep everyone in the loop, Infinity enables smooth communication with your team allowing you to make necessary changes, track updates through comments and the notification system, share boards even outside the platform.
Aaaand, if you are searching for more functionalities that would make your IT management flawless, you can leverage third-party integrations with some of the most amazing tools like Trello or Clockify, or Zapier which lets you access more than 2000 apps. For instance, you can export or import your data with ease from CSV files when you want to standardize your business data.
To help you get a clear picture of how our IT management tool works, we've created a video:
Key Features
Resource Management—Manage and navigate all of your resources through various tables and bring your own organization to a whole new level.
Ready-Made Templates—Use one of the Infinity's templates to get on top of all of your business processes in no time.
Document Management & Sharing—Organize all of your items, folders, subfolders neatly and use the Public board feature to share all of them with other team members.
Third-Party Integrations—Leverage the capabilities of other apps like Clockify and Trello, or a wide range of cool tools via Zapier.
Flexibility—Customize Infinity's structure the way it suits your and your team's needs.
Instant Messaging—By messaging your team members instantly, you improve the team's collaboration and make sure everyone is on the same page in real time.
Task Management—Assign tasks to team members and know who's doing what at any given time and make sure your team meets all the deadlines.
Intuitive UI—Infinity offers just the right number of features to help you keep all the things well-organized and streamlined without wasting much time learning how the app works.
Communication Tools—Task assigning, live chat, messaging, comments, and notification are all features that can help bring the team's communication to a whole new level.
Multiple Views—See your data from different perspectives by choosing one of the views like Calendar, Gantt, Columns, Table, List, and Form.
Custom Attributes—Opt for one of the 20+ attribute types such as date, text, checkbox, labels and customize them to suit your specific business needs.
And this is not where the story ends.
If you are starting from scratch and need some guidance that will ease your learning curve, Infinity offers more than 50 templates you can choose from. Plus you can modify them to suit your needs.
INFINITY TIP: Leverage the superpower of Infinity Labels as this will help you organize your tasks, folders, subfolders, and items the way you want to and with ease. You can also create a separate set of labels for various requirements such as Progress, Priority, Status, and others.
Pricing
Infinity's got two amazing plans for you, starting from $3.75 for Basic and $6 for Pro per user per month. All plans come with a 14-day money back guarantee, which allows you to get your money back in 14 days from the moment of purchasing a subscription plan.
2. Freshservice — An Intelligent IT Management Tool for the Modern Enterprise
Image Source: freshservice.com
If you are looking for an ideal IT management system with a number of powerful functionalities to help you master asset management, Freshservice is your answer. First, it has an intuitive and easy-to-use interface that will help you navigate it quickly. It offers a number of features that will help you improve your workflow. Some of its capabilities include: in-depth reporting, tracking, lifecycle management.
Plus, this tool includes comprehensive inventory management tools that enable you to stay updated on stock levels regularly. And, it offers incident management handling, project management, and software licensing management. There is also a ticketing system, knowledge-base, and self-service portal. All of this simplifies businesses' IT operations and manages incidents, assets, issues, releases.
All of the assets including software and hardware can be added and then tagged, delinked, and tracked allowing you to always have a clear insight into your assets' status. There is also a gamification module "Arcade" included in the tool. This lets you create reports for changes and incidents by using filters.
Finally, this IT management tool can be integrated with a number of third-party apps allowing you to manage your service desk. However, some users complain that the number of integrations is small compared to some other tools.
Key Features
Service Desk Automation
Custom Reports
Interactive Visualization
IT & non-IT Asset-Tracking
Workflow Management
Drag-and-Drop Interface
Project Management
Issue Tracking
Real-Time Project Dashboard
Gamification
Scheduled Reports
Out-of-the-Box Reporting
Mentions
Time Tracking
Pricing
Freshservice offers a 21-day free trial, and the basic plan starts at $19 per month. The tool offers 4 pricing plans.
3. Atera — An All-in-One IT Asset Management Software for Businesses of All Sizes
Image Source: comparecamp.com
Atera is an ideal IT service management software that helps IT professionals and service providers by allowing them to manage and monitor IT processes at one central hub. Also, it enables them to manage some other pieces of the business like reporting, billing, help desk, etc.
The best thing about this IT management system is that it lets you manage, maintain and solve customer issues no matter the time or place. Also, Atera offers a very transparent and affordable pricing scheme when compared to other IT management tools. All in all, one of the key reasons why Atera has become so popular on the market are its numerous features such as remote control, PSA capabilities and RMM.
On top of this, this tool offers a number of powerful integrations and can be used from different devices like table, desktop computers or a mobile which enables you to provide excellent customer support from virtually any place in the world.
Finally, this IT management system is very easy to use, making the learning curve less steep and more enjoyable. Learning how to navigate the system is really not challenging and can be easy even for beginners.
Key Features
Real-Time Alerts
Chat & File Transfer
Service Desk
Reporting & Analytics
Contracts & Services Management
Mobile View
Billing & Invoicing
Real-Time Notifications
Scripting
Professional Services Automation (PSA)
Contracts & SLA
Pricing
A great thing is that Atera offers a free trial and three pricing plans including Pro, Growth and Power. The lowest one starts at $79 per technician per month.
4. UpKeep — The Best IT Management Tool to Increase Uptime
Image Source: techcrunch.com
UpKeep is a great IT management system specifically designed to help you and your team monitor your IT system so you would make sure you stay online constantly. With this tool, you can keep things under control, from store inventory to IT assets and all digital assets. Plus, you can create reports that would include everything you and your team need to make sure everything runs smoothly.
One of the reasons why we have included this IT resource management software on this list is its versatility as it can be used on literally any kind of operating system or device. On top of this, you don't have to worry if something goes wrong as this app is backed up by a great support team.
Another cool thing about the app is that it is pretty affordable and probably one of the cheapest IT management software available. All in all, it's a great option for all small and medium-sized organizations looking for a way to monitor and keep their assets under control.
However, keep in mind that this tool doesn't support many third-party integrations so you may want to choose some other tool if you are looking for some other additional functionalities.
Key Features
Dashboard & Reporting
File & Photo Storage
Video Uploading
Real-Time Chat
Preventive Maintenance Scheduling
Invoice PDF Printing & Emailing
Signature Capture
Real-Time Push Notifications
User Access Controls
Recurring Tasks
User Access Controls
Enhanced Scheduling
Pricing
UpKeep pricing plan starts at $29 a month and it offers a free trial. Pricing also offers three pricing plans including Starter, Professional and Business plus.
5. Agiloft — A Great IT Management System for Navigating Contract Lifecycle
Image Source: pcmag.com
Another IT management tool you need to consider is definitely Agiloft. This software uses pre-built and custom modules allowing clients to become more efficient. It offers amazing features like service desk software, task management, workflows. It is designed for companies of all sizes.
In a nutshell, this one of the best IT management solutions that allows you to manage contract lifecycle and integrate contracts into your business processes. You and your team members can now easily map business processes and link contracts to vendors, related accounts, opportunities, tasks, assets, products, and many more.
On top of this, this tool allows users to manage renewals and contract expirations with ease. Users can configure email approvals, templates, workflows, automatic notifications, assets, products and many more. You can also leverage reports and budget to manage your finances.
Some people complain about its UI saying that it is dated looking and that it is more around data rather than process. So, if user interface plays an important role in your decision-making process, you may want to skip this tool.
Key Features
Activity Dashboard
Collaboration Tools
Reporting & Statistics
Alerts/Notifications
Customizable Reports
Reporting/Analytics
Compliance Management
Automatic Backup
Change Management
Customizable Reports
Customizable Templates
Document Management
Drag & Drop
Pricing
The basic plan starts from $65 per month and there is a free trial so you can see what works or not.
6. Jira Service Management — The Most intuitive IT Management Tool to Respond to Business Changes
Image Source: atlassian.com
Jira Service Management is IT service management software that enables teams to easily and quickly keep track of work across an organization. It provides team members with the necessary information so that they can respond to incidents, changes and requests.
This powerful IT resource management software lets employees and customers get the help they are looking for through a self-service portal. It also helps them innovate much faster with advanced approval workflows and automated change risk assessments.
On top of this, Jira Service Management tool enables you to configure automated rules so that you can streamline repetitive tasks. A cool thing about the software is that it offers more than 1000 integrations mainly on the Atlassian marketplace. These include: Jenkins, AWS, CircleCl, and others.
Key Features
Easily Import Data from Other Systems
Powerful Search Capabilities
Advanced SLA
Intuitive Interface
Self Service
Call Center Management
Chat/Messaging
Activity Dashboard
Knowledge Base Management
Alerts/Notifications
Real-Time Chat
Email Management
Customizable Branding
Pricing
Pricing starts at $20 per month and you can use it for free for 3 agents. There is a seven-day free trial of paid plans.
7. ServiceNow ITSM — A Powerful IT Management Tool for Increasing Productivity
Image Source: zdnet.com
ServiceNow ITSM is a great IT asset management tool that offers a wide range of impressive features and has become one of the top favourite tools in the world. Essentially, it supports incident tracking and management allowing you to monitor your IT systems at all times and make sure everything works perfectly.
For instance, in case machines stop working, you will be notified so you can get things up and running in no time. On top of this, ServiceNow gathers all the information and creates reports which you can then use to monitor the performance of your IT systems. In this way you can resolve issues more efficiently and streamline your operations in no time.
The bad thing about this app is that it is not a really affordable solution. The pricing is not openly advertised, but according to some reports it starts at around $10 000 a year which makes it one of the most expensive IT management solutions on the market.
Key Features
Real-Time Dashboards
Problem Management
Cost Tracking
Resource Management
Vendor Performance Management
Asset Management
Access Controls/Permissions
Dashboard
Alerts/Notifications
Collaboration Tools
Workflow Management
Search/Filter
Compliance Management
Pricing
While this app offers a free trial, the pricing details are not offered by the vendor.
8. Monday — The Most Intuitive IT Project Management Software for Streamlining IT Operations
Image Source: monday.com
While Monday is primarily a project and task management tool it is also one of the best IT management software helping teams stay on top of all their activities and processes in real time. It is highly customizable and extremely user-friendly even for the ones who are starting from scratch.
In its core, Monday can help users manage IT operations by simplifying services IT delivers. For instance, It can be adapted to track orders and inventory, manage onboarding and requests, and monitor supply management. Also, it can be integrated with many services and applications and has built-in visualization and automation tools. Overall it is great software that helps everyone on the team stay in the loop.
Also, Monday is truly an amazing IT management system which offers a number of options that should help you plan and organize your projects and files and folders as well as to have a clear overview of all the processes through different views like maps, calendars, charts, timeline, Kanban boards, files, timeline, etc. This lets you have a clear overview of multiple teams and projects.
Key Features
IT Management
Asset Management
Execution Board
Visual Progress Display
Time Tracking by Project
Tags & Keywords
Activity Dashboard
Content Management
Workflow Management
Task Management
Collaboration Tools
Data Import/Export
Document Management
Alerts/Notifications
Workflow Management
Pricing
Monday starts from $29 per month and it offers a free trial.
9. ManageEngine Desktop Central — A Unified IT Management System for Organizing Your Remote Workplace
Image Source: manageengine.com
ManageEngine Desktop Central is a widely adopted IT management tool that should definitely be a part of your toolkit. It helps you manage a number of devices from one centralized hub, and these devices include desktops, laptops, servers, tablets, smartphones. In addition, it automates desktop management activities, which enables administrators to install patches.
Plus, it allows you to manage software and assets licences, have control over remote desktops and monitor statistics regarding software usage. This IT resource management software supports various operating systems including Mac, Windows and Linux. Also, ManageEngine lets you apply restriction camera usage and app installs.
On top of this, the tool provides automation with its "business rules" feature offered by ServiceDesk Plus. It lets users create process automation. In addition, the app offers other amazing capabilities such as project management, contract management and ITIL compliance (information technology infrastructure library).
Key Features
Asset Management
Mobile Device Management
Reporting
Content Management
Applications Management
Remote Control
Alerts/Notifications
Third-Party Integrations
Dashboard
Access Controls/Permissions
API
Real-Time Monitoring
Reporting & Statistics
Search/Filter
Workflow Management
Pricing
The tool offers a free trial and it starts from $795 annually.
10. Lansweeper — A Centralized IT Management Tool for Driving Change with IT Data
Image Source: downloadcrew.com
This highly popular IT asset management software is an ideal solution for all business sizes across many industries. It provides you with a number of tools that help you manage help desk operations, business assets and network inventories. Plus, Lansweer provides you with a clear and in-depth insight into hardware and software.
This solution enables you to scan and monitor your entire IT infrastructure in real time and it offers an integrated IT service desk and help desk which enable IT support teams to handle all of the end-user support requests. Another great thing is that IT administrators can easily deploy new software, track software, uninstall software and update the existing versions remotely.
Besides this, Lansweeper lets you create a central knowledge base which you can use to document important data and address frequent issues and user queries. It also allows you to scan the performance of different shared devices across organizations and automatically switch to the most efficient device.
Key Features
Asset Management
Service Management
Helpdesk
Access Control
Knowledge Base Management
IT Service Ticketing System
Analytics
Billing & Invoicing
Document Management
Ticket Management
Incident Management
Alerts/Escalation
Pricing
The tool offers a free trial and the Standard one starts at $495 per a company a year.
11. Wrike — An Ultimate IT Project Management Software for Streamlining IT Processes
Image Source: wrike.com
Wrike is primarily IT project management software as it helps organizations increase their efficiency and productivity. It also belongs to the group of Fortune 500 companies. It provides security, stability and scalability and offers a whole range of powerful features that can streamline processes and activities across organizations and departments.
The solution comes with calendars, Gantt charts, custom dashboards, real-time updates and workload view for resource management. In addition, this IT task management software enables you to structure your workplace through projects, folders, and tasks.
However, to reach and use the power of all those features, you need to overcome the tool's steep learning curve. In a nutshell, although Wrike offers numerous great features which can help you streamline your IT management it is also a complex solution that takes time and effort to master.
Key Features
Activity Dashboard
Resource Management
Calendar
Customizable Reporting
IT Management
Asset Management
Task Management
Project Management
Resource Management
Planning Tools
Reporting & Statistics
File Sharing
File Version Control
Third-Party Integration
Pricing
Wrike offers a free basic plan for up to 5 users and the lowest one starts at $9.80 per month. There is a free trial and you can choose one of the three plans - Professional, Business, Enterprise.
12. Device42 — A Great IT Asset Management Software for Maintaining Your Inventory
Image Source: device42.com
Another app you might consider for managing your IT processes is Device24. It is a cloud-based software for managing IT infrastructure and administration of data centers and networks. With its intuitive interface, this IT management system provides you with an insight into your enterprise clearly identifying software, hardware, network interdependencies, service, powerful visualizations, APIs and many more things.
This tool has all you need for network interdependencies, maintenance, audits, lifecycle management, warranty, asset tracking, capacity planning, passwords, secrets, budgeting, etc. The tool also enables managers to give permissions and provide team members with access rights.
Device42 also integrates with some of your most favorite third-party applications through REST APIs. Overall, it helps small and medium-sized businesses automate their asset management processes and operations.
Key Features
Asset Tracking
Third-Party Integration
Data Import/Export
Inventory Management
Data Mapping
Drag & Drop Interface
Role-Based Permissions
Collaboration Tools
Dashboard
Search/Filter
Reporting/Analytics
Alerts/Escalation
Data Visualization
Pricing
The tool offers a free trial and its basic plan starts at $1499 per year.
13. Docusnap — A Perfect IT Management Tool for Improving Your Company's Transparency
Image Source: docusnap.com
If you are looking for a way to keep track of the inventory, documentation and categorization of IT environments, Docusnap is your answer. In essence, Docusnap documents the versions of software, hardware, licences used and operating systems as well as the network structure. Basically, Docusnap documents network data.
The tool also lets you view network documentation as a layer 3 network plan, cabling plan or Active Directory plan. Also, this IT asset management software ensures IT security. For instance, in order to determine who has access to specific data, an authorization analysis can be used. Plus, Docusnap evaluates virus scanners, manages maintenance contracts and licences.
All in all, Docusnap is an ideal IT management tool that provides insights you can then use to create operation manuals and contingency plans. It is an ideal solution for IT service providers, public authorities and companies of all sizes.
Key Features
Asset Management
Collaboration Tools
Resource Management
Customizable Dashboard
Alerts/Notifications
Reporting/Analytics
Audit Planning
Drag-and-Drop
Workflow Management
Real-Time Monitoring
Third-Party Integrations
Search/Filter
Pricing
Docusnap offers 6 pricing plans and the lowest starts at $25 monthly or $229.50 yearly.
14. Spiceworks — An Easy-to Use IT Management System that Simplifies IT
Image Source: spiceworks.com
Spiceworks is one of the best IT management software designed specifically for IT professionals and administrators. It's a free cloud-based network monitoring and help-desk solution that lets you provide customer support through various channels. Also this tool gives you the ability to monitor IT incidents and track any changes happening in the network.
On top of this, through Spiceworks you can create a centralized knowledge base which helps users stay informed regularly. This tool also provides a team management dashboard so that management can keep track of the main performance metrics at one place.
Spiceworks' help desk enables you to manage all the tickets that come from users so that they would easily solve any issues along the way. Ans, it can be customized to suit your needs.
Spiceworks is one of the best IT management tools and you should definitely give it a try.
Key Features
Activity Dashboard
Collaboration Tools
Asset Tracking
IT Asset Management
Knowledge Base Management
Monitoring
Project Management
Task Management
Reporting/Analytics
Alerts/Notifications
Communication Tools
Change Management
Pricing
Spiceworks offers a one-time licence and it is completely free. It also offers a free trial.
15. NinjaRMM — An Easy-to-Use IT Management System for Efficient Delivery of IT Services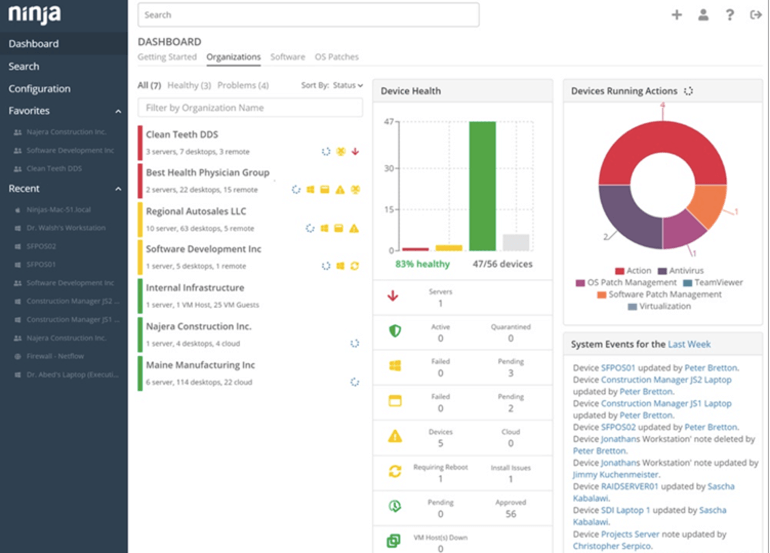 Image Source: softwaretestinghelp.com
NinjaRMM is an ideal solution for IT service businesses, managed service providers and small IT departments. It's an incredibly powerful IT service management software that provides you with a set of tools allowing you to manage, monitor, secure and improve all of your Windows servers and network devices, plus MacOs devices, workstations and laptops.
It has a whole range of amazing features that let you monitor productivity and health of all of your workstations, windows servers, laptops as well as your firewalls, switches, routers and other SNMP devices.
Next, NinjaRMM enables you to manage all of your devices remotely without having to interrupt end-users. Also, IT automation enables you to standardize configuration, deployment, and management of devices.
All in all, this is an intuitive IT management software that improves ticket resolution and increases efficiency of your IT processes, which is why IT pros love using it.
Key Features
Activity Dashboard
Asset Management
IT Management
Activity Tracking
Branded Reports
Reporting & Statistics
Remote Systems Monitoring
User Chat
Workflow Management
SMS Notifications
Software Inventory
Tracking Features
Remote Access
Pricing
NinjaRMM offers a free trial and has really affordable pricing.
16. Site 24x7 — The Best IT Management Software for Monitoring Availability and End-User Experience
Image Source: site24x7.com
We've decided to include Site 24x7 on our list of IT management solutions because it has all the necessary tools to enable monitoring in one platform. This tool offers server monitoring, application monitoring, network monitoring and website monitoring.
Apart from its main powerful features, it also provides API and can be integrated with a number of third-party apps. Also, it lets you comprehensively monitor everything from switches, routers and firewalls to load balancers, storage and printers.
Finally, this cool IT management system supports secure authentication protocols and keeps an eye on a website's security by keeping track of monitoring system-level services and SSL/TLS management. Plus, real user monitoring can provide you with feedback on what needs to be improved when it comes to user experience.
Key Features
Asset Management
IT Management
Collaboration Tools
Dashboard
Data Visualization
Real-Time Monitoring
Workflow Management
Alerts/Notifications
Network Monitoring
Network Mapping
Plugins
Pricing
The tool offers a 30-day free trial and the basic plan starts at $9 per month.
Conclusion
And, here we are! Hopefully, we managed to remove all the unclarities regarding IT management software and emphasize the features you need to keep an eye on when looking for the one that perfectly suits your needs.
Still, we can't help but point out that Infinity has all the functionalities you need to streamline your IT management processes quickly and easily, keep things neat and well-organized at one place and help your team stay in the loop any time, anywhere. A perfect fit for your IT no matter whether you are a small, medium-sized or a large organisation.
Schedule a demo call and see it for yourself!
Or talk to us at team@startinfinity.com. We'd be glad to answer all of your questions.
FAQ
What tools do IT managers use? IT managers use tools that help them with everyday tasks such as project management tools, help desk tools, automation tools, employee management tools, etc. What are some IT tools? Some IT tools include project management tools, product design tools, communication tools, team management tools, online collaboration tools, etc. What is the best IT management software? Infinity is a one-stop-shop for many different aspects of IT management, from project to team management. You can easily create projects and divide them into tasks you can assign to your team members. It is easy to keep your workspace clutter-free by filtering, grouping, and sorting tasks any way you like. There are 22 custom attributes, 7 project views, an infinite number of folders and subfolders you can create to add additional information. Infinity lets you integrate with other applications so you can organize everything you need within a single workspace.